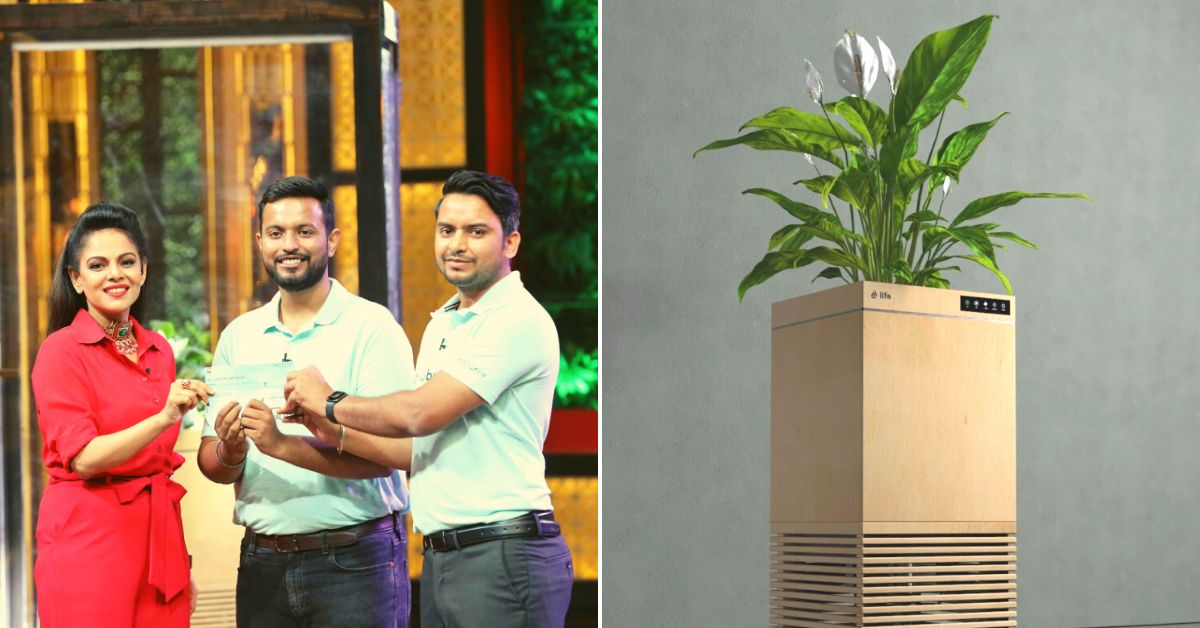 UBreathe, a Gurugram-based biotechnology startup that develops plant-based air purifiers, secured a deal of Rs 1.5 crore from Namita Thapar on the popular television show Shark Tank India.
Last month, Sanjay Maurya and Subham Singh made a memorable appearance on an episode of Shark Tank India, a reality show where aspiring Indian entrepreneurs pitch their business models to a panel of investors in return for investment.
While Sanjay is the founder of Gurugram-based biotechnology startup UBreathe, Subham is the startup's head of product and innovation. They began by indicating their ages to be 45 and 50 respectively, even though they are barely 30 and 28 years old respectively. This was merely a reference to how high air pollution levels in Indian cities are ageing our lungs at a frightening pace.
According to the Air Quality Life Index produced by the Energy Policy Institute at the University of Chicago, air pollution can shorten lives by almost 10 years in Delhi. Unfortunately, this problem has expanded geographically with even states such as Maharashtra and Madhya Pradesh seeing people lose an additional two and a half to three years of life expectancy.
Sanjay and Shubham further explained how existing air purifiers not just fail to address the indoor air quality problem holistically but also have a negative environmental impact.
To address this problem statement, they developed a series of unique 'plant-based air purifiers'— UBreathe Mini and UBreathe Life for indoors at homes and offices; UBreathe Wall and UBreathe 360 or semi-open areas like metro stations, airports and shopping malls.
They claim that UBreathe's air purifiers combine the natural air purifying capabilities of plants with modern technology. Their proprietary design, according to them, "boosts a plant's natural process of removing pollutants from the air with improved soil breathability."
Unlike mechanical purifiers that filter only dust pollution and are highly toxic to the environment, their solution "captures all the contaminants in the air". Going further, Sanjay and Shubham note that the air purifier technology has been tested and certified by NABL [National Accreditation Board for Testing and Calibration Laboratories]-accredited laboratories and has been reviewed and recommended by faculty of All Indian Institute of Medical Sciences (AIIMS) Delhi.
After pitching their product to 'sharks' (investors), UBreathe secured a deal of Rs 1.5 crore from entrepreneur Namita Thapar.
Expressing his delight at securing this investment, Sanjay said, "We are truly thrilled to have the opportunity to work with Namita Thapar and to be able to bring UBreathe to a wider audience in India and abroad. Namita's extensive experience in the pharmaceutical industry gives her an in-depth understanding of the time and effort necessary to develop a product like UBreathe."
He also noted, "For the last several years, we have had the privilege of making a real difference in the lives of more than 1,000 customers. Over the next couple of months, we will be taking up marquee projects with offices and private and public schools to reach out to more people and make a bigger impact on their overall health."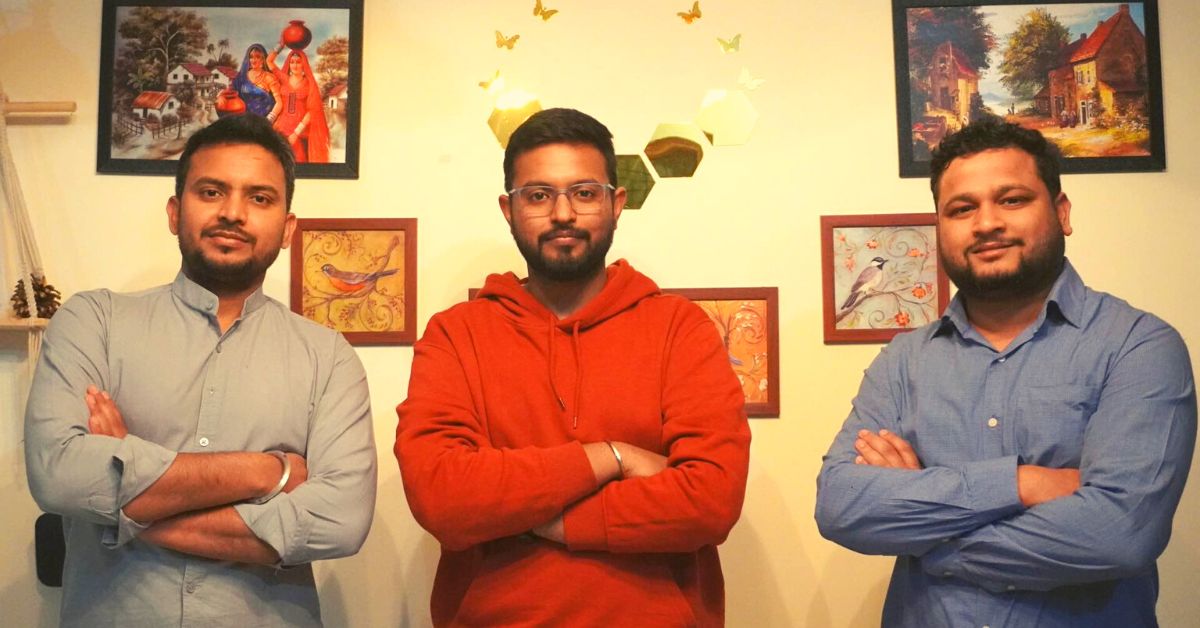 Building the technology
Established in 2018, the startup was founded by Sanjay, alongside Akhil Gupta, Akshay Goyal, and Inderjeet Rao — a diverse team of engineering and management graduates from renowned centres of learning like the Indian Institute of Technology (IIT), Kanpur, the Indian Institute of Management (IIM), Bangalore, MIT Media Labs and Harvard School of Design.
They came together with a vision to build a "world-class consumer product from India" to tackle air pollution while being environmentally friendly and sustainable. Their research is backed by leading state-sponsored organisations such as IIT Ropar, CIIE.CO IIM Ahmedabad, Ministry of Electronics & Information Technology and the Biotechnology Industry Research Assistance Council (BIRAC), among others. The company has filed six patents in India and Europe.
Sanjay, Akhil and Inderjeet have been working together for close to a decade now. Even before establishing UBreathe, they were working together on a separate Bengaluru-based startup. In 2018, however, they shifted track and wanted to work in a segment that could generate greater social impact.
They got together with Akshay and began exploring nature-based technologies for India's burgeoning air pollution problem. Such solutions were not only deemed to have great commercial value given their necessity but could do wonders for people's long-term health. 
Speaking to The Better India, Sanjay Maurya says, "UBreathe was established in 2018 to solve the problem of indoor air pollution in a sustainable way."
"The currently available mechanical air purifiers can only filter dust pollution and at the same time, they are expensive and highly toxic to the environment. Additionally, it is highly challenging to bio-degrade these filters, resulting in a high carbon footprint. We had a two-fold goal to start UBreathe — one, to create an air purifier that captures all the contaminants in the air and secondly to create an eco-friendly alternative to mechanical air purifiers," he explains.  
A United Nations study reveals that indoor air pollution can contribute 22%-52% to overall pollution levels and can be five times worse than outdoor air pollution. Indoor air pollution is not limited to just dust particles but also includes toxic gaseous and biological pollutants.
"At UBreathe, we believe that only technological innovations can help us in abating the rising air pollution issues. But, to solve this problem, urban buildings are adopting highly non-sustainable mechanical air purification systems. Hence, we decided to create a product that addresses the problem of indoor air pollution in a sustainable way," elaborates Sanjay.
"By combining three critical elements — technology, design and nature — the team came up with UBreathe. Our patent-pending 'Breathing Roots' technology uses the goodness of nature to amplify the natural abilities of air purification through plants. This process is broadly known as Phytoremediation. The 'Breathing Roots' technology boosts phytoremediation with the help of a centrifugal fan. It facilitates an increase in the volume of air at the soil-root zone, enabling the root microbiomes to interact with more air and purify the same. Our innovation is the first of its kind. Alternative solutions use highly non-sustainable filtration techniques," says Akhil. 
According to the Nature Journal, phytoremediation "refers to the use of plants and associated soil microbes to reduce the concentrations or toxic effects of contaminants in the environment". What UBreathe's technology does is accelerate this process.
After spending considerable time on deep research and development, the UBreath team finally had a working prototype in hand in 2019. It took them three years of intense research and development (R&D) and close to 25 prototypes to finally arrive at the current stage "where our solution can amplify the cleaning through houseplants by more than 100 times," says Sanjay.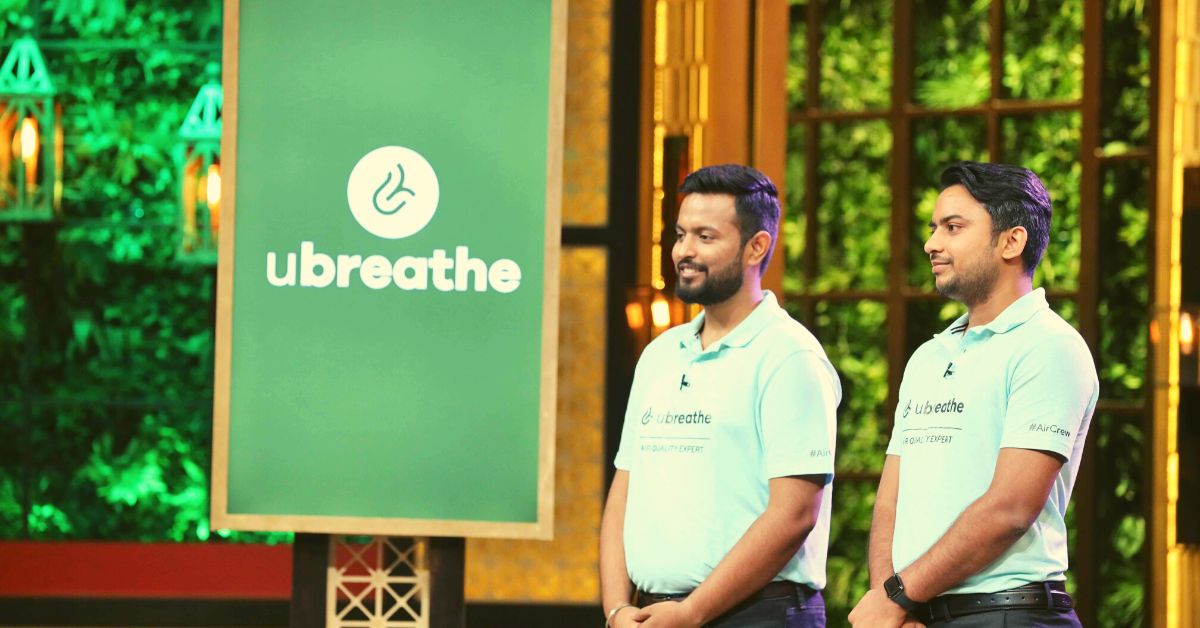 How does it work?
Research findings from NASA in the 1980s, as well as studies at Harvard and the National Research Council of Italy, have demonstrated that plants can effectively mitigate indoor air pollution in a natural and sustainable manner.
"Understanding the physiological processes and mechanisms involved in phytoremediation, UBreathe's unique design boosts the phytoremediation process of plants by ~500x with the help of a centrifugal fan. This increases the volume of air at the soil-root zone, enabling the root microbiomes to interact with more air and purifying the same," claims Sanjay.
"The work is to amplify the properties of the roots of the plant. UBreathe performs activities and absorbs all the impurities from the air that comprise PM (particulate matter) 2.5, TVOCs (total volatile organic compounds), and other harmful gases and particles suspended in the air," he adds.
While Sanjay claims that UBreathe purifies the air from all contaminants like suspended particulate matter and other toxic gases categorised as TVOC, mechanical purifiers filter only dust pollution.
"Moreover, UBreathe purifiers are a sustainable alternative. They don't need any filter replacements. Even if the plant withers, it can be replaced with any of the recommended plants at a nearby nursery. Mechanical purifiers require regular filter replacements," he adds.
In September 2021, Professor Rajeev Ahuja, director at IIT-Ropar, spoke about the effectiveness of one of their flagship products, UBreathe Life. "This tested product 'UBreathe Life' can be a game changer for maintaining clean air indoors. The results of testing, conducted by the National Accreditation Board for Testing and Calibration Laboratories (NABL)  and the Laboratory of IIT Ropar maintain that the AQI (Air Quality Index) for a room size of 150 square feet drops from 311 to 39 in 15 minutes after using 'UBreathe Life'," he claimed. 
Meanwhile, according to a release issued by the Government of India's Press Information Bureau in September 2021, "Recommending this researched product, Dr Vinay and Dr Deepesh Agarwal from AIIMS, New Delhi said that the 'Ubreathe Life' infuses oxygen in the room making it conducive to patients with breathing issues."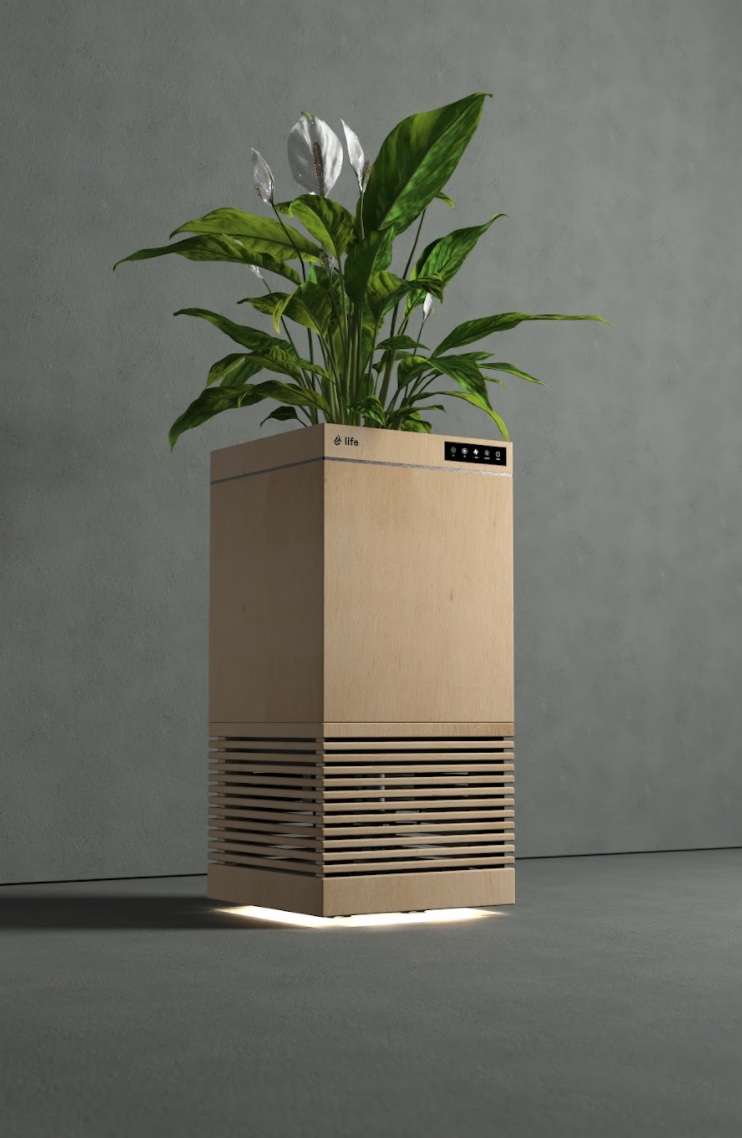 The Shark Tank India Experience
UBreathe submitted their interest in featuring in Shark Tank India (Season 2) in the middle of 2022. After witnessing the success and reach of Season 1, they felt that "this is the right platform for them to showcase their technology to Indian and global audiences".
As Sanjay recalls, "The experience with Shark Tank India has been amazing. From the first day to auditions to the final pitch — everything was done at a grand scale. We feel such platforms definitely give a great boost to the entire startup ecosystem. Apart from Shark Tank India, the team has not raised external funds till now."
Nonetheless, since its inception, the startup claims to have generated about Rs 1.6 crore in revenue, and is working with more than 1,000 customers to "provide healthy air quality through sustainable means." 
Elaborating on the market opportunities available, Sanjay said, "As per a recent report, the $335B global market for Indoor Air Quality Solutions is now expected to grow at 8.28% in the next four years and COVID-19 has been a key driver for this growth. The pandemic has brought global attention to indoor air quality and the need to manage it to prevent airborne transmission of the virus. A product like ours can make a significant difference to millions."
(Edited by Divya Sethu; Images courtesy UBreathe)
We bring stories straight from the heart of India, to inspire millions and create a wave of impact. Our positive movement is growing bigger everyday, and we would love for you to join it.
Please contribute whatever you can, every little penny helps our team in bringing you more stories that support dreams and spread hope.