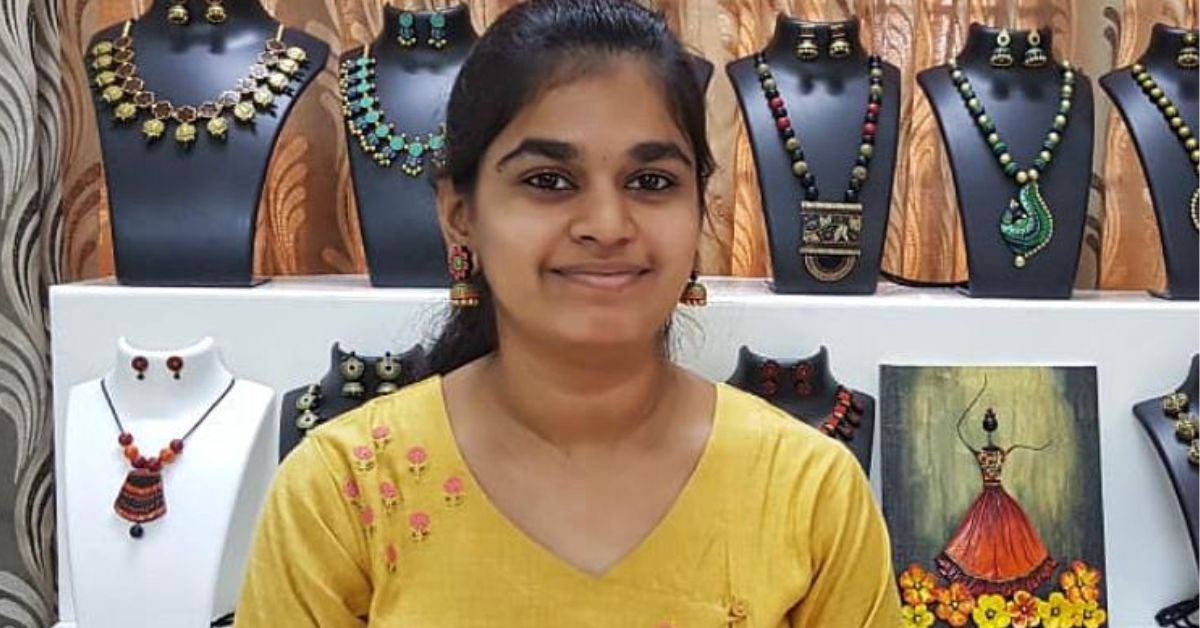 At just 15, Coimbatore resident Smrithi launched Shika Creations, a terracotta jewellery and decor store that earns her Rs 25 lakh per year and sells to different parts of the world. She shares what it has been like to foray into the world of entrepreneurship.
A birthday, or an anniversary, whatever the happy occasion at Smrithi S's house, there was always one thing in common — a handmade gift. She recalls that she would run to the local stationery shop and come back with glitters, colourful sheets and glue to make handcrafted gifts like cards and keychains.
"As a child, I was always into arts and crafts. Every summer vacation, I would join some camp or art class and learn a new kind of art. It was like a passion, but I never imagined that it could become something huge," Smrithi tells The Better India.
At 15, Smrithi turned her artistic prowess into a successful jewellery business — Shika Creations, which she named after her beloved niece.
Under its ambit, she sells terracotta jewellery, fridge magnets, and home decor pieces, and today earns a revenue of Rs 25 lakh per year, she says. Moreover, she receives orders from all over India, as well as countries like the United States, the United Kingdom, Sweden, Germany and Australia.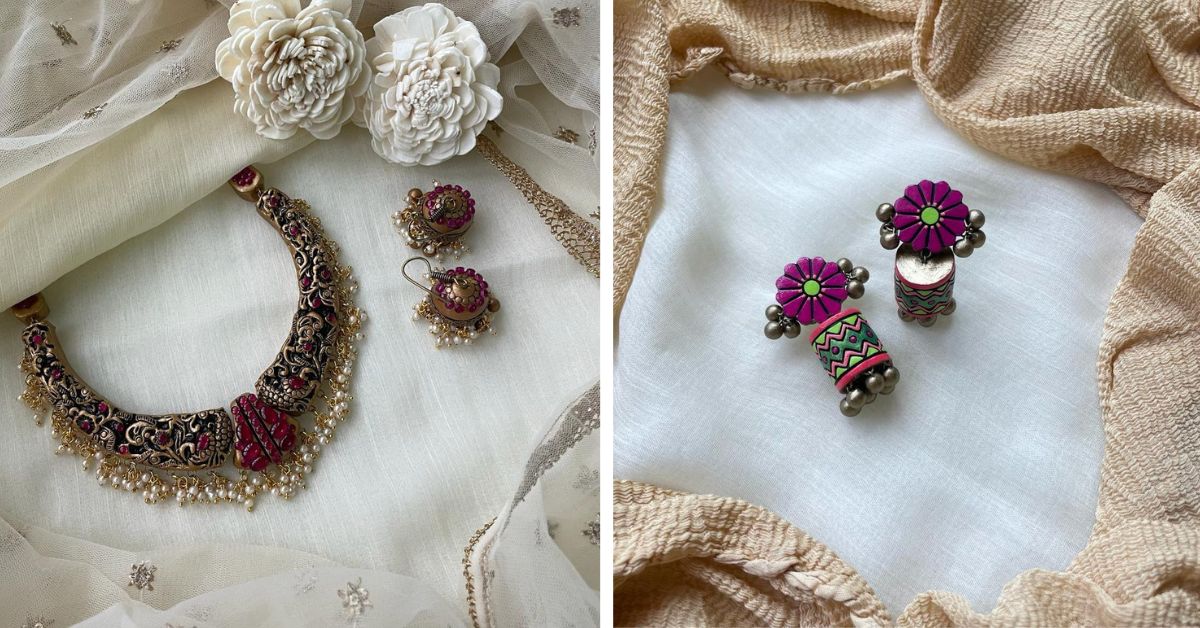 A small, yet life-changing course
Smrithi, now 23, hails from Coimbatore and has a BTech in Fashion Technology. But art has always been her first love. 
"Since I was in Class 4, I have been giving my friends and family handmade gifts like cards, tiny home decor gifts, etc. It would give me immense pleasure to see them smile when I gave the gifts," she says.
"I distinctly remember that in 2016, when I was in Class 9, I was looking for new things to learn during my vacations. I had previously learned dancing, sports, painting and poster making. Terracotta jewellery making was in trend and I decided to take a small course on it."
Though it was a short course, taking it up changed her life in many ways. Smrithi gained interest in the art and decided to upskill.
"I started to explore more and more about terracotta. It has been here since the Indus Valley Civilization, and it was intriguing how the art has been evolving with time. For a 15-year-old's mind, it felt like a treasure. I knew I had to do something with it. I kept practising and refining my skills to bring it to perfection," she recalls. 
Apart from her love for art, it was her uncle who inspired her to be a young businessperson.
"My uncle owns a fashion brand and wherever there were discussions about business, profit and losses, I would be intrigued. I used to listen to those conversations and dream about owning a business myself one day."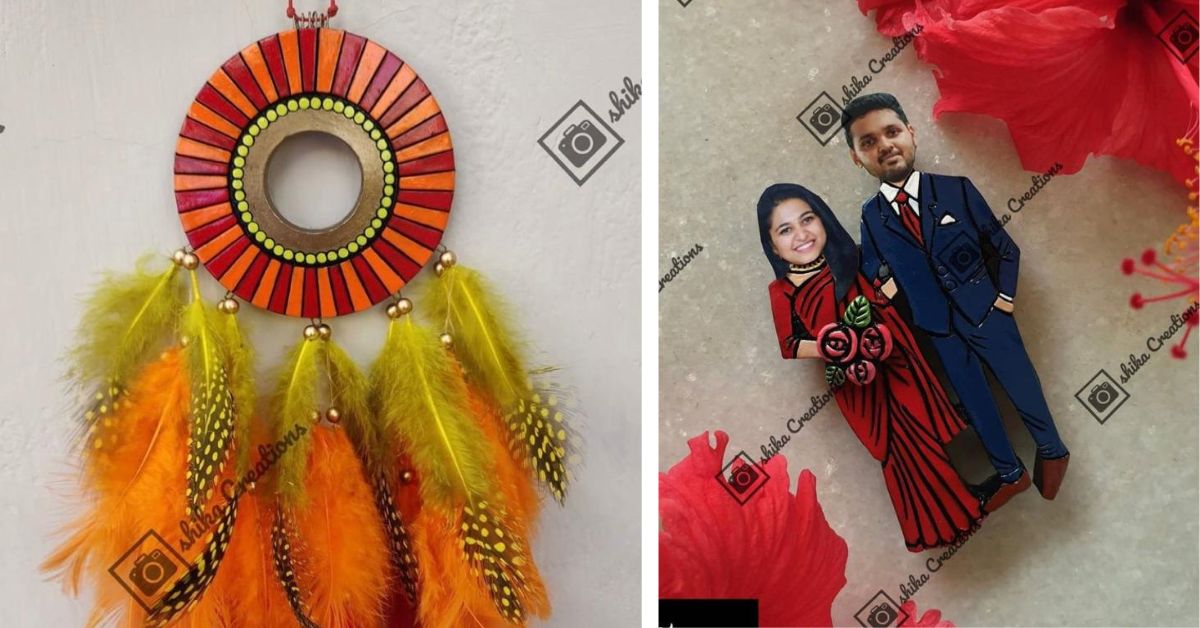 'My first earning was Rs 50.'
With her skills refined, 15-year-old Smrithi went to her parents with a business plan.
"But while my mother accepted the idea with delight and supported me, my father reacted in the opposite manner," recalls Smrithi.
"He is a professor and he believes in the idea of "study well to earn well", so his first words to my business were a huge 'No'. Like any father would be concerned, he did not want me to be distracted from my studies. He said that Class 10 and 12 are very important years of one's academic career and that I need to focus." 
But this rejection from her father motivated her to work harder and show him that she can manage both her business as well as academics.
"My first challenge was to convince my dad. I worked too hard that year. I scored exceptionally well and explained that nothing can affect my focus on my studies. I told him 'If my marks get affected, then I'll stop, but give me a chance'. He put his concerns aside and let me follow my passion."
Now, with approval from her parents, the world was her canvas.
"My uncle became my mentor and helped me find my footing in the venture. I started off very small. I made a few pieces and went to a nearby craft shop and asked them to keep my jewellery in their shop. They did not agree at first, but I kept insisting. I told them that if the jewellery does not sell in a few weeks, I will take it away," she recalls.
She continues, "Every day, for weeks, I would visit the shop and look on the showcase if any of my jewellery was sold. This was my routine after school, I would walk to the shop to check if they were sold. For weeks, no one bought them. Just when I was about to lose hope, someone purchased a small stud earring that I had made. It was for Rs 50, but it did not matter, I was delighted and motivated."
The 50 rupees note became her motivator, and also a reminder that the business will not be easy.
"After that sale, a person from a neighbouring area contacted me and gave me the order to make wedding jewellery for them. I realised that more people should know about my business, and in late 2016, I decided to start an Instagram page," she recalls.
But her hopes met another hurdle when her page did not receive the traction she had hoped for.
"Initially it was really slow. I was thinking about quitting and started doubting if my art was even good enough for people to buy. My father kept pushing me to post more and more pictures and keep trying. Then, I had a major breakthrough during the pandemic in 2020. My page got an upsurge in the number of views, and people started to follow and place orders."
Today, Shika Creations makes not only jewellery but also home decor items like wind chimes, dream catchers, wall hangings, etc. Smrithi has a small team of 15 people who help her make these products. 
She says, "We have made a product that I call caricature magnets. The customer sends us a picture that they want to be made into magnets. We carve that picture onto terracotta clay and make fridge magnets out of them. The people love that product as it is new and personalised. We also make new blends like we embellish Kemp stones with terracotta jewellery."
A piece of jewellery is made with precision and requires a lot of time ranging from 5-7 days.
"We get the clay, mould it and dry it. After it has been dried for a day, we start the baking process. The baking process is to ensure that the product is durable and waterproof. It takes about a day to bake and dry. After the baking process, we paint the piece with desired colours and dry it for another day," she explains.
Smrithi has a strong customer base of more than 1,000 buyers, and she also engages in B2B business, selling her pieces to wholesalers.
One customer, Taruna P, says, "I was very excited to see what the jewellery looked like, and I was not disappointed. It was flawless. The design was so intricate and refined that one can see how much work must have gone into bringing it to perfection. The best part is that the jewellery was very lightweight, even when it had such intricate details." 
Sharing the joy of art with everyone
Meanwhile, Smrithi says she also has given training in how to work with terracotta to around 300 people.
"I started with holding offline workshops for people, but during the lockdown, I moved to the online method of teaching. We also buy their pieces and around 13 people work with us remotely too. I tell them the order requirements and they make the products and send them to us," she says.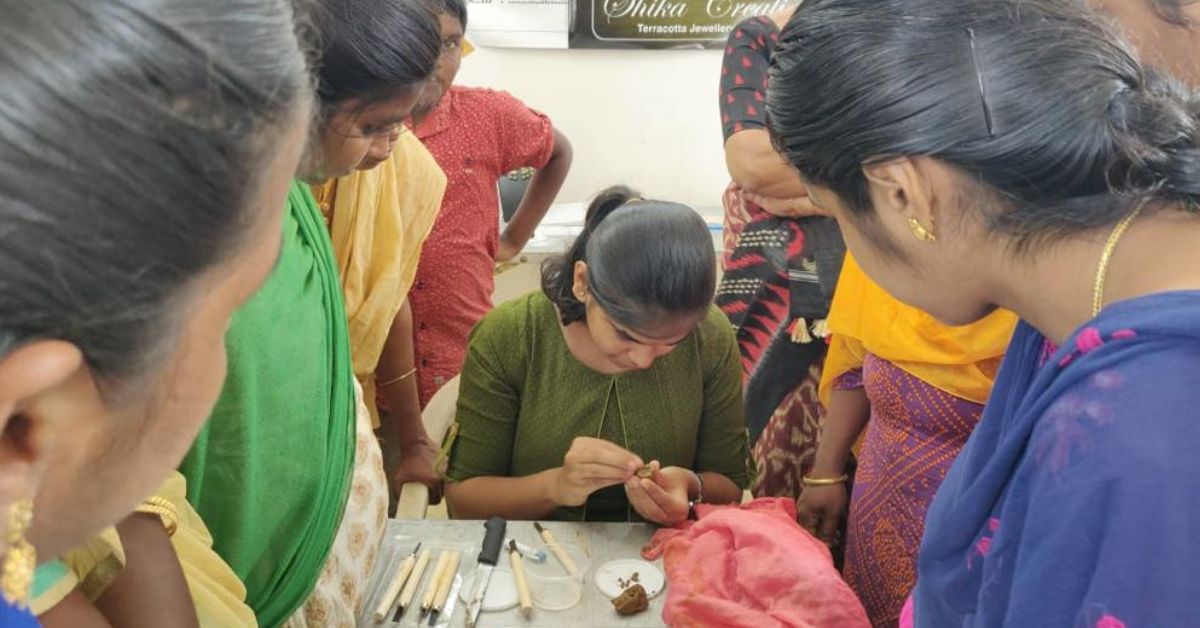 Sharing her future plans, Smrithi says, "I want to make Shika Creations a place where customers and designers of terracotta products can assemble. We want to tap more and more customers and keep growing. Whenever someone thinks of buying terracotta products, I want ShikaCreations to be their go-to place."
After working part-time in the business for several years, Smrithi, who completed her graduation in fashion in 2022, is now fully committed to growing the business furthermore. 
Her products are available to buy from her website, Instagram and Facebook pages.
Edited by Divya Sethu
We bring stories straight from the heart of India, to inspire millions and create a wave of impact. Our positive movement is growing bigger everyday, and we would love for you to join it.
Please contribute whatever you can, every little penny helps our team in bringing you more stories that support dreams and spread hope.