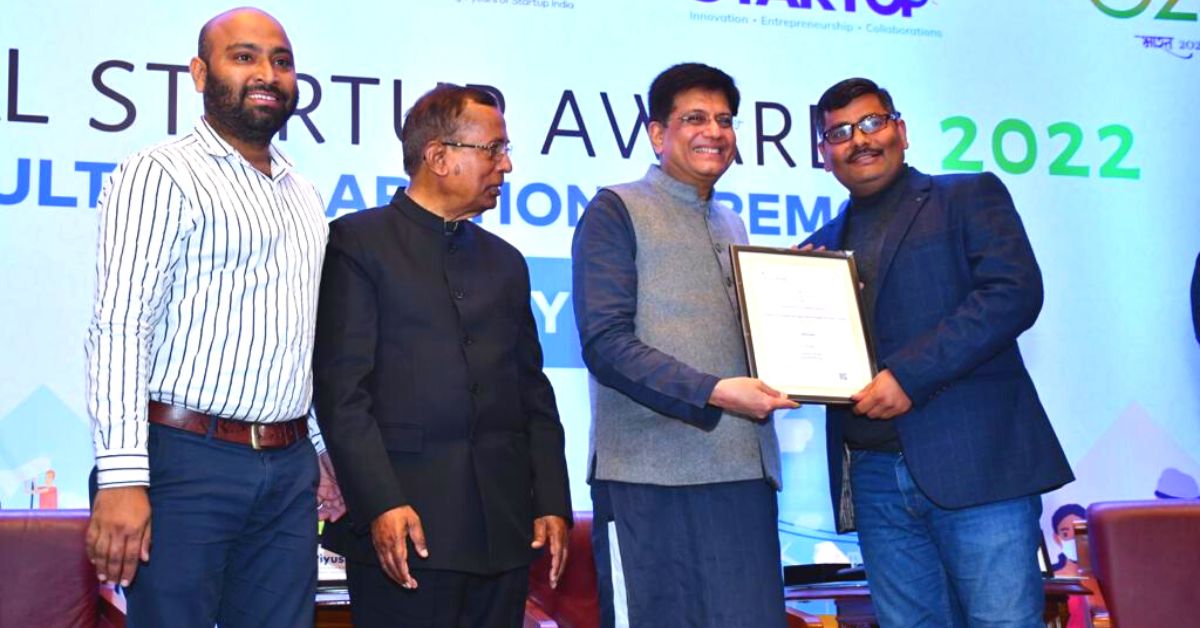 IIT-Roorkee incubated venture Indi Energy won the 'best startup' in the 'Energy Storage' category at the National Startup Awards 2022. Their sodium-ion batteries use farm waste as a viable alternative to lithium-ion batteries.
This article has been sponsored by Wingify Earth.
IIT-Roorkee incubated venture Indi Energy won the 'best startup' in the 'Energy Storage' category at the National Startup Awards 2022 organised by the Government of India earlier this month.
The startup makes sodium-ion batteries a viable alternative to lithium-ion batteries. The significance of their work stems from indigenously developing low-cost, safe and high-performance sodium-ion batteries made from agricultural waste like paddy straw, sugarcane bagasse, coconut shells or cattle manure and earth-abundant materials like sodium. 
This reduces India's dependence on scarce elements like lithium, cobalt or nickel which are essential components of import-dependent and expensive lithium-ion batteries.
"Our technology can immediately replace lithium-ion batteries for a variety of applications," says Professor Yogesh Kumar Sharma, co-founder at Indi Energy.
These commercial applications include everything from toys to solar and wind energy installations and batteries for grid storage, e-rickshaws, electric scooters, inverters, UPS, etc. 
"However, our focus is not merely on manufacturing sodium-ion batteries but also on developing components that make up our battery cells. Recently, we launched a very important product called Hard Carbon (HC) made up of bio waste and agricultural waste as the anode, which delivers high performance in sodium-ion batteries," says Akash Soni, co-founder, speaking to The Better India.
"We also have our own proprietary sodium-ion cathode capable of delivering a high charge-discharge capable battery. We also have our own proprietary electrolyte as well for sodium-ion batteries. Our startup combines all these elements to create a sodium-ion pouch cell for different industrial applications right from toys to solar energy installation, e-rickshaw batteries, etc.," he adds.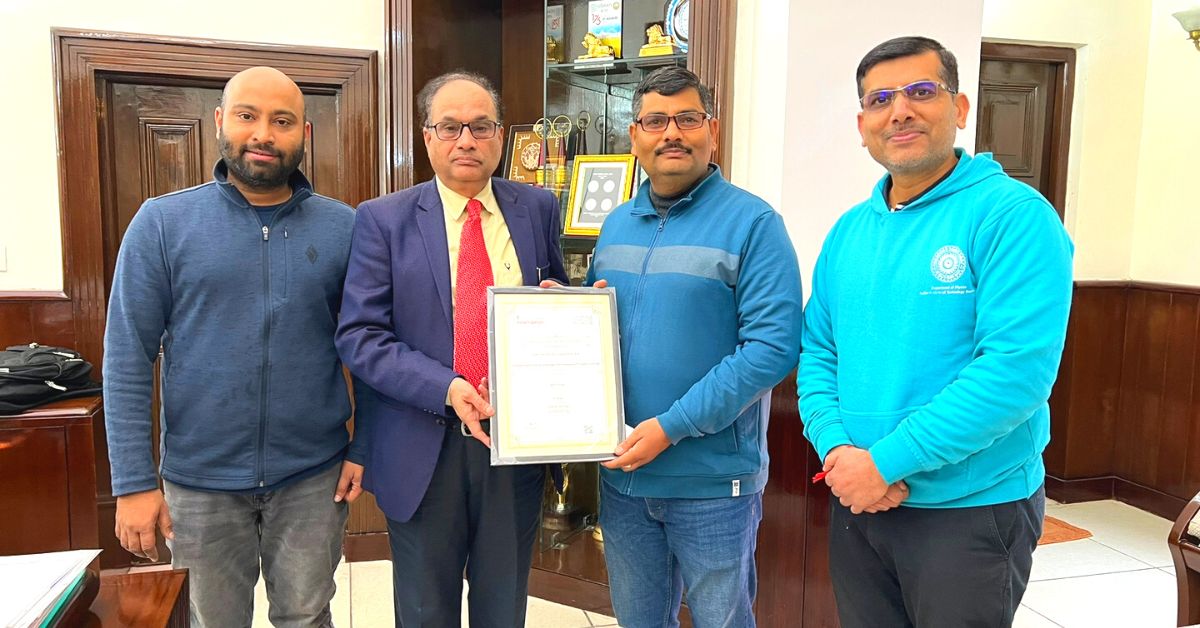 Eco-friendly, safe, higher performance
According to a 2020 article by KM Abraham for the American Chemical Society, "The foremost advantage of Na-ion [Sodium-ion] batteries comes from the natural abundance and lower cost of sodium compared with lithium. The abundance of Na to Li in the earth's crust is 23600 ppm to 20 ppm, and the overall cost of extraction and purification of Na is less than that of Li."
"Moreover, Na-containing metal oxide and polyanion cathode materials can be fabricated from naturally abundant transition metals such as iron, manganese, vanadium, and titanium, without using cobalt, making Na-ion batteries sustainable and affordable," he added.
Also, as stated earlier, Hard Carbon (HC) is the go-to anode for sodium-ion batteries.
"Our innovation is employing agricultural waste like paddy straw, sugarcane bagasse, coconut shells, and other farm waste we generate every year. Most of this waste is discarded and burnt by our farmers because they have no use. Since we figured that this waste was a source of carbon, and wanted to develop technology which is sustainable and industrially scalable. That inspired the use of bio-waste and we have patented about three technologies in Hard Carbon alone for sodium-ion batteries, apart from others," explains Akash.  
In terms of battery capacity of Hard Carbon, Indi Energy claims that they're able to synthesize Hard Carbon that delivers high performance in sodium-ion batteries with "very good capacity retention". 
"In terms of the performance of Hard Carbon, we have achieved a minimum capacity of around 300 mAh per gram (up to 1 V). In terms of capacity retention, we have tested our Hard Carbon for close to 1,000 charge-discharge cycles with over 80% capacity retention in sodium-ion batteries," he claims. 
Moreover, Akash also claims that their proprietary sodium-ion cathode material delivers high charge/discharge rate performance in sodium-ion batteries with excellent capacity retention. "We want to fully indigenise the technology so that we are free from imports in battery technology," he claims.
Meanwhile, in terms of cost, "we estimate that there is a 30% cost reduction for sodium-ion batteries as compared to their lithium-ion", says Akash.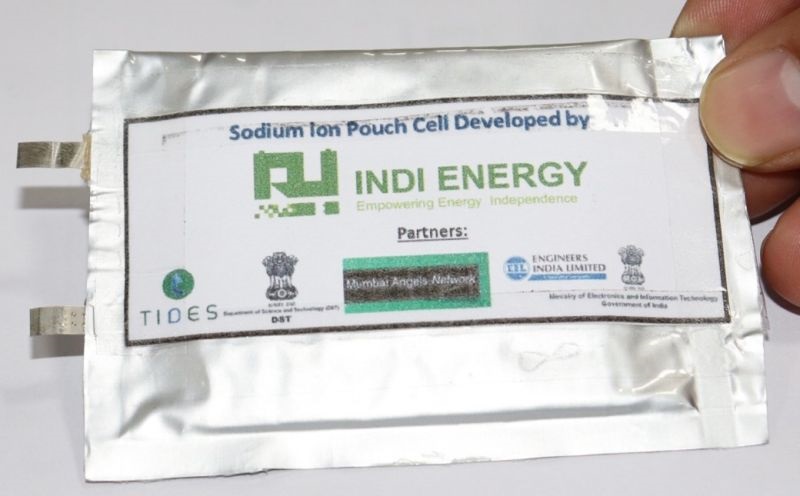 According to the 2020 academic piece published by the American Chemical Society, "An examination of Li-ion and Na-ion battery components reveals that the nature of the cathode material is the main difference between the two batteries. Because the preparation cost of the cathode from raw materials is more or less the same for both Li-ion and Na-ion technologies, the main cost reduction for Na-ion batteries comes from raw materials."
The paper goes on to add, "On the basis of the information currently available we can project the cost of Na-ion batteries to be about 10–20% less than that of their Li-ion counterparts."
"Extensive research also indicates that the electrolytes of sodium-ion batteries are actually much more heat tolerant than lithium-ion counterparts, and hence safer. This is an important facet to note in India given the recent events of many two-wheeler EVs catching fires during the summer of 2022. The heat tolerance of lithium-ion batteries is up to 40 degrees Celsius, but with their sodium-ion counterparts, they can go up to 60 degrees Celsius," claims Akash.
Finally, Indi Energy also notes that Li-ion batteries employ materials like cobalt and nickel, which are more environmentally toxic to dispose of and mine.
"Our product checks on the sustainable box as its HC (the anode component of our sodium-ion battery) is indigenously developed from biomass. Once our sodium-ion battery technology is commercialised, we can effectively solve the problem of stubble burning that is already endangering millions of lives every year in October and November without any respite. It will also incentivise farmers to sell their agricultural waste instead of burning it," says Prof Sharma.
"We make everything in-house and don't import anything," he adds.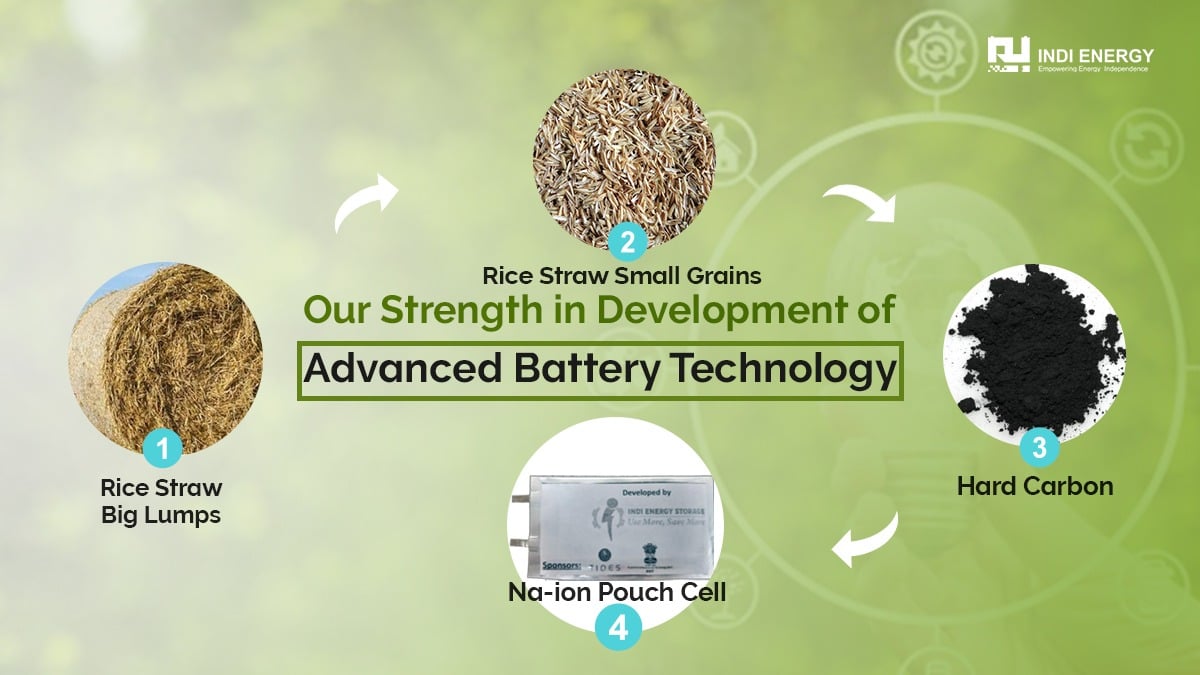 Origin story 
Professor Yogesh Sharma has been working on batteries for the last 20 years. Meanwhile, Akash always had an abiding interest in batteries ever since his B.Tech days at IIT-Roorkee.
After graduating from the institute in 2014, he found employment with a major company in China working on advanced lithium-ion batteries. During his stint in China, however, he was closely observing events in the electric mobility sector in India.
"Inspired by the direction in which India was heading, I thought about coming to India, starting a venture here, developing technology, and doing some research and development as well.  It was a hard decision, but on a leap of faith, I left my job in China and came back to India. This was sometime around late 2018 and early 2019," recalls Akash. 
Initially, he was looking for partners who could help him make advanced lithium-ion batteries and came across Professor Yogesh Sharma's work. However, Akash soon realised that India does not have any sort of reserves for lithium, cobalt, etc.
"So, I decided to work on something more sustainable, which can be produced on a mass scale with all the materials available in India. It was actually Prof Sharma's idea that we transition to sodium-ion batteries. He explained that we should work on developing the technology for sodium-ion rather than lithium-ion batteries in order to develop a viable alternative. We started as a team of 2, and today our team has almost 15 people. Hopefully, now we can build this technology to a much larger scale that can be useful for different applications," he says. 
When establishing this startup in 2019, the co-founders wanted to be the first sodium-ion battery manufacturer. But when Akash and Prof Sharma realised that there was no one to supply the components, they decided to act. "Since the battery manufacturing process of lithium-ion and sodium-ion batteries are exactly the same, the only thing you need to change is the components and technology. Over time, we came up with innovations on the component side like employing agricultural waste to produce hard carbon anode," recalls Prof Sharma.
Going commercial  
In India, we have not yet begun the process of commercially manufacturing sodium-ion batteries. There is no sodium-ion battery cell in the Indian market currently.
"On the component side of things, we are on the verge of commercialisation as far as our technology is concerned. We are looking for funding partners, especially for the HC component which we are looking to commercialise immediately. There is a lot of demand for HC from various battery manufacturers we have spoken to globally," says Akash.
"In terms of sodium-ion batteries, for small applications like toys, the commercialisation process will take about six months. For bigger applications like solar street lights, e-rickshaws, batteries for grid storage, our sodium-ion batteries will probably enter the market in 1-1.5 years," he adds.
So far, the startup has raised multiple rounds of investments. In November 2022, Indi Energy raised $1.5 million in Pre-Series A round led by Big Capital. Besides Big Capital, existing investor Mumbai Angels and a couple of HNI investors have also invested in this round. In total, however, they have received funding worth around $2 million, including the Indian government.
(Edited by Divya Sethu, Images courtesy IIT-Roorkee, Indi Energy)
Additional source: 'How Comparable Are Sodium-Ion Batteries to Lithium-Ion Counterparts?' by KM Abraham; ACS Energy Lett. 2020, 5, 11, 3544–3547; Publication Date: October 23, 2020
We bring stories straight from the heart of India, to inspire millions and create a wave of impact. Our positive movement is growing bigger everyday, and we would love for you to join it.
Please contribute whatever you can, every little penny helps our team in bringing you more stories that support dreams and spread hope.