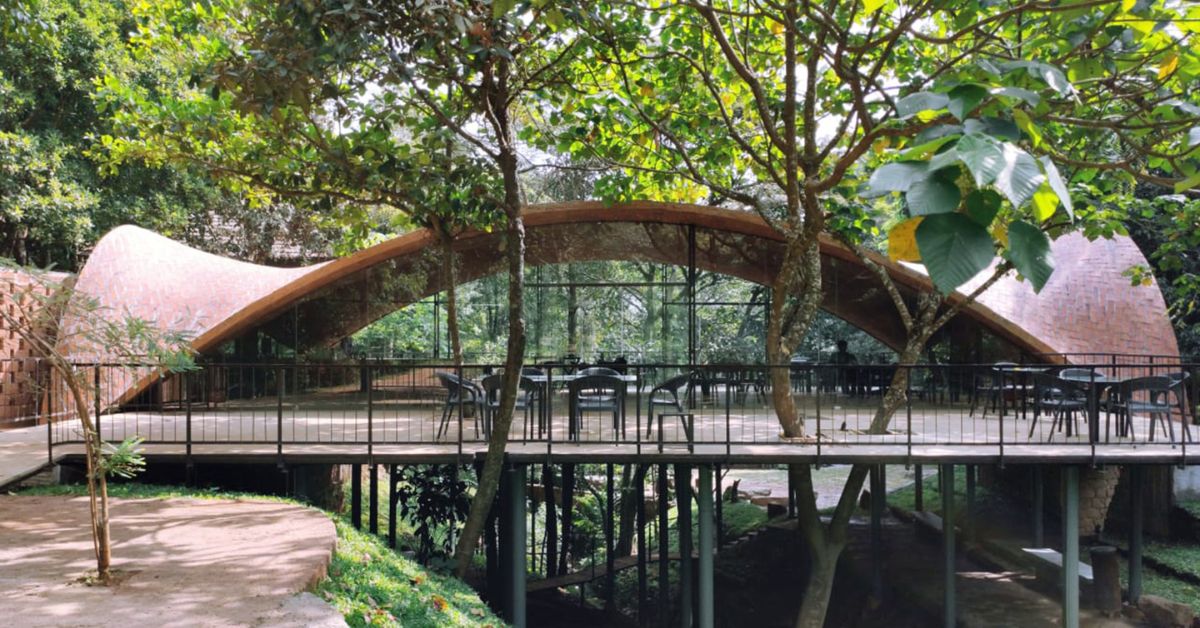 Senthil Kumar Doss, along with his team, worked on the dining vault at Sentinel Adventures in Karnataka, without cutting down a single tree in the process.
In May 2019, Senthil Kumar Doss, an architect with an experience of 22 years, was approached by one of his friends, Satishbabu, with an unusual request.
"Can you set up a restaurant in my valley resort without cutting down a single tree?"
The nature of the request intrigued Senthil as the 10-acre homestay turned resort Sentinel Adventures in Sakleshpur, Karnataka, was one that had lush greenery and received heavy rainfall throughout the year. Setting up a dining space here would be challenging in itself, not to mention tough to navigate while preserving nature.
But, Senthil was no stranger to unique designs. Having worked with the likes of Dominic Dube and even founded his own venture Play Architecture in 2005 in Bengaluru, he has always loved a good challenge.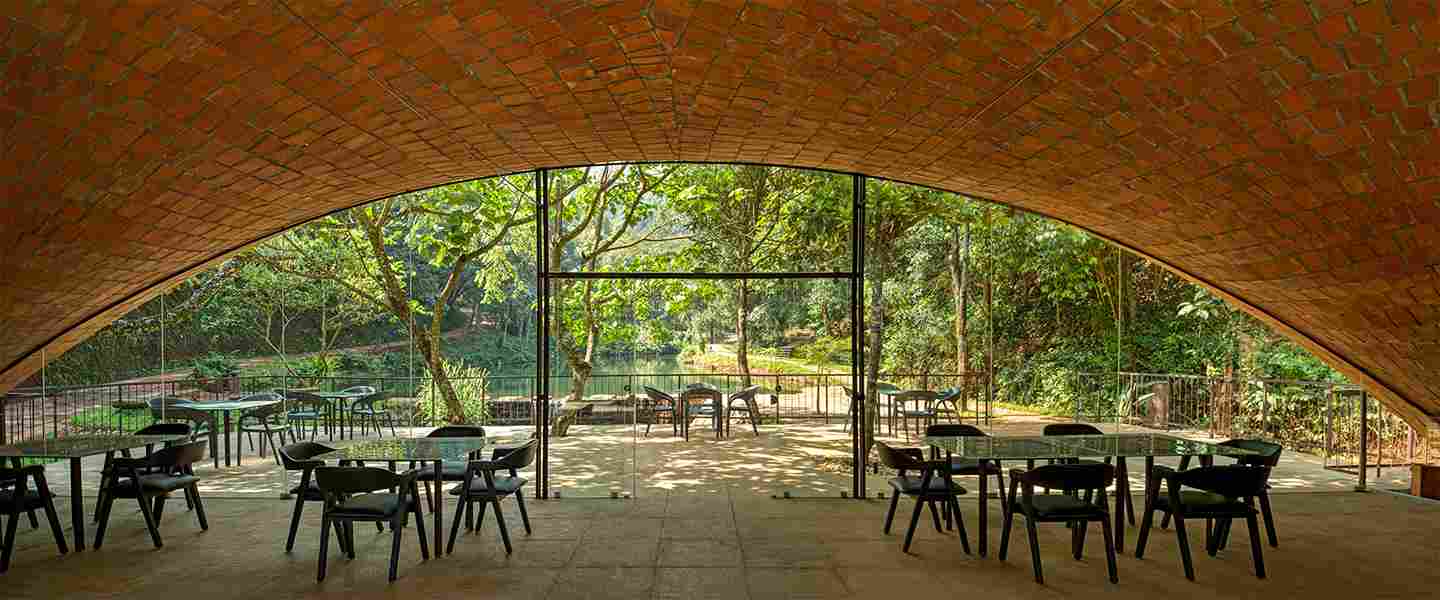 "With every new project I undertake, I love seeing a sort of transformation in what I do," he tells The Better India. "In my early days as an architect, I would work with those who had a modernist philosophy. This slowly transitioned to catenary structures, and since a recent few years, timbrel vaulting has been a newfound passion of mine."
He says being associated with the legendary South African architect Peter Rich, inspired this endeavour. Senthil had been experimenting with the prototype of vaulting for six years through workshops, etc and had finally managed to perfect the technique just before Satishbabu approached him for the unique project.
Envisioning a floating dining space
A civil contractor, Satishbabu had placed a few recycled GI pipes on-site a couple of years before he approached Senthil. He says he felt they would at some point in time be useful.
"I had placed them near the lake hoping that one day a design would come up here that would be able to use these pipes."
Senthil was amused by this, but on visiting the site, he had a strong feeling these would add to the beauty of the design.
"I felt those columns were in sync with the existing landscape," he says. "It almost felt like removing them would mean disturbing the ecosystem and so I decided to progress with them as is."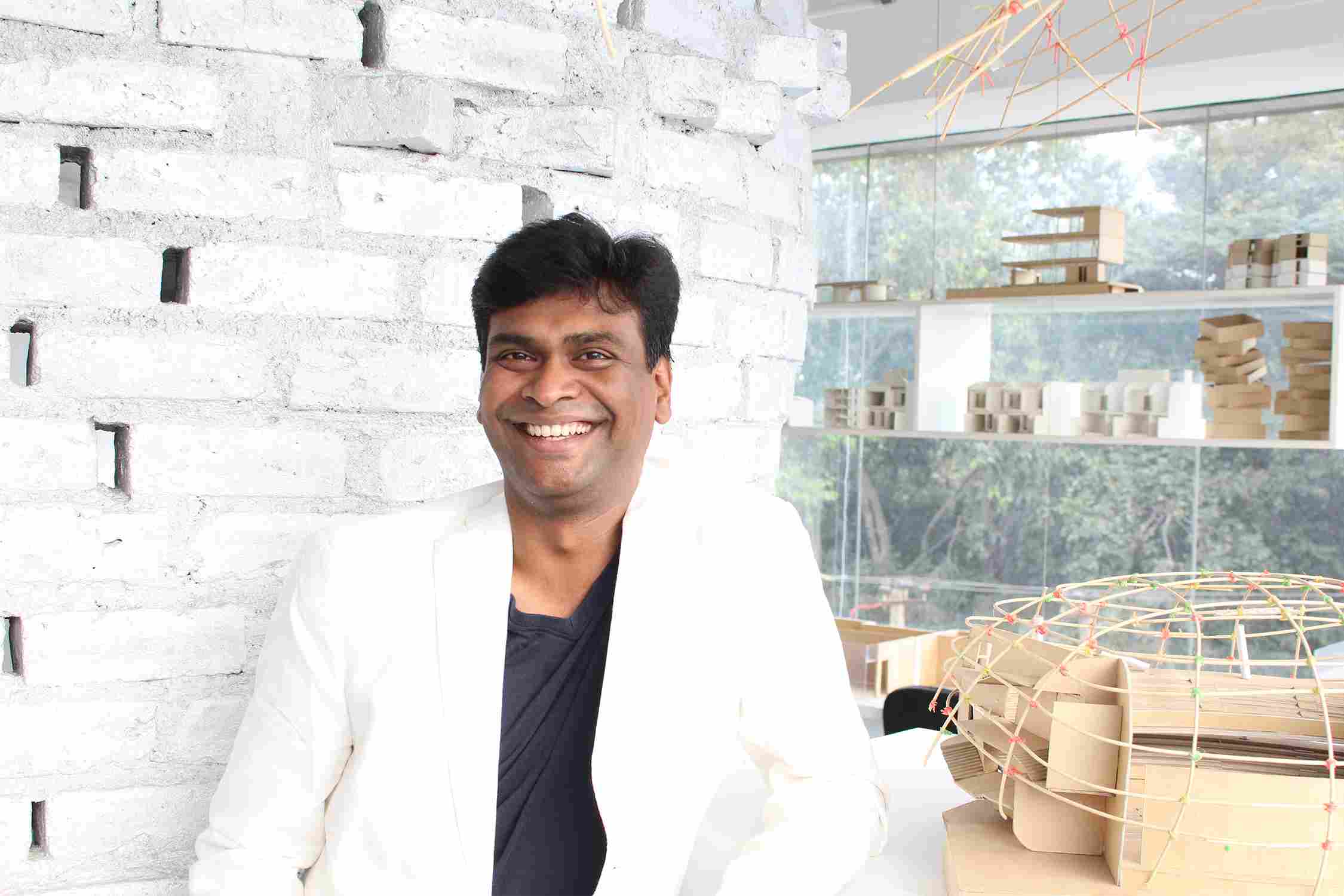 But wasn't it tough to navigate around those pre-existing structures?
"Sometimes, in architecture, it feels almost spiritual to just let things be, and to imagine new things over the pre-existing," he replies. And so, in June 2019, Senthil gave Satishbabu the proposal.
He along with Periyasamy P, an associate architect and Shivani Saran SK, a junior architect would create a dining room above the stream that would seat a total of 50. The square deck would have a floating canopy that would cover two-thirds of the floor surface.
"On the west, we would create an open deck with a view of the lake, while on the north and east, a rear deck would be constructed that would connect the structure to the existing facilities. Along with this, we wanted to ensure that beneath the deck there would be a unique, casual environment for exploration and contact with nature," explains Senthil.
An unparalleled design philosophy
The first focus was the roof and floor systems. With a plan to make the roof of a steel grid instead of concrete and use a stone slab as the floor, Senthil and his team started work.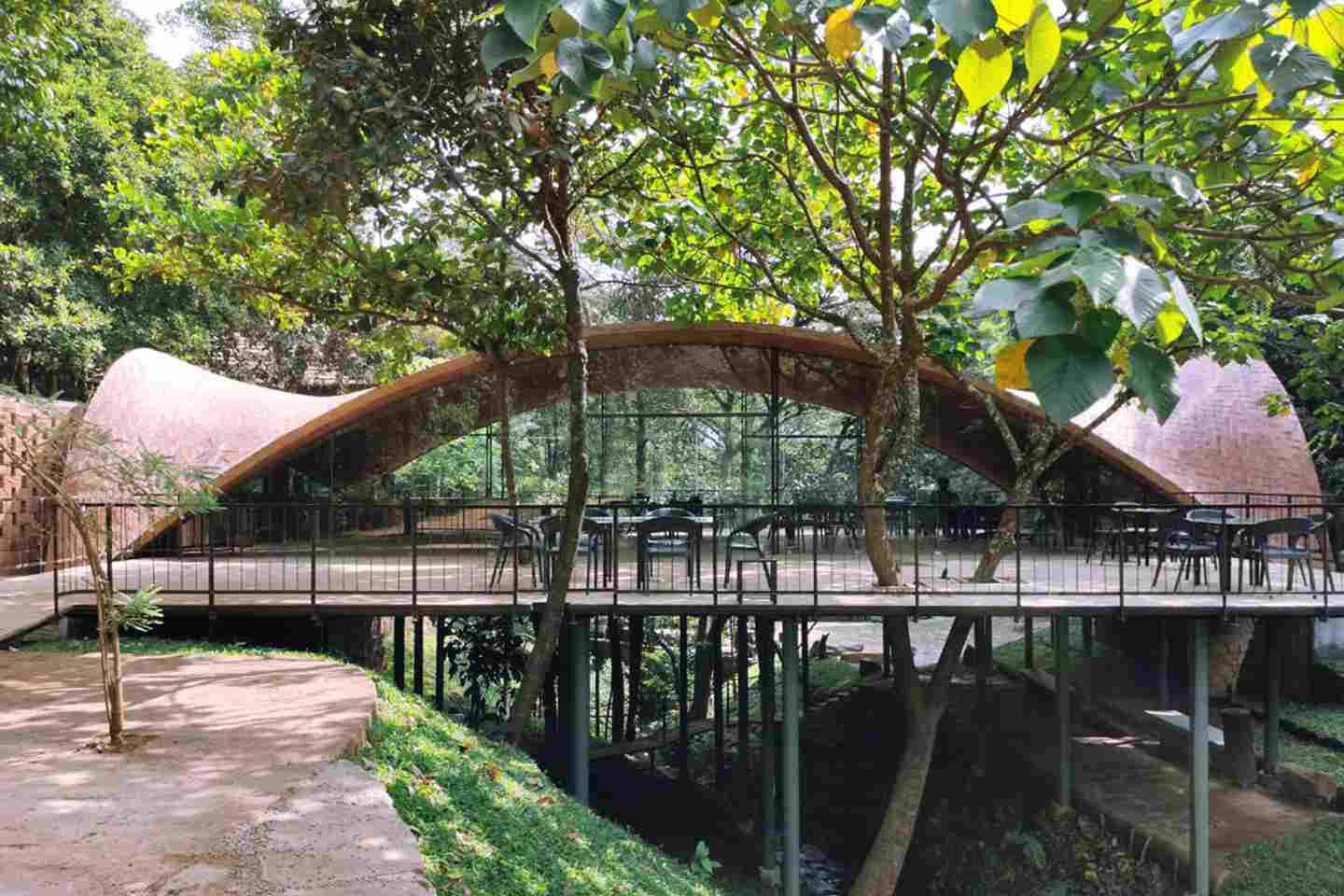 "The deck slab is made of 32 mm thick locally available granite and is supported by a forest of thin recycled steel columns," he says, adding that this blends in with the existing trees. He continues, "A 150 mm thick doubly curved timbrel vault roof in five layers of 15 mm thick ribbed clay tiles was created." This is 'probably the first large span of doubly curved thin tile shell structures in India'.
The clay tiles span 16.5 m and they spring independently from four corners. This, Senthil explains, creates a sense of floatation and also allows a column-free interior layout and flexibility in furniture arrangements. As the region sees heavy rainfall, a clear coat of zycosil was applied to the tiles to make them waterproof. "This will be needed to be reapplied every three years," he cautions.
The vault's simple steel formwork was recycled into tables, railings, and other structural elements, thus saving on cost and ensuring that the steel was reused.
The entire design, he says was inspired by nature's geometry and forces. The interior is smoothly connected to the outdoors, eventually merging and becoming one with it.
"Imagine water being poured on a surface. It flows in a certain way. This direction of flow has everything to do with the forces of nature. Thus, when a design in architecture is created in a way that allows it to be in sync with structural forces of nature, the design exudes elegance."
Not only was the design inspired by nature, but also nature was kept the focus of the project.
No trees were harmed in the making of this vault
The vault is positioned in such a way that it called for no cutting of trees. "The base deck floor in stone and steel made it a light structure which called for minimal foundation," says Senthil, "And the floor grids were worked around the existing trees allowing them to penetrate. The timbrel vault roof too was minimised in such a way that it was planned precisely between the existing tree layouts."
While the 'no trees should be cut' was an idea, it soon turned into a main contributing factor to the structure's sleekness. "The soul of this project lies in the natural landscape. Lesser or minimal human intervention would allow one to experience the project to its fullest potential," says Senthil, adding that they wanted less to be more, erasing the need for decoration.
In addition, the structure is sustainable. "A flat concrete roof would give me an eight-inch slab thickness and would necessitate heavy columns and beams. But we used terracotta which greatly helped."
The entire project cost Rs 60 lakhs, including the 2500 sq ft floor plate and 1500 sq ft roof and furniture on the open deck and was completed in July 2021.
Satishbabu was elated when he saw the final product and says it was more than what he had expected. But he was not surprised. "When I approached Senthil, we were sure that we will get something out of the box."
He says today he is seeing an inflow of visitors who come only for the nature aspect of the dining vault.
"People who visit develop a strong connection with the space. Even my own daughter's wedding happened in this place. It goes to show how much we are connected with it. It is authentic, cost-effective and versatile."
Speaking about the cost-effectiveness of the project, architect Periyasamy says they were able to develop experience and expertise in vaulting while staying within budget limits. "The design-build workshops we had done in the years leading up to this had given us an idea of how much it would cost."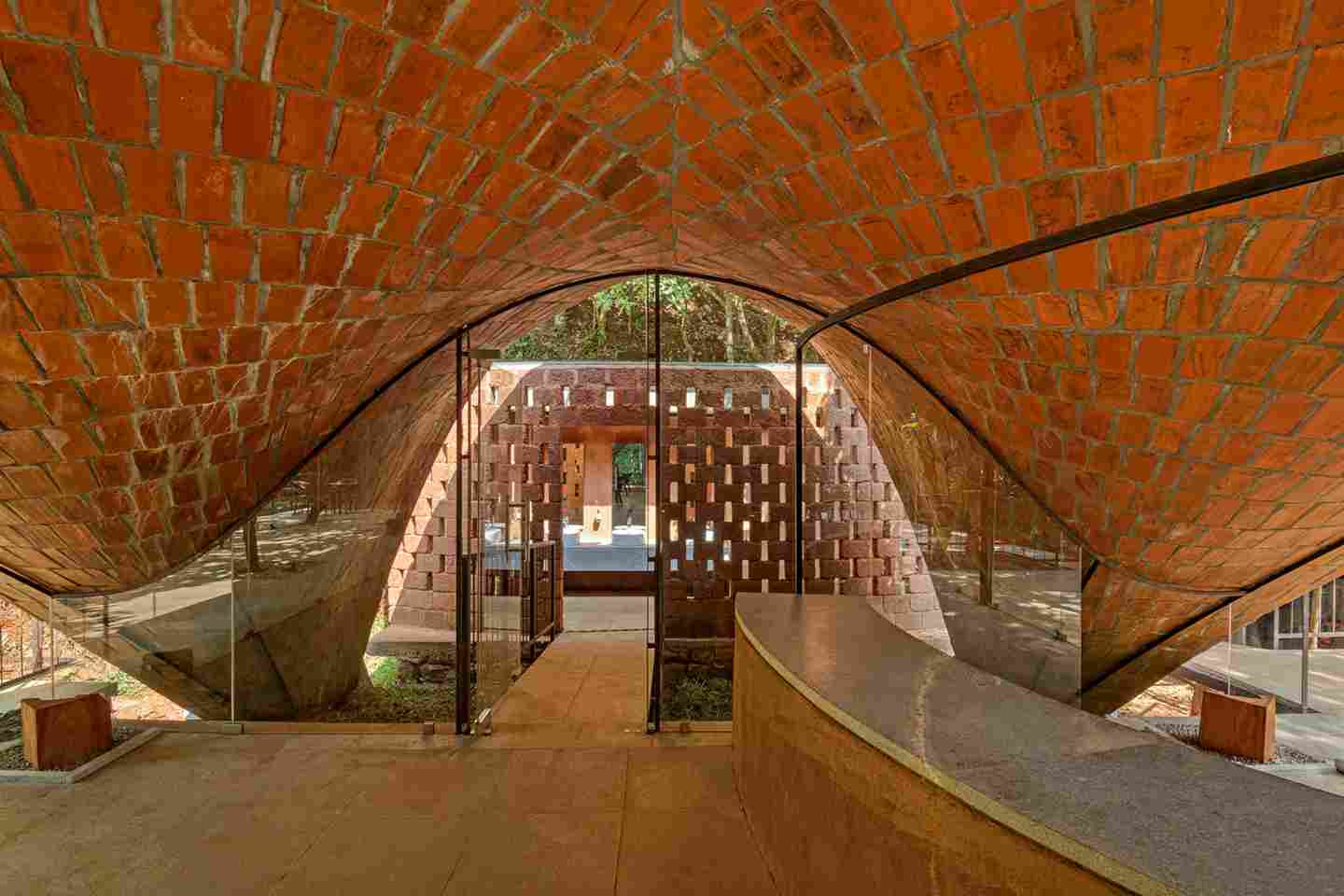 To other architects who also are looking to build such structures and use the timbrel vaulting concept, he says "It is vital that the construction team understands the concept. With newer projects we are undertaking, we are making sure to reduce the cost of the formwork and improve speed and consistency of labour."
While on the subject of getting the team to understand the concept, Senthil says the entire project was done hands-on wherein the architects worked with the masons and stayed on site to build the structure. This ensured no gap in the design idea and outcome.
A challenge to navigate was of course the weather. "The area sees intense rainfall so the choice of material had to be done carefully so that the technique would not fail under extreme weather conditions," says Senthil adding that the water level was high, and the team could not go to very deep foundations.
But he says even though they had no structural consultant or structural analysis done for this timbrel vault, it was designed and executed based on structural logic.
"The seamlessness of the idea is reflected in the design."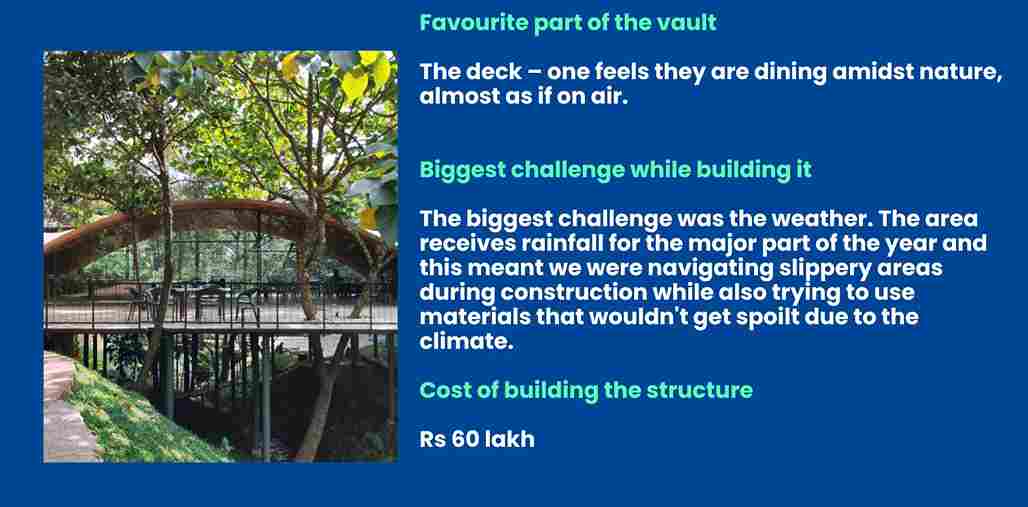 Edited by Yoshita Rao