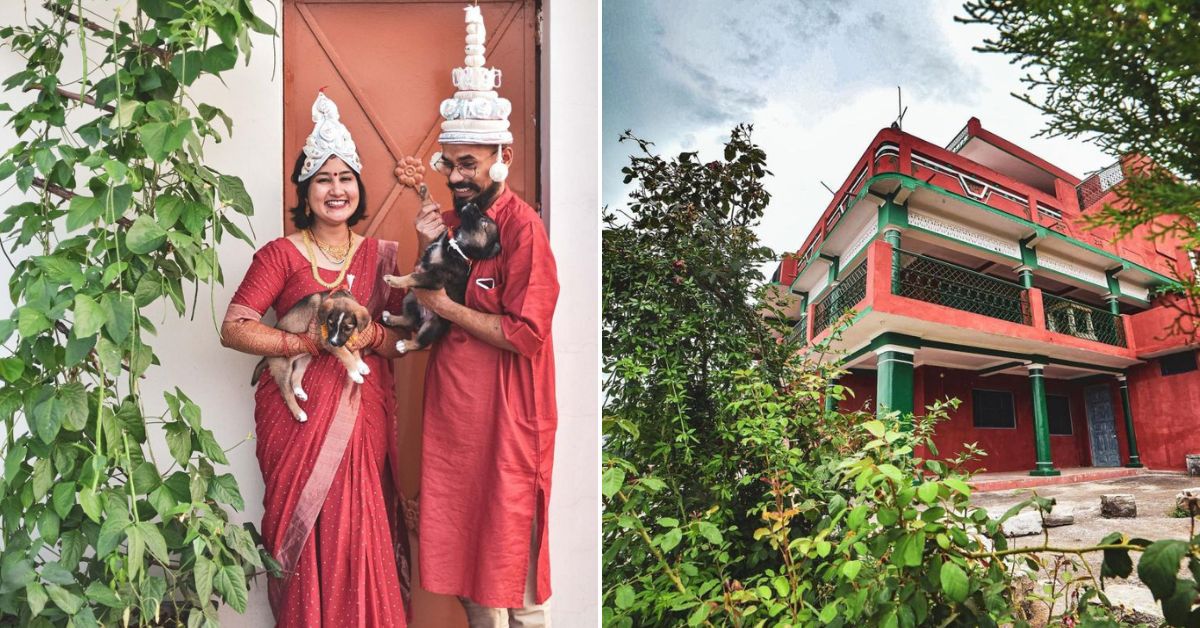 Sambit Dattachaudhuri and Disha Kapkoti left their city lives to run The Doi Homestay in a remote mountain village in the Kumaon region of Uttarakhand. Nestled amidst a fruit orchard, the homestay is perfect for those seeking an escape from city life.
Nestled among the beautiful and picturesque landscapes, surrounded by thick deodar forests, fruit orchards and the majestic Himalayan peaks, is the Doi Homestay. A serene little abode in the quaint mountain village of Nathuakhan of Uttarakhand, it is an ideal place for nature lovers and those seeking an escape from the hustle of city life.
This homestay exudes the feel of a natural retreat than a homestay and offers all the comforts of a home away from home.
Run by Sambit Dattachaudhuri and Disha Kapkoti, the Doi Homestay was a passion project for the couple.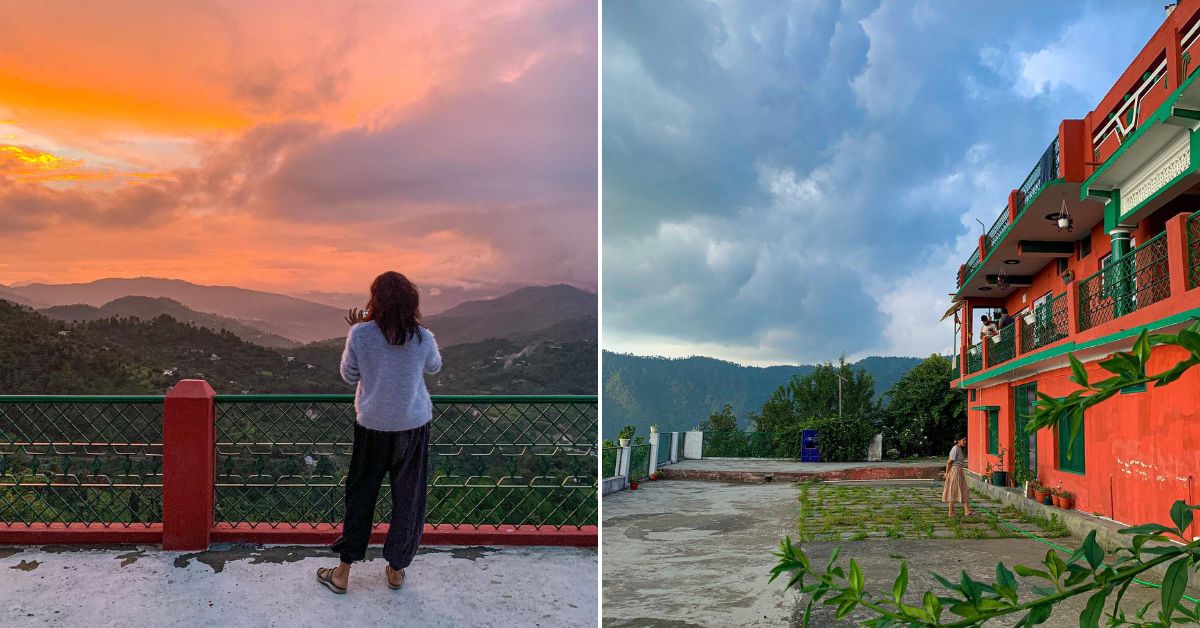 "We met in Delhi through a common friend almost five years ago when Disha had quit her job as a travel writer," says Sambit who used to work as a freelance filmmaker and photographer. "We both fit in each other's lives easily, as we shared similar interests in travelling, food, exploring new places, and meeting new people. But it was Disha's dream to set up a responsibly-run homestay in Uttarakhand," he adds.
Disha says, "My work involved a lot of travel, where I used to go and stay at different places and review them. This helped me understand the travel industry better and led me in this direction. Besides, I am from Uttarakhand and it turned out to be an obvious choice for me. Luckily, Sambit's interests aligned with my dream."
The couple set up their homestay in 2020 after taking an old house for lease in Nathuakhan. Though it wasn't easy amidst the pandemic, they say, they managed to open it in July offering only long-term stays by strictly abiding by the COVID rules.
Ever since they have been hosting guests from across the country. Now they have opened their doors to those looking for shorter stays as well.
The Doi Host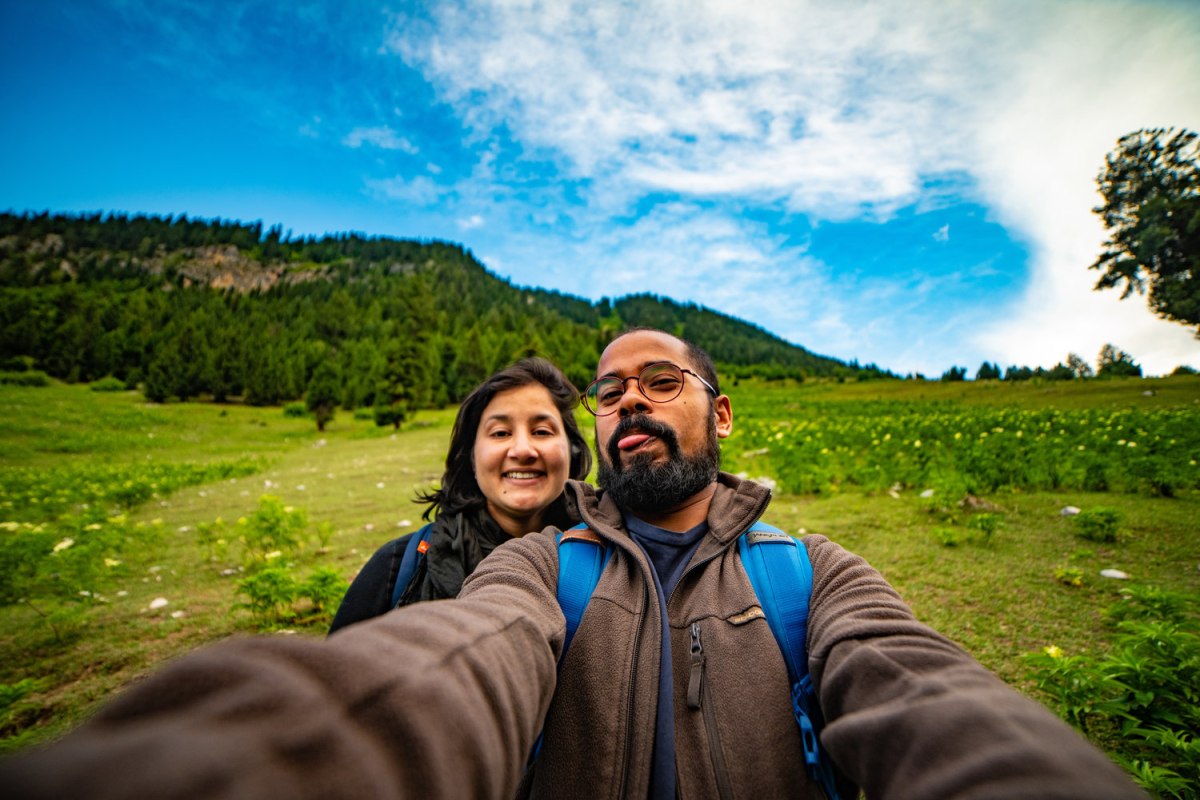 In 2017, they decided to pursue their dream project of starting a responsibly-run homestay in the hills. But they also realised that it wasn't something that they could build in a day. So, as a first step towards fulfilling their dream, in the same year, they launched a travel company — The Doi Host — promoting sustainable road trips offering immersive travel experiences.
"Though we had a clear vision of what we wanted to build, we realised that it would require a lot of funds, which wasn't immediately possible at that point. So, we launched the Doi Host, where we both became travel guides taking people on curated trips to remote locations in the Himalayas; to Sikkim, Meghalaya, Himachal, Kashmir and so on," says Sambit, adding that they conducted trips from 2017 to 2020.
Asked about the name 'Doi', Disha says, "It is a Kumaoni word which means a person who doesn't like to come back home/ a wanderer. It has stuck with me for so long. A lot of people used to call me a 'doi'."
"Also, the Kumaoni language is one of the dying languages. So, I thought if we use a word from the language it could be a conversation starter," adds the 30-year-old, who is a native of Haldwani in the Kumaon region.
After travelling together for around three years, Sambit says, they realised that they worked well together. "During our trips, which extended for seven to eight days, we mostly stayed in local homestays that helped our guests experience the local culture and way of life. Besides, it also helped us understand the business better. Alongside, we kept looking for a perfect place to set up our homestay until we found one in November 2019," explains the 32-year-old.
They started the work in February 2020 but when the pandemic hit, it brought a lot of challenges. "I was stranded in Delhi and Disha took care of all the work of setting up the homestay. But finally, we were able to get married and host our first guests in July 2020," he adds.
A homestay amidst a fruit orchard
Of the very few homestays in Nathuakhan in the Kumaon region, the Doi Homestay, set at around 2000 metres above sea level, is unique for many reasons. The house is a little away from the village, into the oak-pine forests, surrounded by flourishing fruit orchards and tea gardens.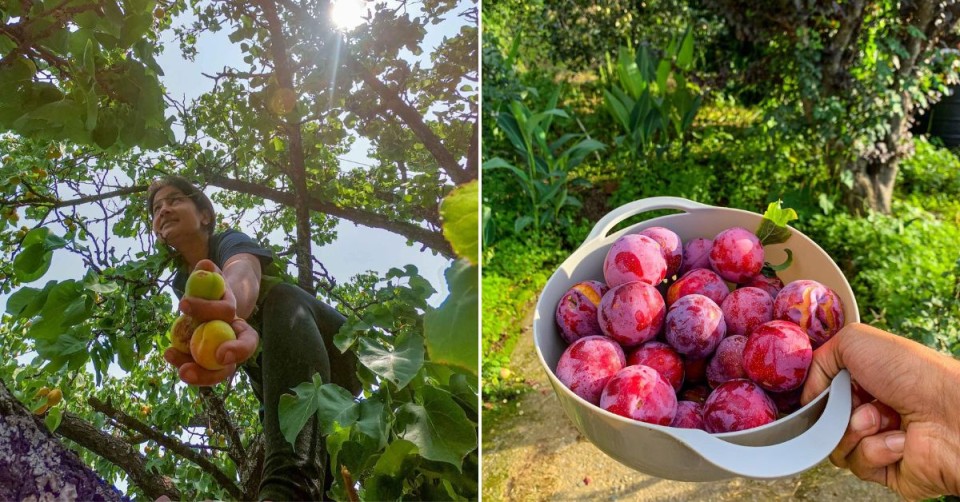 "On one side of the homestay, we have orchards of apricots, peaches, plums, apples, pears, and so on. Additionally, we have a small garden of Uttarakhand Tea in our backyard. We also grow several vegetables, herbs, pulses, etc. as we are aiming towards becoming self-sufficient and sustainable," Sambit says.
They also grow several varieties of tomatoes, different varieties of radishes, strawberries, chamomiles, and so on around the homestay. "We both cook at times and we have a special love for Italian and middle-eastern food," he gushes.
As Disha and Sambit are gastronomes, they are always up for good food. Therefore, they make sure that they serve delicious home-cooked meals for their guests.
"We do have an in-house chef who cooks local food and all kinds of Indian dishes. Besides, we have an elaborate menu for continental, where we use only those ingredients that are grown around our homestay. So, we set the menu according to the availability of the ingredients," elaborates Sambit, adding that it is an effort towards attaining self-sustainability.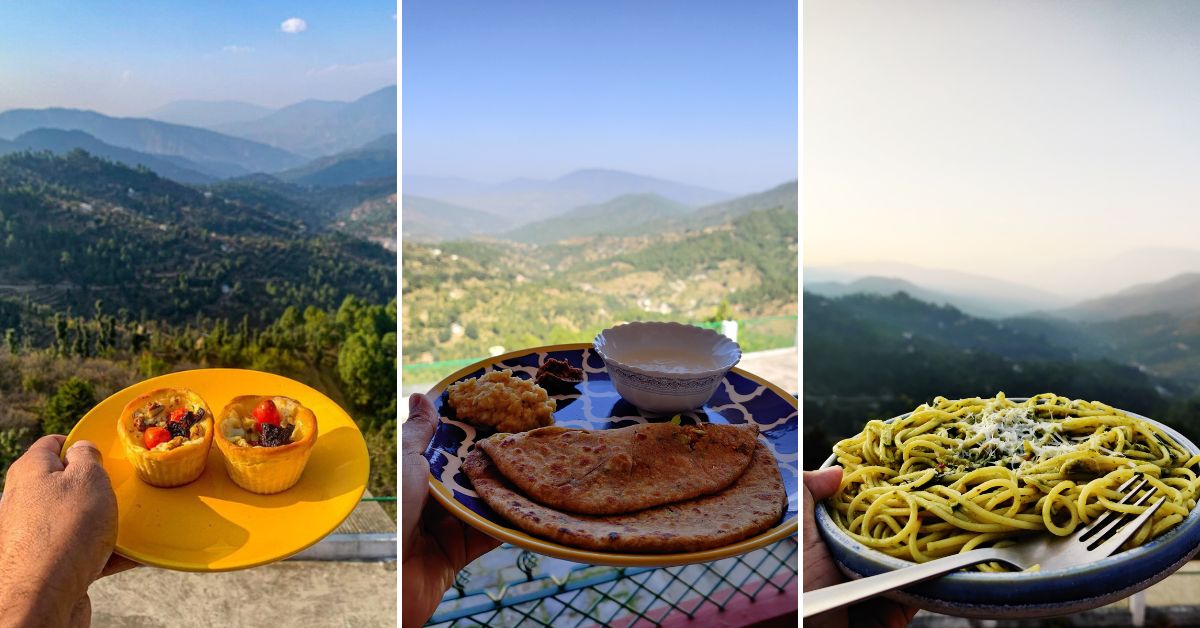 "The place is just like a retreat, as it is set in a village where there aren't so many things to do around. It is a remote village and there are no cafes or restaurants around. You need to travel at least 15 km to find a restaurant in Mukteshwar," he says, adding, "Hence all our packages are inclusive of all three meals throughout the day."
The homestay offers packages for long-term stays ranging from Rs 33,000 to Rs 39,000 for 30 days for single occupancy and Rs 39,000 to Rs 51,000 for double occupancy. For shorter stays, the price starts from Rs 2,100 per person per day and Rs 3,000 for two people per day.
While talking to some of the repeat guests at The Doi Homestay, Riyanka Roy from Gurgaon says, "My first visit to the homestay was in October 2020, it was just after the pandemic lockdown and it felt like the best thing that happened to me that year. I must say, the best part about the homestay is their food. Starting from breakfast to dinner all the meals they served were scrumptious. Besides, Sambit cooks and bakes so well. He used to make us pasta, pizza, sandwiches and yummy desserts."
Another highlight of the homestay is the magnificent view of the Himalayan ranges, where one can wake up to the view of snow-clad peaks like Trishul, Nanda Ghunti, Chaukhamba, and Neelkanth.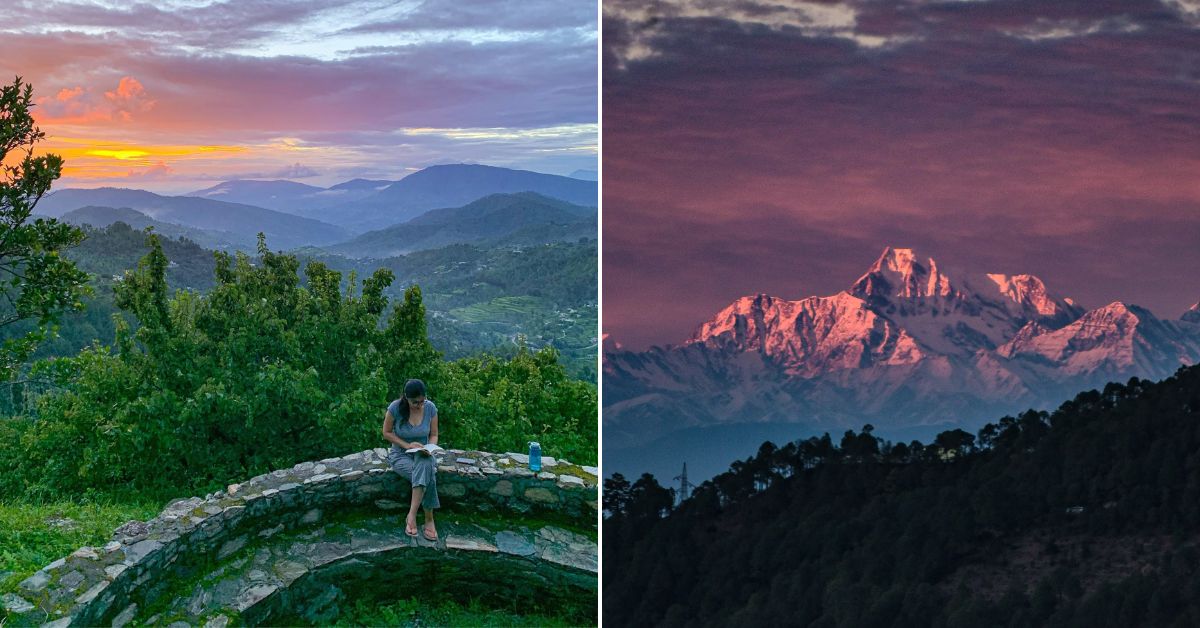 There are several beautiful trails around the homestay where one can walk around the oak forests or hike down to the villages of Delkuna and Baret or take a walk to hidden waterfalls and streams.
Another loyal customer, Kanak Singh from Aligarh says, "I visited them twice, the first time in February 2022 when I stayed there for over a month. Later, I visited them in June for over a week. It is a beautiful homestay that makes you feel safe and at home. Besides, Disha and Sambit were such great hosts."
She adds, "During my stay, I used to go for solo hikes near the homestay which has so many beautiful trails around it. I even made a friend in the village, a 14-year-old girl, who sometimes accompanies me for the hikes and we still keep in touch."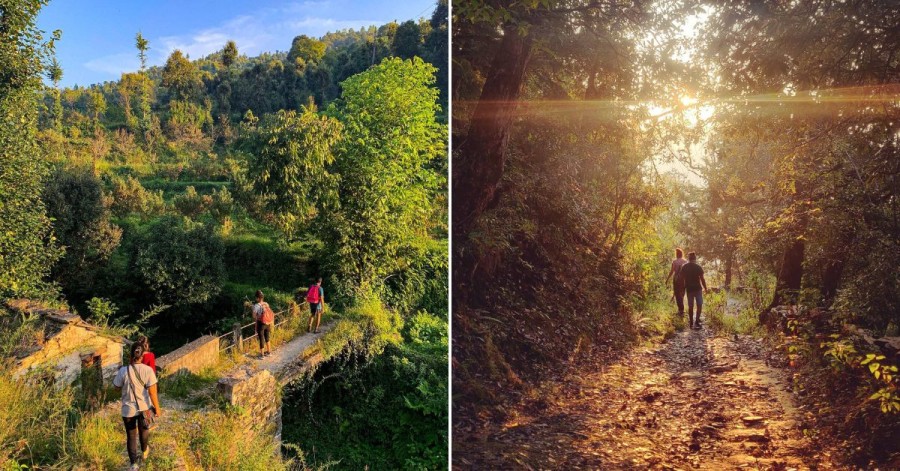 "There are five rooms in total that are named after different fruits available in the orchard — Malta, kiwi, plum, apple, apricot are our rooms," says Disha. The rooms accommodate one to two people.
Disha says one of the major challenges that they have been facing since the launch of the homestay is plastic waste management.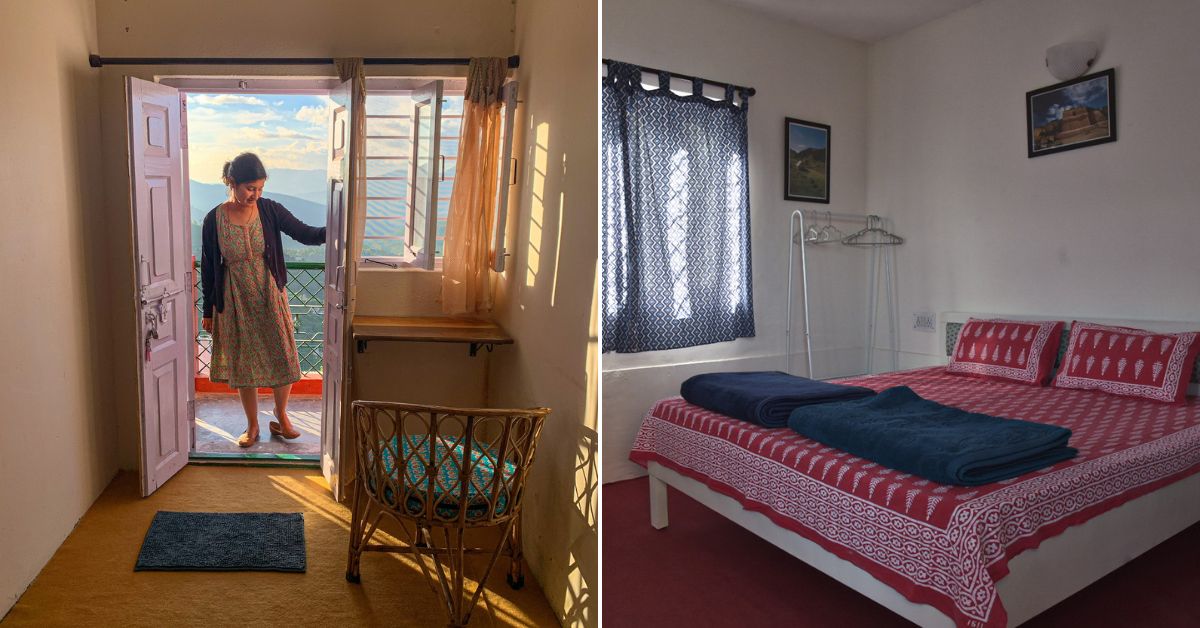 "Since it is a village, there is no facility where they would come and collect the plastic waste. So, we decided to collect the plastic waste in our homestay and send it for upcycling at a plant in Haldwani," she explains, adding, "We wanted our homestay to be as eco-friendly as possible. We wouldn't say that we haven't achieved it completely but we are definitely in the process."
Talking about their journey so far, Disha says, "It was a lot of work and took a lot of time to get to this point. But looking back we are so grateful for how things have turned out. I feel that things worked out the way it was supposed to."
"It was teamwork where we both could take responsibilities and grow together," she concludes.
Disha and Sambit are now busy setting up their soon-to-be-open pizzeria and bakery at Seetla, almost 7 km from the homestay.
For bookings and more information, you can visit their website or contact them at +91-9871083849 / +91-9654485394.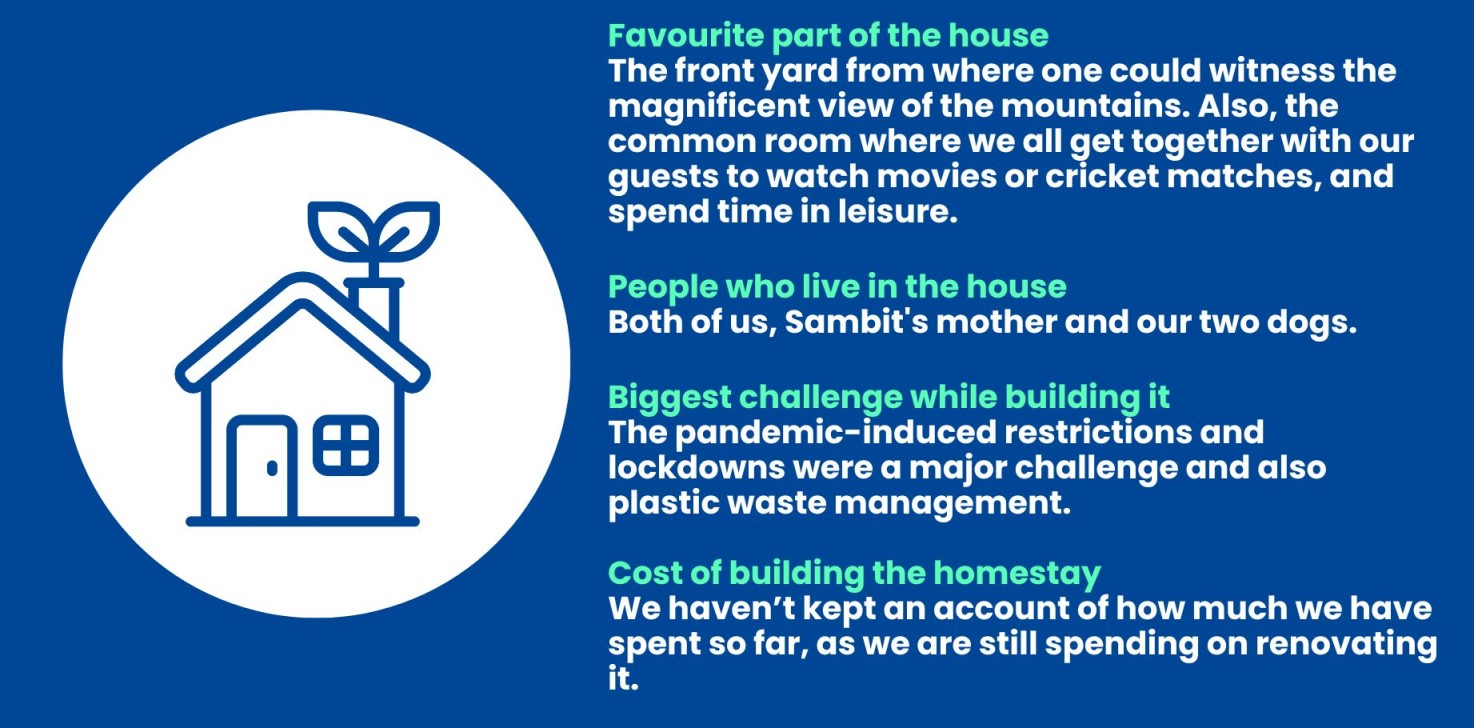 (Edited by Yoshita Rao)
We bring stories straight from the heart of India, to inspire millions and create a wave of impact. Our positive movement is growing bigger everyday, and we would love for you to join it.
Please contribute whatever you can, every little penny helps our team in bringing you more stories that support dreams and spread hope.