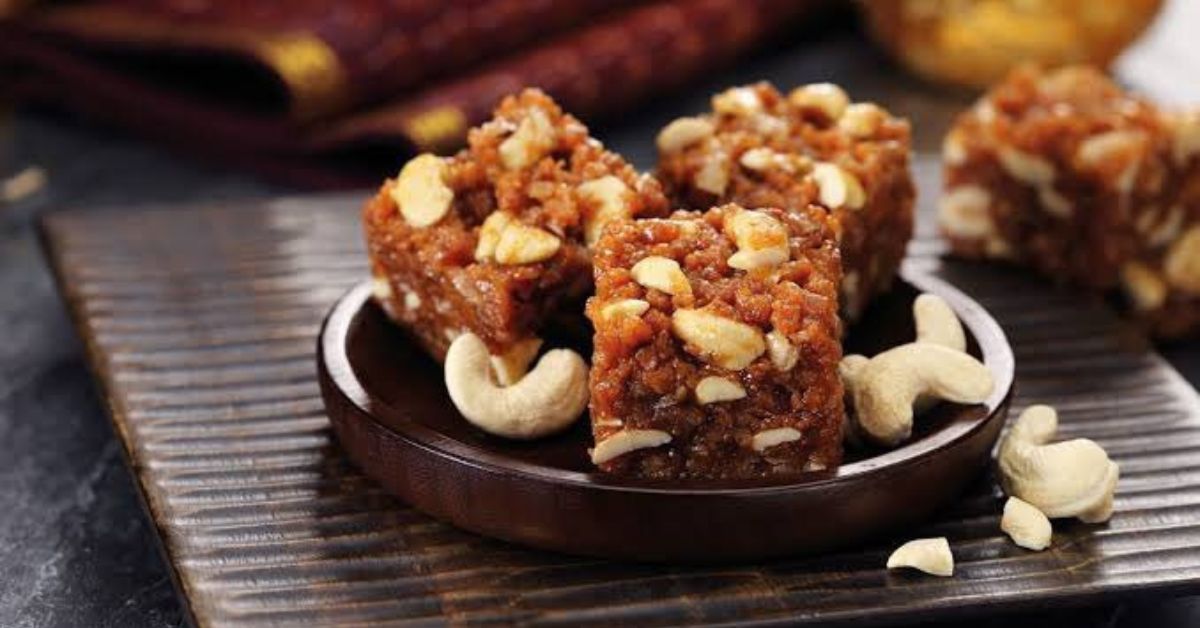 Punjabi wrestler Harbans Vig tried a new barfi recipe in 1912 that we now know and love. Here's how it came into being.
(Feature image credit: @MsAnjaliB on Twitter) 
If you have tasted the heavenly combination of milk, sugar and ghee blended into a mouth-watering barfi, you will testify that this is a dish for the likes of Gods and Kings.
It's a Tuesday morning and I walk into my favourite go-to sweet mart on the curb to buy a pack of jalebis. But I am unable to take my eyes off the multi-coloured delicate squares of milk that lie behind the glass case.
As I add to my order a few of these different varieties of barfi, I am intrigued by how this humble recipe of sweetened milk has a fan following of its own.
To let you in on the origins of the name, it is from the Persian word 'barf' which means 'snow', and encapsulates the white creamy appearance of the sweet.
Today, these square-shaped delights are one of the most popular mithais of India according to my vendor and history too.
It turns out, it all started with a Punjabi boy who was fussy.
According to legend, Harbans Vig, a wrestler from Punjab was tired of the monotonous ghee and milk that he would have to consume to retain his fitness and strength. As the saying goes, necessity is the mother of invention and so this need for an upgrade in the diet was met with him trying out a recipe of his own in 1912.
So, into the pan went milk, cream, sugar and ghee along with nuts to add the taste. The result was the dodha barfi that was akin to fudge but only way healthier and tastier and of course, satisfied Harbans' cravings.
This sweet would in the years to come achieve its status as a delectable chewy mithai, a favourite among children and adults, and as one of the must-buys on your shopping spree.
The preparation is a tedious affair with hours of stirring awaiting anyone who wishes to prepare it. Once a homogenous consistency is achieved, the mix is set into semi-solid cubes that are then allowed to cool and can be stored for up to two weeks at room temperature, after which they need to be refrigerated.
But aside from being a treat to the taste buds, the dodha mithai is also high on the health list.
Owing to milk being the primary ingredient along with an abundance of nuts that serve as the garnishing, the mithai gives you the essential fatty acids, lactose and minerals. The nuts lend their fibres and vitamin E, a vitamin that is believed to be your skin's path to gorgeousness.
While my vendor says the dodha barfi he makes is as traditional as it gets, if you are a sweet aficionado and won't settle for claims unless you try it yourself, I'd suggest taking a trip to North India.
Here, the true tradition left behind by Harbans Vig still prevails — a melange of germinated wheat flour, buffalo milk and sugar along with nuts and ghee and sometimes even dahi that leave a lasting taste on your palate.
While the tradition of the dodha barfi has carried on, one might ask what happened to the famous wrestler whom we have to thank for his experimenting.
The answer finds its roots in the Partition of 1947.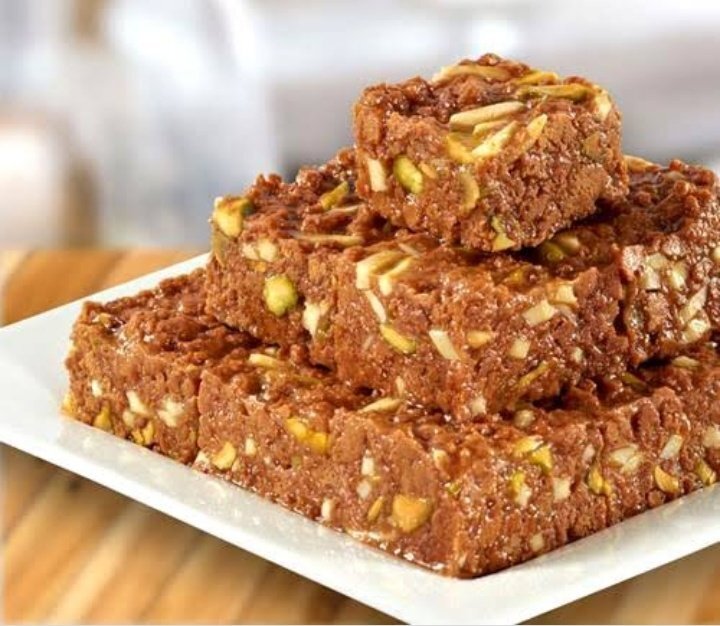 The Vig family had to change bases during the Partition from Sarghoda district (now Pakistan) to Kotkapura, Punjab, where they started the Royal Dodha House, which is now managed by the wrestler's great-grandson Vipin Vig. The website of the Royal Dodha House reads, "The recipe of Dhodha is a closely guarded secret and is passed from generation to generation. When we eat Dhodha today, It tastes the same as it did to our forefathers 104 years back."
The sweet is now sold to 40 towns in Punjab as and has also reached the shores of the United States when on its 100th birthday it was sent to the White House. "Appreciation by the White House people means a lot to me," said Vipin Vig in a statement to Hindustan Times. "Our forefathers will be happy somewhere."
Meanwhile, another family moved into their home in Pakistan and continued the legacy of the dodha burfi.
Today, there are several versions of the barfi prevalent in India and one of these is the Tirangi Barfi of Banaras which also stems from a significant event in history.
A barfi born out of patriotism
You may be familiar with it as the mithai that makes a special appearance on National holidays such as Independence Day and Republic Day. Ironically, its creation too was rooted in nationalism.
The story goes that in 1850 Shri Raghunath Das Gupta ran a small sweet shop in Thatheri Bazaar, Banaras. Soon, his son Shri Madan Gopal Gupta joined him in 1945. This was around the same time that the struggle for Independence was on and wanting to contribute in some way to this fight, the young Gupta did so in a way that he knew best — making mithai.
So he began naming the sweets he came up with, after different national heroes who were struggling to get India her independence. Customers would be treated to Jawahar Laddoo, Gandhi Gaurav, etc.
Among these, the tirangi barfi too was a standout and continues to this day to be a symbol of India's independence.
It was relished by Indians and Britishers alike, with its colour scheme that included saffron at the top, almonds and cashew nuts for the middle layer and pistachios for the bottom.
These accounts from history about the making of the barfi are successors to the initial story of sweet making. Eight centuries ago, the people of the Indus Valley Civilisation were familiar with fermenting sugar and thus creating sweets. While it is not known yet what these desserts were, we can safely assume sugar blended with milk has always been the roots of Indian mithai.
An article in Swarajya speaks of this. In the article, Sumedha Verma Ojha, author and a passionate writer of topics centred around ancient India, writes about the Indus Valley Civilisation, "Sharkara" or shakkar is an original Indian product made from sugarcane and there were many kinds of products and sweets made by mixing this with other things like til, wheat, rice or barley flour. Of course, rice cooked in milk and sugar, payasa or kheer has never lost its popularity."
As we weave together the narrative of the barfi with these legends from history, one cannot deny that the sweet has occupied a special space in our hearts even years after these stories were said to have happened. Today, the popular barfi has derided over the other sweets by getting a special place on the plate that is offered to deities.
The reason for this choice of sweet is the purity of the ingredients. Ghee, sugar and milk are all in the pure form and thus these make barfi the food for gods.
While the khoya barfi is offered in temples as prashad, it is also one of the most important elements in the 'bhog' that is offered to Goddess Laxmi and Lord Jagannath.
From temples, the sweet has been popular as one prepared during festivals such as Diwali, Rakhi and even at auspicious pujas.
Through the years, the barfi culture has spread all over India, with the main ingredient changing. Step into any sweet shop and you will be greeted with a long list of anjeer barfi, the moong dal barfi, the kaju barfi, coconut barfi and even the more experimental rose barfi, chocolate barfi and more.
As I realise that this is a sweet that will continue to dominate the Indian mithai scene for generations to come, my vendor nudges me.
My package is ready and I can't wait to relish it.
Sources
Edited by Yoshita Rao
We bring stories straight from the heart of India, to inspire millions and create a wave of impact. Our positive movement is growing bigger everyday, and we would love for you to join it.
Please contribute whatever you can, every little penny helps our team in bringing you more stories that support dreams and spread hope.
Tell Us More