We have seen signs of it everywhere. Our ponds have dried up, native birds and insects have become extinct, parks have made way for IT Parks. Yet we live like there's no tomorrow. Well, this group of nameless volunteers has taken it upon themselves to script a different future for our children. Their amazing tale will show you how nature can work wonders when you choose to work with her.
From our hill stations and lakes to monuments and holy shrines, tourist spots across India have a uniform trait to them –you'll most likely see plastic bags, leftover food and yes, the signatures of the lovely tourists who had previously walked over those realms. While that's the only mark most of us are capable of leaving behind, tourists in Puducherry have chosen to do the exact opposite – transforming trash into treasure, and how.
Volunteers from over 50 countries have joined forces to change a 70 acre arid land into a lush forest.
Being a Pondicherrian, the place was unrecognizable to us. In a period of 11 years, more than 40 acres of TDEF (Tropical Dry Evergreen Forest) have been reclaimed, and with their water conservation efforts, the water table in the surrounding area has risen substantially too.
Yes, the wells in the neighbouring zones have finally watered up, thanks to the Sadhana Forest project run by Israeli-origin environmentalists Aviram (50) and Yorit Rozin (43). One visit to the community run inside the forest is all it takes for us to realize the precious wealth we happily squander – our beloved soil.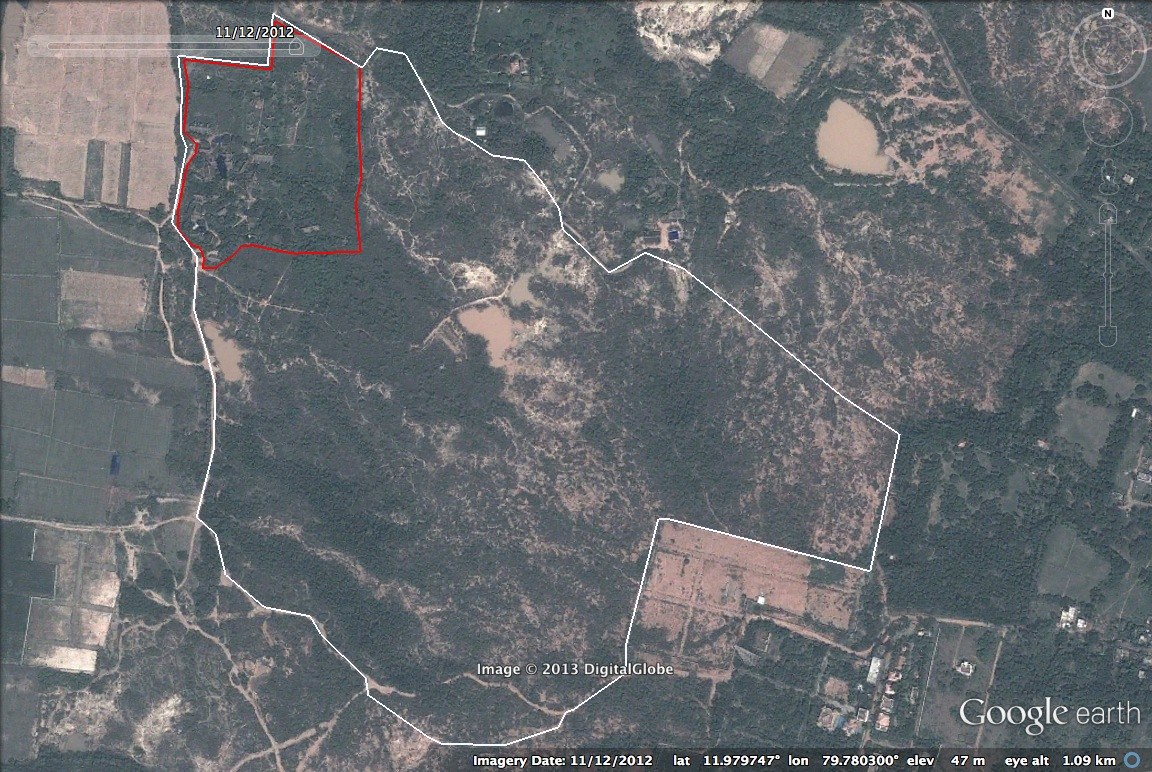 The first thing you'll notice when you step inside Sadhana Forest are the plastic cola bottles. Only this time, instead of being strewn across the land, they are carefully poised with a wick to enable irrigation (wick irrigation method).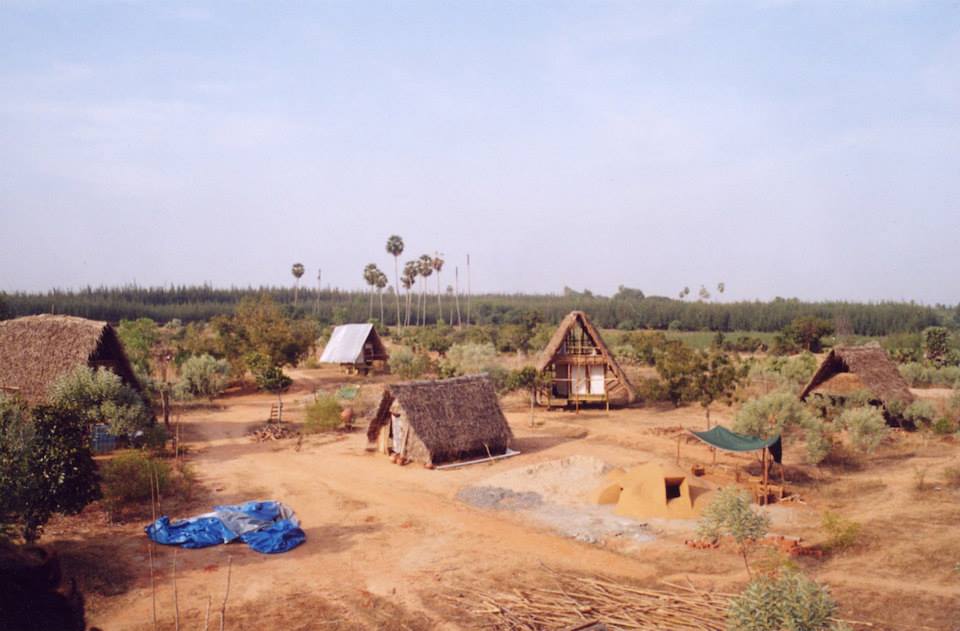 Two volunteers stepped out to guide us around the land and we witness the magic that has been done to what was once a dry, parched land.
The forest is now buzzing with birds and insects of all kinds and the volunteers have planted 29,000 Tropical Dry Evergreen Forest plants of 160 different indigenous species, and are constantly mulching and caring for them. Survival rate in average is between 80% – 90%.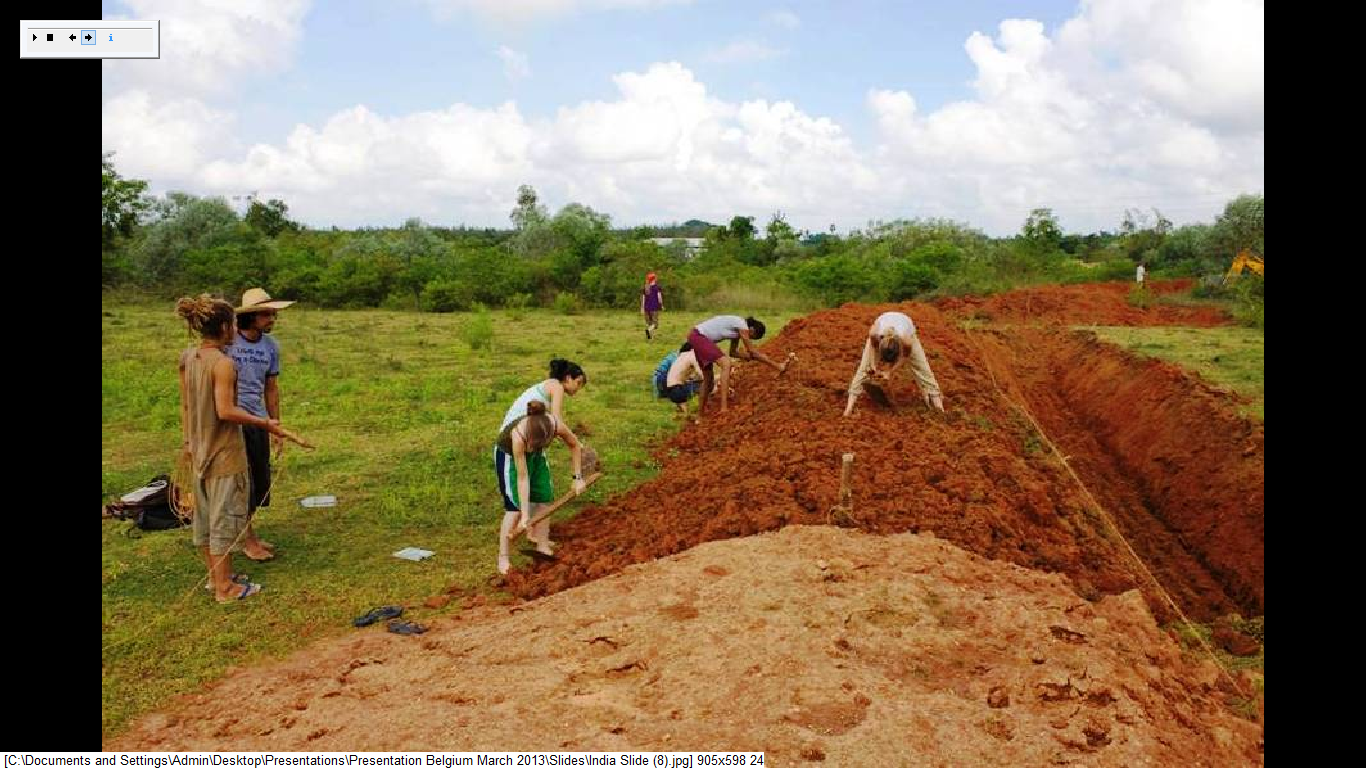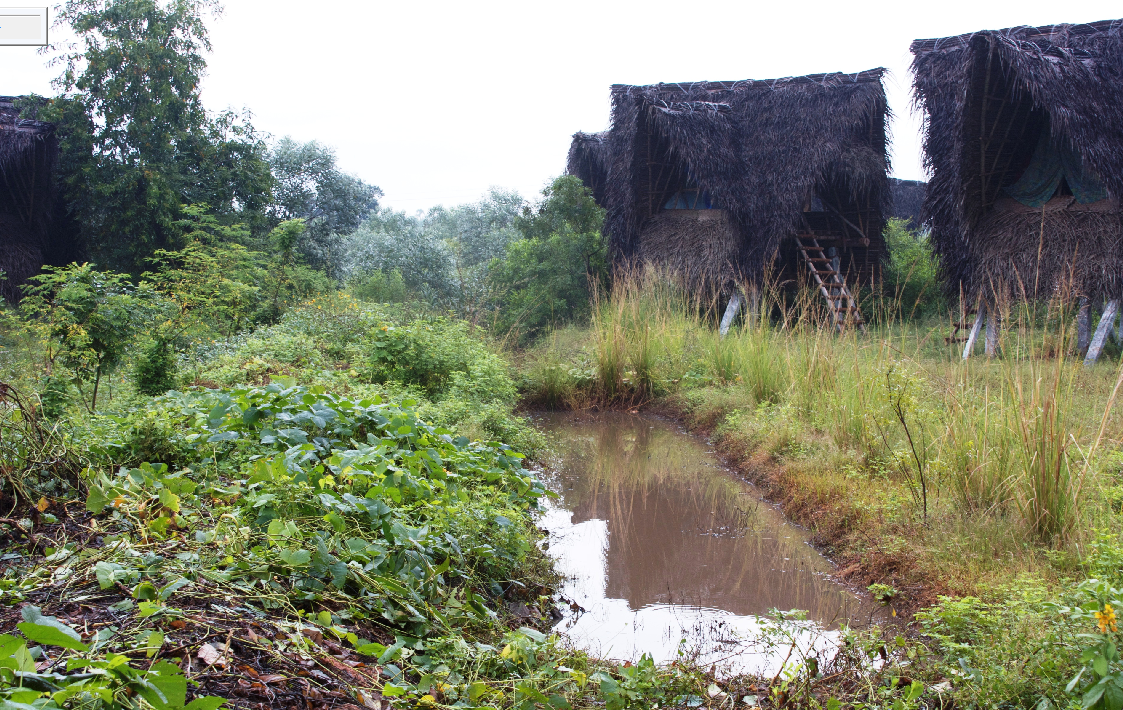 We ask Aviram about what prompted this beautiful effort and he says, "After a year of farming in Auroville (an international spiritual community), we wanted to enable people to do productive work with nature. This 70 acre-land belongs to the Auroville Foundation and we were appointed as stewards to manage it the best we can."
Aviram, along with his family and a set of volunteers then began planting trees, acre by acre. Slowly, the word spread and Sadhana Forest soon had eager volunteers swamping the place. The bigger challenge however was water conservation. They went around digging percolation ponds, building swales, bunds, earth dams and more to make do with available water resources.
Aviram smiles and adds, "We read a lot of books on the subject but it was and is still a constant learning process for us. Every soil is different and the land itself is the best teacher."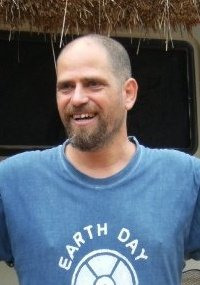 The best part of Sadhana Forest is not only do they store and recharge the water aquifer (ground water), they also ensure that they use as little water as possible. They have a small community of long-term and short-term volunteers who live inside the forest and every action they do here is inspiring, to the very least. These volunteers get up every day to work tirelessly for the land that is not theirs and whose fruits they'll never reap. They just give their time and energy expecting nothing in return from nature or the local population. So, what do they seek here?
Lark Rodman, a long-time volunteer from USA replies, "I came to Sadhana Forest because I was looking for a place where sustainability wasn't just a catch phrase, a place where living sustainably could be a practiced reality. At Sadhana Forest, everything from the food we eat and how it is prepared to our water consumption to the use and reuse of every kind of waste is approached with a deep consciousness of its effect on the environment as well as the community."
Zero waste policy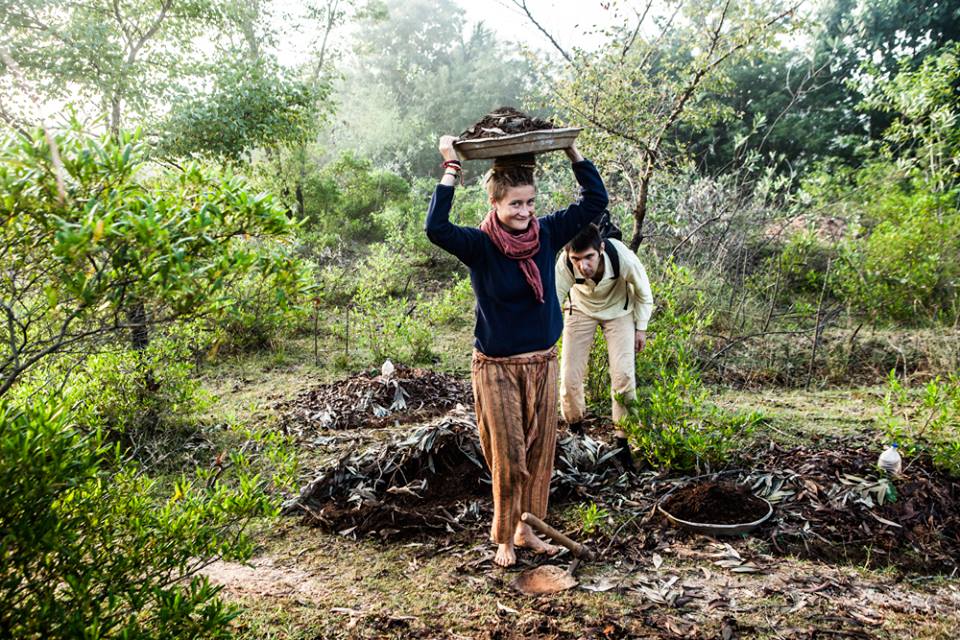 True to his statement, the visitors here ensure that their existence leaves nothing but goodness for the land they have adopted. Yes, they are completely off-grid and rely on solar and human powered bicycle generators for energy. The toilets are dry compost model (with minimum usage of water) and even vessels are washed with ash (a natural antiseptic) instead of soaps. The used water is then re-used for gardening.
Well, hear this; they even have the future sorted out. Recently, they had tied up with Biomimicry Europa and the University of Lausanne in Switzerland for research on oxalogenesis (trees that convert carbon from the air and transform it into calcium carbonate in the soil).
This could be a game changer in global warming as the trees do not release carbon dioxide even when burned or cut.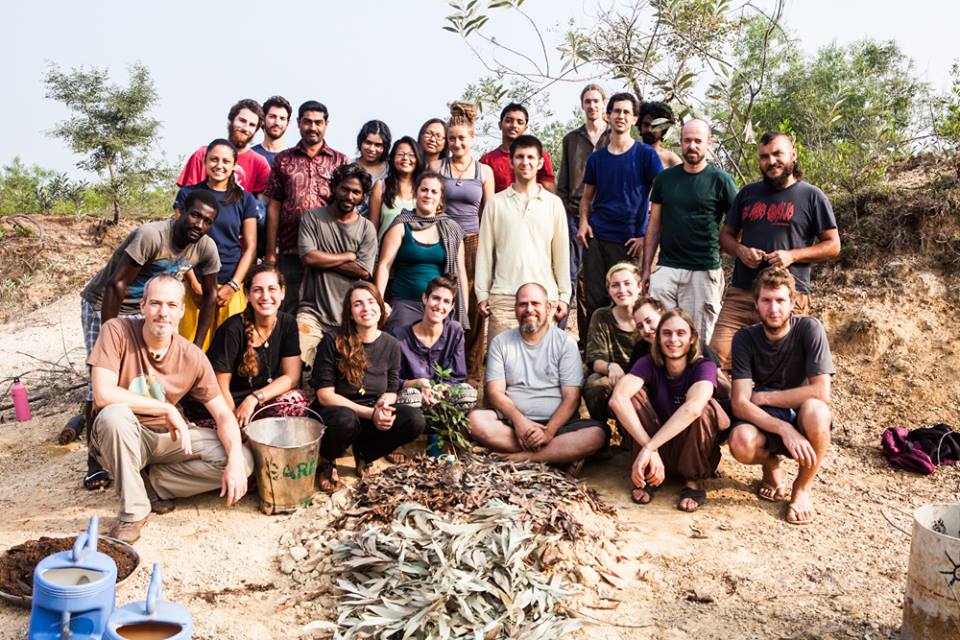 Native knowledge
It is not just the foreign volunteers, local people too have been very supportive of the project and Aviram vouches that they have a treasure trove of information on local plants and its uses.
"In fact, once I was bitten by a saw-scaled viper snake and I fell ill. I was extremely week and my vision was limited. I simply couldn't recover. It was then that a local friend of mine took me to an old lady herbalist. She gave me a handful of leaves and asked me to swallow them daily. To my surprise, as the taste of the leaves became bitter, I became better. I have now planted the local perianangai plant here in Sadhana forest," reveals Aviram.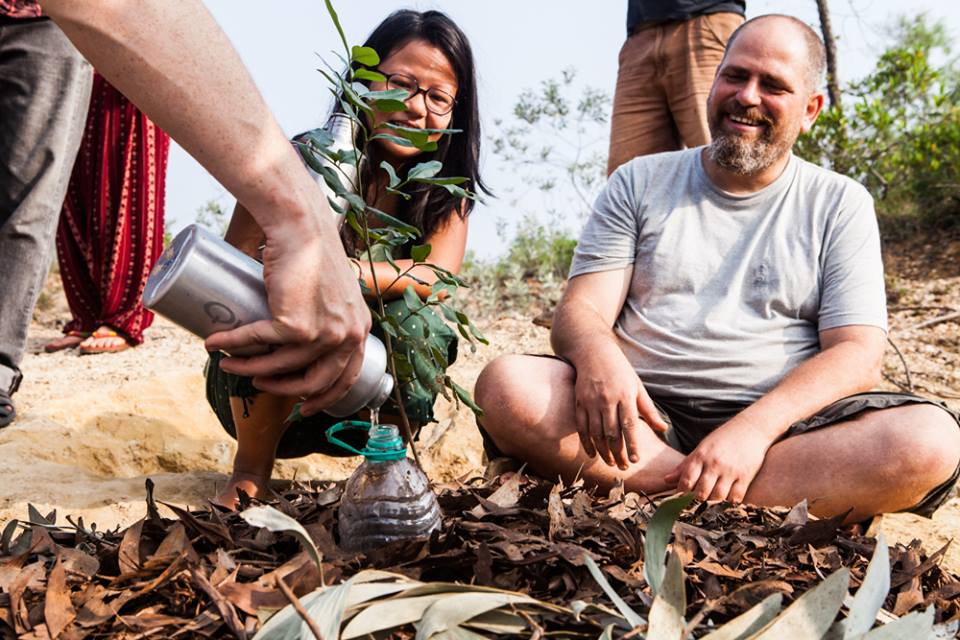 He now hopes to go on a water conservation yatra across India, travel with local people, exchanging knowledge as they go. He also plans to work more with the local Tamil children. Nothing like catching them young, right?
The forest and its community is a beautiful success story that showcases how men from different races can come together to heal the earth where it is hurt the most.
One of their Swiss volunteers Katharina sums it up just right, "May there be more forests to grow people!"
Like this story? Or have something to share? Write to us: contact@thebetterindia.com, or connect with us on Facebook and Twitter (@thebetterindia).
We at The Better India want to showcase everything that is working in this country. By using the power of constructive journalism, we want to change India – one story at a time. If you read us, like us and want this positive movement to grow, then do consider supporting us via the following buttons.
Please read these FAQs before contributing.