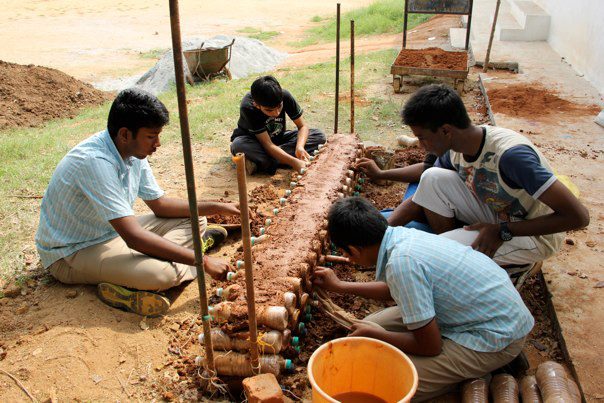 The article gives a glimpse in to schools which have changemaking as the core and few great initiatives that children have successfully undertaken as a result of this new wave of education.
How would the world look like if every person would be an agent of social change? Would society look the way it does today? The current generation is inheriting complex issues like economic inequalities, social divides, religious unrest and environmental challenges. But instead of an apology, young people, more than ever, are crying out loud to be empowered to take action for what they feel strongly about. Keeping outdated educational approaches results in youth emerging out of an educational system that propagates the same systems that created the existing problems. By equipping young people with skills such as empathy, teamwork, leadership, and problem-solving, will allow them to take ownership of their lives and co-create a future that will look boldly different.
The Need For Empowering Students
Empowering young people to dream will shape their impressionable minds with an outlook that focuses on being an active part of the society and changing what they see as undesirable in the world. This calls for a new kind of education – one which envisions and empowers every person to be a changemaker – with the skills and the will to solve the problems they see around them. At the core of a changemaker education is an emphasis on empathy – to be able to understand and feel for any pressing issue. At the second level, a changemaker education empowers youth to have the moral courage to take action for a cause and learn invaluable skills of leadership and innovation in the process. Indeed, a great way to start is to be inspired by the successes of schools where changemaking is at the heart of the curriculum, where every student is empowered to become an active citizen with a global mind set.
10th Graders Using Plastic Bottles For Construction
One such innovative school is TVS Academy, Hosur, where students collected plastic bottles from nearby neighbourhoods with the goal of exploring alternative uses of the material. Within two hours, the students returned with two hundred sacks of bottles. After brainstorming on various creative ideas, they decided to use the bottles for construction. The 10th graders filled the bottles with clay solution and mud and used them as an alternative for bricks. Through the process, the students reached out to various experts such as engineers and masons to seek advice. Finally, after various consultations, the students came up with the idea of using quarry dust to fill up the bottles, placing them on a bed of concrete and fastening them together by thread and knots. After two days the construction was completed. A group of students went further to decorate the construction by using broken tiles and another group created a design using bottle caps. According to the school, this is now a favourite hangout for both students and staff on campus.
Self-regulation and Justice
Students in KCT Vidya Niketan School, Pune, showed their change-making skills by taking a bad situation and turning it into improvement of the school's culture as a whole. It all happened when some students were seen eve-teasing two teachers on numerous occasions. "All our heads hung low, and nobody could look at any teacher in the eye. We felt embarrassed … it hurt. We were angry. Extremely angry," a KCT student, Kshitija Chavan, shares her memories. She says it was not easy. Classrooms transformed into courts, there was shouting, blaming, and anger. Students were divided in two groups, those who believed in forgiveness and those who demanded punishment. However, at the end, the students managed to sort the problem out on their own. They put the skills of teamwork, empathy and conflict-resolution into practice. They concluded that the students must apologise to the teachers.
But this was not enough for young changemakers. It did not fully solve the problem. Students imagined that there were probably other instances that were undetected. Therefore, they decided to create a system of break-time supervision to prevent any kind of bullying or eve-teasing. The senior students of the student council organised themselves to supervise the different areas of the school during break time. They also worked with the teachers to set up a fair system of consequences for students accused of bullying. This initiative was completely student-led. Kshitija says, "It took us a couple of weeks to completely forgive them. After that, we were back as a team, more 'together' now than ever before."
An Art Workshop
Students of the R. N. Podar School, Mumbai, once organized an art workshop with the aim of creating a sense of brotherhood and empathy between privileged children from the school and children-at-risk. Through the workshop, children learnt about the habitats of different animals and explored different art forms through the theme of 'an ideal world for animals'. The idea was initiated by Avantika Sriram, a grade 12 student. She first approached STARTWorld, a non-governmental organization running art workshops for unprivileged kids which aims to promote education through art. STARTWorld then invited the Teach For India (TFI) children to participate in the workshop which was held on the R. N. Podar School's campus. Around 30 R. N. Podar School children and 50 TFI children attended the workshop. The children were split into groups which were a mix of students from both schools and created art pieces together. "I loved making new friends and drawing animals with them," said one of the R. N. Podar students, proving that friendships have no borders.
Advocating to marginalized communities
Vidyodaya School, Gudalur, organized a camp for thirty students from four different tribes in Ponnani village. Every day the children divided themselves into two groups and went on a 'padayatra' through the local villages. They had conversations with the elders as well as the children and advocated for the need for education and campaigned against child labour and alcoholism. The campaign was very successful as many children enrolled themselves in school. "We found that children sharing their ideas with others were far more effective than adults," a school representative stated.
 These examples are but a drop in an ocean. There are innumerable schools in India which are adopting creative practices that empower students to be involved in leadership positions and take a proactive stance towards issues around them. Gone are the times when schools were isolated centres for knowledge and skills. In this age of interconnectedness, schools are stepping forward to create platforms that inspire youth to have a global mind set and take local action. So what are you waiting for?
Take the chance now to create a world where everyone is a changemaker!
This article has been written by Marusa Godina, Intern at Ashoka India. The schools featured in this article are part of Ashoka India's Changemaker Schools – an initiative that is building a country-wide network of innovative schools which recognise the need for a new way of learning and are empowering young people by equipping them with changemaker skills.
We bring stories straight from the heart of India, to inspire millions and create a wave of impact. Our positive movement is growing bigger everyday, and we would love for you to join it.
Please contribute whatever you can, every little penny helps our team in bringing you more stories that support dreams and spread hope.