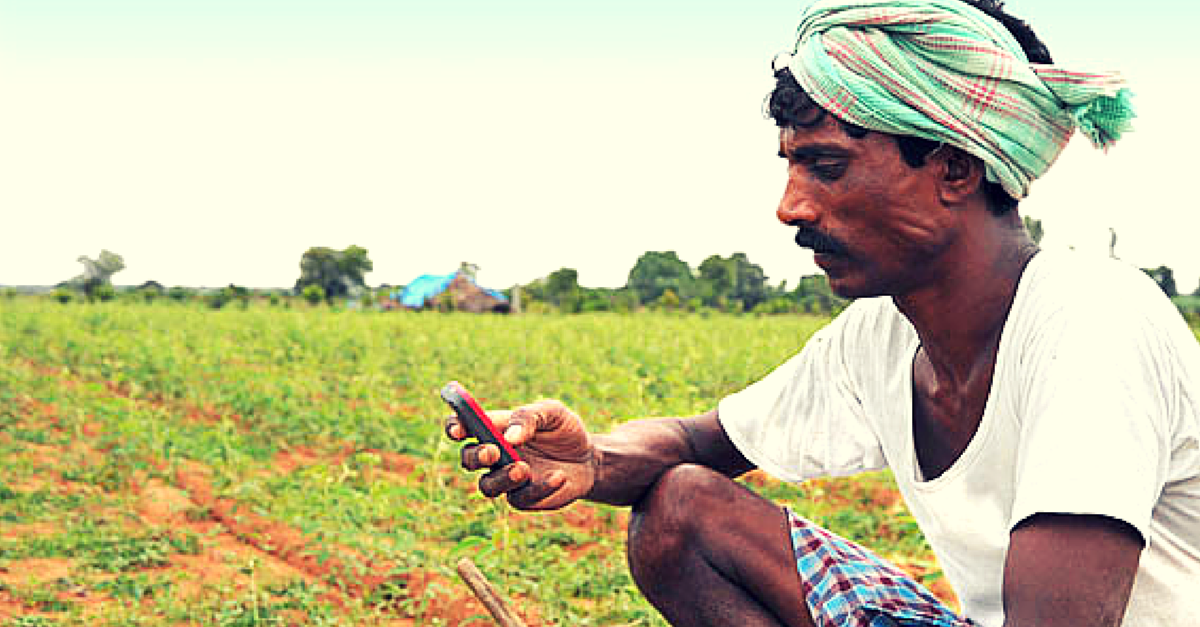 For ages, they've been fighting a tough battle against a brutal 'system'. But now, tech-savvy farmers of Maharashtra are sharing best practices, exploring new markets and building infrastructure, all through their phones. What's more, they are also planning to take their community's voice to the government.
For ages, they've been fighting a tough battle against a brutal 'system'. But now, tech-savvy farmers of Maharashtra are sharing best practices, exploring new markets and building infrastructure, all through their phones. What's more, they are also planning to take their community's voice to the government.
'Amhi vasare vasare, muki upasi vasare,   (We are speechless, hungry calves)
Gaya panhavato amhi, chor kalatat dhar.   (We tend to the cows, while others steal the milk.)
Tapa tapa gham unarato, unarato bhuivar,   (We sweat on the fields all day,)
Moti pikavato amhi, tari upasi lekare.'   (And cultivate pearls, while our children have nothing to eat.)
– Krishna Kalamb, a farmer poet, poured out the anguish of his everyday struggle into these verses. Then one day, when the pain became unbearable, he ended his life.
---
When untimely rains lashed the country in March, a suburban Mumbaikar tweeted, "Wow! Surprise rain in Mumbai… I am loving it!!"
Elsewhere, in the Yavatmal district of Maharashtra, two farmers—a cotton grower and an onion cultivator—hanged themselves. All that had lain ahead of them was to watch their kids starve or take loans they could never pay back.
In India, 60-70% of the people depend directly or indirectly on agriculture. Yet, farmers constitute 11.2% of all suicides in the country. Long left at the mercy of an insensitive system, farmers in Maharashtra are now taking charge of their own destiny.
On a WhatsApp group, 'Baliraja', over a hundred farmers from various villages are seeking and sharing agriculture advice, connecting with experts in various fields and learning new practices.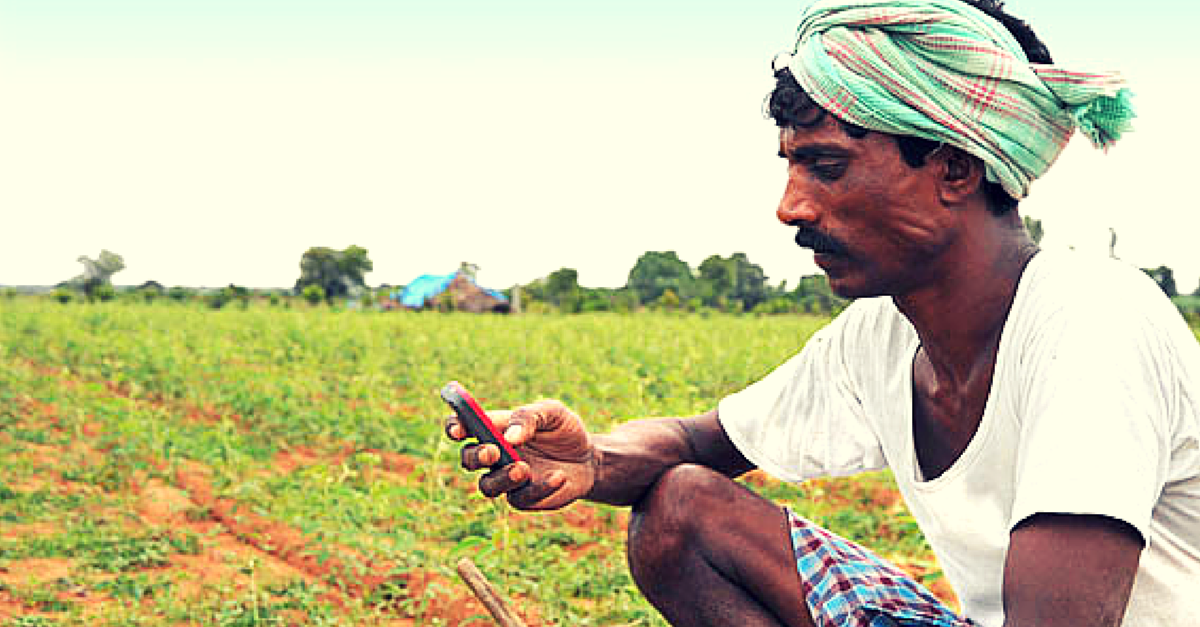 Photo for representation purpose only. Source: 
usf.vc
Baliraja is the brain child of Anil Bandawane, once an engineering student, who has now taken up farming full time. Dissatisfied with the rather impractical 'Kisaan call centres', Anil found out a Facebook group named 'Baliraja', and brought them together on WhatsApp.
"Most of the farmers in our villages have mobile phones. They use the latest technology in their farming too. But still there are a lot of problems. In our WhatsApp group, we have a few experts too who give us timely solutions," says Anil.
He, along with Krishnat Patil, owner of a fertiliser firm, advise the group on use of fertilisers and pesticides, and various other farming technologies. Apart from Krishnat, Anil also shared the admin rights with Sujay Kumthekar, Shubham Indhe, Ramdas Shingote, Vaibhav and Vilas Thatod, all with different areas of expertise.
Vilas, for example, is Baliraja's resident weatherman, while chef Sujay—who hasn't abandoned the family tradition of farming—recently educated the group about exotic vegetables like broccoli.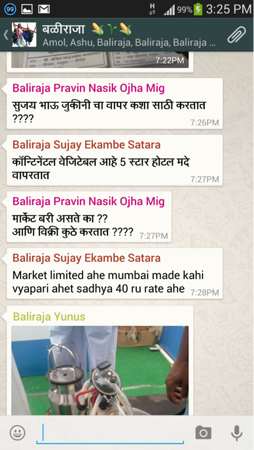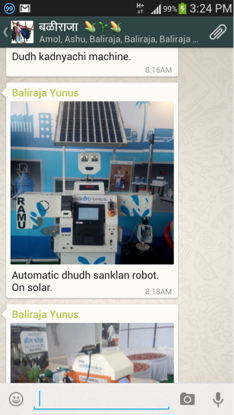 Yunus Khan, works with Akola-based 'Agri Clinic and Agri Buisness Centre', which provides agricultural business training. He shares his experience of various visits to agro and dairy exhibitions with the farmers.
Amol Sainwar, founder of NGO HOPE, is a Man Friday, always ready to help with whatever the farmers need most. For instance, the cultivators recently talked about the losses they faced due to unavailability of a warehouse. And now Amol, with the help of his NGO and the farmers, is ready to build one that can serve at least three villages. (You can read more about HOPE here.)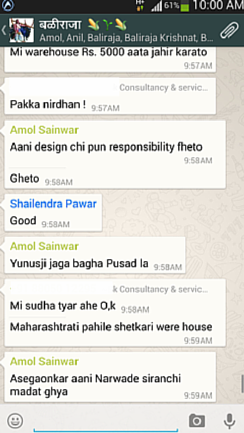 ROADMAP FOR THE FUTURE
"I request the Prime Minister and Chief Ministers of each state to take care of the farmers and prevent more suicides. They are also a part of our country," appeals Amol Sainwar.
Confident and determined, the group is now ready to lobby for their interests and demand solutions to their problems. They have identified the core issues and are planning to write to the PM as well as the Maharashtra Chief Minister about these:
1. Prices in our hands
Everything has an MRP, which ensures some profit to the seller. But not crops. The farmer puts everything into cultivating his crop, then pays the transporter and the auction agent. But the prices are determined by firms depending on supply. Often, they don't even cover the farmer's investment. Like other goods, crops should also have a fixed rate.
2. Insurance, not liability
A comprehensive insurance plan is still not available for farmers to protect them from losses caused by rain, flood and other calamities. Of what exists, like the National Agricultural Insurance Scheme introduced in 1999-2000, there is little awareness. Baliraja also points out many flaws in the scheme:
Goal of financial viability—the farmer has to show his money first, which he usually doesn't have.
Despite this, insurance is mandatory for farmers if they want a loan.
Premium is more than coverage.
Claim is granted only if 70% of crop in the block is affected.
Baliraja suggests a separate bank run by farmers for the farmers, which insures their crops at the right premium.
3. Develop self-sufficiency
Things like roads, electricity, water, health centres and good schools, which are taken for granted in cities, are still a dream for most villagers. At the same time, there is no work for the farmer for six months of the year, forcing him to migrate. So, why not make products needed by villagers in the village itself?
Baliraja suggests implementing former President APJ Abul Kalam's concept of -. This involves having private players develop job opportunities, amenities and infrastructure and maintain them in select Panchayats. Ownership would rest with villagers under public-private partnership model.
4. Our land, our rights
A fertile piece of land should remain with a farmer only. The new land bill that says even fertile land can be acquired by the government without the consent of the owner is a blow to farmers. With population increase, more food will be needed to feed the nation, but land under cultivation will decrease. Food security will go for a toss.
5. Budget and planning
There is a separate rail budget, so why not a separate budget for agriculture? The moment food prices rise, government is blamed and imports make things worse for our farmers. If onions and potatoes are basic needs for the public, then so are medicines and clothing for the farmers. How are they supposed to meet their needs with declining income, asks Baliraja.
6. Respect and a healing touch
"Moral support is one thing every farmer needs. We helped a group member come out of depression simply through moral support. All farmers must come together and help each other overcome such situations,"says Sujay.
Today, people aspire to all sorts of professions, but no one wants to become a farmer. There should be respect for farmers in society. Besides, Baliraja thinks moral support and counseling can do wonders to bring down farmer suicides.
Baliraja's message can be summarised by this creation of Prabhakar Pachpute, 'The Beast and the Sovereign", which was part of an exhibition by Württembergischer Kunstverein, Stuttgart and Museu d'Art Contemporani de Barcelona (MACBA).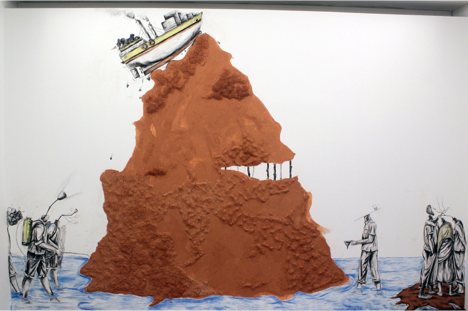 In the end, an appeal:
Not every farmer has a phone, nor can they join 'Baliraja'. So we request the government to provide timely help to them. Please assign a care taker in every village who is dedicated to making his village an 'Adarsh Gram'. We do not look for waivers only a guaranteed income. Please don't let our farmers die anymore!

– Baliraja
To get in touch with Baliraja,write to amol.sainwar@gmail.com or bacher.manabi@gmail.com
Editing inputs: Shruti Yadav
Like this story? Or have something to share? Write to us: contact@thebetterindia.com, or connect with us on Facebook and Twitter (@thebetterindia).
About the author: A Mechanical Engineer, Manabi Katoch has been brought up listening to Tagore's poems and stories, so she is kind of an emotional person within. She loves writing poems and stories on social and political issues. Few of her poems can be viewed on www.poemocean.com and satires on www.mindthenews.com. She has worked with Wipro, Frankfinn and Educomp in the past.
We bring stories straight from the heart of India, to inspire millions and create a wave of impact. Our positive movement is growing bigger everyday, and we would love for you to join it.
Please contribute whatever you can, every little penny helps our team in bringing you more stories that support dreams and spread hope.