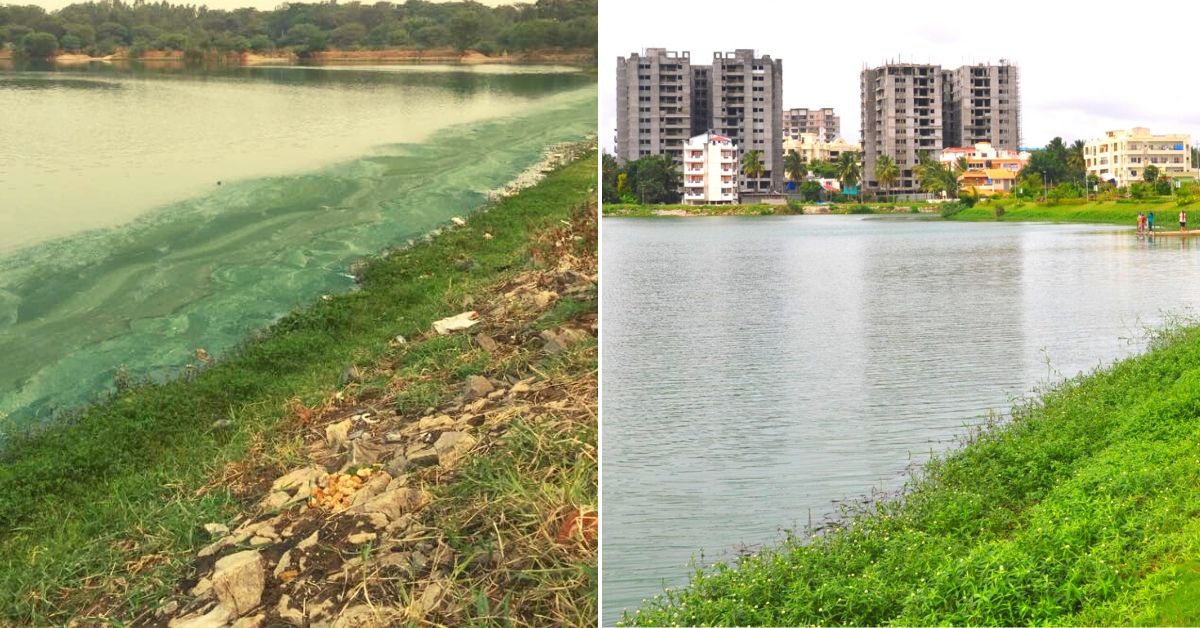 Want to save the dying lakes of #Bengaluru? Dr Shobha Ananda Reddy is the mentor you have been looking for.
No fencing, tall weeds, huge mounds of garbage, people defecating in the open and sewage flowing in from surrounding areas. This was the state of the 100 acre-Rachenahalli Lake that can be found right behind the Mahatma Gandhi Institute of Rural Energy & Development (MGIRED) in Bengaluru.
Now, five years later, the lake is fenced, marked by clean walking paths, benches, gazebos, a multi-purpose yoga platform, flourishing flora and fauna, and sees more than 800 people take long walks on a weekday. During weekends, this number crosses 1,000.
The transformation was made possible by the concerted efforts of Dr Shobha Ananda Reddy and Jalmitra Trust that she founded with six others.
And her journey began on 18 September 2014, i.e. the World Bamboo Day.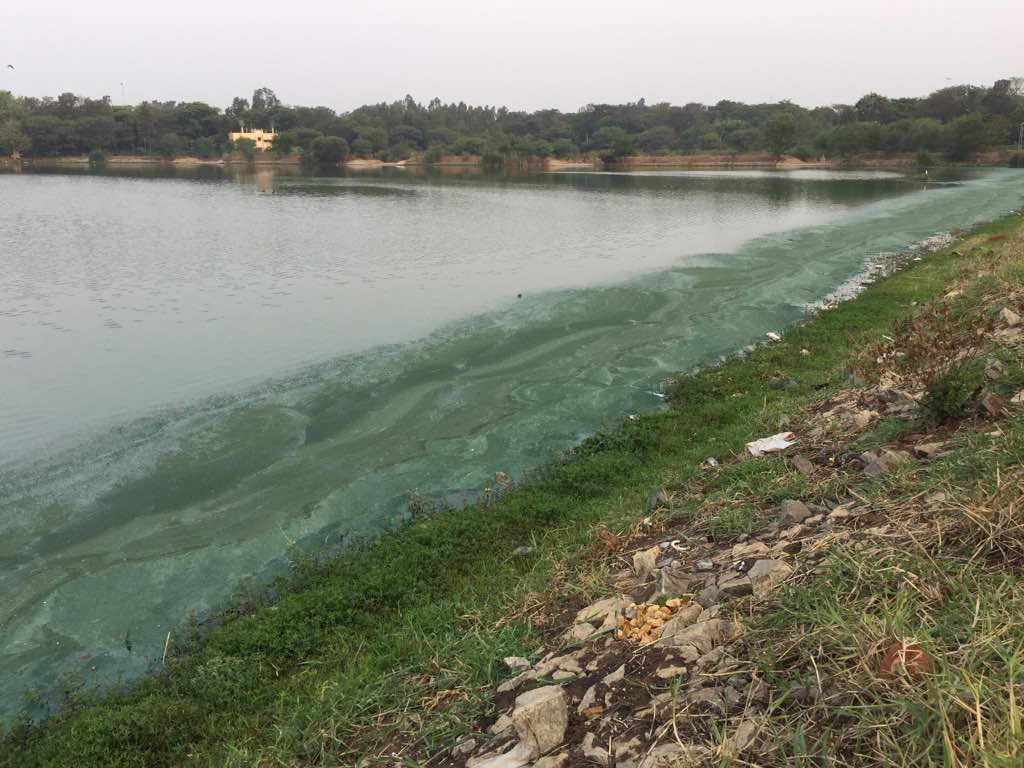 A Bamboo Challenge that led to a Lake Revival
In 2014, while she was working at MGIRED, Dr Shobha was looking for space to plant bamboo saplings as part of the the institute's drive to popularise bamboo.
She had started the 'Bamboo Challenge' along the lines of the 'Ice-Bucket Challenge' and it involved planting a sapling and challenging your friends on social media to follow suit. Students and faculty had planted 80 saplings on campus, but others on the outside wanted to get in on the challenge.
"Looking for space, I walked into this lake behind the institute. It was in a terrible state," says Dr Shobha, speaking to The Better India (TBI).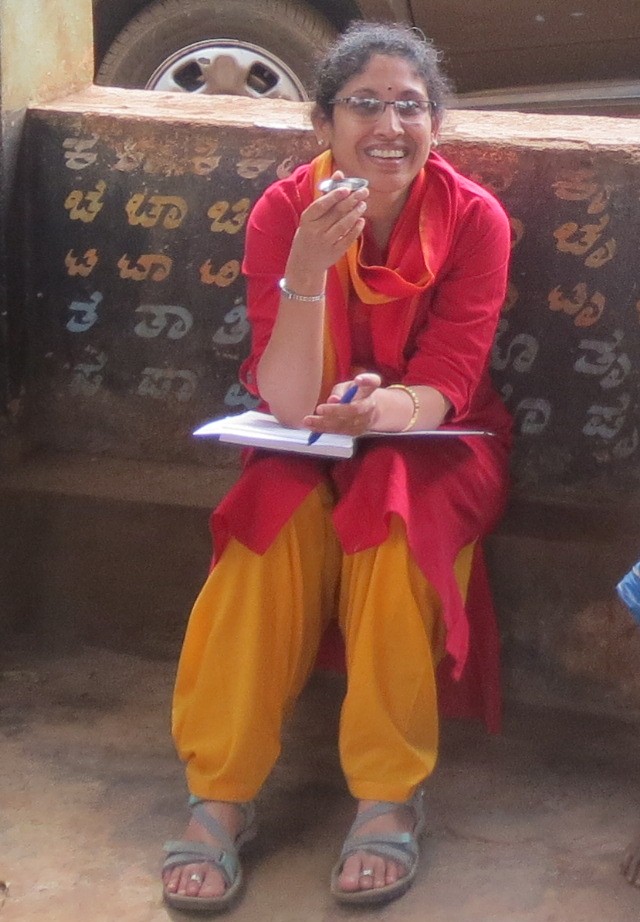 Rachenahalli lake is a part of the area covering 110 villages recently included in the city's municipal limits. But these villages didn't have a proper underground network for sewage diversion. Making matters worse, the sewage being generated due to the construction of urban layouts in the vicinity began entering the lake as well. Meanwhile, the lake's outlet had been blocked off by a building company. After a bout of heavy rainfall, water would swell in the storm water drain, which was then cut off from the larger network.
Embarking on the Lake Revival Journey
An environmental scientist by training, Dr Shobha taught and coordinated research at Mount Carmel College in Bengaluru for 12 years (2002-2014) before health complications forced her to find work closer to home at MGIRED, where she worked until late 2016. She currently works as a consultant with the Indian Institute for Human Settlements
But it was working under senior Indian Forest Service officer Punati Sridhar, who was then the Executive Director at the MGIRED, that inspired her to dive head first into the Rachenahalli Lake revival initiative.
Upon learning about the lake's pathetic condition, Sridhar was keen on doing something to revive it.
After seven-eight months of inactivity, he appointed Dr Shobha to oversee the revival initiative. She began by involving nearby schools and colleges to conduct awareness campaigns among local residents. By this time, the successful Jakkur and Puttenahalli lake revival models backed by active citizen groups were already present.
She also wanted to promote a similar model.
"In the early days, people weren't interested. I literally had to spend some of my weekends trying to remove the weeds, clear the parthenium and pick up the trash all by myself. Gradually people saw that I was there regularly and those passing by began joining me. I was lucky to have people like retired Major General Haridas Gopalan, Nupur Tandon, Venkatesh, Sudheendra, Sham Bhat Kolari, Abhijit Roy, Sanjeev, Anbrasan, Bindu Anil who live near the lake and birdwatcher Srinath Bidare, helping me regularly alongside fellow residents," she recalls.
Meanwhile, at the MGIRED, they tried to organise a day event inviting all the major state-level stakeholders like the BBMP, BDA and BWSSB on the first of August 2015, but saw a poor turnout. Nonetheless, those who had begun working regularly with Dr Shobha initially formed a small group with others who had done some work reviving the lake four-five years prior.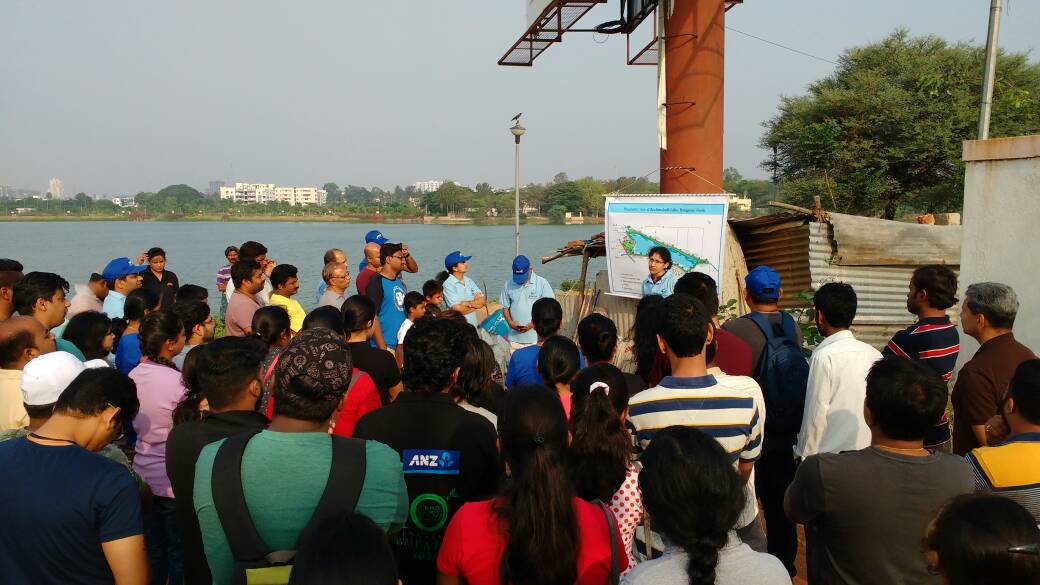 "There were initially eight of us in the group within a month of that day. We were spending every weekend at the lake, trying to clean up whatever garbage and brainstorming real ideas of what can be done to revive the lake. This went on for four-five months until we realised that whatever clean-up we did it elicited no serious response from the authorities and people would still dump garbage at the lake. We had to engage in course correction," she says.
Dr Shobha finally got in touch with authorities at the BBMP thanks to her position at the MGIRED, a State government backed institution. However, following the meeting, she was told that the lake fell under the BDA's jurisdiction. Back in 2008-09, the BDA had taken the lake for redevelopment and spent Rs 16 crore reviving it by 2010.
The lake was then supposed to be handed over to the BBMP for oversight, but this transfer of guardianship got lost in a bureaucratic maze and no one supervised its maintenance for over three years.
The lake naturally fell into disrepair.
Bringing their Efforts under a Formal Citizen Group
"The BBMP advised us that if we were to be taken seriously we would have to register ourselves as a formal citizen group. Meanwhile, we passed along petitions with one garnering over 5,000 signatures from locals, submitted them to BDA and BWSSB and other agencies to close the entry of sewage into the lake. Our activism helped and compelled the agencies concerned to partially direct the sewage away from the lake," says Dr Shobha.
Finally, the members decided to become an apolitical trust only interested in reviving the lake. By early 2016, the eight members came together to form the Jalmitra Trust.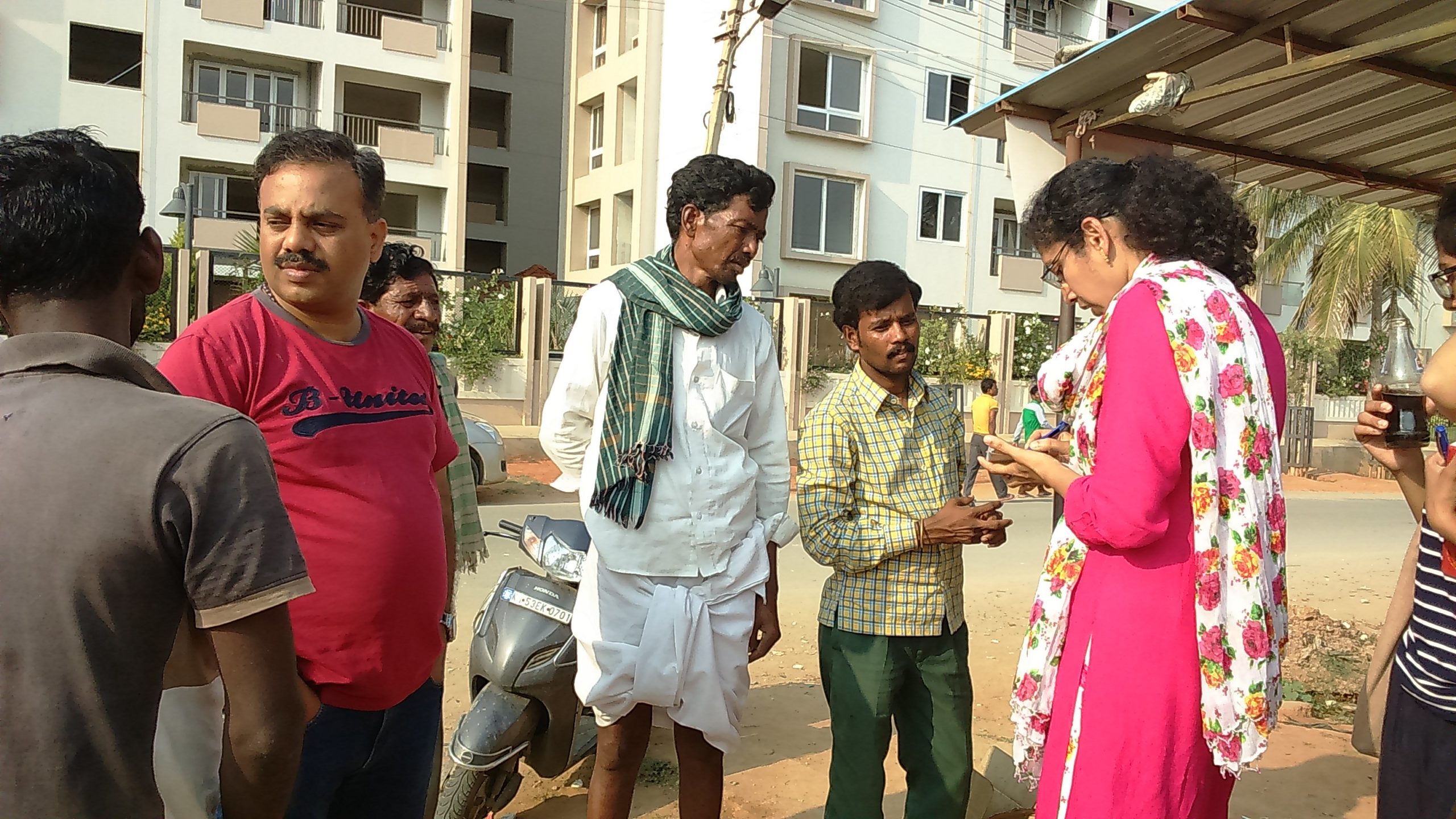 "That year we entered into an MoU with BBMP, and subsequently with non-profit United Way Bengaluru (UWBe), which helped raise CSR funds. In the first year, they raised Rs 10 lakh, and primarily gave us labour for the maintenance of the bund area. Meanwhile, the MGIRED had adopted a 100 metre stretch of the lake. Alongside staff and students, we maintained this stretch. For another 100 metre stretch, we had invited nearby schools and colleges to maintain it. Working with us, the students of Legacy School, Benagluru, adopted this 100 metre stretch. We maintained these stretches, cleaned and beautified it," she informs.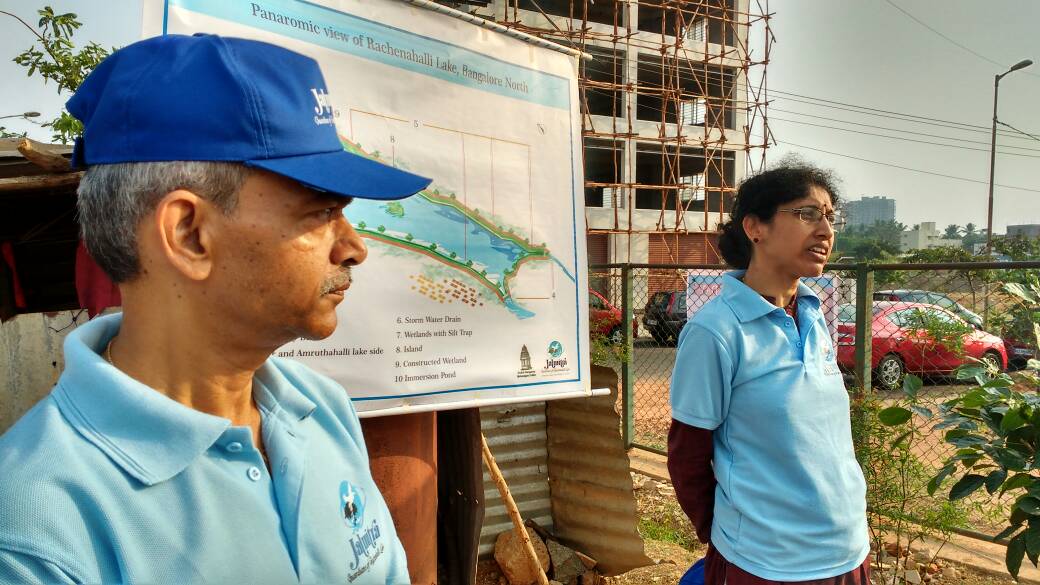 However, in the midst of all this work, she quit her job at the MGIRED to dedicate herself full time to the revival initiative.
Meanwhile, Jalmitra also reached out to the then local MLA Krishna Byregowda, who helped them push the BDA and BBMP to initiate some simple yet critical works like fencing the lake and complete unfinished work. He helped in getting the lake transferred from BDA to BBMP.
"His influence brought the BBMP to work towards reviving the entire lake. They did the bund area properly, started fencing it up (which is nearly done) and addressed encroachments into the lake resulting in a re-survey of the lake, which is now complete. To address open defecation, we approached the local Joint Commissioner and the state pollution control board. Jalmitra got them to issue notices to builders to provide proper sanitation facilities to their workers. Without these facilities, these workers were coming to the lake and defecating. Working with the local BBMP office and State pollution control board, we managed to positively address other illegalities in the lake area as well. This was the effort," she says.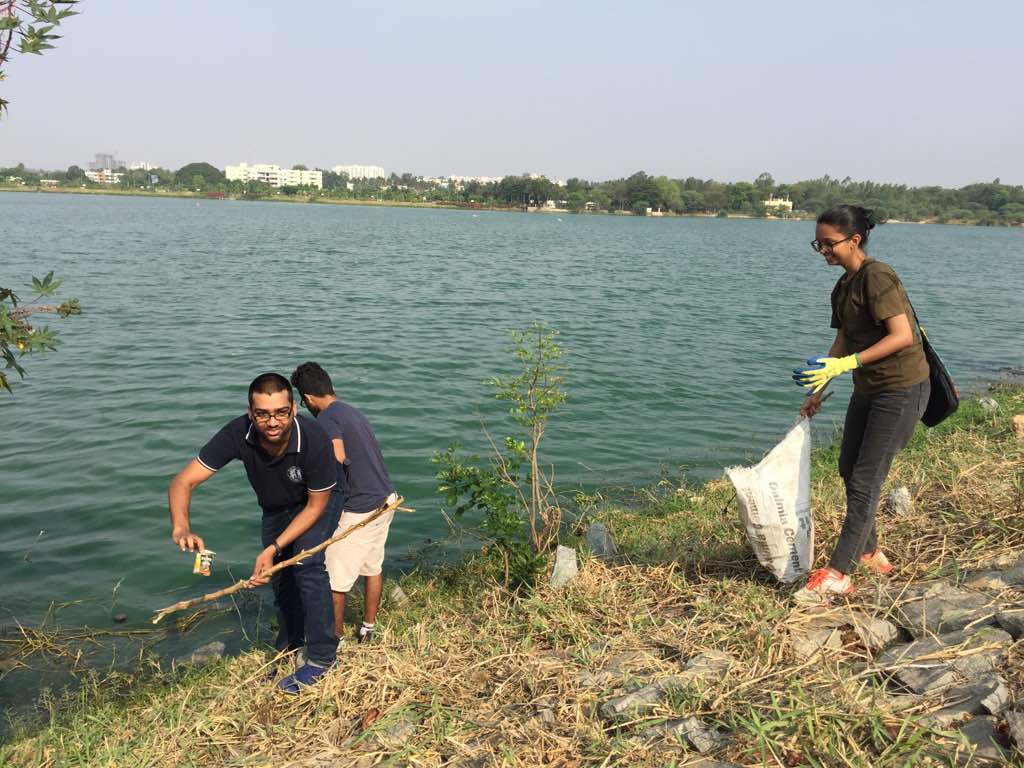 Jalmitra: Going from Eight to 200 Members
Jalmitra also conducted a series of lake awareness initiatives in local neighbourhoods, educating people why they need to preserve the lake for groundwater recharge and urban flood management, besides running a lot of planting and cleaning drives in and around the lake. It began with just 8, but today Jalmitra has more than 200 members.
From the citizen engagement point of view, this was a real success. In the middle of 2018, Dr Shobha withdrew from her role at the Trust because of other professional commitments and health concerns. Fortunately, there are other volunteers taking the initiative forward. Today, Jalmitra is managed by a local resident, Naveen and Anbarasan, a Microsoft employee.
Their current efforts include getting the area completely fenced off which is almost done. On the water quality side, the lake receives sewage from the Amruthahalli lake when it overflows. They are trying to fix this bit. The Trust has taken care of the sewage in-flow problem on the northern side of the lake, and now the focus is on the southern side.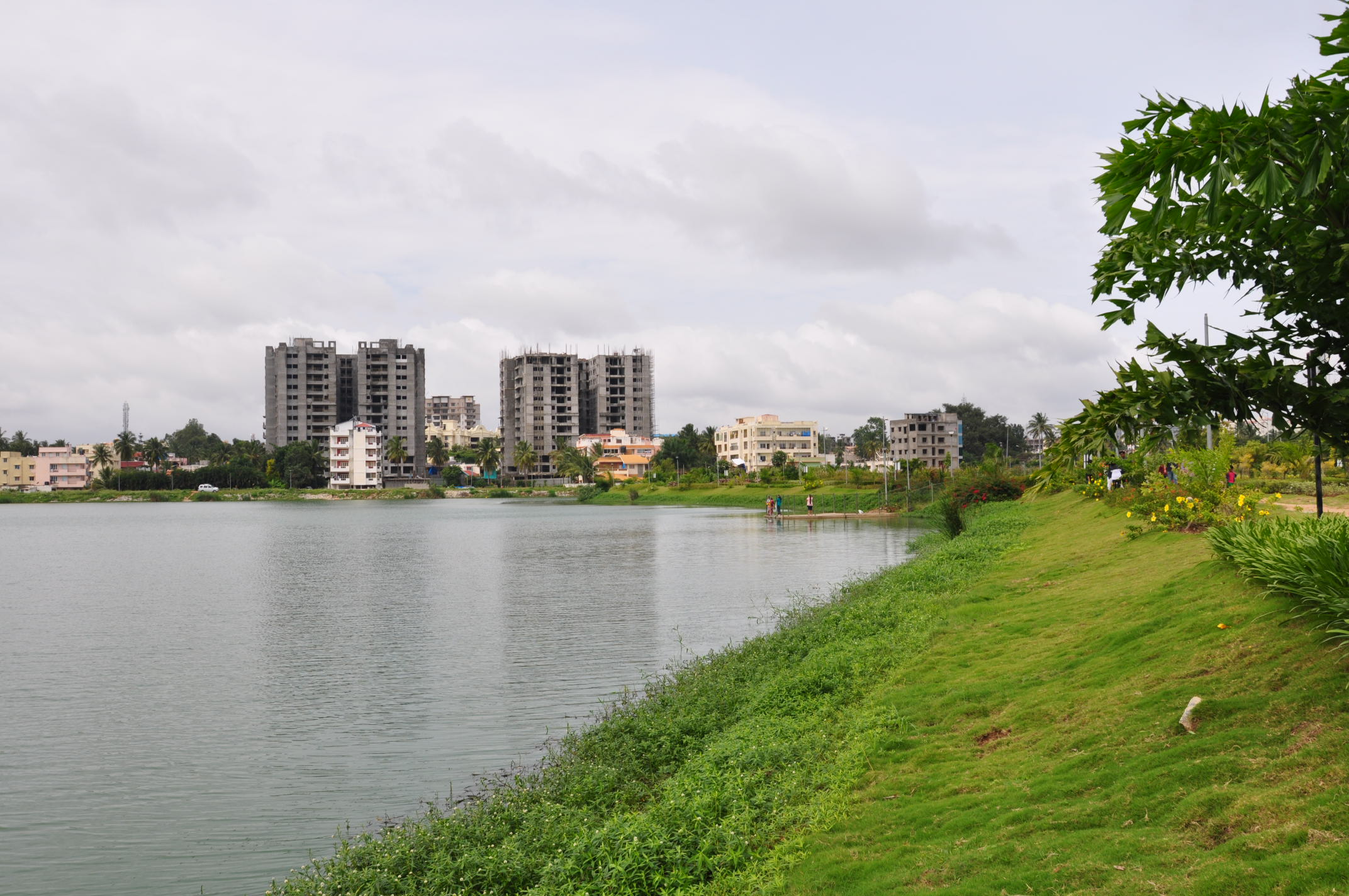 Having said that, Dr Shobha continues to guide the volunteers overseeing the Trust's work in maintenance of the lake. Since the time she stepped back, her work revolves mentoring other people leading different citizen groups that are seeking to revive lakes in the city.
Mentoring Other Citizen Groups
"One of my friends, a faculty member with Christ College, wanted to engage in some clean up work in Arekere Lake at Bannerghatta Road. We did a two-week clean up drive there last year with her students involving the local corporator, and our job was to motivate people living in the vicinity to get involved. We were partially successful," recalls Dr Shobha.
But it's her work with dedicated citizens groups that may prove more influential. One such citizens group is called the RR Nagar iCare, which is looking to rejuvenate both the Mylassandra lakes in the area. Speaking to The Better India, Niveditha Sunkad, Managing Trustee of RR Nagar iCare talked about what their work and how Dr Shobha has assisted.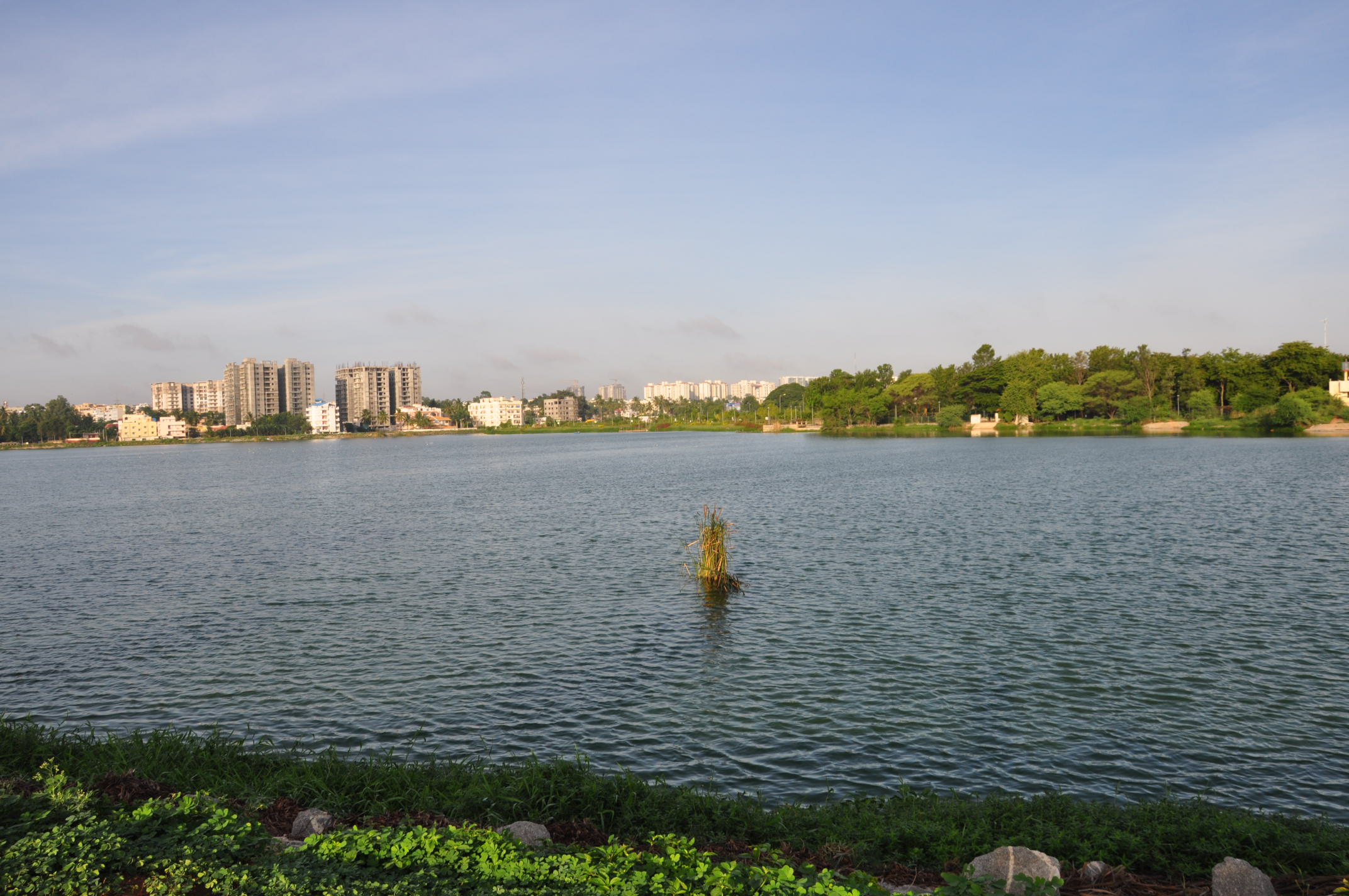 "We are working locally in RR Nagar dealing with the custodians of the lake (BBMP), bringing in CSR funds and trying to rejuvenate the Mylasandra Lakes. We have everything ready, but just waiting for the BBMP Chief Engineer to sign off on our proposal," she says.
"But before we could approach the BBMP, we needed help documenting facts on the ground and bringing all the lake rejuvenation essentials together. We had worked with them on a couple of lakes before, bringing in CSR funds and getting things like fencing done. But the work was primarily done by the BBMP. We haven't worked on rejuvenation ourselves so far. That's where Dr Shobha stepped in because she had already worked on the Rachenahalli Lake. She came up with a clear plan, helped us draft a proposal, got consultants onboard, taught us how to estimate a project for revival and things like that," adds Niveditha.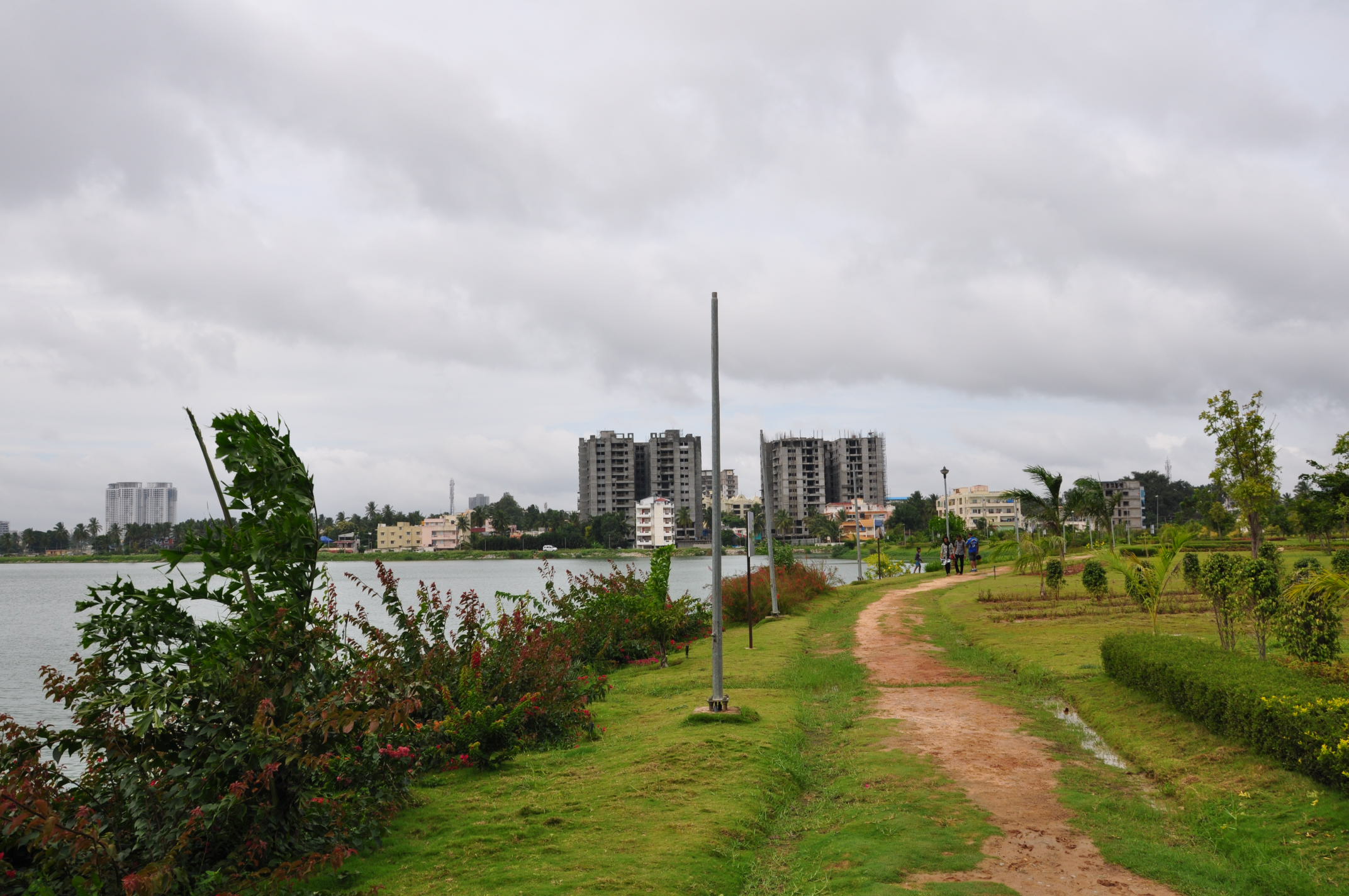 Are Citizen Groups Effective?
It's difficult for citizen pressure groups to get authorities to work. For Dr Shobha, working for a government organisation like MGIRED was an advantage before starting her lake revival initiative because not only did she have direct access to other government agencies, but also learnt how they worked, which is something not many citizens are aware of.
"Within the BBMP, for example, many will not know which division to approach for lake management. They don't know that lakes come under its Lake Department, or stormwater drains come under the SWD Department. Many also don't know a lot of the technicalities related to lake revival. If we educate our citizens well and help them understand why preserving these lakes are important, they become empowered. My biggest focus has been to empower citizens with the requisite knowledge of science, technology and governance," she says.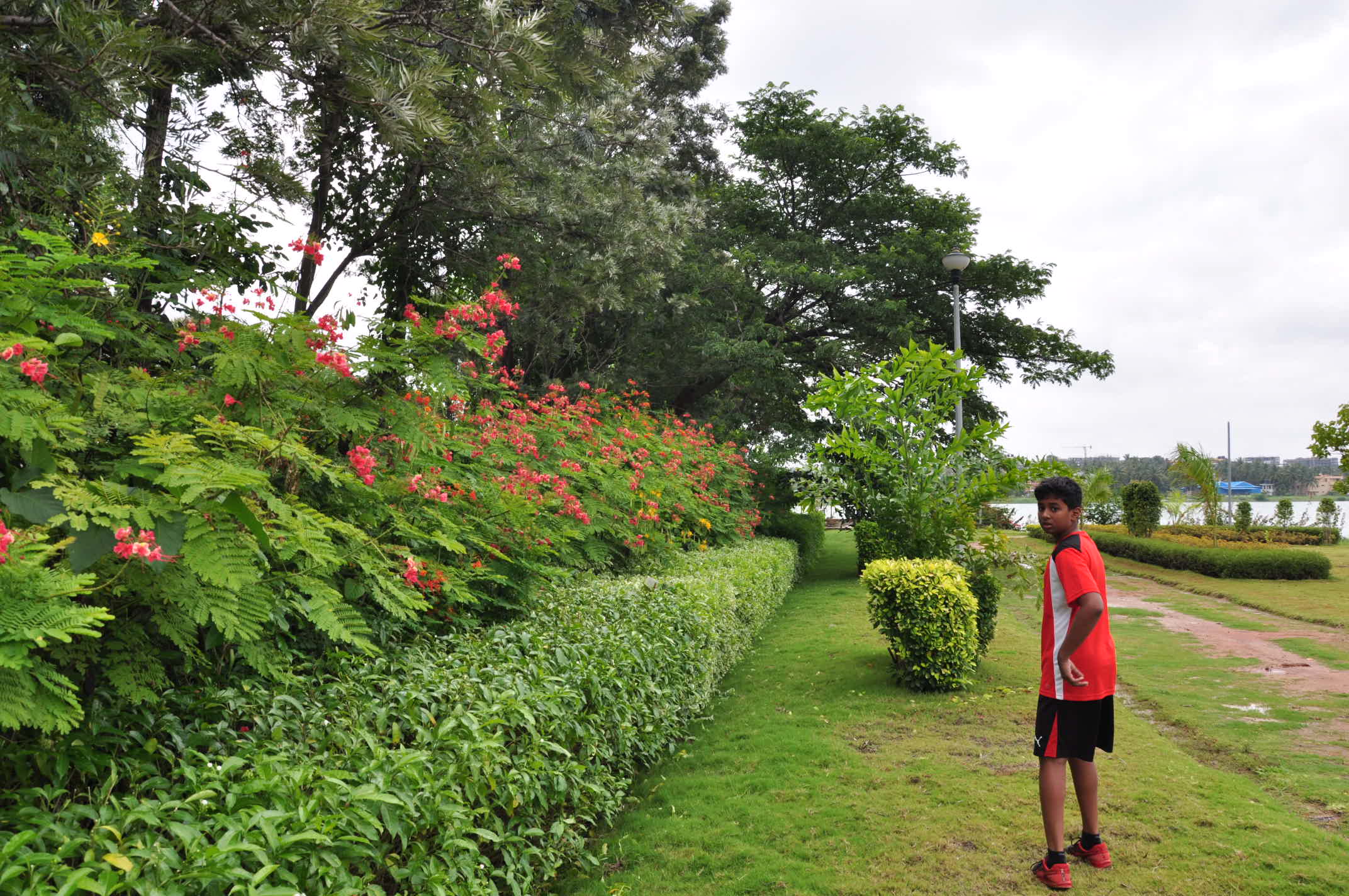 Citizen groups can't really force governments to spend or allot money for an initiative of their choice. Local elected representatives have to step in and help. For the Rachenahalli initiative, the bund was done first, which presented some physical progress to the initiative.
"This convinced locals living nearby that we were not all about talk, but getting things done as well. More people started pouring in. Wherever a proper survey was done, we did the fencing. The lake receives stormwater from Jakkur Lake, which is mixed with sewage water. The constructed wetland at the mouth of the Rachenahalli Lake filters the wastewater to some extent. The lake's health has been good for the most part. We also work very closely with the fishermen at the lake, who act as the first line of defence," she says.
To a great extent, people can only get involved in some degree of physical work in any initiative, and every citizen group needs an interface with government authorities. Dr Shobha was that person in the Rachenahalli Lake revival initiative, now being taken up by Naveen.
Engagement with government authorities is often a long drawn process that requires not just patience, but persistence and an understanding of how these bureaucratic systems work.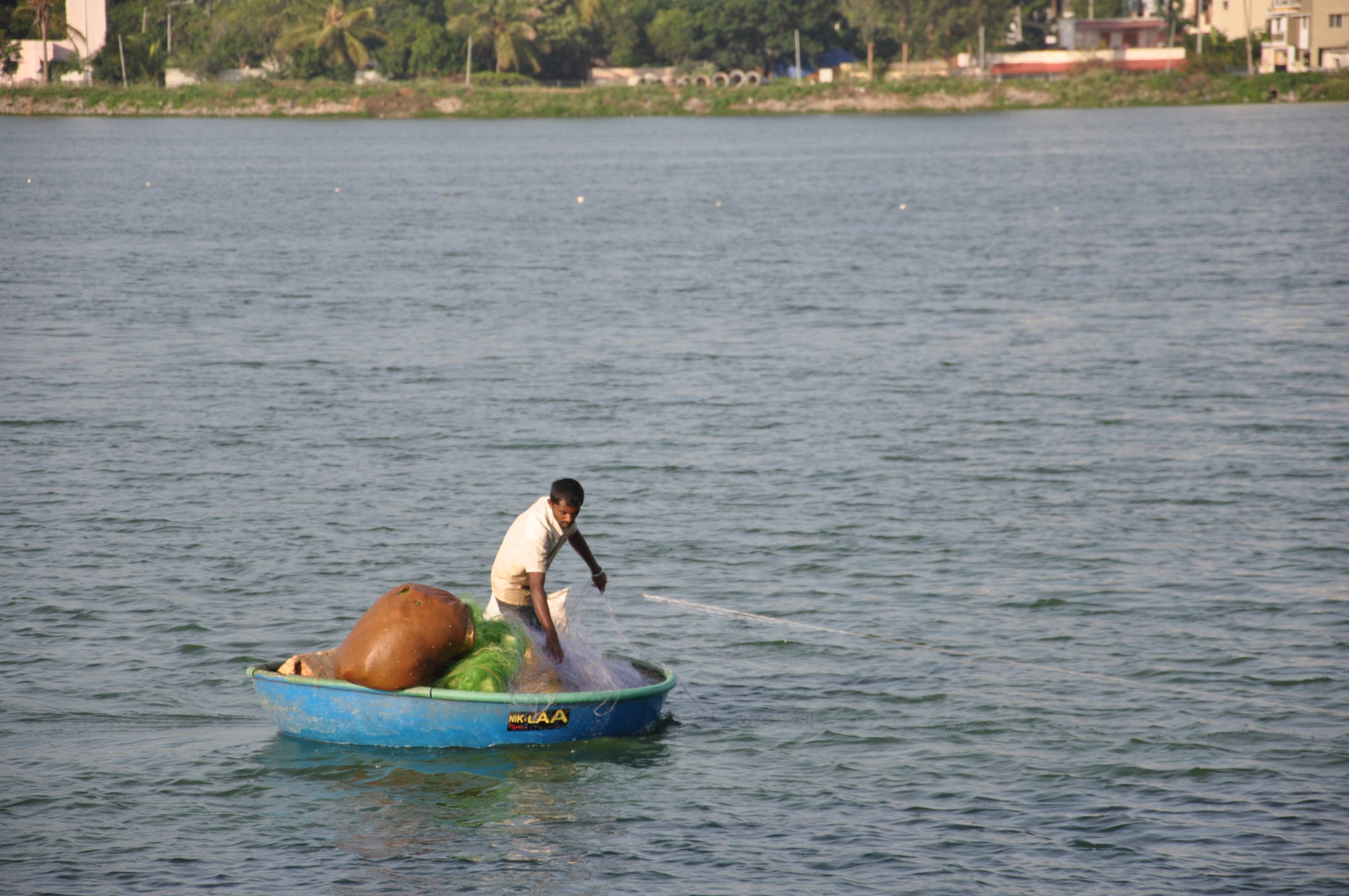 Through her work, she has shown a keen understanding of how these systems work and at the same time maintained a constant level of engagement.
For concerned citizens who want to get involved in reviving a lake in Bengaluru, Dr Shobha's mentorship can help them navigate some of the major pitfalls that come with this exercise. In other words, her mentorship could go a long way in saving the city.
---
Also Read: One Man's Efforts Ensured That This TN Village Doesn't Rely on Borewells Anymore!
---
(Edited by Saiqua Sultan)
Like this story? Or have something to share? Write to us: contact@thebetterindia.com, or connect with us on Facebook and Twitter.
We bring stories straight from the heart of India, to inspire millions and create a wave of impact. Our positive movement is growing bigger everyday, and we would love for you to join it.
Please contribute whatever you can, every little penny helps our team in bringing you more stories that support dreams and spread hope.