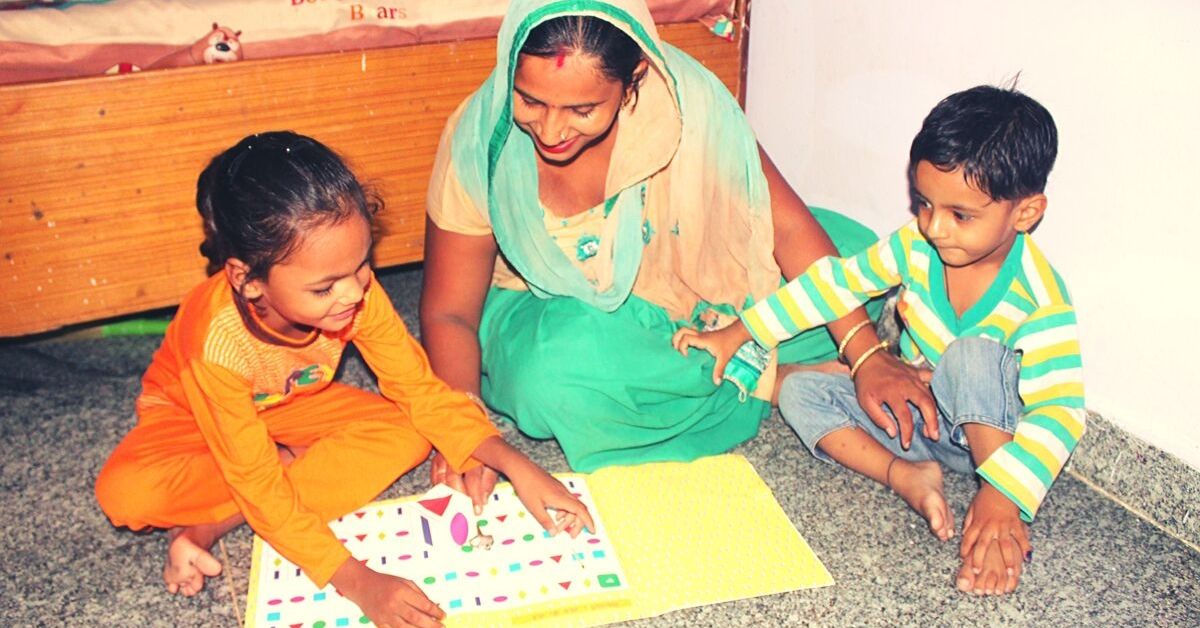 "Earlier, I didn't know how to teach my five-year-old son. Thanks to Saarthi, today I can even help him with his school homework," says Ruchi, a homemaker who had dropped out of middle school. #ImpactThatMatters #Education
UNESCO reports that children spend 87 per cent of their time at home and with the broader local community, while only 13 per cent of their time is spent in school. It then stands to reason that for children to fulfill their potential at school, they genuinely need a healthy, supportive and stimulating environment at home as well. And Saarthi Education, a Delhi-based non-profit is innovatively addressing this issue.
---
Teach your child about environmental conservation with this great board game. It's made of upcycled materials, and inspired by the best education system in the world. Click here to know more. 
---
Many initiatives aimed at improving learning outcomes for children often neglect parents—the major stakeholders. This is particularly the case when dealing with students from financially-challenged households. However, the concern in many of these households is that although parents understand and appreciate the value of a good education, they often lack the resources, awareness and capacity to engage effectively with their child's education.
Saarthi works with over 6,000 families across seven low-income communities in Delhi across areas including Mithapur, Jaitpur, Badarpur, Tughlakabad, Sangam Vihar, Dakshinpuri, Madangir, and Khanpur. Their objective is to raise the quantity and enhance the quality of parent involvement in a child's academic progress. These are households with an annual income ranging between Rs 1.5 lakh – Rs 2.5 lakh per annum, whose work ranges from vegetable vending to cab driving.
One of Saarthi's success stories is Ruchi Maurya, a homemaker and resident of Ekta Vihar, Mithapur, Delhi who has a five-year-old son.
"The outcome has been really good for both myself and my child. Earlier, I had concerns about how I could teach my child because I didn't know any techniques. The activity kit Saarthi gives us has very simple material that we can teach our children with, and easy instructions as well. Once I got the hang of it, I could even help my child with his homework from school. My confidence, that I could help my child with his studies, grew. Besides, I get to do all sorts of fun activities with my child, and he treats these learning activities as games. Since I started with Saarthi 7-8 months ago, my child looks forward to learning at school everyday," says the woman who studied only upto middle school, but now feels equipped to teach her child.
Saarthi's inception
Saarthi was founded in 2017 by Ankit Arora, an engineering graduate in Delhi who gave up a shot at a lucrative career to first teach young children in the slums of Faridabad, Haryana, alongside his college friends. It was the sight of young children working odd jobs at a railway station during college, which inspired him to start teaching underprivileged kids.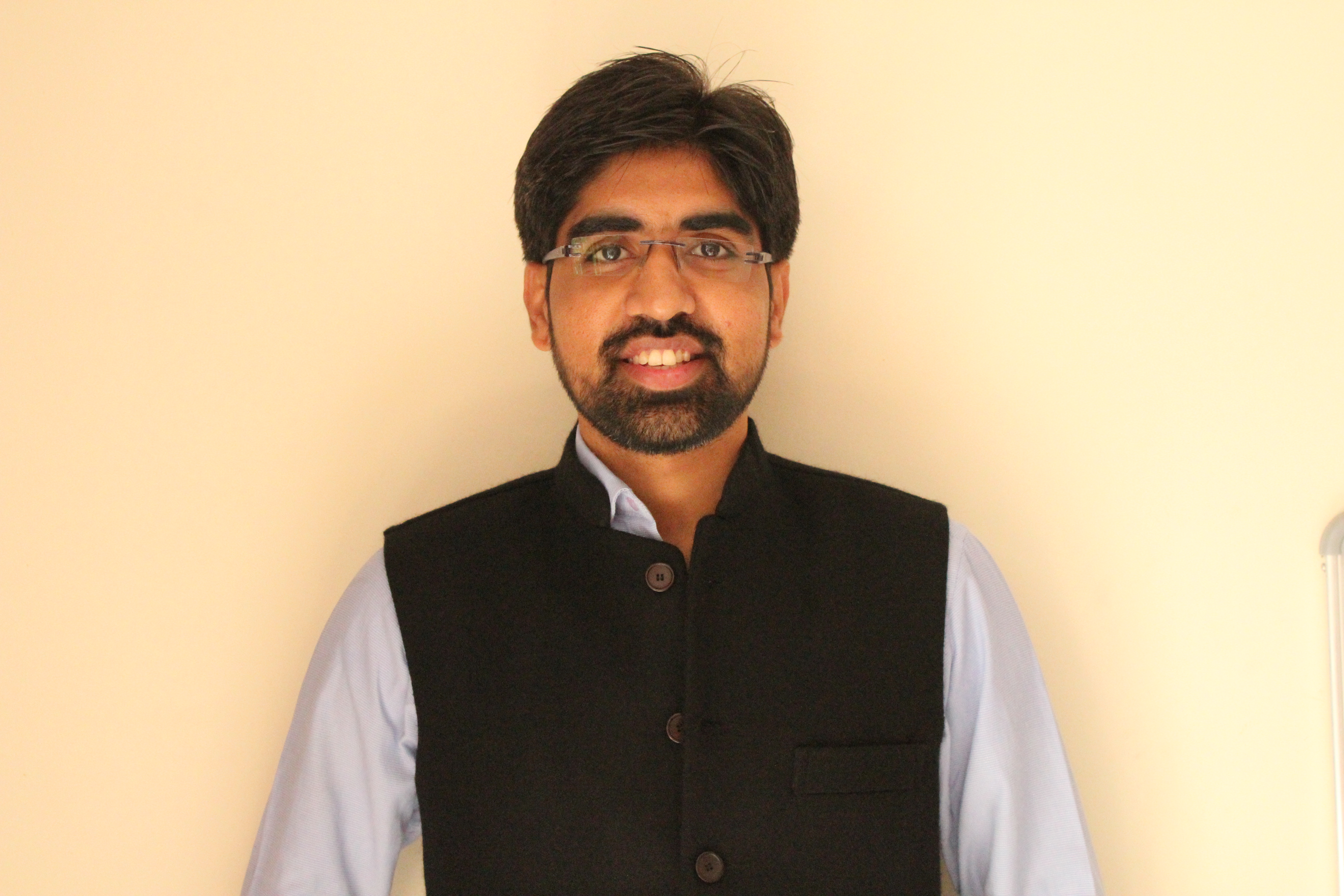 In 2012, he became a Teach for India Fellow, and taught a class of 51 girls in primary section in a South Delhi urban village government school for two years. He then worked at a philanthropic investment organisation called Central Square Foundation for the next three years where he assisted entrepreneurs working in the ed-tech sector before starting Saarthi.
"Saarthi supports parents across low-income communities in their role as their child's first teacher. We provide parents with learning resources, coaching and support through an innovative blend of technology and offline components, so that they can provide an environment of excellent early learning and care for their children at home," Smruti Savkur, who leads Strategy and Communication at Saarthi Education tells The Better India.
Why the focus on parents?
"For children between the ages of three to eight, parents are among the most important stakeholders in improving their learning outcomes. In many ways, they lay the foundation for future success in their child's respective careers. Multiple studies have established a positive correlation between parent involvement and a child's life-long career achievement outcome," says Ankit.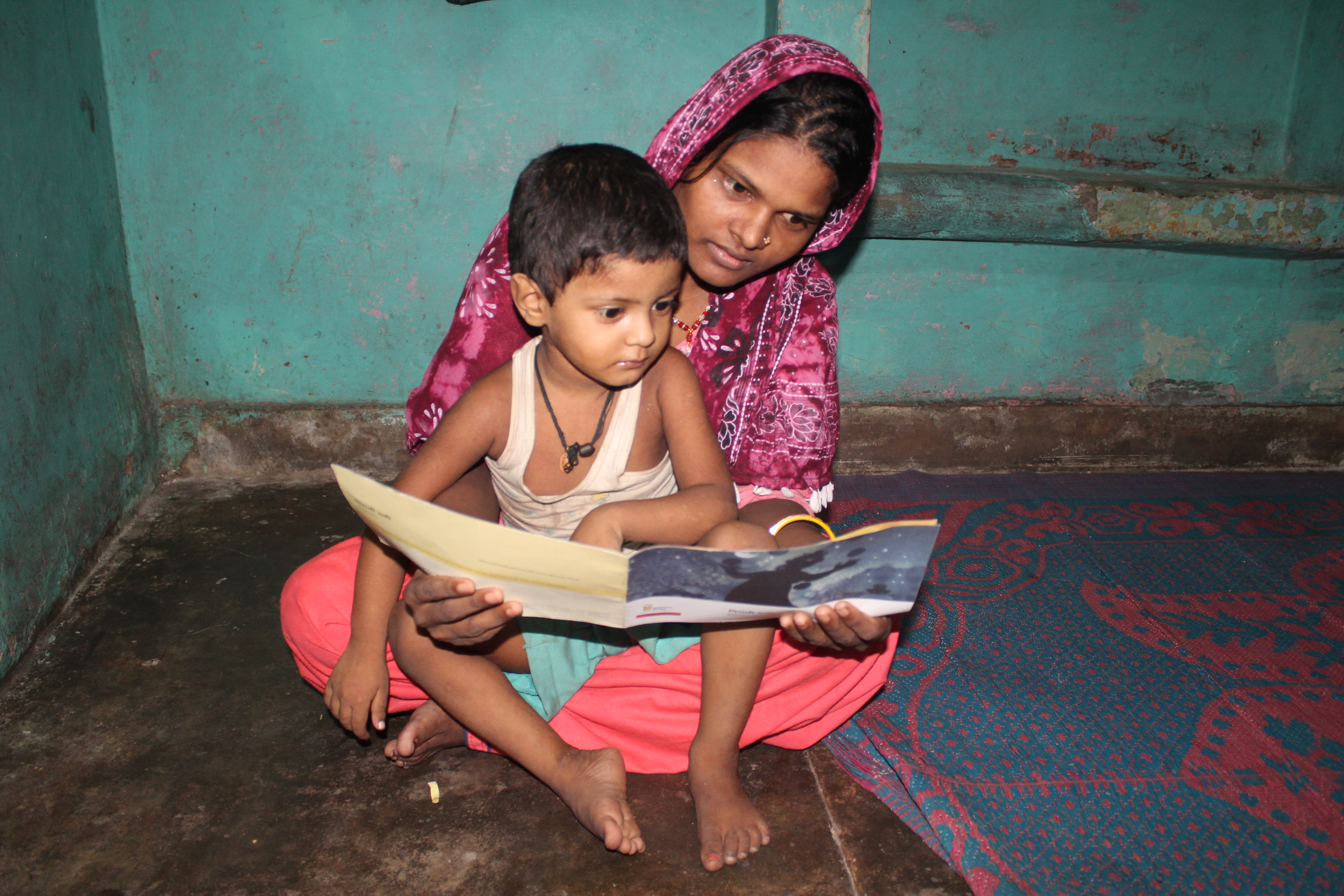 He further informs that in India, unfortunately, there haven't been enough interventions to focus on improving the capacity of parents as someone who can be involved in their child's education.
"Besides, the number of instruction days in Indian schools is very low (around 190 days in a year), and even then the instruction hours range from 4-4.5 hours in a day. You find 40-50 students in one class, and these children need individual attention. But at home you can create that environment very easily because a mother is already invested in her child's development and can offer individual attention," he adds.
Problem Statement
To get parents more involved in their child's academic development, Ankit argues there are two elements that need fixing—material resources, and awareness and confidence among parents, particularly mothers. On the question of resources, children in these low-income communities do not have access to story books, jigsaw puzzles or other resources that may assist in better learning outcomes. Studies have shown that hearing stories aloud is a scientific way to improve language skills and cognitive ability of a child.
"But we have mothers ask us, 'how do we do a read aloud'? Getting married at age 17 and 18 in villages, moving to an urban setting and the pressures of managing a life there have drained their energy and confidence, leaving them with the thought that it's only the school's job to educate. These mothers don't believe they are equipped to perform this role. Nonetheless, when we give them the right resources, coaching, and build their confidence you start seeing change very quickly," he adds.
It can be a daunting task for parents to participate in their child's education. They have most probably had poor educational experiences themselves which leaves them feeling incapable of fulfilling their child's needs; they feel that only a teacher or tuition teacher can, adds Smruti.
"Global evidence and our experience show otherwise. Parents need the right resources, they need to understand the importance of their role in their child's early learning and they need to feel confident about their abilities. With these inputs, parents from low-income families, regardless of their own level of education, can actively participate in their child's education," argues Smruti.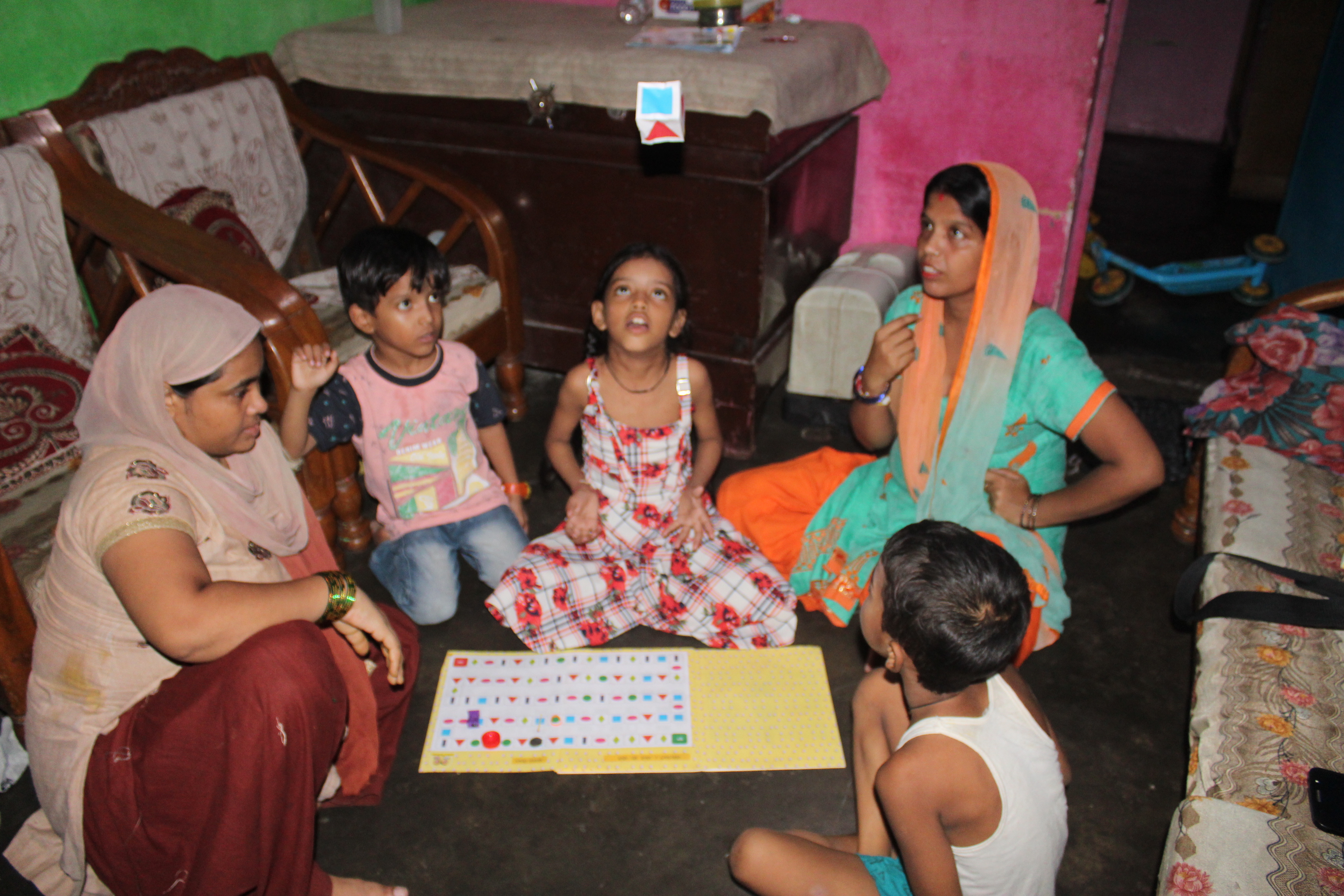 Solution
The Saarthi model has three components:
1) They provide an activity kit to mothers so they can build the foundational literacy and numeracy skills of their children. This activity kit is developed by early-childhood practitioners and experts. Every month, mothers receives a new age-appropriate activity kit, which has 15-20 activities in it, delivered right at their doorstep.
2) They offer instructions on how to facilitate activities. Every other day, the team at Saarthi sends mothers activity instructions on their phone through automated calls, WhatsApp and YouTube videos. The organisation also has a mobile app which parents can download and use.
3) They hire women from the same community, who are either mothers or young graduates and train them in early childhood content, parenting and counselling. These women, known as "relationship managers" are assigned families in the area to whom they provide support through calls and home visits. Every week, they visit each mother personally, speak to her for 30 minutes, demonstrate what activities have to be done and build the mothers' skills.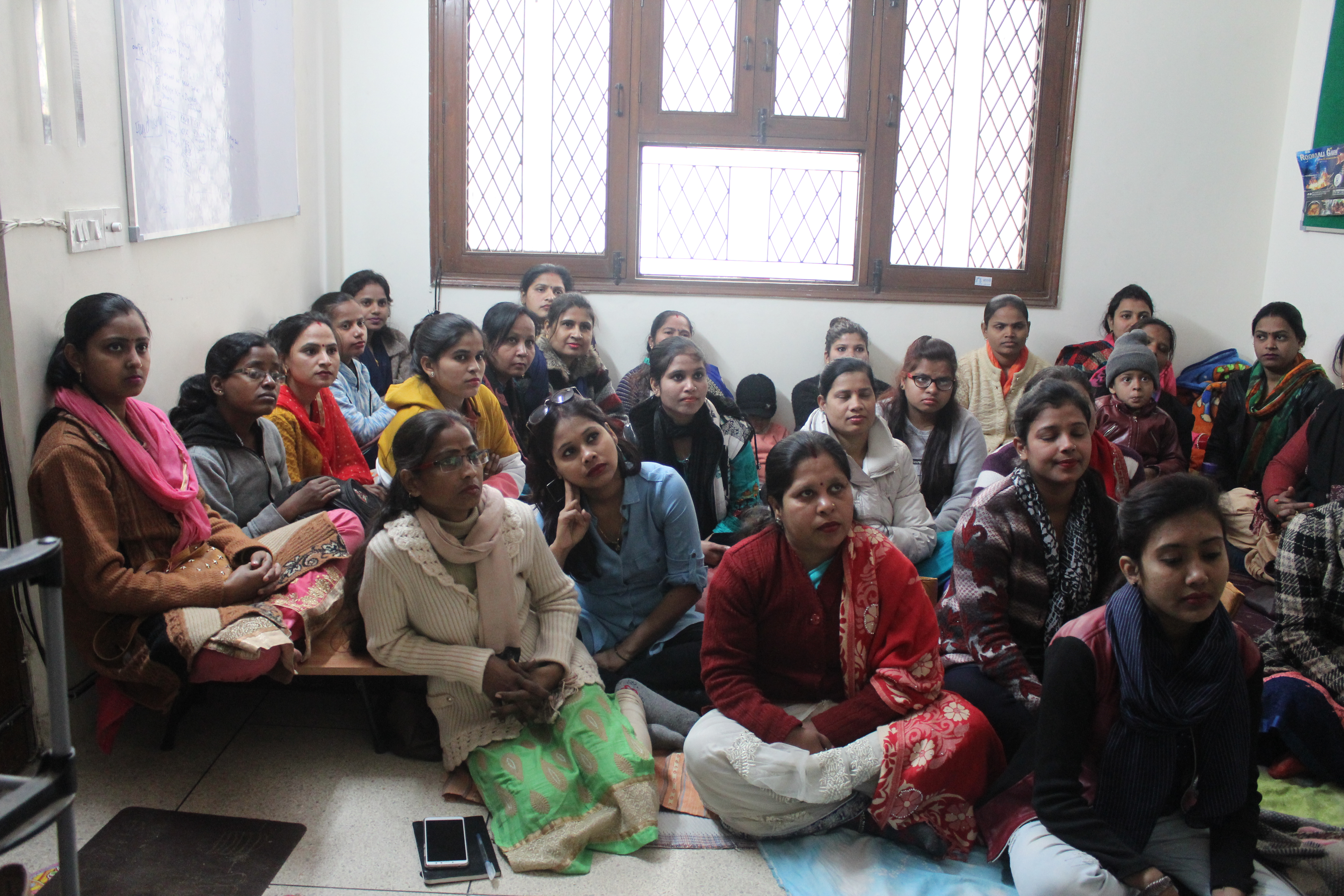 How does Saarthi approach these mothers?
"We make inroads into a community by partnering with existing anganwadi and schools, hold orientation sessions and invite parents of children of 3-8 years there on the same day. Here, we discuss the key aspects of our programme and ask them to sign up. Interested parents do sign up, and we assign trained relationship managers. Within a week of the orientation event, they deliver these activity kits. Parents start receiving calls and videos for these activities simultaneously. One such activity, for example, involves a picture book with no text and all a mother needs to do is narrate that story to her child. Following this, she asks her child three questions from the story. In answering these questions, her child's oral comprehension starts to build," says Ankit.
Outcome
And the results have been great.
Children have shown marked improvements in foundational literacy and numeracy. Saarthi claims that there has been a 27.1 per cent increase in the literacy rates for children who have undergone their programme over a course of four months. "We conduct these tests adopting EGRA (Early Grade Reading Assessment), an international test adapted and contextualised to Hindi. We now have a third party onboard who will conduct these tests over a longer duration," adds Ankit.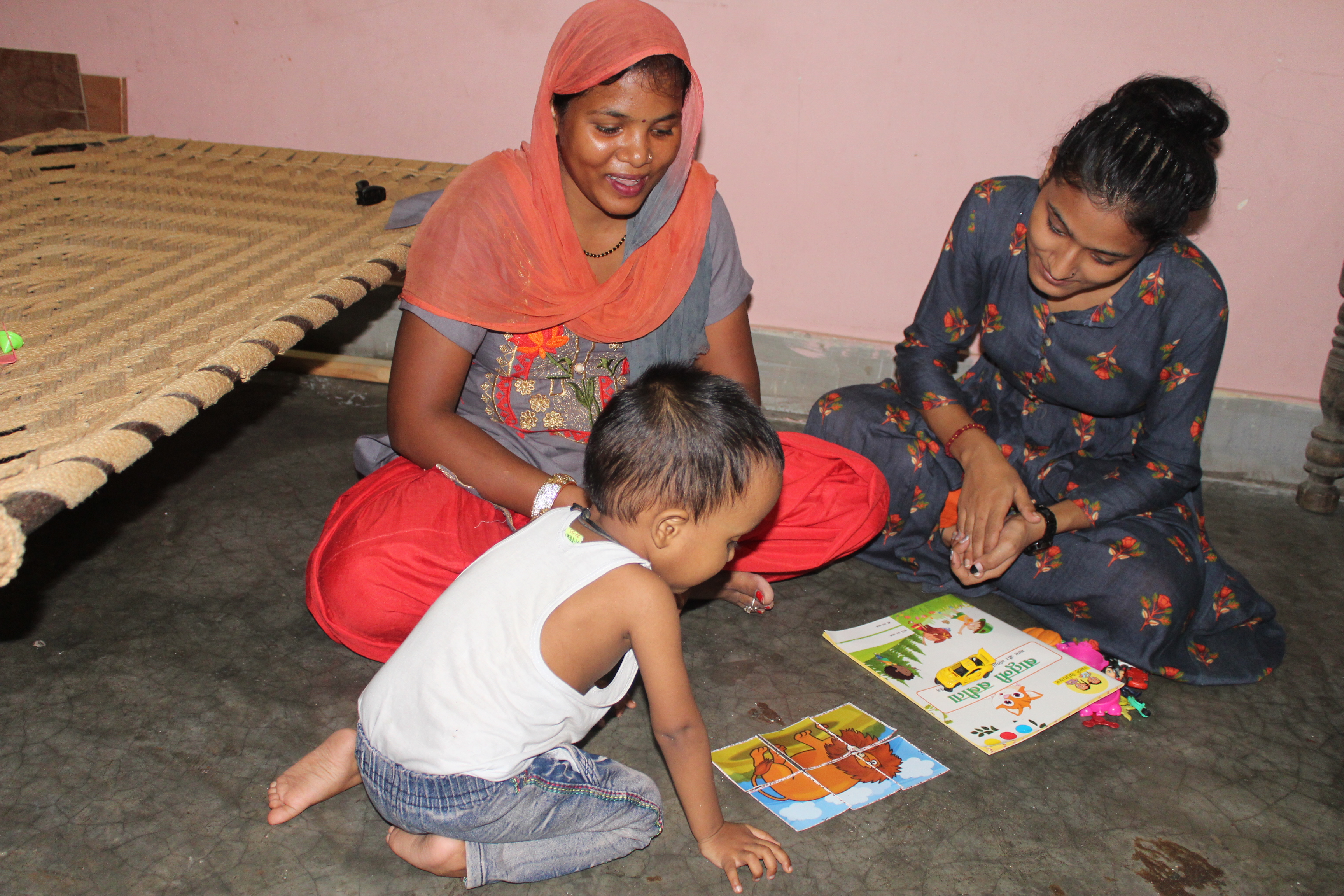 In fact, the demand for these activity kits have increased so much that Saarthi has recently started charging families Rs 50-100 per month for them. Earlier, these activity kits came for free.
There are mothers who had partnered with Saarthi that now want to become relationship managers themselves. Take the example of Neha, the wife of a cab driver, who lives with her two young children in Badarpur, Delhi. "My child studies in a private school. With Saarthi's assistance for nearly a year, my child's capabilities in academics has grown significantly. More than my own child, I feel like studying. I'm a homemaker and studied till Class X. I have aspirations to become a Relationship Manager, where I can help other mothers," she says.
The process of improving learning outcomes starts early.
Saarthi has ascertained that the best way to make it happen is when you empower parents to create a conducive atmosphere for learning at home. For a vast majority of children who struggle through our under-served education system, including parents into the learning process gives them that much-needed head start.
---
Also Read: Ex-Soldier's Peace Schools Building Trust & Dreams In Strife-Affected Areas of NE
---
Picture Courtesy: Saarthi
(Edited by Saiqua Sultan)
Like this story? Or have something to share? Write to us: contact@thebetterindia.com, or connect with us on Facebook and Twitter.
We bring stories straight from the heart of India, to inspire millions and create a wave of impact. Our positive movement is growing bigger everyday, and we would love for you to join it.
Please contribute whatever you can, every little penny helps our team in bringing you more stories that support dreams and spread hope.