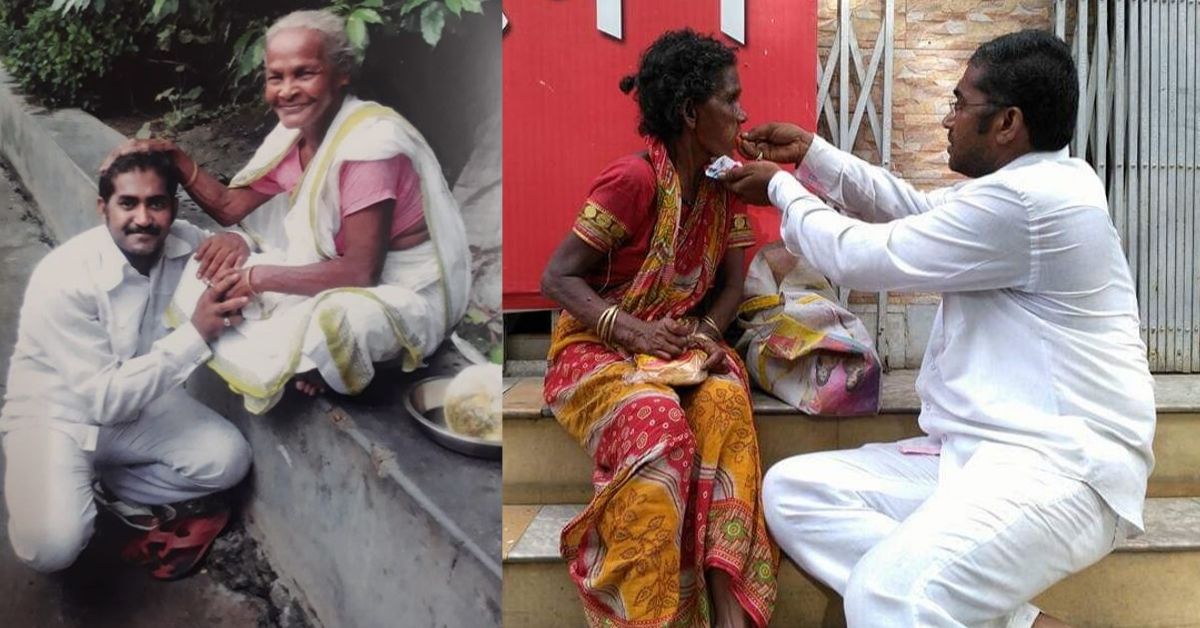 Be it scorching heat or torrential rains, they are assured that their 'son' will send them lunch and dinner, without fail. Be it a medical emergency or the simple wish to go on a short trip - they know Deb Kumar is just a call away! #Respect
Old age homes are mushrooming in Kolkata owing to the children's apathy towards their parents. The old age homes even take in new residents based on packages – a cheaper one perhaps offers less food and smaller rooms while an expensive one ensures wholesome nutrition.
---
A unisex pocket urinal, Rest in Pee can be used by travellers, pregnant women, physically challenged people and bedridden people as well as the elderly. Click here to get yours today.
---
For around 300 such seniors who cannot afford a care home in Kolkata, Deb Kumar Mallick is nothing less than a saviour. Be it scorching summer heat or torrential rains, they are assured that their 'son' will send them lunch and dinner, without fail. Be it a medical emergency or the simple wish to go on a short trip – they know Deb Kumar is just a call away.
"I have found so many seniors starving on the streets, or even inside their lonely homes because their children have left them forever," he reveals with a heavy heart. These are but a few of the atrocities that the 40-year-old Kolkata businessman has witnessed.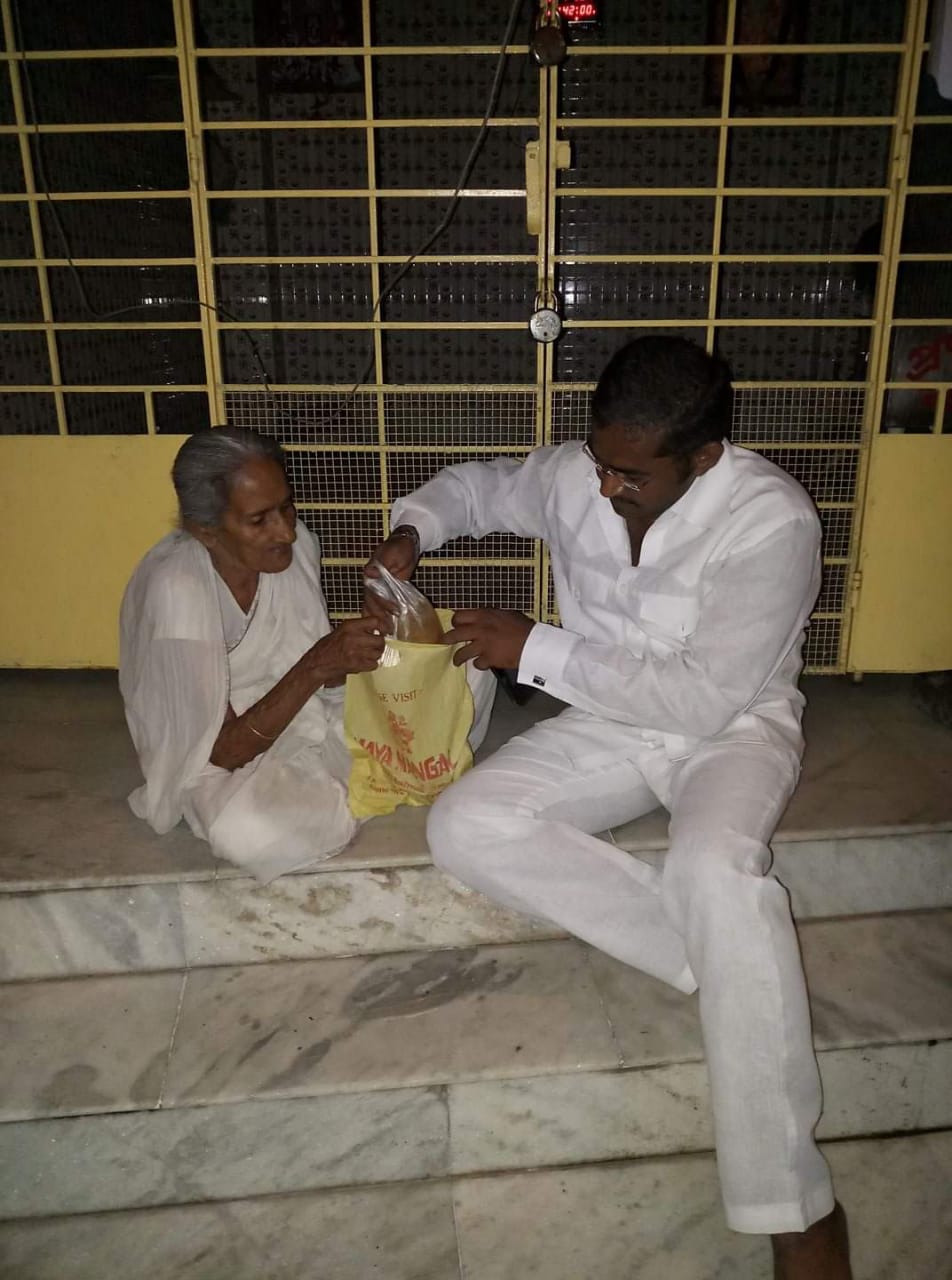 Some of the people he regularly helps used to live in tattered shacks, spending their lonesome days in abject poverty, while some resided in their desolate houses, too old to fend for themselves – until Deb Kumar discovered their plight and decided to stand beside them.
Born and brought up in Baranagar, Kolkata, Deb Kumar had battled immense hardships throughout his growing years which, perhaps, has shaped the man he is today. His family of four – with his parents, an elder brother and himself – was a well-to-do, happy one until he was five when a road accident left his father paralysed for life.
To support the family and finance his father's treatment, Deb Kumar's mother started teaching and also worked as a part-time physiotherapy trainer. Meanwhile, his brother developed serious mental health issues and had to be sent to a mental health facility for rehabilitation.
"My mother would cook for us and leave home in the wee hours of the morning to visit my brother and then work throughout the day. I stayed at home with my father. I had to feed him, clean him up and then rush to school, with only 50 paisa allowance for my lunch. I pined for colourful lunch boxes and wholesome meals like my cousins, but our hand-to-mouth condition didn't allow that."
The kids of the neighbourhood were fully aware of Deb Kumar's family situation, but that did not deter them from bullying and isolating the shy kid. "They would not let me touch the football. Bring money to play – they would jeer at me," recalls Deb Kumar.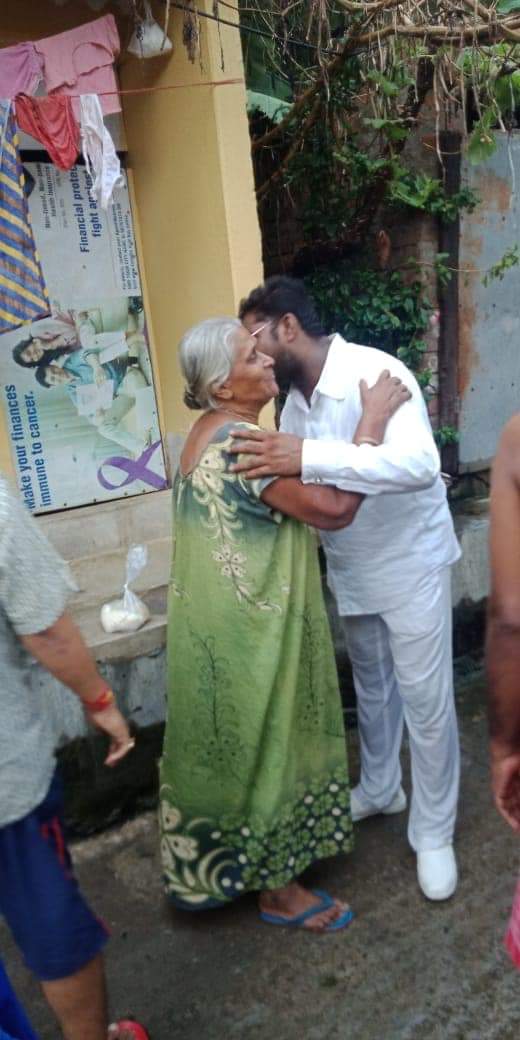 During his senior secondary school days, Deb Kumar took up the job of a waiter with a local catering service. The pay was low, the esteem even lower. Often, the owners would offer him leftover snacks or sweets to take home as a token of sympathy. He brought those home for his bedridden father but resolved in his mind that he would become successful one day.
Once in college, Deb Kumar heard of stories of people making it big in Gujarat. He fled to the state thinking he would also be able to do well and help his family.
"I ended up in Patel Nagar, Surat and roamed around cluelessly for the next few days. Afterwards, I landed up the job of a factory labourer at an auto-embroidery factory. I learned the craft in just nine days, and nine years later, I was running my own company, Jairam Garments," shares Deb Kumar.
When Deb Kumar returned to his humble home in Kolkata, his father's health had worsened and he passed away within a few months.
Reunited with her long-lost son, Deb Kumar's mother could finally retire from her laborious jobs which had claimed the sunshine years of her life.
Since his childhood, Deb Kumar always wanted to help the elderly people in need. He was finally in a financial position to fulfil his wish. So, in 2015, he started feeding a group of homeless elderly people every day in front of his house.
One afternoon, an elderly neighbour approached Deb Kumar and asked him for some food for his wife. "The couple lived in a decent house, so I was taken aback at his unusual request. That's when I got to know that their only son had deceived them of the entire property and left them to die in the house. I was beyond shocked," recounts Deb Kumar.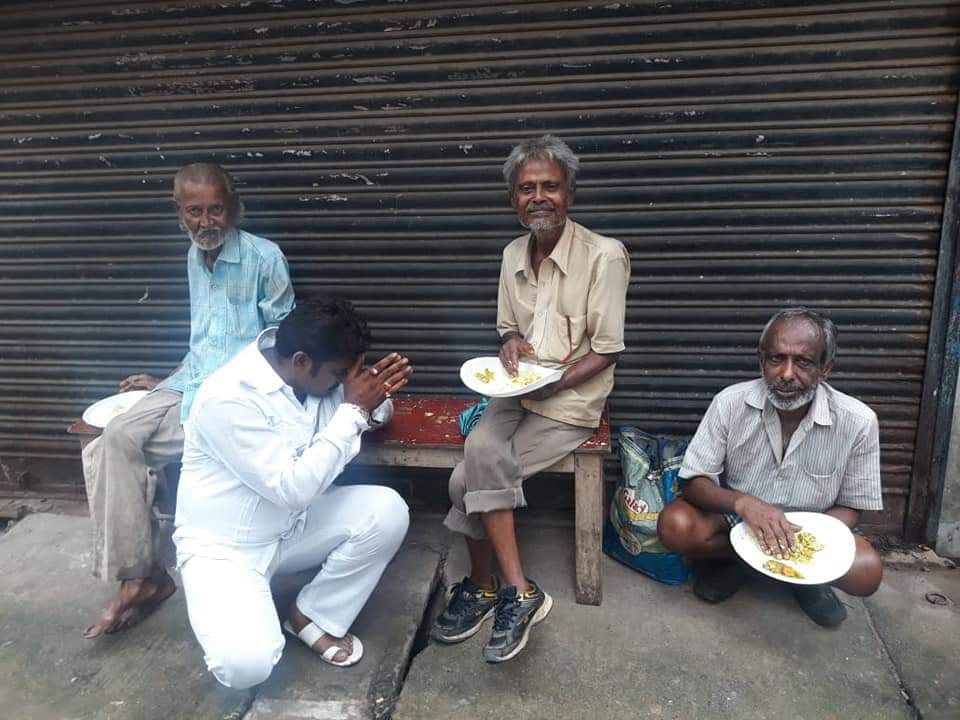 He started enquiring about such elderly citizens in and around his area who were enduring a similar fate. He posted the enquiry on social media and was flooded with desperate appeals within months.
That was the start. People would inform me about their helpless elderly neighbours or relatives, and I took the responsibility of their lunch, dinner and medical expenses till their last breath. I have not failed in my duty for a single day since 2015.
At present, his initiative is concentrated within a radius of 20 kilometres from his home, but he wishes to expand it to other parts of Kolkata as well.
Deb Kumar is supported by a strong network of 64 dedicated volunteers who assist him in delivering the food packages to the elderly, twice a day. Many of the volunteers are employees at Deb Kumar's business, some are his friends and others have simply come forward to support his amazing endeavour. They all know that they cannot miss out on their duty even for a single day.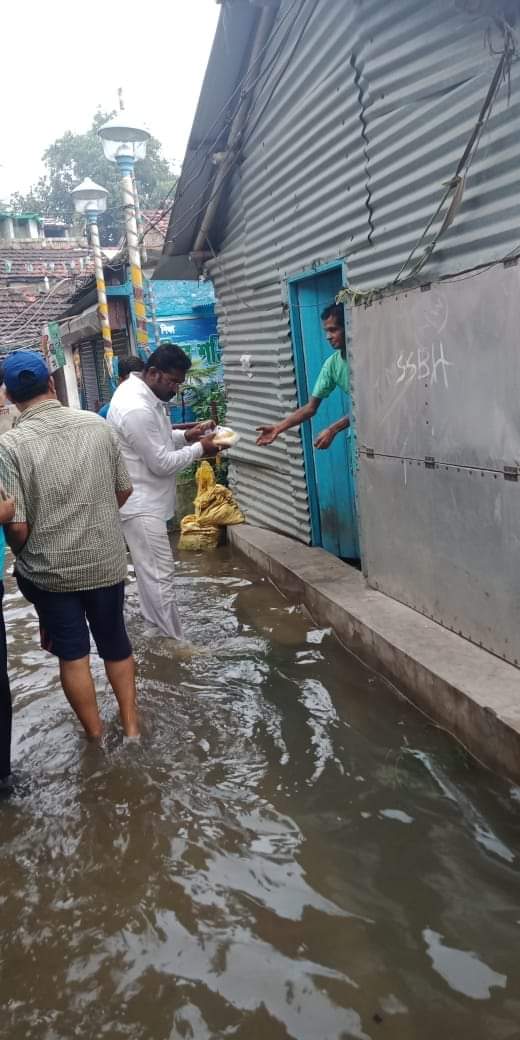 Tapan Dutta, who delivers food to around 80 seniors every day has been with Deb Kumar since the initial days. "I was amazed by his efforts. I did no delay in joining him. Now he has almost become like my own brother," he tells TBI.
Dutta informs that Deb Kumar has also built a temple where around 80 homeless seniors are also fed twice a day.
The meals are simple, wholesome and fresh – comprising rice, daal and a sabzi every day. While the sabzi varies from day to day, often sweets are also added to the meal on special occasions.
Rahul, a fresh graduate from college, once spotted one of Deb Kumar's volunteers handing over lunchboxes to elderly citizens near his home. "Upon asking, I got to know about Deb Kumar sir's amazing initiative. I decided to join immediately knowing very well that I cannot miss out on a single day – be it any climate catastrophe or personal obligation. I am assigned to deliver to 60 seniors every day."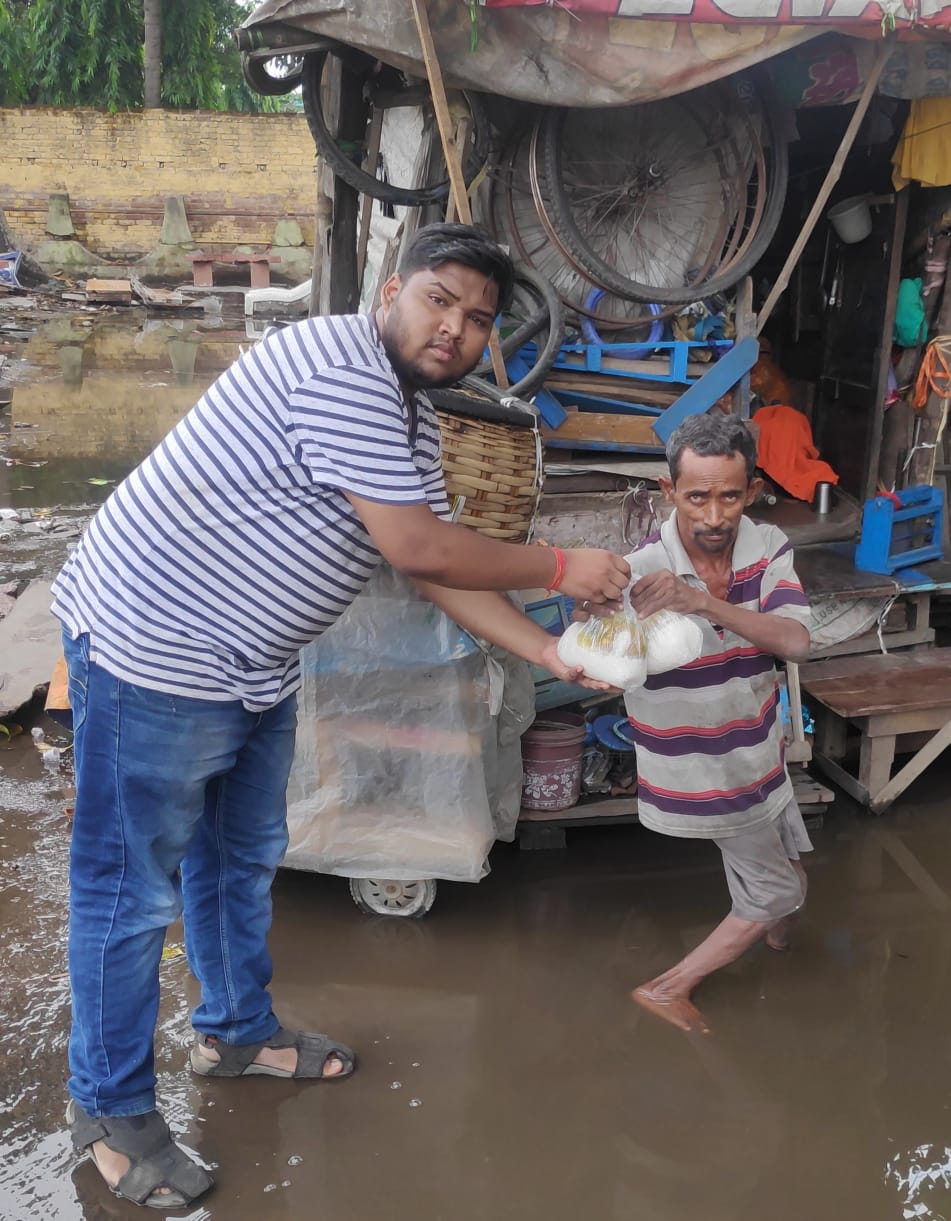 "People ridicule me. They are sceptical about my endeavour. They say I am a fraud or show-off. But I have nothing to hide from anyone. Every day, I spend Rs 4,800 behind this whole operation. I can afford that much by God's grace," says Deb Kumar, who can be spotted every day in his characteristic white shirt and trousers.
There is a heartwarming anecdote behind that as well.
When Deb Kumar lost his father, he was asked by the priest to wear white for 14 days, as mandated by the traditional Bengali custom. When he asked the reason, the priest told him it was a symbol of mourning. "Does that mean I will mourn for my beloved father for just these 14 days?" said Deb Kumar who found the idea strange. He resolved to himself that he would don only and only white clothes for the rest of his life. Even in his pristine white attire, he does not hesitate to squat on the sidewalk and bathe a senior man on the streets, too weak to look after himself.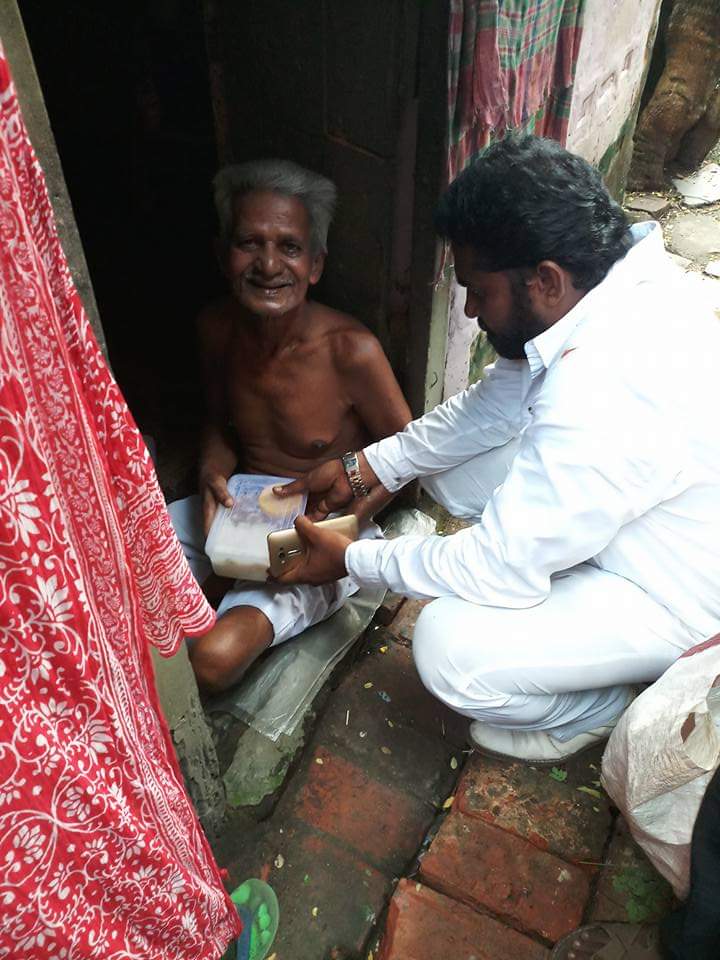 Many people approach Deb Kumar with donations to aid in his initiative, but he declines all. He wants well-wishers to integrate in his efforts by helping in the chores – like buying groceries, cooking the food or delivering – not simply handing over some money.
Alongside the meals, Deb Kumar maintains two cars for medical emergency, which take ailing seniors to the hospital whose treatment cost he bears until recovery.
He also provides funeral service at just Re. 1 for homeless seniors, who have no one to bid them the final farewell with dignity.
In his own family, he has his wife and a young daughter. But hundreds across Baranagar-Agarpara-Panihati-Sodepur consider him their own 'son'. "In that sense, I have a huge family," he asserts heartily.
"My address is 76, Netaji Colony, Tobin Road, Kolkata – 700090. My contact number is 8617715792. Any elderly individual, anywhere in Kolkata, who needs help, I will try my best to be there," he concludes with his heartfelt appeal.
---
Also Read: At Home or in Hospital, Pune Citizens' Group Serves The Elderly & Sick For Free!
---
(Edited by Saiqua Sultan)
Like this story? Or have something to share?
Write to us: contact@thebetterindia.com
Connect with us on Facebook and Twitter.