---
In the MY STORY section, we present some of the most compelling and pertinent stories and experiences shared with us by our readers. Do you have something to share? Write to us: contact@thebetterindia.com with "MY STORY" in the subject line.
---
On a bus journey from Mysore, Sindhu Ramkumar happened to meet Krishnan, a bus driver who would take something out from his mysterious black bag and give it to a few chosen people along the way. You will be surprised to know what that "something" was, just like Sindhu!
With still loads of chaos and confusion in my mind, I am writing this because someone could assist me find 'ಇದು ಹಿಂದಿನ ಕಾರಣ ಏನು?'? (What is the reason behind it?) If you travel daily to Mysore, you are the one!
One could daily see Mr. Krishnan by 7:30 am at the Mysore bus stand, near Platform 3 – Inter-State Transportation. Half asleep, I peeped into the bus and asked him, 'Kalpetta'? He shook his head in denial and said 'Mannanthavady!' Mannanthavady is a town, 30 kms away from my destination and I decided to grab the first seat in the bus, behind the driver! With exams having completed just the day before, one could understand my situation, and I started snoring as soon as the bus started!
Happily sleeping and day-dreaming until the driver yelled in a loud voice 'Eyyyyyyy'. Irritated with the noise, I got up to see what happened. The driver threw something in front of a tea stall and an old man picked it up! I said to myself, 'Stupid plays and pranks' and continued sleeping. The cool breeze woke me up the second time and the clock stuck 9!
The path to Wayanad attracts everyone's attention and I am no exception. Few minutes from then, a group of 5 to 6 school kids were waiting for the bus and as soon as they saw the bus driver, they shouted something in Kannada, which I could not really understand. Then the driver threw something and the kids became very happy and waved to the driver.
By now, I was damn curious. Questions popped up in my mind! What was in that cover? Are they his relatives? Why is he doing it? Does he do this regularly? What exactly is in the cover??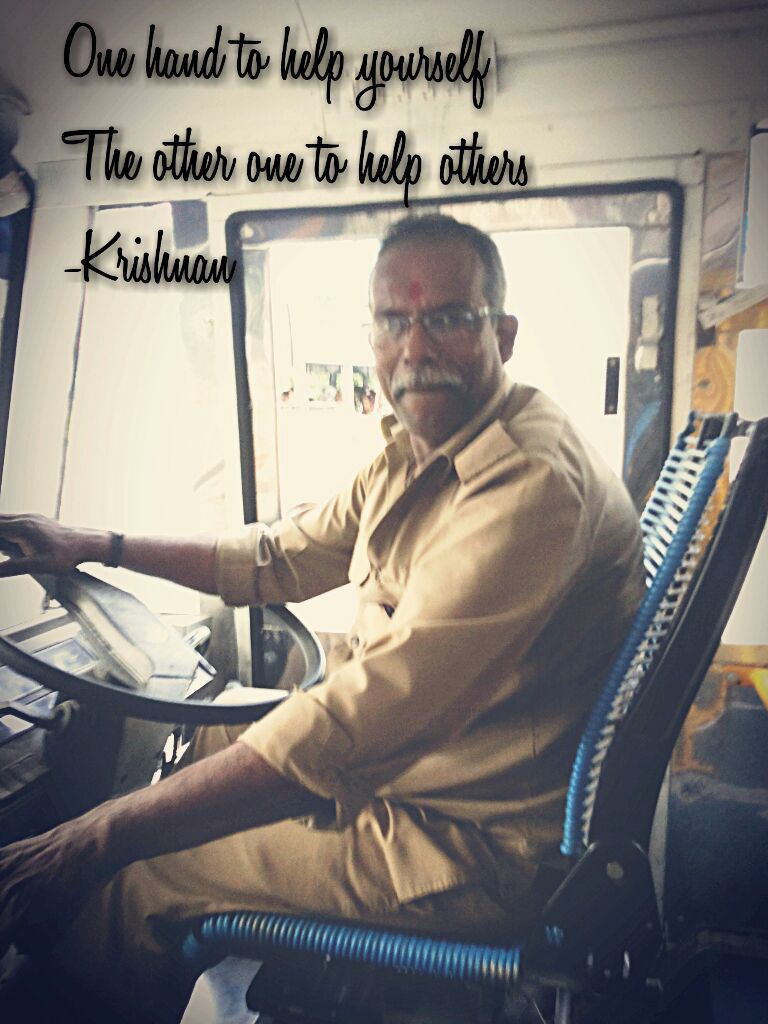 Then I started observing each and every step of what the old man was doing. He took something from the 'black bag' and threw to few people on the road. Surprisingly, everyone in the road knew him and everyone asked him for that 'something'.
But he used to give it to selected people. My approach was simple – try to look in that black bag and see what's in there! Slowly, with my leg I tried to pull the bag so that no one noticed. I know, I could have rather asked the driver than doing this act, but I have been brought up in India, the country where you are not allowed to talk to strangers!
Hurray! I found what was in the black bag, what was in the cover. It was a newspaper, today's regional newspaper!
Then I said to myself, "Great, Sindhu! You did it. And the best part is, no one noticed you." It was 15 past 10 and I reached my destination. But my questions still remained unanswered. I decided to approach him and talk to him when he stopped the bus. I was standing there with a huge sack of luggage and he stared at it. Only then did I realize that I was the only person in the bus and others had already got down. He looked at me and said something. Breaking all the shackles that restricted me from talking to him, I opened up:
"Unga kita pesanum. Bus stop pannapiragu pesuren" (I need to talk to you. When you stop the bus, I will talk)
"Tamil ah? Enna venum solu ma?" (Tamil? What do you want, tell me?)
I pounded him with all the questions running in my mind. Answering a few of them, he said, "Duty calls!.. I have to drive back to Mysore." On the final note, I asked his name!
"Seri…Sir, unga peru?" Okay…Sir, your name?
"Krishnan"
Clicking a photo of him, I got gown the bus, then the bus conductor told me, "Krishnan anna always tells one hand for duty (driving the bus) and one hand to help (distributing newspaper). He feels this is his way to help to those people. Random people are now sons and daughters. He does not even know other's name. Those villagers cannot afford to get newspaper daily and hence Anna gets it for them."
Krishnan, around 60 years old, is a bus driver, who distributes newspaper everyday to the villagers on his roure. In a three hour drive from Mysore to Mannanthavathy, he distributes 10 to 20 newspapers for free to a few people, especially students.
What is it that made him do this? Does he remember his childhood when he was deprived of education? Will the villagers take this as an advantage and make use of the opportunity? Do they actually read the paper? What is it? And why??
With lots of unanswered questions in my mind, I stood there like stone and the bus passed me….
KA-09 F-5145
Seeing the watch, I thought, "I will definitely wait one day in Mannanthavady at 10.15 am to talk to Krishnan anna!" Thinking this and staring at the clock, I was standing still until I realized,
*Yeekkkssss* I am late… I am late to office!
Running to catch the next bus, I thought about the possible reasons why he was doing this!
PS: If anyone boards this bus, please help me find out the answers.
-Sindhu Ramkumar
Like this story? Or have something to share? Write to us: contact@thebetterindia.com, or connect with us on Facebook and Twitter (@thebetterindia).
We at The Better India want to showcase everything that is working in this country. By using the power of constructive journalism, we want to change India – one story at a time. If you read us, like us and want this positive movement to grow, then do consider supporting us via the following buttons.
Please read these FAQs before contributing.