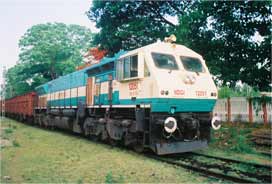 If the Indian Railways executes the latest plans on its desk, passengers on premier trains like Shatabdi and Rajdhani will soon be able to access high-speed internet as well as audio and video entertainment facilities.
While a trial run for this is already underway in Mumbai-Ahmedabad Shatabdi Express, the Indian Railways has already set up its own high-tech V-SAT hub system in Delhi.
The Economic Times reports in this article:
Indian Railways have established its own state-of-the-art satellite-based V-SAT hub system in the capital, which is considered the best option for providing reliable connectivity for freight operation information system (FOIS) at remote locations where freight loading takes place.

It has already connected over 200 remote locations of FOIS and more stations are to be linked soon, said the official.

V-SAT system can be also be used for online reservation in running trains, train operation and maintenance activities.

V-SAT terminal will help in establishing communication at accident sites withing 20 minutes, said the official.
An interesting contrast can be seen in this bit of news on the Amtrak website, which introduces Amtrak passengers to wireless internet service while they wait for their trains in five key stations. While we do not intend to set US as a benchmark, comparisons are inevitable, and in this case we'll be happy to say we're one up!
Links Courtesy: Uday Arya
Image Courtesy: Indian Railways Fan Club