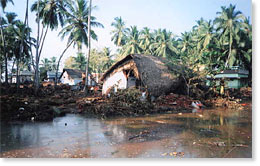 Everything that M Malar owned was washed away in December 2004. After eking out a bare subsistence for four years, this mother of three has finally been shown a ray of hope. She and 37 other Tsunami survivors like her can begin life afresh working as permanent staff members of "Green Friends" at the new vermin-compost yard set up at Sholinganallur by the town panchayat.
The yard has been set up with the help of an NGO Hand-In-Hand (HIH), which runs 19 yards in Kancheepuram district with the participation of the local bodies.
D Madhavan reports in this article in The Times of India:
Two years ago, Malar, originally a resident of Odaikuppam in Besant Nagar, was accommodated in one of the 6,700 quarters built by the Tamil Nadu Slum Clearance Board for tsunami survivors in Semmancherri.

But this was not enough for Malar. She had to feed her children and give them an education – she did several odd jobs, from working as a maid to hawking goods.

Two months ago, there came another turn in her life. She and 37 other tsunami survivors of Semmancheri were offered a permanent job by HIH in the new yard.

A self-help group was formed to help them sustain their livelihood. "It is a second life for me. Now I can ensure that my three children get a good education. I want to ensure at least one of them pursues medicine," Malar told The Times of India.
The tsunami-survivors were given free training on all aspects of maintaining the yard. These women in turn will teach the residents about the need to segregate their waste into biodegradable and non-biodegradable parts. Initially, the "Green Friends" will receive monthly compensation, but after a year they will be in charge of sustaining the project.
Read the complete article here.
Image Courtesy: Inmotion Magazine, AREDS Team