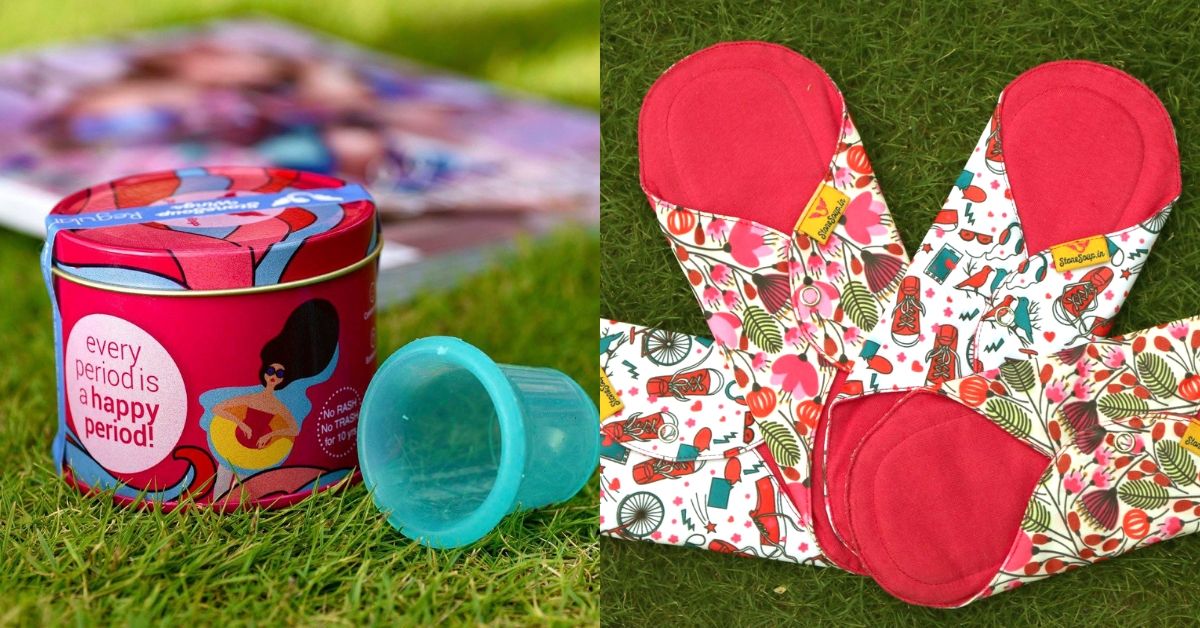 #FreePeriod: Join The Better India in inspiring school girls to start their journey towards positive and plastic-free periods!
Pads? Tampons? Menstrual Cups? Cloth?
Many women have heard of these options when it comes to menstrual products. Many more, perhaps, are also aware of the advantages of sustainable options and the disadvantages of single-use products. But despite that, many in India have not made the switch to sustainable options yet. This could be due to a variety of factors, but the most common one is, perhaps, simple uncertainty.
---
Buy sustainable menstrual products here. 
---
However, that uncertainty need not exist at all. Trust us when we say–if you are sitting on the fence about sustainable menstrual options, the time to switch is NOW!
Not next cycle, not after you have seen all the YouTube videos on menstrual cups, not after overthinking about it, but NOW!
As part of our campaign #FreePeriod, The Better India is working with private schools in Bengaluru to raise awareness about the use of sustainable menstrual products. We believe that it is possible to change attitudes towards consumption and disposal on a large scale, just by showing that an alternative way is possible.
Our idea is to help change the mindsets of girls from a young age, give them information on various sustainable options out there, and encourage them to embrace their periods with positivity.
For this, experts working in the field of sustainability have joined us to speak with hundreds of girls in schools across the city, talking about period positivity, hygiene, and sustainable menstrual products.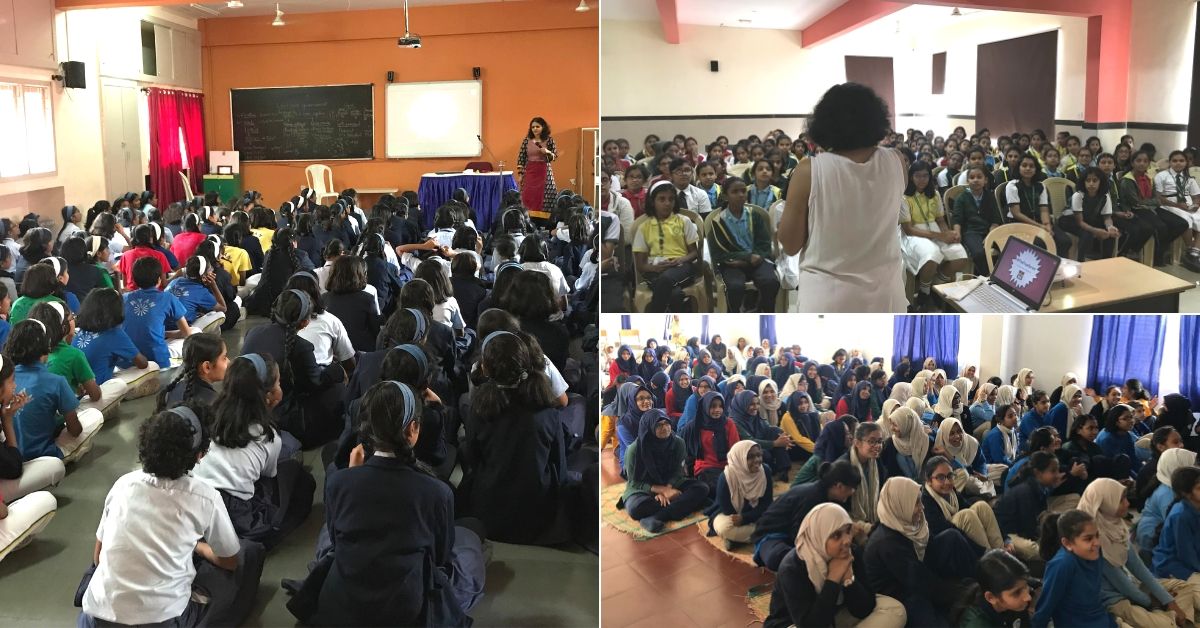 Join The Better India in our campaign to help change mindsets around menstrual products and take the pledge to start using sustainable options today! Join Here! 
A considerable number of women in India have known sanitary napkins as the only option. If you are someone who has not come across many sustainable options, here's some information to help you make the shift.
According to the National Family Health Survey, in 2015-16, 48.2 per cent of women in rural India and 77 per cent of those in urban India used sanitary napkins. Conventional menstrual products like pads and tampons must be thrown after one use. They cannot be recycled, so they invariably end up increasing the waste burden on the planet.
And once you consider that a woman uses thousands of sanitary pads in her lifetime–it leads to a staggering number of pads in landfills! Imagine leaving behind a hundred-year legacy for a single-use item!
So while the convenience of using pads is high, we do need to think of the colossal damage we are doing to the environment by using them. And that is without even considering the health benefits of NOT using pads and tampons.
There are easy alternatives – Menstrual cups and cloth pads.
While menstrual cups have been around for many years now, they have gained popularity only recently. A menstrual cup is soft, flexible and made of medical-grade silicone. It is worn inside the vagina during menstruation to collect menstrual blood. It is affordable, comfortable, and eco-friendly.
However, not every woman prefers cups, which brings us to our second option. Cloth pads are reusable pads made using layers of absorbent fabric.
You can safely lay all of your preconceived notions aside. Not only are these products eco-friendly, but they are also hygienic and effortless to use. And more and more women in India are coming to that understanding. In line with global trends, even in India, the number of takers for these products are on the rise.
"The menstrual cup is one of the safest hygiene products for women. It is economical, durable, easy to maintain, and imposes no restriction on movement or activity. Aside from the natural whimsical inclinations that my menstrual cup usage is now saving the rainforests of the world or that I salvaged stacks of money, what the cup has most assuredly done is give me period peace," says Ramya Jawahar Kudekallu, a cup user.
Here's a quick guide on why you should switch: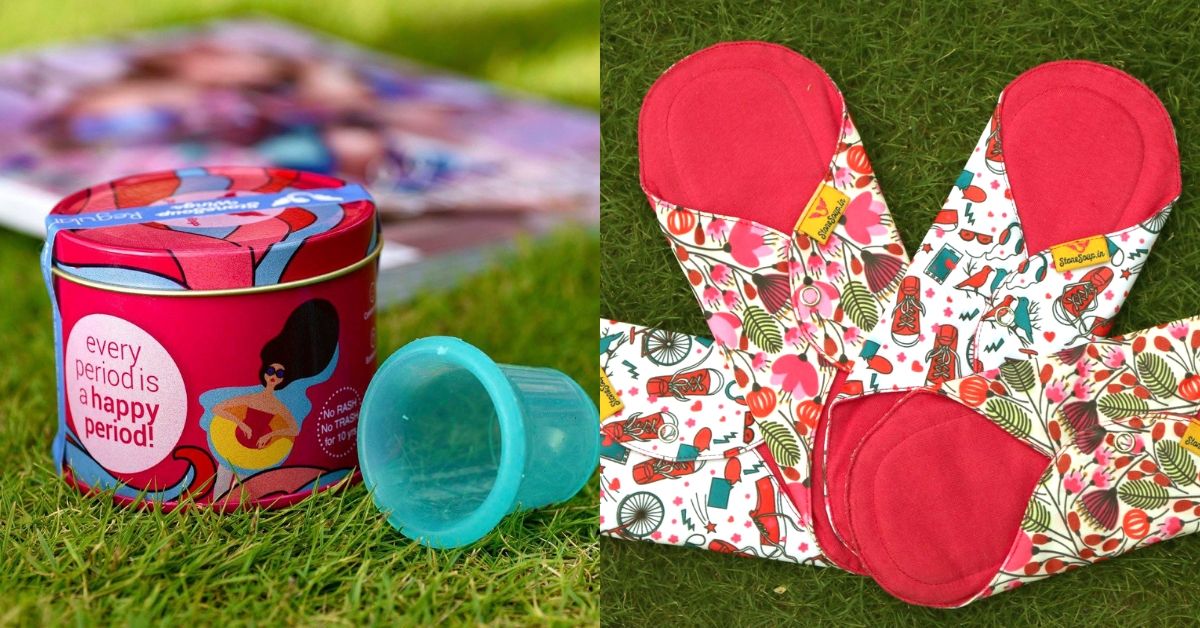 For better health: Disposable sanitary pads contain toxic chemicals (such as dioxin, pesticide residues, bleach, phthalates) and virgin plastic. These have been known to cause irritation, rashes, fungal infections etc.
For better affordability: The cumulative cost of buying sanitary pads from menarche to menopause is a hefty burden on any woman. A cup or cloth pads are significantly cheaper in the long term.
For a better environment: The virgin plastic present in disposable sanitary napkins will take hundreds of years to disintegrate! When buried, burnt or flushed, these cause serious air and water pollution due to the presence of toxic chemicals in the absorbent fillers and gel.
For better working conditions: It is not just the user, we have to consider the effect on all those who come in contact with sanitary pads too. Sanitation workers or waste pickers pick up soiled napkins with their bare hands–exposing themselves to a lot of microorganisms and pathogens.
Join The Better India and hundreds of school students in pledging to adopt sustainable and plastic-free menstruation.
Sign this petition today and pledge to adopt sustainable menstrual products. Pledge for freedom from environmental damage, rashes, health-related side-effects, and monthly expenses.
Joining us for #FreePeriod are experts like:
Smita Kulkarni
Smita Kulkarni is a techie turned environmental activist turned entrepreneur. She is one of the founding members of Bangalore Eco Team (BeT), a congregation of city-wide volunteers working on Solid Waste Management initiatives. She has been instrumental in getting the plastic ban implemented in many areas across Bengaluru and beyond. She is particularly passionate about spreading the word on sustainable menstruation and has spoken about it on several platforms like CII, Raahat, BigFM radio, TEDx, government and private organisations, educational institutes and community gatherings. Smita is the co-founder of StoneSoup, which is a social enterprise offering sustainable alternatives. She believes that "women have the right to alternatives so that they can choose what's best for their health, environment and pocket".
Dr Meenakshi Bharath
Dr Meenakshi Bharath is a renowned gynaecologist with over 35 years of experience, specialising in infertility. She has been an ardent green warrior championing the cause of segregation, composting, and sustainable living. She is an active member of the Solid Waste Management Round Table. She feels strongly for the sustainable menstruation movement and has been a leader in spreading the word among doctors, women and government bodies.
Chitra Praneeth
Chitra comes from a micro-biology background. She is a nature-lover and has taken to hiking and mountaineering from the past three years. Her love for nature led her into the plastic ban movement in her neighbourhood. She has since then been a leading activist and a social change agent of the voluntary body HSR Citizen Forum, working on several initiatives like waste segregation, sanitary waste solutions, home composting sessions and plastic ban enforcement. She has worked with temple authorities across many temples in HSR Layout to install and monitor composting solutions for puja flowers. She feels strongly for sustainable menstruation and has taken several sessions to create awareness on the same.
Malini Parmar
Alumni of IIM Kolkata and Delhi College of Engineering, Delhi, she has global IT work experience spanning 25 countries and 17 years. She has also held the CMO, CSO and CSR Head roles in IT and BPO companies. She is part of the Solid Waste Management Round Table consulting the state government. She has been in the core team of the 2bin1bag campaign (waste segregation), GreenTheRed campaign (sustainable menstrual options), Swachagraha (composting) and Bangalore Eco Team (ban on single-use plastic)
Padma Arun
A mass communication professional, she spent ten years in the PR and corporate communications space. She took two years off to take care of her young kids and discovered the garbage sisterhood. She volunteered to drive the plastic ban at the ward level, worked with BeT, and is passionate about garbage segregation and composting within the ward and community. She restarted her career with Tata Trust and was working directly with the Central Ministry of Drinking Water and Sanitation to implement Swachh Bharat Mission Goals for rural Karnataka. Under Tata Trust, she worked on menstrual hygiene management for rural women and girls. She is currently with the Stonesoup Trust, creating awareness about sustainable menstruation and composting.
---
Buy sustainable menstrual products here. 
---
Like this story? Or have something to share? Write to us: contact@thebetterindia.com, or connect with us on Facebook and Twitter.
We bring stories straight from the heart of India, to inspire millions and create a wave of impact. Our positive movement is growing bigger everyday, and we would love for you to join it.
Please contribute whatever you can, every little penny helps our team in bringing you more stories that support dreams and spread hope.