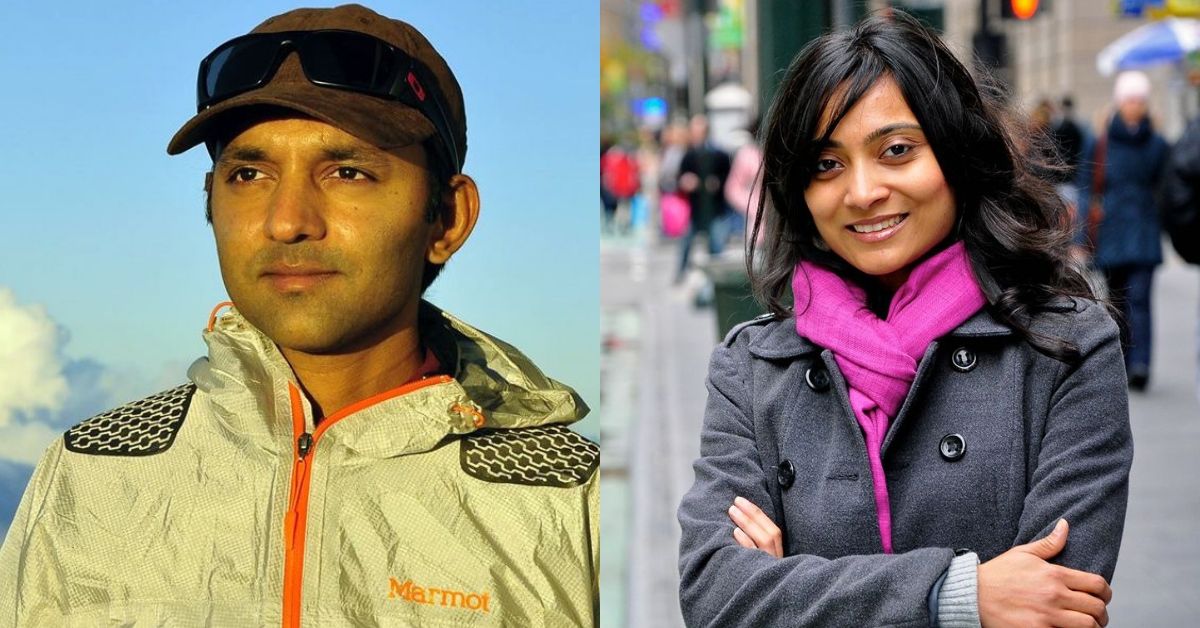 They have already diverted 600 MLD (Million Liters a Day) of raw sewage from entering water bodies and prevented over over 5,600 hours of manual scavenging! #Respect #RealLifeHeroes
When Asim Bhalerao visited his parents in Mumbai in 2014, he saw a notice stuck on the notice board of the building which he had rarely seen before. The notice read, 'No Water from 9:00 am to 5:00 pm". Though the inconvenience seemed minor at the time, when he visited his parents six months later, he found that the problem had not been fixed.
---
Want to be environment friendly and save water? Check out these devices from the Better India shop that can help you do that!
---
Once he talked to the Chief Engineer with the Bombay Municipal Corporation (BMC), he found out that BMC and the maintenance team of the society had been trying to find a leak in a 2 km long pipeline. But, to no avail. 
Asim was curious and asked the Chief Engineer about the method of detecting the leak. He came to know that they were using an outdated technology to detect the leak.
"Due to unreliable or sometimes non-existent maps from the municipal corporation, they had to rely on local knowledge to identify the location of the pipe, sometimes digging around for weeks. Once they'd reach the pipe surface, they used an age-old technique with sounding rods that helped them understand if the pipe was 'good' or 'bad'," informs Asim.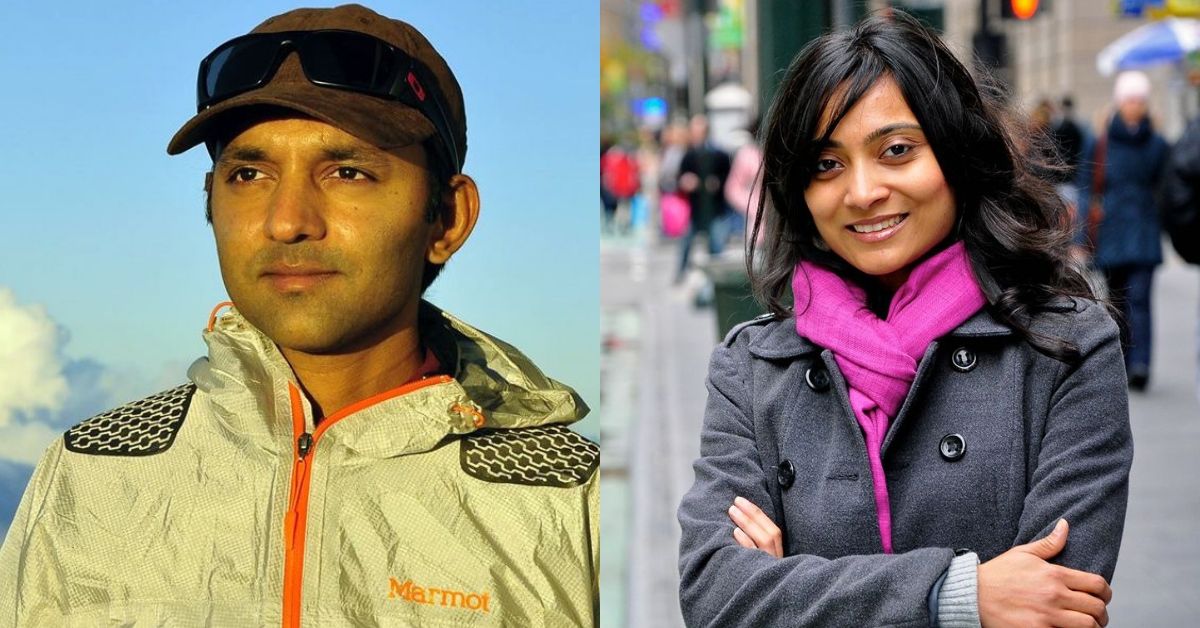 When Asim went back to the US, he discussed the problem with his wife, Nidhi Jain. During the discussion, bigger issues pertaining to water management and drainage systems also came up. This became a bigger motivation to found, Fluid Robotics, and move to India in early 2016. 
The National Green Tribunal (NGT) in February this year estimated that almost 60 percent of sewage generated by urban India remains untreated. In addition, this untreated sewage enters water bodies like lakes and rivers which not only has a negative environmental impact but also makes the water unfit for use.
One of the companies mitigating this problem is Fluid Robotics, a start-up which provides products and services to enable better management of water and wastewater infrastructure. The company is achieving its goal with the help of robotics and information, helping cities minimise pollution caused by untreated wastewater entering rivers, lakes and groundwater.
"When we learnt the extent of the problem in India, we also found that there was no company developing technologies to solve these problems. We initially conducted pilot projects in India while still living in the US. We quickly learnt that we needed to be in India to truly understand the problems and challenges with working in the government sector," says Asim.
How do they provide solutions?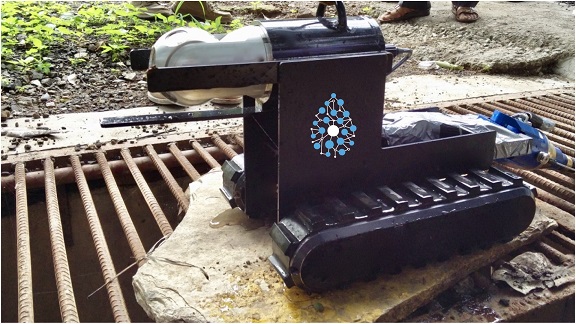 The company's robotic system is one of the prime products that helps in mapping and inspecting underground pipelines. The system digitises the data collected on pipelines which helps in identifying structural defects, operations and maintenance failure modes among others. 
"We believe minimising water loss and maximising water reuse can be achieved first and foremost by effectively managing the infrastructure of the pipelines. This requires mapping a majority of the underground pipeline infrastructure and identifying their health based on faults present in them. The rate at which this needs to happen in India is unlike anywhere else in the world," says Asim.
For the purpose of mapping buildings, slums, pipelines, roads, villages and others, the company uses drones. These maps help in understanding the topography and hydraulics of the region. These are also helpful in locating stormwater outfalls which carry untreated wastewater into lakes and rivers. They also have sensors that accurately measure the flow of wastewater in the storm water drains. 
"We use AI and robotics to automate pipeline mapping and health assessment. We also use drones and AI for crop pattern analysis, identifying different crops and water sources for effective farm management," shares Nidhi.
Trained professionals and qualified survey staff inspect pipelines and prepare detailed reports.
Fluid Robotics has worked on several projects. One of the many infrastructural projects they worked on is Powai and Mithi river Rejuvenation. Here, they worked with the Municipal Corporation of Greater Mumbai (MCGM) and found solutions through Robotics and Data analytics.
Rupesh Gundewar, 42, Principal Consultant at Frischmann Prabhu India, said that working with Fluid Robotics helped them in the Powai and Mithi River Rejuvenation projects. As an engineering consultant firm, they had to come up with solutions and for that they needed drone surveys of the topography of the area. 
"The plans that the MCGM had were old. We needed drone surveys because we wanted to map the storm water drains in the area and identify where the leakages are," he says. They built their engineering solutions based on the data collected from these surveys. 
"We identified the source of polluting outfalls to be residential and commercial areas near these lakes. We also used their robots which ventured into the drains to look for blockages," he informs. 
The rejuvenation project took more than one and a half year to two years to finish and the six months that they worked with Fluid Robotics helped the whole process, he asserted.
"For the Powai and Mithi projects we were able to develop AI models for health assessment of the pipeline infrastructure that was required to carry the diverted wastewater from nallas to treatment plants. AI allowed us to process hundreds of hours of pipeline videos in a fraction of time as compared to manual methods currently employed in India and the US," says Nidhi.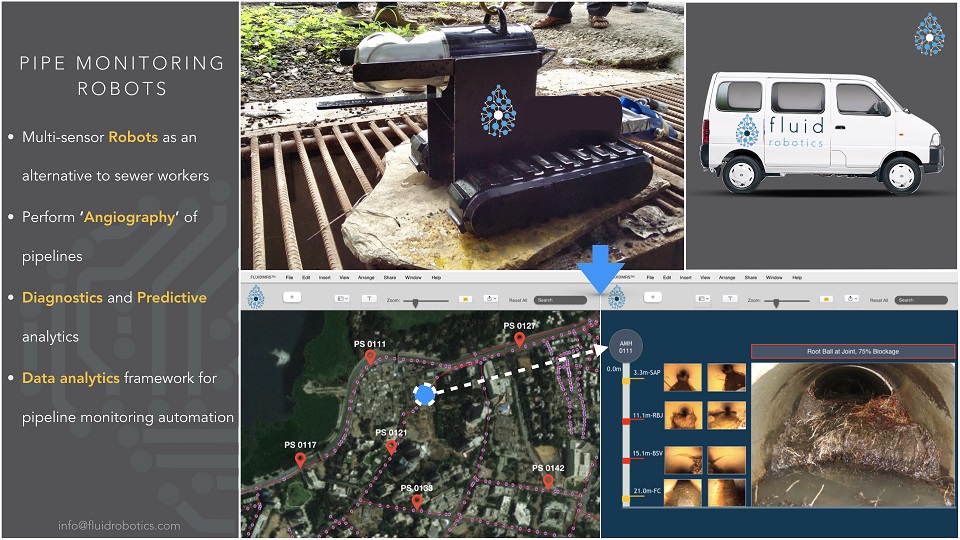 Another notable project was completed in the agricultural sector where they conducted a Crop Pattern & Water Requirements Analysis for Maharashtra State Irrigation Department in Satara district. 
"In the Satara project, we developed AI models for crop identification and water source identification. This allowed us to process around 1,00,000 acres of farm data in a short amount of time to calculate Unaccounted For Water (water loss calculated as the difference between water fed into the distribution system and the water actually used) in the region," says Asim.
What have they achieved so far
Since they began in 2016, the start-up has been able to solve water issues on a large scale through their different projects. They have created plans for interception and diversion of over 600 MLD (Million Liters a Day) of raw sewage entering lakes and rivers, using existing treatment capacity. This wastewater generated from almost six million residents.
The couple also wanted to find a solution for blocked drains that were difficult to navigate. In India, this is mainly done by manual scavengers despite being officially prohibited by law in 1993 on the grounds that it is a caste based, dehumanising practice. 
An Indian Express report published last year based on the numbers collated by the National Commission for Safai Karamcharis (NCSK), said that since 1 January 2017, at least one person has died every five days on an average while cleaning septic tanks and sewers across the country. NCSK is the statutory body that was set up by an Act of Parliament for the welfare of sanitation workers
Fluid Robotics has prevented over 5600+ hours of manual scavenging. "This is the time spent by our robots identifying blockages and measuring flows inside nallahs where manual scavengers are traditionally used and who come in contact with raw sewage and toxic gases," says Asim.
They've resolved over 50 MLD of Sanitary Sewer Overflows (SSOs) and have identified over 20 MLD of water leaks. Fluid Robotics has also generated crop-pattern and water requirements  data for over 100 villages in Maharashtra to gauge water loss.
Both Nidhi and Asim are using their experience and knowledge to develop these services and solutions. 
"We do both hardware and software development at Fluid Robotics, with a team focussed on building machine learning models for scalability. Our advisors in the US guide us on our machine learning approach ensuring we use the latest architecture and methodologies to build relevant and accurate models."
Nidhi has over 15 years of experience working in software design, development and product management for companies and start-ups in the Silicon Valley. Asim too has over 15 years of experience in developing robotic systems (hardware) including farm automation systems, autonomous underwater submarines, drones, and spent the last 8 years developing advanced mechanisms for surgical robots.
While Nidhi has a Master's in Computer Science from the University of Southern California, Asim has a Master's in Computer Science, Robotics  from the University of Southern California. In addition to that, Asim also has a Master's in Mechanical Engineering Design from Santa Clara University.
---
You May Also Like: Free From Mosquitoes & Water Hyacinth: How Drones With Bio-Enzymes Are Saving Hyderabad's Lakes
---
Nidhi says that as they continue to solve water issues in India, they also want to take the technology they developed here to the West as well. "Our goal is to continue developing automation and data analytics solutions for the water sector and take them global," she says. 
"Even though I spent a good amount of time studying and living in the US, India is home to me. The work and education culture we experienced in the US allowed us to take this step. We truly believe the solutions we plan to continue building will require teams coming together from across the globe," says Asim.
(Edited by Saiqua Sultan)
Like this story? Or have something to share?
Write to us: contact@thebetterindia.com
Connect with us on Facebook and Twitter.
We bring stories straight from the heart of India, to inspire millions and create a wave of impact. Our positive movement is growing bigger everyday, and we would love for you to join it.
Please contribute whatever you can, every little penny helps our team in bringing you more stories that support dreams and spread hope.