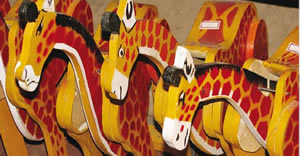 "The market is flourishing; there is enough demand. It is up to us how fast we finish an order and get to another one," says Mujeeb, a craftsman of Channapatna,
"The market is flourishing; there is enough demand. It is up to us how fast we finish an order and get to another one," says Mujeeb, a craftsman of Channapatna, or what is known as the Toy Town of Karnataka. Wherever you look in this town, you will find toys, wooden crafts and people with toys in varying degrees of completion in their hands. Channapatna, situated in Ramanagaram district and 60 km away from Bangalore, is home to more than 5,000 skilled craftsmen who produce wooden and ivory craft including bangles, earrings, toys, even beaded car sear covers.
Channapatna's legacy of toys goes back to the time of Tipu Sultan. More than two centuries back, Tipu had invited Persian artisans to train the locals of Channapatna. They started with carving toys out of ivory; later they switched to rubber, cedar and teak.
A 200-year old legacy however found itself on shaky ground when the markets were flooded with 'Made in China' products; low cost Chinese toys and plastic playthings soon replaced indigenous toys. Livelihoods were threatened, but thankfully not for long. The government and NGOs were able to rein in the damage and transformed Channapatna's state of affairs. "My friends back home working on toys earn much more than what I do, here in Bangalore. They earn Rs 250 to Rs 300 per day," says Lokesh, a resident of Channapatna, employed as an office assistant in Bangalore.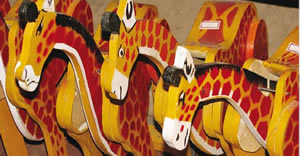 Photo (c) NK Suprabha
Today, many who had migrated to big cities in search of jobs have returned to Channapatna to bolster its lost-and-found glory." Earlier, it was difficult to find work orders owing to the absence of an organised system in place. Now we get encouragement and work orders from both government and private organisations. That is why residents of Channapatna are happy to stay back," says Shami Ulla, a local craftsman.
At a government craft complex that TSI visited, nearly 20-25 members were engaged in paring wood on machines to make it easier for craftsmen to carve designs on them. A few craftsmen were on the floor giving final touches to toys and other pieces of art. A major buyer of these handicrafts – since 40 years – is Cauvery Emporium; rest of the goods are either sold to local shops or are exported. An area of six acres, with more than 250 families working away at chiselling, making, designing and colouring the handicrafts, is set aside to meet the Cauvery Emporium order.
The land is provided by the government and spending Rs 150 for electricity is not a big outlay, but a major problem is load shedding. "The government has not fixed salaries. They have just given us a place to work. We arrange wood, lacquer and other necessary materials. It is a good thing that the government buys our product," says Shami Ulla. Shami Ulla volunteered to take us around town to show us more houses engaged in toy-making. We visited Hanumanthiah and his family who were busy with designing and colouring dolls and idols. His children also helped out after their school hours. "We earn a minimum of Rs 5000 to Rs 6000 per month. We are required to colour and design and fix the half done art pieces," says Hanumanthiah.
The next house was Rukkamma's – she and her son were so busy with preparing wooden beads that they answered our queries without taking eyes off the hand driven machine! Rukkamma was rotating a wooden stick and skillfully cut the tip of the stick in the shape of an oval bead with a thread; in 15 minutes she had finished making 15 beads.
As in any other cottage industry, the middlemen here too walk away with the best deal, while the manufacturers make only a meager profit. Rukkamma gets only 75 paisa per bead; the middleman sells the same for Rs 1.50. These beads go to cover car seats that retail for Rs 800-Rs. 1000."
Decades back, toys were booming business in the country, but that was of course before the Chinese took control of the market. The local produce was pushed to obscurity; it's only in the last 3-4 years that the market is looking up again. "NGOs are training us; we are learning new designs. We get orders on a regular basis. I earn Rs 200 to Rs 300 daily here. We are however allowed to work only from 10am to 5pm. All other private factories work day and night. If the government allowed us to work late nights, we could earn more too," says Mujeeb, who works in a government shop floor.
Private enterprises do good business out of this art; fifteen to twenty of such companies get orders from overseas as well. "There is great demand from UK and the US. Private companies earn around Rs 5 lakh per month by exporting. They get business with their own efforts," says H.K. Sahukaiah, Planning Officer of the government workshop in the town. The traders still carp about the Chinese deluge though. "We used to get positive responses from buyers 5-6 years back. But nowadays Chinese items are the rage. People obviously like cheaper goods," says MP Mariswamy, a trader of toys in Channapatna.
For the locals, income of Rs 5000 to Rs 6,000 per month holds good to lead a fairly decent life in this small town. Besides, nearly 1000 registered members also avail benefits from government schemes to encourage the cottage industry, which include the central government fund for training on new designs, and health scheme, apart from the loan recommendations for providing craftsmen with more facilities.
Channapatna is a fine model of public–private enterprise leveraging local talent for the welfare of the community and to the benefit of the exchequer. May its tribe increase…
This article originally appeared in The Sunday Indian magazine and has been reproduced here as part of an arrangement between The Better India and The Sunday Indian. The author, Suprabha Naik is a correspondent with the Kannada Bureau of The Sunday Indian.
We bring stories straight from the heart of India, to inspire millions and create a wave of impact. Our positive movement is growing bigger everyday, and we would love for you to join it.
Please contribute whatever you can, every little penny helps our team in bringing you more stories that support dreams and spread hope.