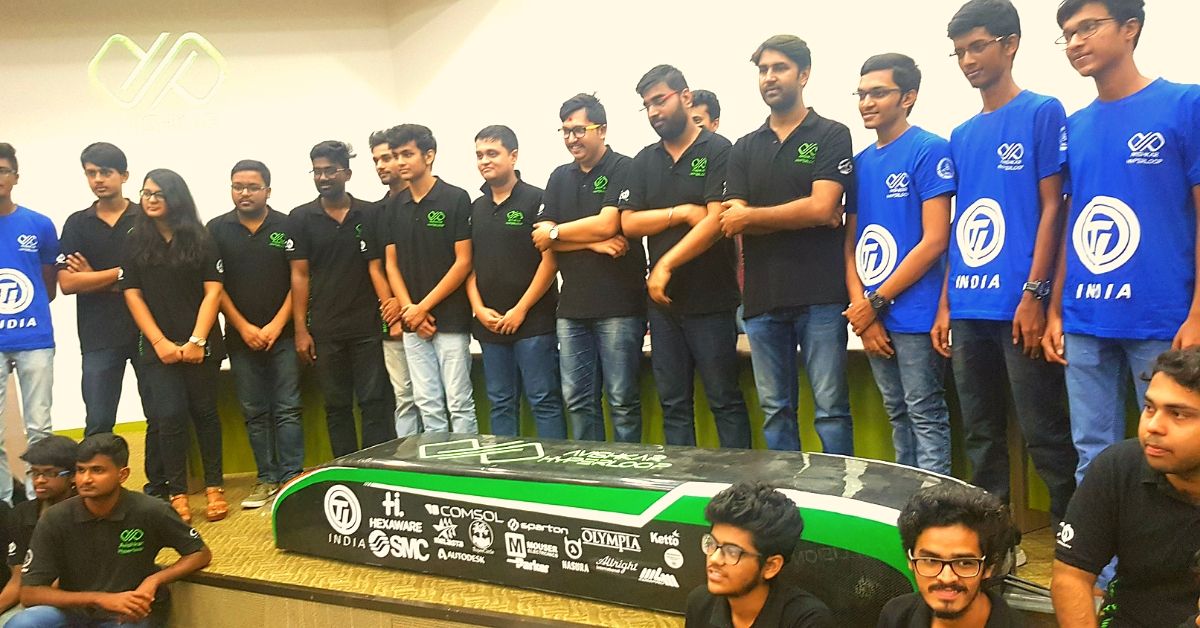 Avishkar Hyperloop, the student team from IIT Madras, is one of the Top 21 teams and the only Asian team to enter the finals of SpaceX Hyperloop Pod Competition scheduled for July 21, 2019.
Back in 2013, Elon Musk, the legendary tech entrepreneur and founder of SpaceX, described the hyperloop in these words:
"Short of figuring out real teleportation, which would, of course, be awesome (someone, please do this) the only option for super fast travel is to build a tube over or under the ground that contains a special environment."
While the focus of SpaceX as an aerospace manufacturer and space transportation company remains intact, in June 2015, it announced the Hyperloop Pod Competition.
According to SpaceX, the objective of the competition is to "support the development of functional prototypes and encourage innovation by challenging student teams to design and build the best high-speed pod."
Since its announcement in 2015, SpaceX has conducted three such competitions in January 2017, August 2017, and July 2018.
Enter Avishkar Hyperloop, the student team from IIT Madras, which has built the first-ever self-propelled, completely autonomous Hyperloop Pod in India.
According to a recent press release, "It is one of the Top 21 teams out of 1600+ teams participating globally and the only Asian team to enter the finals of SpaceX Hyperloop Pod Competition scheduled for July 21, 2019."
What is the hyperloop?
Hyperloop is the fifth mode of transportation, a high-speed train that travels in a near-vacuum tube. The reduced air resistance allows the capsule inside the tube to reach speeds of more than 1000 km/h, which is faster than your average flights.
"The basic idea Elon Musk put out was that any vehicle that is moving on the ground has to face wheel friction and air resistance. If you're able to eliminate both, then all you have to do is push the vehicle initially, accelerate it up to a certain velocity, and without an engine, it will continue to operate at the same velocity because nothing is stopping it. For conventional vehicles on the ground, an engine is necessary to propel it all the way. Here, it's sufficient if you can push the vehicle with some kind of propulsion, reach whatever velocity you want, and it will continue to move at high speeds," says Dr SR Chakravarthy, Faculty Advisor, Avishkar Hyperloop, and Professor, Department of Aerospace Engineering, IIT Madras, in a conversation with The Better India.
Depending on the amount of acceleration the people can withstand within the pod and the countermeasures that are put in place, this action of propulsion only happens for a short while.
Touching velocities of 1000 km/hr, the hyperloop will significantly reduce travel time.
"According to our calculations, you can target speeds of 1,000 km/hour from Chennai to Bengaluru (350km). We can probably cover this distance in less than 20 minutes, of which the acceleration time shouldn't take more than a minute or two and correspondingly the deceleration. We have to make sure that the occupants do not feel these forces. That can be done by constructing seats mounted on a frame that can slide inside like the way they do with high-speed lifts or elevators. These seats have dampers or inertial systems which will counter the g-force for the humans occupying the pod," informs Dr Chakravarthy.
Similarly, Chennai to Delhi will take approximately one and a half hours. The tube is basically like a railway line. Infrastructure cost will include setting up the tube and evacuating (making it airless) it. Once you evacuate it, all you have to do is maintain the vacuum.
"We have made calculations for what is economically viable from Chennai to Mumbai, via Bengaluru because that's a pretty heavy traffic corridor. Say, you have a pod akin to a minibus (15 metres long and 3 metres wide) that carries about 42 passengers at a time. According to our calculations, if you run a pod every 7.5 minutes, you can carry twice the number of passengers that are currently travelling on all train AC compartments and flights across these cities. We figured that the ticket price of travelling between Chennai and Bengaluru would amount to Rs 1500," says Dr Chakravarthy.
For high-speed trains, the railway track has to be extremely aligned so that it does not have instability problems, shaking left to right.
Currently, once our trains pick up speed, passengers shake. Although those problems are minimised in high-speed rail by having very precise tracks, it's a whole another ball game for the hyperloop.
"Here, what happens is that you try to eliminate the wheel friction by causing magnetic levitation. The vehicle does not come into contact with the rail line continuously. It has a guide rail, which causes repulsion due to magnetic levitation so that you can levitate against the rail. Additionally, the spring-loaded wheels can very gently nudge the vehicle to go along the rail so that it doesn't deviate from it. So, the tube doesn't have to have exact dimensions, and that means the engineering isn't too difficult," he informs.
Avishkar Hyperloop
"The primary factor in deciding the winner is the top speed achieved by the Hyperloop Pod in the run in the 1-mile long vacuum tube, installed at the SpaceX headquarters. Before it enters the tube, the design has to go through a lot of checks and scrutiny based on its feasibility, manufacturing possibility and its safety aspects," said Suyash Singh, Student Team Head of Avishkar Hyperloop, speaking about the Hyperloop Pod Competition to the media.
The electric propulsion employs BLDC (brushless DC electric motor) motors. Their pod spans about three metres in length and weighs around 120 kgs.
The competition itself happens in three stages.
First, you submit an expression of interest for participating, and you get down-selected based on various criteria like funding, technical details, etc.
The judges at SpaceX should be satisfied that you have thought out the details of all aspects. That's a preliminary proposal you have to submit sometime in September.
You eventually get selected for submitting a detailed design document, which entails rigorous design calculations and simulations right down to the nuts and bolts. Once you submit this document, the SpaceX team evaluates it and down selects a bunch of people, inviting them to make the entire pod.
Following which, you have to raise money, spend it and make the pod. Eventually, you take the pod to the SpaceX facility in Hawthorne, California, and their team inspects the pods, looks at safety aspects, and all the other details. Once they're satisfied, they will allow you to go on what's called a Pod Run, which is the final step of the competition.
Avishkar Hyperloop was formed in 2017, and this is the team's second crack at the competition. In their first attempt, they were one among 1200 teams who had submitted their preliminary proposal.
However, where they fell short was in the next round where they had to submit a detailed design document, which did not get past the scrutiny of SpaceX judges.
---
Also Read: 60 Years of IIT Madras: 5 Things Done By The Iconic Institute That Transformed Lives
---
Despite their disappointment, Avishkar Hyperloop went through the entire process again this year. Unlike last time, they were much better prepared, and perhaps, that's why they became one among 21 teams selected for pod development. They are the only team from Asia to have qualified.
"This time, we asked the student team a bunch of questions, requested them to make a few modifications and went through a very rigorous detailed review driven by fellow professors. We submitted a detailed design document in January 2019, we submitted, and in February, we got to know that we've been selected for the pod run," says Dr Chakravarthy.
Since their selection, it's been a frantic few months, with a lot of work done like fundraising. The team had a weekly schedule of expenditure on different parts/components which they had to buy, integrate and test.
"The team started the design by brainstorming on how the pod would be built, beginning with vehicle kinematics and dynamics, motors, power system and braking, stability, and finally designing the CFRP (carbon fibre) chassis and structures," says the press release.
It took nearly four months to construct the pod, and by this week, they will be ready to package and ship it to the US. A team of 30 people will be travelling for the pod run competition which will happen on July 21.
What Elon Musk did not specify is what propulsion system teams should use for giving the initial push, and that's what determines how the competition will play out.
Musk started something called the Boring Company that comes up with cost-effective ways of boring tunnels underground for creating new traffic lanes as well as hyperloop.
But SpaceX is mainly focussing on their rockets. Instead, he has set up this competition, and a couple of winners in the past have spawned startups. Virgin Atlantic acquired one of them, and today it's called Virgin Hyperloop One. In fact, Hyperloop One set up a student-level competition in India to find out what is the most economically viable hyperloop route, and that's where they came up with the Chennai-Bangalore-Mumbai via Pune route.
"One problem with this competition is the site of the pod run in the SpaceX facility, which is a one-mile tube of a specific dimension. You have to accelerate, reach a steady stage, brake, and come to a complete stop at the end. Thus, most of the advanced technologies required for the actual hyperloop may not win you the competition because of the time it takes to accelerate. Take the linear induction motor, for example, which makes the pod heavy.
Based on the dimensions of the tube, there are restrictions on what you can do with the pod. There is potential for damage when you set up the propulsion. One mile is a very short distance, so it's all about how fast the pod can cover that distance," says a team member.
Beyond SpaceX Hyperloop Competitions
For the team from IIT-Madras, the objective is to take the hyperloop technology forward beyond what the competition permits so that they can first implement it on a smaller scale in India, before scaling it up further.
For example, the objective is to travel longer distances, but the pod is only 3 metres long now. They aim to eventually run the pod in the open air 30-metre long rail line on campus.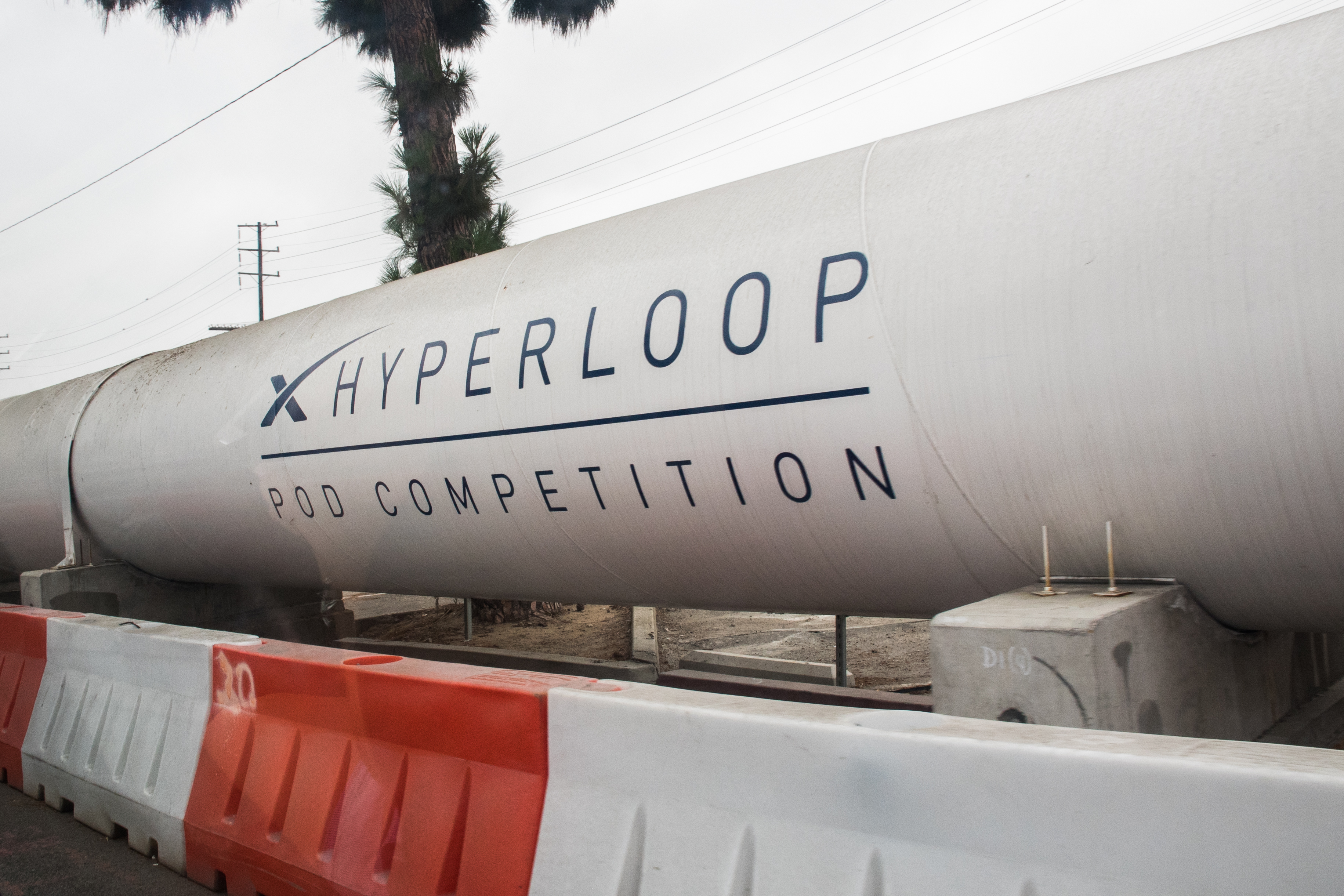 "We have to develop an evacuated tube facility soon, increasing the length, besides setting up the magnetic levitation and linear induction motor for the pod's propulsion. Of course, there is also the aspect of growing the pod and tube in size and diameter, so that we can actually start looking at dimensions where we can show the transportation of goods, to begin with, and then move onto people. That will take a little more time. Initially, we are interested in going long distances, like a 0.5 km for starters at the campus level," says Dr Chakravarthy.
Leaping beyond bullet trains
Hyperloop offers us the opportunity to leapfrog high-speed trains. Countries like China and Japan have invested heavily in high-speed trains, and developed robust systems in the past few decades. India is also trying to do the same, but are playing catch up.
"Bullet trains can go up to 350 km/hr, while the hyperloop can facilitate velocities of up to 1000 km/hr. It's an intensive infrastructure building process for bullet trains that will take five to ten years. During this time, we can work on this nascent technology and develop indigenous capabilities for putting out something that is practical. We get a chance to leapfrog beyond the initial investments we had to do on the bullet train. Avishkar Hyperloop's tagline is 'leap over loop.' We want to actually leap straight into hyperloop instead of the bullet train. The hyperloop is equivalent to the high-speed fibre optic internet, opening the possibilities mass rapid transit across longer distances," says Dr Chakravarthy.
For a populous country like India, the hyperloop is increasingly looking like the way forward, and IIT Madras is at the forefront of this technology. Beyond the competition, the institution is looking at other partners from around the country to take India into the future.
(Edited by Gayatri Mishra)
Like this story? Or have something to share? Write to us: contact@thebetterindia.com, or connect with us on Facebook and Twitter.
Tell Us More
We bring stories straight from the heart of India, to inspire millions and create a wave of impact. Our positive movement is growing bigger everyday, and we would love for you to join it.
Please contribute whatever you can, every little penny helps our team in bringing you more stories that support dreams and spread hope.