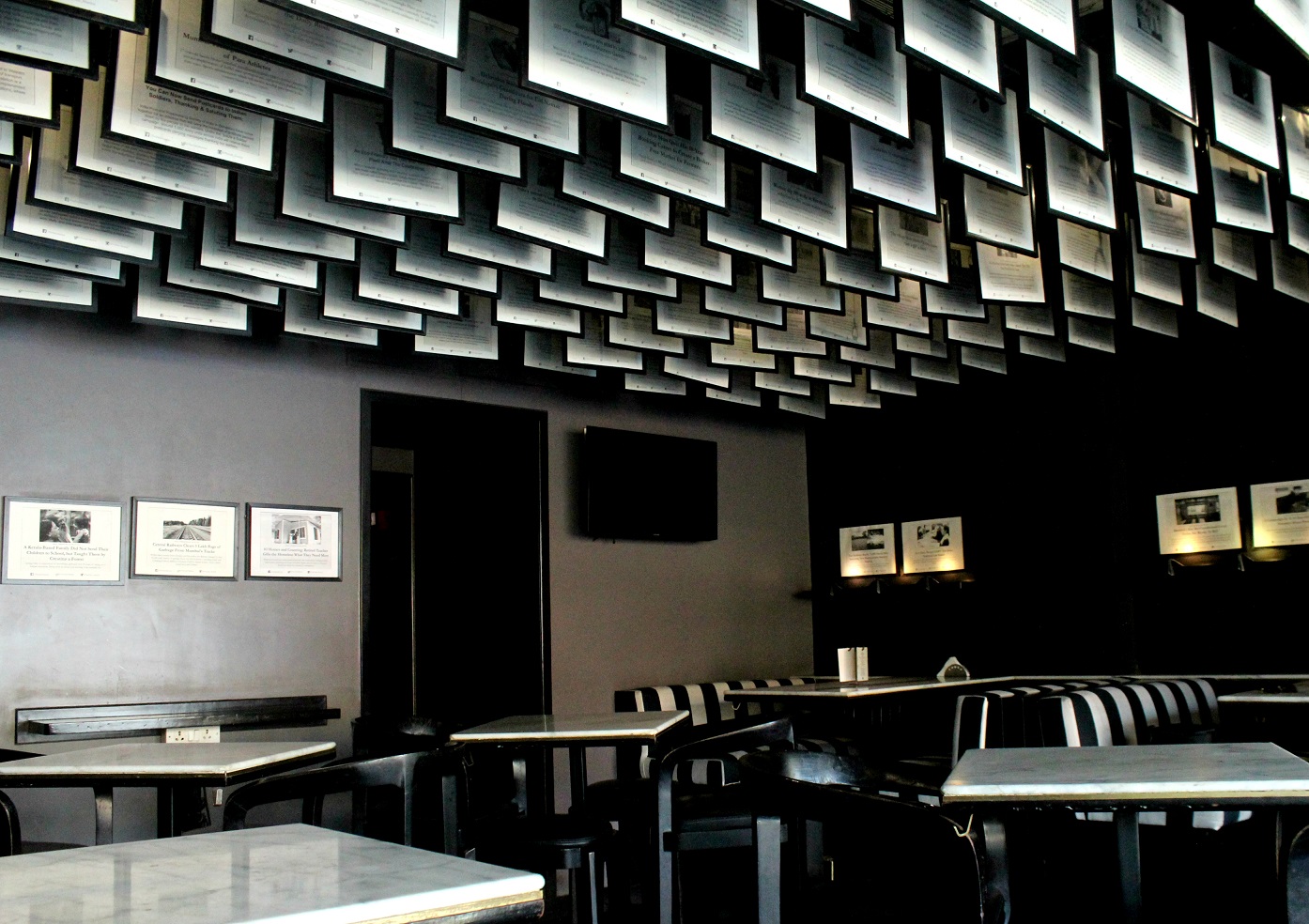 This article is part of our 'TBI Corner' where we speak to you, our reader, directly. This is all about what we're doing as a brand, our take on various topics, and what's up at TBI. Let us know what you think in the comments below!
Good news should spread because when that happens, inspiration spreads. One person's good deed or innovative idea can spur in excitement and a will to effect change in another. This has been one of The Better India's driving forces since the beginning.
No doubt, plenty of people out there are doing this in one way or the other. But have you ever heard of good news literally dangling from the ceiling of a restaurant?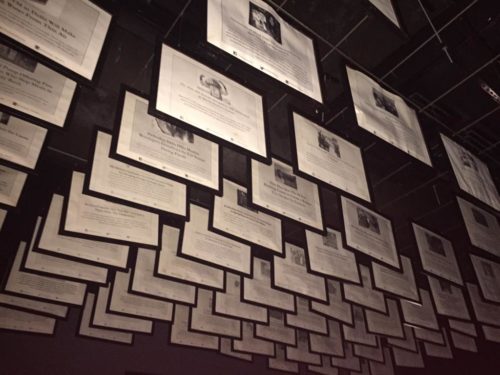 Walk into The Daily Bar & Kitchen in Mumbai, and you will see just this—dozens of good news stories hanging on the walls and from the ceiling, as a constant reminder that there is something to celebrate.
And an overwhelming majority of them are stories from The Better India!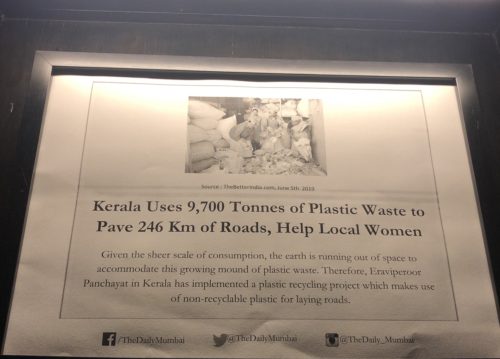 When we, at TBI, heard about this, we were blown away. First, by the novel idea, and then, about the fact of our stories reaching countless people in this way. So we caught up with the founder, Dishant Pritamani to know more.
"Our restaurant revolves around good news and the reasons to celebrate. The point is to try and make you smile every day," he begins.
The genesis of the idea was the will to spread positivity. The theme of the restaurant, Dishant tells us, was a "good news bar".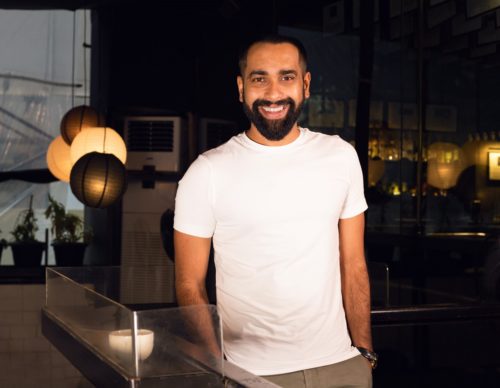 Initially, he wanted to start the restaurant in parallel with a good news blog, connecting the restaurant and the blog.
During this time, he received a wild suggestion from one of the engineers from the interior design agency to combine the restaurant with the blog. He told Dishant that he would put up the blog on the ceiling.
The concept didn't register with Dishant, and how could it? How would you even do something like that?
But Dishant trusted his team and took up the challenge, deciding to get 200 good news stories until the renovation work was complete.
Well, he found the stories, and when the finished product came, Dishant was pleasantly surprised.
"It finally dawned on me what he meant when he said he would put the blog on the ceiling. But he also warned me that I would have to work every day to get those stories up there, that I would have to rotate them every ten days or so. I was happy to do it. In the past six years, we never missed the news except for one day because of unavoidable logistical issues."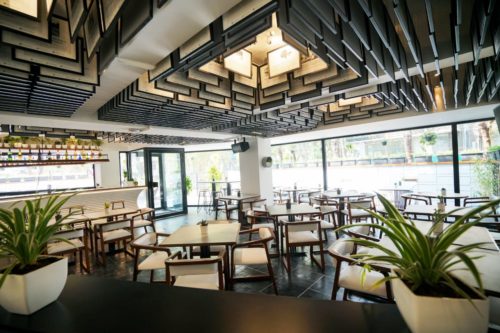 For the first few months, Dishant struggled to find the stories, but now, he has a team that handles this.
"If the news is not interesting, people won't read it. It has to be good, positive, interesting and something they can relate to," he shares.
Eventually, he came across The Better India. "I would visit your site every day [for stories]. It's been six years and you guys still pop up on my newsfeed."
Every ten days or so, the stories are substituted with newer ones. The Better India is pleased to provide Dishant with a steady supply of good stories.
Not only do these stories liven up Dishant's restaurant, but reading them also became a regular thing for its visitors and others in its vicinity. Dishant recalls how a group of old ladies would pass by the restaurant during their daily walks; although they never went inside, they always stopped to read the stories and continued on their walk.
For a while, Dishant had a print version of good news which he would leave for his customers, and they would wind up sharing them with their friends and family, and so on. "Things flow in every direction and are no longer in your control, but it's great," he says.
Dishant's commitment to The Daily Bar & Kitchen inspires and drives us to continue our work of spreading positivity and inspiration. What's common is that we don't stop at spreading inspiration, but also take part in creating it.
Case in point: The Daily Bar is also working with the Robin Hood Army to feed hungry kids. Dishant got a bunch of neighbouring restaurants to band together to donate some of their leftover food, and use it to create healthy meals to feed kids every Sunday.
Dishant set up the system, while the Robin Hood Army provides the volunteers to handle the pick-up and drop-off. And together, they turn inspiration into impact. It's all about passing it on.
"What I want people to take away from this is that even if one story resonates with you, and you pass it on in any way, it makes a difference. Like maybe you're nicer to the next person you meet because you read something good. That's what we want. We aren't trying to make a big change with a bar, but we can make small and intangible things, which makes a difference."
With a branch in Pune and another coming up in Bengaluru, we are sure The Daily Bar will make a great difference!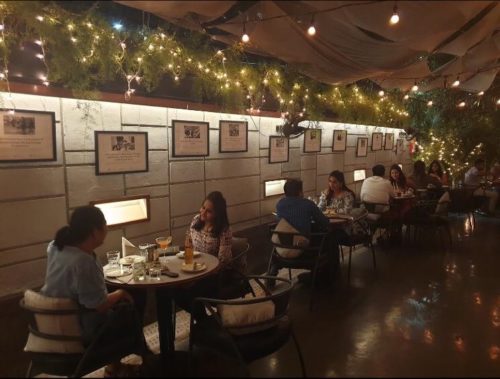 Dishant concludes, "It is essential that we talk about these good stories, and celebrate these things. If you consume good news, it is bound to have a positive impact on you!"
We, at The Better India, agree with you. And we promise that we will always be a source of fresh, credible, and good news.
Cheers!
(Edited by Shruti Singhal)