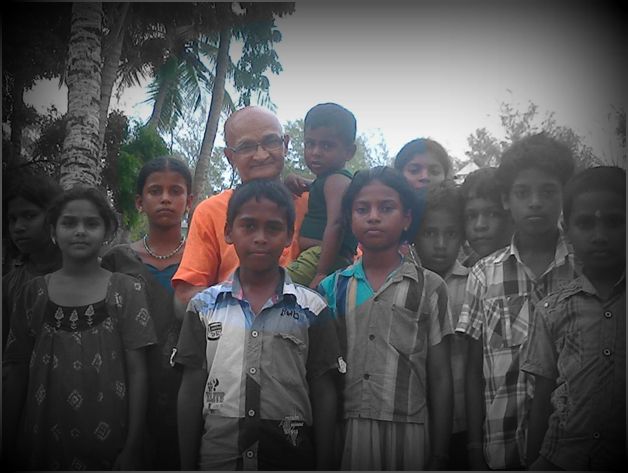 He was detained, warned of arrests, abused, manhandled and saw wrath of the government but continued to serve the community. Know more about the amazing saint who is worshiping humanity.
He was detained, warned of arrests, abused, manhandled and saw wrath of the government but continued to serve the community. Know more about the amazing saint who is worshiping humanity.
"Swami Pranavananda Ashram, kitna (how much)?" I asked the auto driver. He asked me twice on the location. It was strange, so I tried something else and asked back again – "Swami Vivekananda Kudil". The auto driver's eyes became bright and he ushered me in without even bargaining for a second. Very unusual in Tamil Nadu!
I was in the island of Rameswaram. Rameswaram has been considered a sacred place for Hindus for thousands of years. Also, of late, this small town has achieved another distinction – that of being the birth place of the former president Dr. A.P.J. Abdul Kalam. During my last trip, I visited these two famous places in Rameswaram. However, this time my intention was to meet Swami Pranavananda Ji.
I am wrong here as Swamiji told me over the phone "Come and see my work, not me". I got a hint of this at the railway station auto stand itself, that his work has overshadowed him.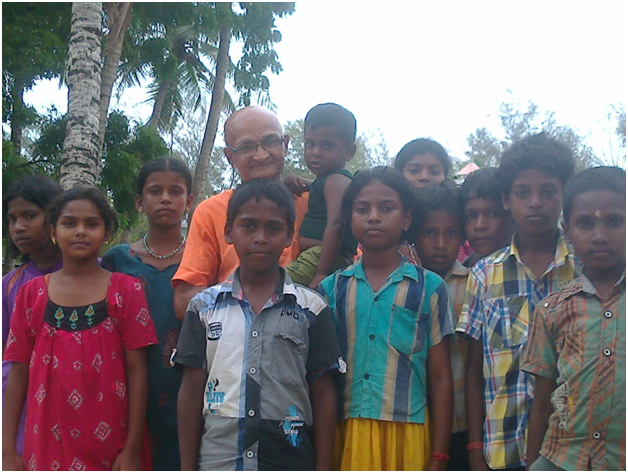 I reached a group of huts amidst sand and salt in the fishing village of Dhanushkodi in Rameswaram. This is Swami Vivekananda Kudil ('Kudil' meaning 'house' in Tamil) symbolizing the vision, dream & conviction of a self-less and uncompromising saint – Swami Pranavananda. As soon as I reached Swamiji, his "Gods" (a group of children!) greeted me in. He took me first to a makeshift temple, where based on a Hindu ritual, a lady was performing Aarti (devotional song). Swamiji introduced her as Rosa – his lieutenant.
Reading my mind, he answered that for being a devotee, spirituality was the need and not the following of any particular religion. This kind of secularism is hard to find even in our cities and towns, forget about a religiously charged place in a rural fishing village.
In the next half an hour Swamiji showed me the humble cottages and huts where at present 36 orphan kids stay. He eventually started talking about his journey when he left his house, parents and relatives well in his teens to serve and preach humanity.
He was a distinguished monk of the Ramakrishna Math and Mission order for more than two decades. In the early 1980's he was serving the poor of the Ramanathapuram district in Tamil Nadu. It was then that his life took another turn.
In 1983, the Jaffna war broke out in Sri Lanka. Lots of war victims started flocking to India through Dhanushkodi. Both the country's governments were busy with their administration duties. It was then that this compassionate saint became restless. The cries of the orphaned and destitute kids reached his ears from across the ocean. The navies of both the countries were patrolling the sea to counter infiltration.
In the darkness of night, Swamiji used to take a hand rowing boat and sail for Sri Lanka, crossing the turbulent sea. Every night he dodged the security personnel to bring the helpless kids to safety.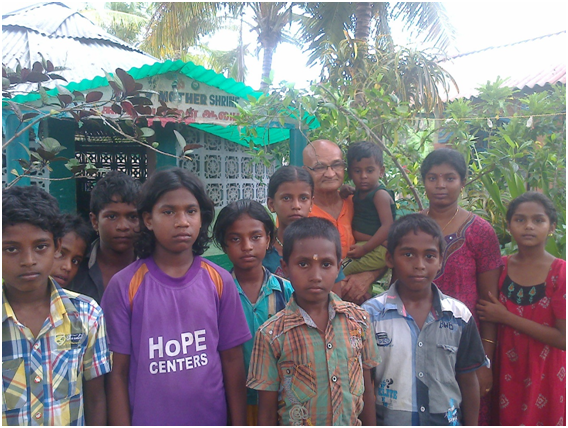 For more than a month, he sailed to Sri Lanka twice every night to rescue two children per night. He brought back more than 70 war affected children. Looking at my bafflement, he gave a pat on my back and said "How can I worship God and eat food each day when the living little Gods were suffering?" Still captivated, I asked about the danger. His eyes lit up,
"A saint possess nothing, so what's there to lose? – all is God's will."
After that, Ramakrishna Mission came to his aid by providing the current land for housing of the kids. With the cooperation of the local fishermen, Swami Pranavananda established "Swami Vivekananda Kudil" in 1983. Thus started the journey of this saint with the fishing hamlet. Today, not only the war affected kids but hundreds of impoverished children have stayed here, studied and stood on their feet. Swami Pranavananda or Swami Vivekananda Kudil is a sign of hope in this gloomy island.
The island and fishermen's villages receive heavy rainfall every year. Water logging is common and throws normal life out of gear. Then, as with any difficult terrain in India, many of the government benefits do not reach these villages. With despair comes the evil of alcoholism, illiteracy, bad habits, religious tensions and other problems. Let me list down how, for more than 30 years, Swami Pranavananda has been a bright ray of hope to the fishermen of Rameswaram.
To address the issue of over-dependency on fishing, he is educating the fishermen's kin to secure private and government jobs. Any student facing financial hurdle turns to this possession-less saint for making the arrangements. The change is being felt gradually in Dhanushkodi. Moreover, basic amenities like water, ration, sanitation, electricity, etc. were at one time unimaginable by these villagers. Swamiji empowered them to avail these government benefits. In order to remove the middle men and money lenders, he encouraged the formation of Self Help Groups among fishermen and educated them in all spheres of lives.
Over the decades, Swami Pranavananda has fought with the central government, state government, local councils and police for the fundamental rights laid out in the constitution. His organization provides transport during health emergency too. He has sat in hundreds of dharnas (non-violent sit-in protests) before government offices for the needs of his own people.
He has no fear or hesitation in blocking roads for the demands of these poor folks. He has been detained, warned of arrests, abused, manhandled and had to bear the wrath of the government.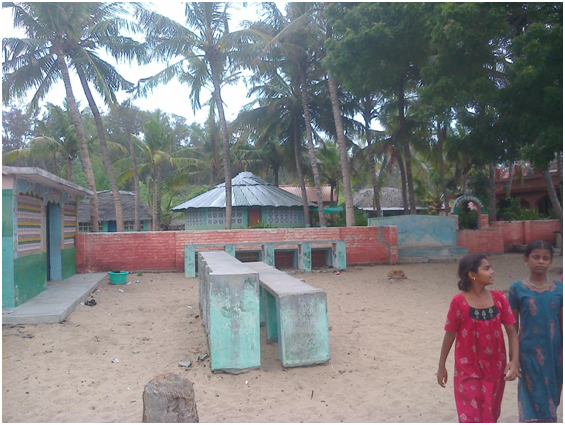 For his institution subsidies became irregular and financial help from the government was turned down majority of the times. Now, even the school at Swami Vivekananda Kudil was closed by the government. He was labeled as anti-development. Still, none could deter this man's conviction. Swamiji had the last laugh as the villages now have fresh water supply, concrete roads, electricity and drainage. As he was in the path of truth, he managed to get government orders that went against the fishing community reversed.
To pacify the religious tensions, he organizes 'All Religion Seminars' each year aimed at universal brotherhood. He made these fishermen experience culture and heritage by promoting folk dance and martial arts. Swami Pranavananda Ji works at a war-footing mode on any job at hand be it cooking for the orphan kids, driving a patient, delegating a spiritual talk, negotiating with government officials or imparting education.
His whole life has been to translate the message of, "Service to man is service to God" into action. Swami Vivekananda Kudil has grown into a philanthropic organization working for the material, cultural, educational and spiritual up-liftment of the poor.
Within 4 kms. of the famous Shiva temple, I witness another prayer of humanity being performed in Swami Vivekananda Kudil. As one crosses the class rooms of the school he has built, it becomes evident that these rest on true determination. Here's a short video:.
Swami Pranavananda can be contacted or you can help the organization by addressing to Swami Pranavananda, Swami Vivekananda Kudil, Ramkrishna Puram, P.O- Rameswaram Road, Rameswaram, Tamil Nadu, Pin-6235216. Ph: 04573-223098.
Like this story? Or have something to share? Write to us: contact@thebetterindia.com, or connect with us on Facebook and Twitter (@thebetterindia).
About the author: Saunak resides in Chennai and is a business consultant with an IT company. He has around 7 years experience of volunteering work with rural orphanages, down-syndrome NGO's and corporate volunteering teams. Saunak is also a happy social investor with various community development funds aimed at poor women entrepreneurs. Lastly, he is a student of development economics who likes to learn the psychology, finance, risks, policies & use of technology associated with the lives of the poor and marginalized of the society.