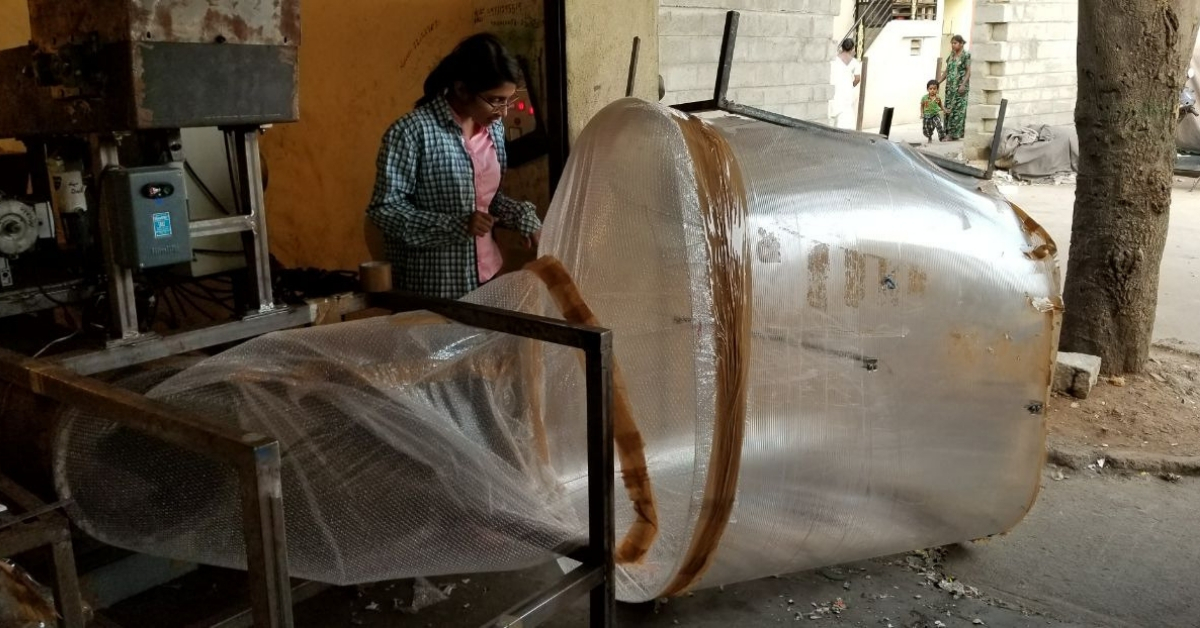 The waste segregator is currently available in four capacities—500 kg, two tonnes, five tonnes and ten tonnes.
---
This article is part of a series on innovations in support of the ATL Tinkering Innovation Marathon – organised by Atal Innovation Mission, NITI Aayog and The Better India. Read more about the marathon
here
.
---
Nivedha was in her third year of chemical engineering at Bengaluru's R V College of Engineering when she made headlines in a local magazine. She and a group of friends had cleared a lane near their college that had been piled with waste for months.
In an exclusive interview with The Better India, she recalls, "We saw people scrunching their noses and complaining about the unbearable stench and how the area was becoming a breeding ground for mosquitoes. They couldn't even keep their windows open. Yet, no one wanted to change anything. We decided to clear the area. Though it garnered us a lot of praise, it was heartbreaking to see the area dumped with the same amount of waste in less than a week."
Soon, Nivedha realised that they did not offer a solution, but a merely reactive approach to waste.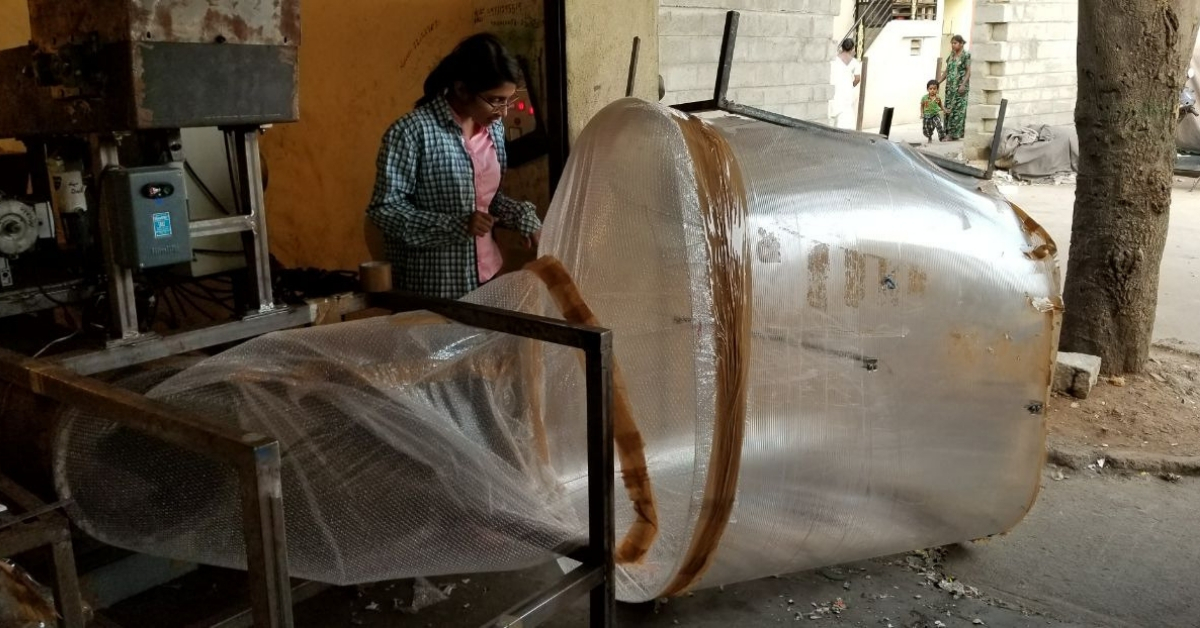 She visited the BBMP office asking why action wasn't taken. The officials answered, "What is the use of clearing the area when people do not segregate their waste in the first place?"
What did this mixed waste look like?
"In one bag of waste, you can find a diaper, plastic-laden sambar and a dead rat. How can anyone make any value of waste mixed to this degree? So, it lands up being dumped and burned in front of our homes," she says.
A door-to-door awareness session about segregation alerted her about the flaw in the waste collection system. Even though homes segregated their waste, many times, the individuals responsible for the collection, being unskilled labourers, would mix it to get more money per kilo when they sold it.
She conducted extensive literature surveys into the existing technology for waste segregation.
"India generates 1.7 lakh tonnes of waste per day, of which 95 per cent is unsegregated. The state of landfills in Delhi is no news, but even Bengaluru is running out of space for its waste. I realised that no technology could handle mixed waste to this degree. I wondered what a middle-class student like me could do."
But, someone had to find a solution.
This marked Nivedha's journey into inventing Trashbot, a semi-automatic waste segregator that could segregate waste within minutes. It won several awards and recognitions at state and national levels.
This is the story of how this innovation came about.
The Beginning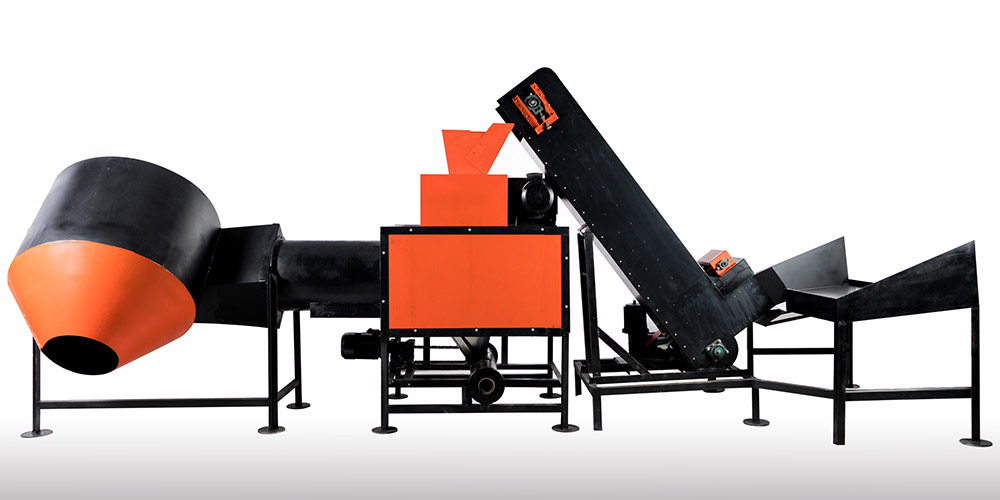 "I started ideating in 2016. Over six months, I built a small system. The principle leveraged the major difference between biodegradable and non-biodegradable waste—the moisture content. While biodegradable waste has 90 per cent moisture, non-biodegradable waste has at least 40 per cent moisture."
After building a prototype, a 1-kg waste processing model, she decided to scale it up to a 50-kg-per-hour model. But she lacked funds.
This led her to apply for Elevate 100, a flagship programme by the Karnataka Government that recognises top 100 innovative startups and funds them.
"I had no idea how to set up a company, but I applied as a one-day-old proprietorship company. Competing with more than 3,500 startups, many of which had ongoing business with over 150 countries, I made it to the top 100."
This was also the time when her final results were out, and she had secured the 9th place, along with good CAT and XAT scores. A secure future was awaiting her.
"I remember telling my mother that perhaps I should put the project on the backburner, earn some money and return to it later. But she retorted, 'There is nobody who is trying to solve a problem which is going to kill us any day. Why don't you do it? Even with my meagre salary, I will support you. It is okay if you fail, but try, Nivedha'."
The resulting 50-kg-per-hour prototype from the Elevate 100 funding was installed in an apartment complex with 150 homes. It gave her insights about possible issues like overloading and how unskilled labour could affect the efficiency of the machine.
Also, an apartment complex was too small to create a large impact.
So she decided to build a machine that could process 250 kilos of waste and installed it at a dumpsite in the municipality.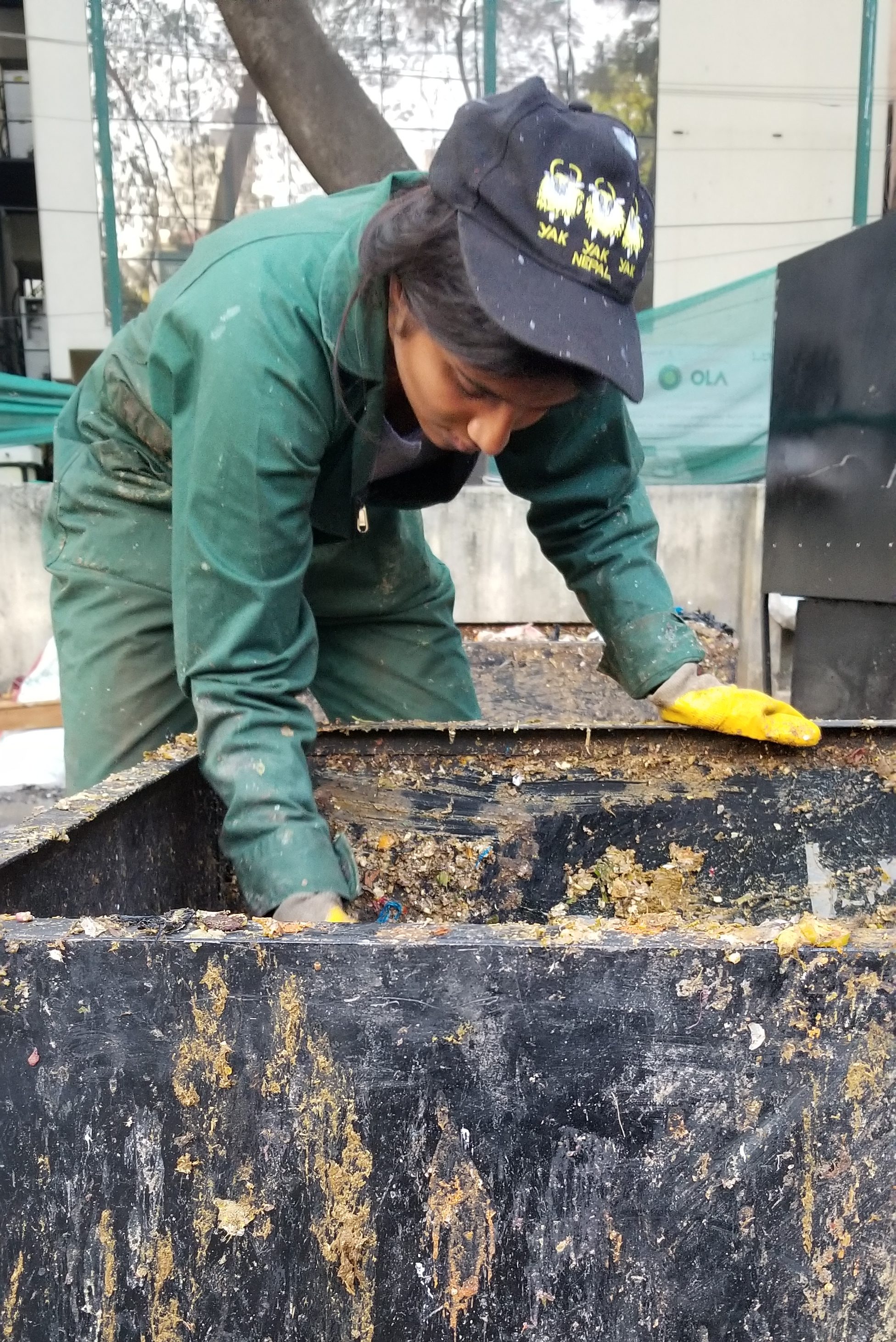 "Studying the waste supply chain, I realised how waste from our homes goes to a collection centre in smaller trucks which is then transported to landfills in bigger trucks. I wondered if I could eliminate the role of the bigger trucks. Not only would the government save millions of rupees, but we could generate value from waste and prevent it from going to landfills."
A request to the local corporator earned her space and an electricity connection to set up the unit at a dump yard. On day one, when she demonstrated the machine, she called everyone who told her it wouldn't work.
"The minute the person put the garbage bag into the unit, the machine broke down, and the motor jumped out. I had no idea what the garbage bag contained. Later, I found that it had a boulder. Eight months of slogging turned to waste. But there was a new insight—this machine had to become idiot-proof."
At the time, Saurabh Jain, a CA and an electronics engineer, became her mentor. Given his engineering background, he could understand the technical aspects that Nivedha was struggling with. He constantly encouraged her. But it was easier said than done, right?
They worked together for a week at the dump yard. The stark reality moved Saurabh. He quit his co-owned CA firm to join Nivedha in her fight against waste.
The duo spent close to five months together where they would go to the dump yard early and return late, developing the machine. In the last year, more people joined the Trashcon team.
"These were individuals just as crazy and passionate as us who gave up lofty jobs to work in a dump yard," she shares.
Six months ago, this team of passionate and environmentally-conscious got the machine up and running in the municipality office.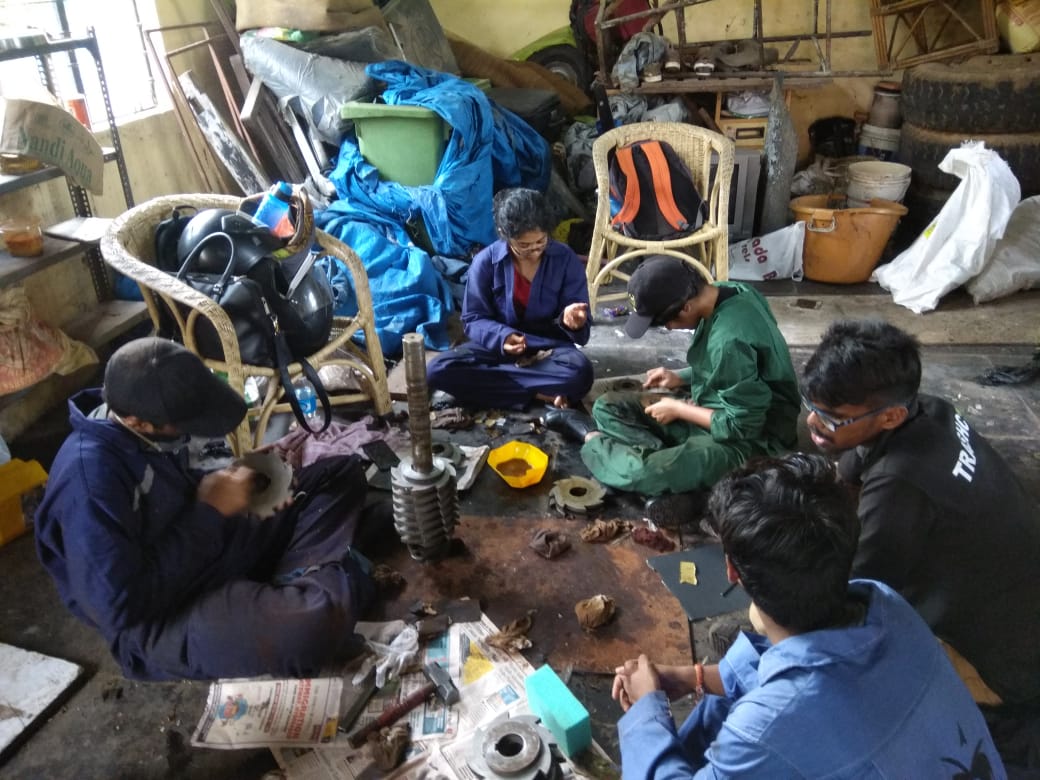 "This machine is not only idiot-proof but segregates waste to more than 90 per cent efficiency at any given time. Even if you put any mixed waste into it, the Trashbot will segregate and recycle it within minutes."
The waste segregator is currently available in four capacities—500 kg, two tonnes, five tonnes and ten tonnes.
How does it work?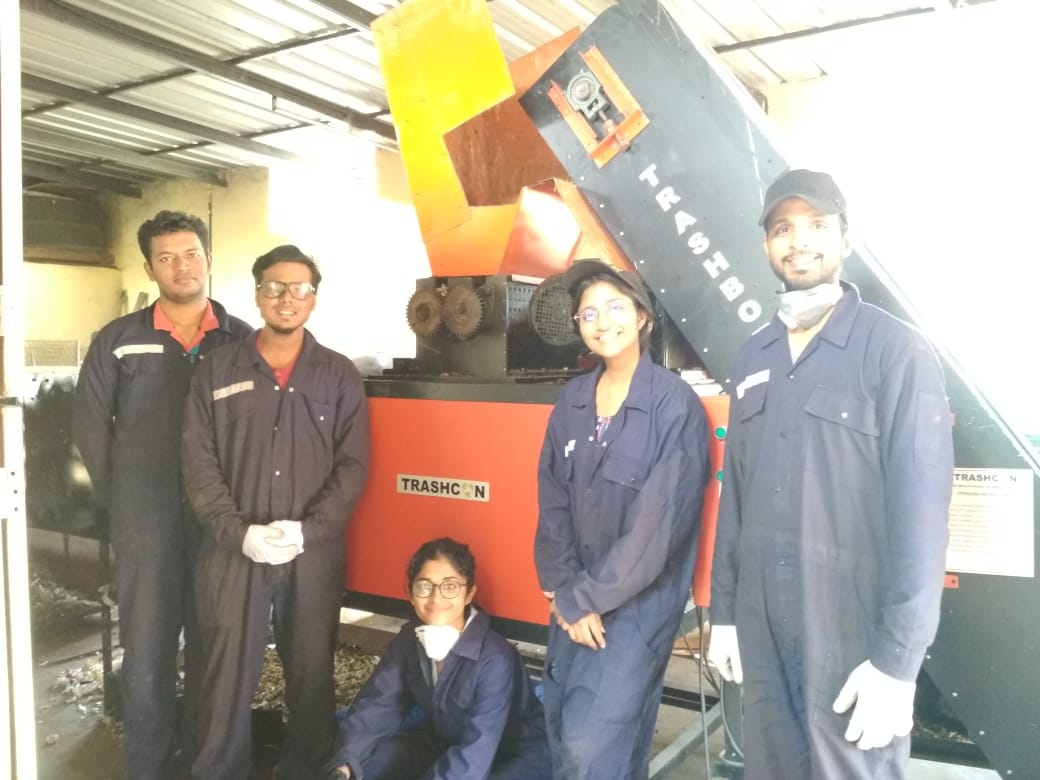 When a bag of mixed waste is put into the dumping bin in the machine, it is torn open, and the contents are sent into a magnetic separation system where batteries, contaminants and other metals are removed. The rest of the material is taken up by a loading conveyor and sent to a shredding unit.
Why is it shredded?
Say if your plastic has any food or organic waste particles, shredding it reduces the surface area that the organic waste can stick to. Once shredded, it falls like a curtain in front of a high-pressure high-speed fan.
The air pressure ensures that the biodegradable waste is collected in a conveyor close to the fan and the non-biodegradable waste is pushed further, to be collected separately.
And voila! Waste segregation is complete.
What happens to the segregated waste?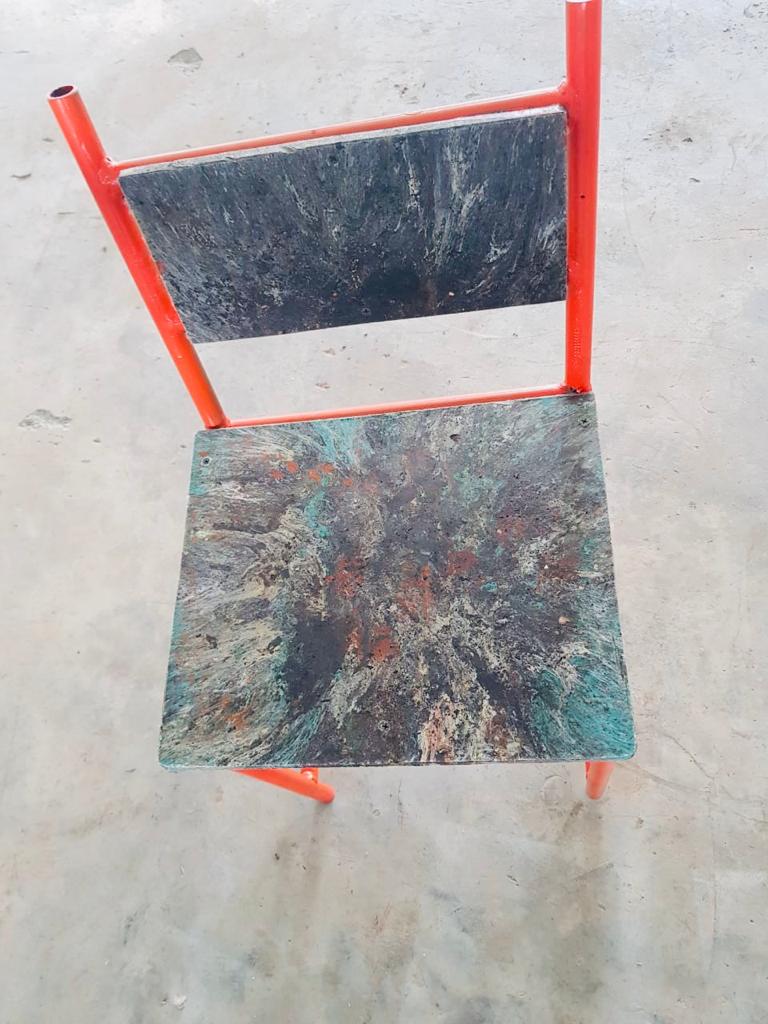 The biodegradable waste helps generate biogas or produce organic compost/manure.
The non-biodegradable waste is used to make recycled boards which can be transformed into tables, chairs, roofing tiles, partition walls, among other things.
"Till date, the authorities were only spending money on waste, but here's a complete zero-waste system, that converts waste into wealth."
Trashcon follows three business models:
1. They recommend the segregator to those who have channels set for the use of biodegradables and non-biodegradables.
2. In the second model, they sell the segregator and buy back the non-biodegradable waste to create boards. So the customer not only makes a green choice but also generates revenue.
3. The third model is where they set up an end-to-end zero waste management system and make manures and recyclable boards from the output.
The company is now working with industry biggie, Pidilite, which helps the boards reach carpenters. This has already found a huge market not just in India but even Canada, Australia and the USA.
"Early on, we realised that we were sitting on a gold mine. Besides the potential of generating millions of dollars per month, these recycled boards could be a sustainable alternative to plywood. It is water-resistant, termite-resistant, and looks like marble. When sold, it can also help us cover the costs of building our waste segregator."
How much does the machine cost?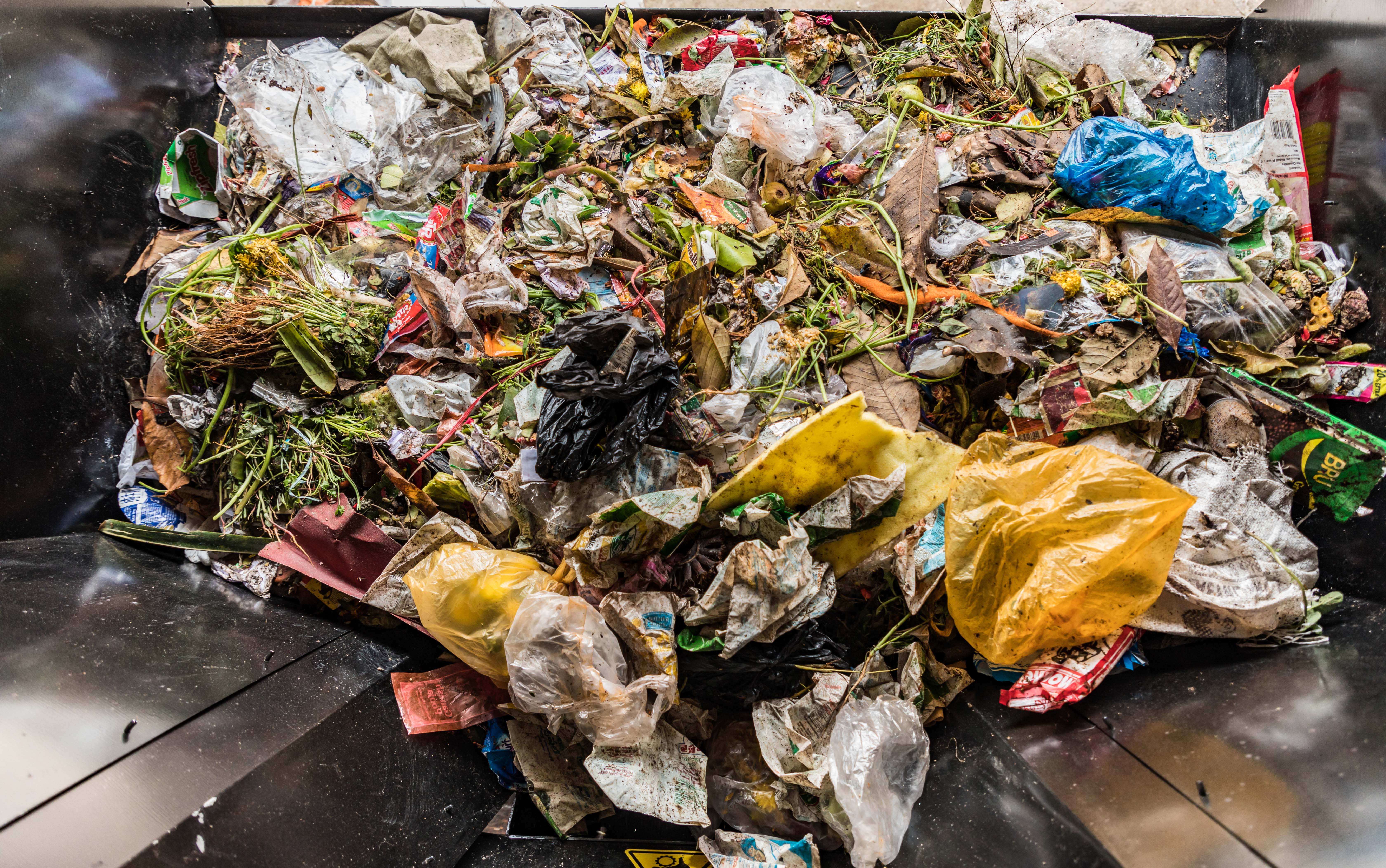 Nivedha answers, "Trashbot starts at Rs 9 lakh and the price varies on capacities. Societies can process their waste and connect it to a biogas plant or composting unit. The gas can be used for cooking purposes, while compost in the gardens. Plus, they can sell the non-biodegradable waste to us and generate revenue too."
They set up a segregator at Adani Port in Mundra, Gujarat, which was one of their first big projects. Despite a few glitches, the client's faith in their technology supported the team.
She says, "The greatest satisfaction for me was that the women who had to touch the waste to separate it manually, have now become dignified supervisors. They told us, 'We don't have to do much now. We just switch the machine on and off while it does everything'."
Their next big project is in collaboration with the Airports Authority of India where Trashcon will be processing waste for the Chennai Airport. The execution will take place in the next four months.
In her final message, Nivedha says, "When I started working at the dumpsite, my friends were getting an MBA. They would joke and mock me as a kachrewali (waste-picker). But now, when I look back, the recognition and the blessings of people we impacted, outweigh any doubts. With every tonne of waste I saved from entering landfills, I impacted 4,000 lives (1 kg per household of four). We now want to reach every village and city and prove that waste is wealth."
To know more, get in touch with Nivedha at nivedha@trashcon.in or visit Trashcon's website here.
Know more about the ATL Tinkering Innovation Marathon here.

(Edited by Shruti Singhal)
Like this story? Or have something to share?
Write to us: contact@thebetterindia.com
Connect with us on Facebook and Twitter.
We bring stories straight from the heart of India, to inspire millions and create a wave of impact. Our positive movement is growing bigger everyday, and we would love for you to join it.
Please contribute whatever you can, every little penny helps our team in bringing you more stories that support dreams and spread hope.