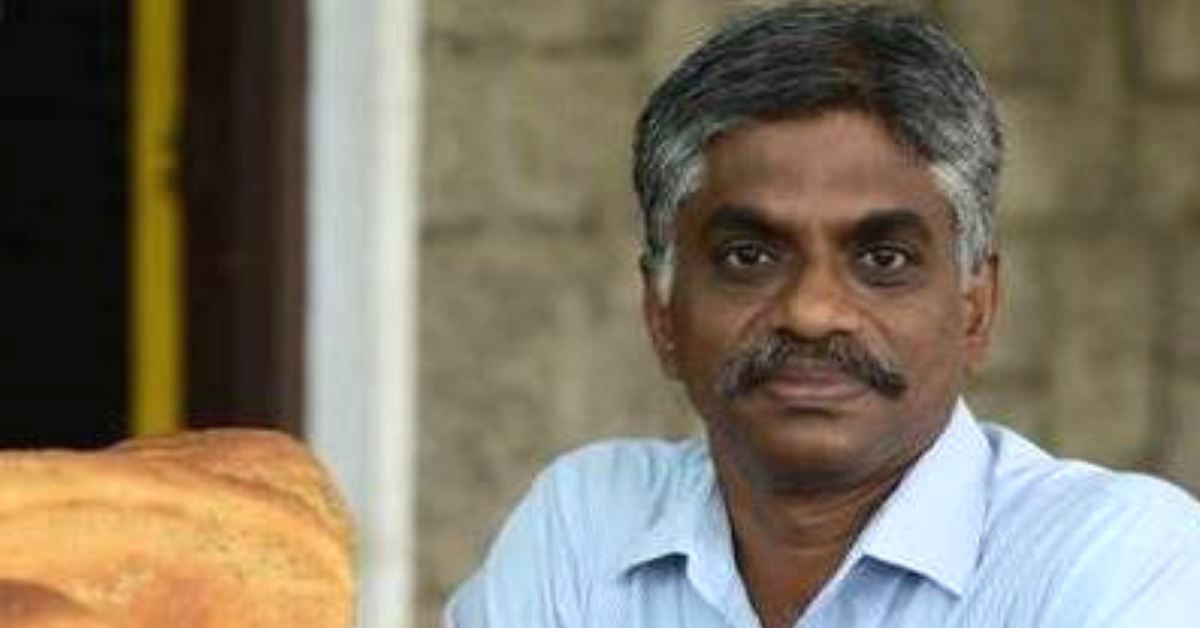 India is enriched with an immense amount of solar energy, and Srinivasa felt that while there were various players in the market, most of them were focused on a limited set of opportunities.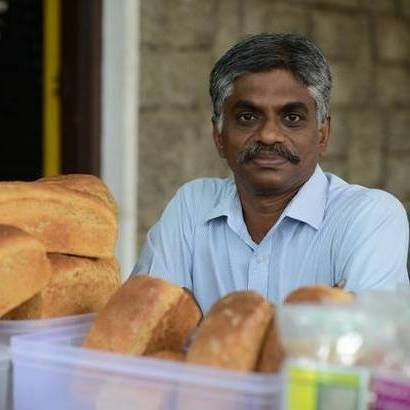 In this fast, consumer-oriented world, the distance between the farm and the fork is rapidly increasing. Along the way, farm-grown products lose their shape, colour, texture and most of their nutrients.
In a nutshell, they more or less become simple vectors for artificial flavours and only add quantity but not quality to the dish.
Sunplay—the brainchild of Srinivasa Chakrawarthy Ravuri—is attempting to change this trend by harnessing the power of the sun.
A nuclear physicist by training, Srinivasa completed his education from the Tata Institute of Fundamental Research (TIFR) and spent a decade working in various laboratories across the globe.
In 2007, he decided to relocate to India to do something on his own.
In this exclusive interview, Srinivasa speaks to The Better India about Sunplay, a baby that he is nurturing. He also speaks of his challenges as an entrepreneur in India.
Energy as an exciting prospect
"Not getting the job I wanted and having to leave behind something I cherished working on led me towards 'energy'. I was looking for something that would keep me occupied for as long as I continued to work, and I felt that harnessing solar energy would be the way forward," says Srinivasa.
India is blessed with an immense amount of solar energy, and Srinivasa felt that while there were various players in the market, most of them were focused on a limited set of opportunities.
He realised that the power of the sun could be used for numerous other applications. "I spent almost one year looking around and figuring out what I could do," he says.
The journey toward making the solar concentrator
"I started with making a solar concentrator in which we used low-grade heat," he shares.
He explains, "Solar energy is variable and by default, a low-energy source. So one needs to concentrate the energy over a small area to make it effective. There were certain designs available in the market, but I wanted to make something better—tailored for specific applications."
He continues, "I would spend half a day at the workshop where I built a solar box that could trap energy—this was something that I thought would be very easy, but turned out to be rather tough."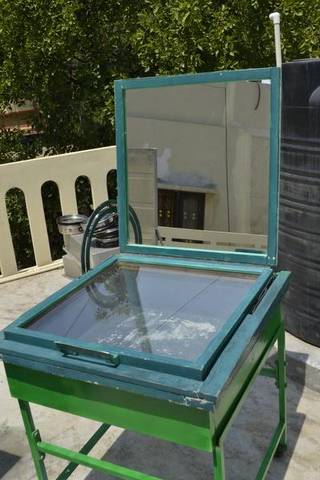 "I had no experience of building things. From sourcing the nuts and bolts to designing the unit and then actually building it—I did it all," he recollects.
He designed dehydrators and ovens and experimented with various materials such as teak wood and glass. The challenge was to ensure that there were no crevices from which the heat escaped. He used glass surfaces and other materials that would gather more radiation and trap the heat, spreading it over the active area evenly.
The idea was to build something simple; Srinivasa reiterates that the intent was to build something functional, not something extraordinary to harness energy.
A cylinder conundrum
When he moved to Hyderabad, Srinivasa had to use a gas cylinder which had to be procured via unofficial channels.
He says, "Since we were struggling with the cylinders, one day my wife asked me why I was unable to solve this issue, given my area of expertise. It was that question that sparked the need to make a device which we could use to cook."
He mentions how—when he started—he was wary of cooking food on a low-energy source, but the results surprised him.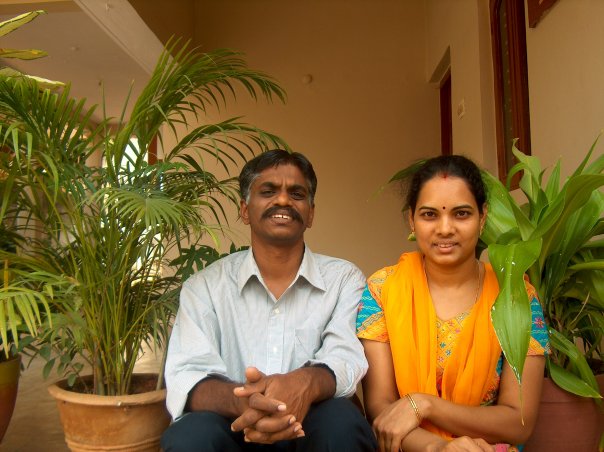 "I found that the device I built miraculously cooked food very well and also maintained the quality. Then I started working on it and improving it," says Srinivasa.
Device made, no takers found
While Srinivasa went ahead and created the device, he realised that no one was buying it and hence they were making no money.
"People were buying imported devices that were sleek and looked good. No one was interested in purchasing something that was bulky," he shares.
For several years they had absolutely no revenue and had to make do with whatever savings they had. He shares, "Then I found some colleagues who were interested in the technique I was using. They wanted to use the technology to make a device that would generate distilled water using solar energy."
Unfortunately, for Srinivasa, that device too was not marketable because there were many compact machines available in the market.
"The pressure at home was mounting. While I was making these devices and doing service to others, there was absolutely no revenue I was able to generate," says Srinivasa.
Entry into the food business
Getting into the food business happened by chance. Recounting the time he made a foray into it, he says, "I remember feeling that the food business is rather risky as it would make us responsible for the health of others. I felt it would not be possible to do that."
While he was toying with many ideas, he visited one of his senior professors. Before leaving, the professor offered him a packet of ragi malt.
That packet was the turning point for Srinivasa.
The Eu-ragi moment
"I remember coming back home and seeing how much everyone loved the malt. The trick was in the way the ragi was roasted. That got me thinking about how it is made. I soon realised that given the technology we had worked on, we would be able to roast the ragi to perfection," he says.
That was when the journey of Sunplay began, in 2013. Srinivasa and Syamala started studying various techniques of grain processing, and in three months, they had their first ragi malt product ready.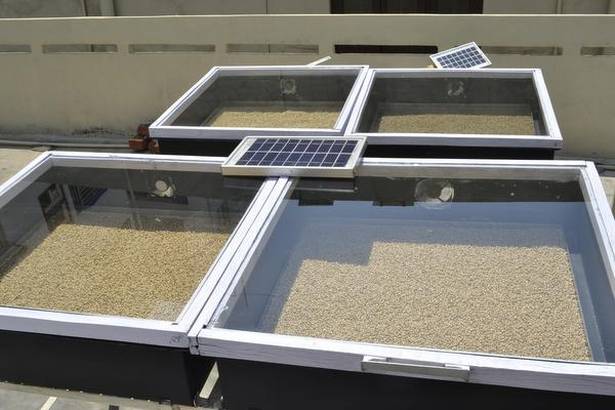 Given how conscious Srinivasa is about maintaining high standards of quality, the grains go through many stages before being ground to flour. The ragi used is washed several times to remove dust and husk and is then sprouted.
This is the juncture at which his food business and his passion for solar energy connect.
Using solar dehydrators
The solar dehydrators facilitate a controlled dehydration of the sprouted grains; the sprouting/fermenting process mitigates, to a large extent, the anti-nutrients inherent to grains.
Srinivasa was able to dehydrate the grain in an efficient and hygienic manner, effectively. He was also able to retain the flavour and nutrients of the ragi grain—lost in industrial scale dryers and roasters—by roasting them using solar energy.
The solar dehydrators also facilitate in the removal of anti-nutrients that come in the way of nutrient assimilation in the body and sanitise the product from germs.
The couple started attending farmer's markets to find buyers for their product. "People found it very interesting and purely by word of mouth, we started selling it," shares Srinivasa.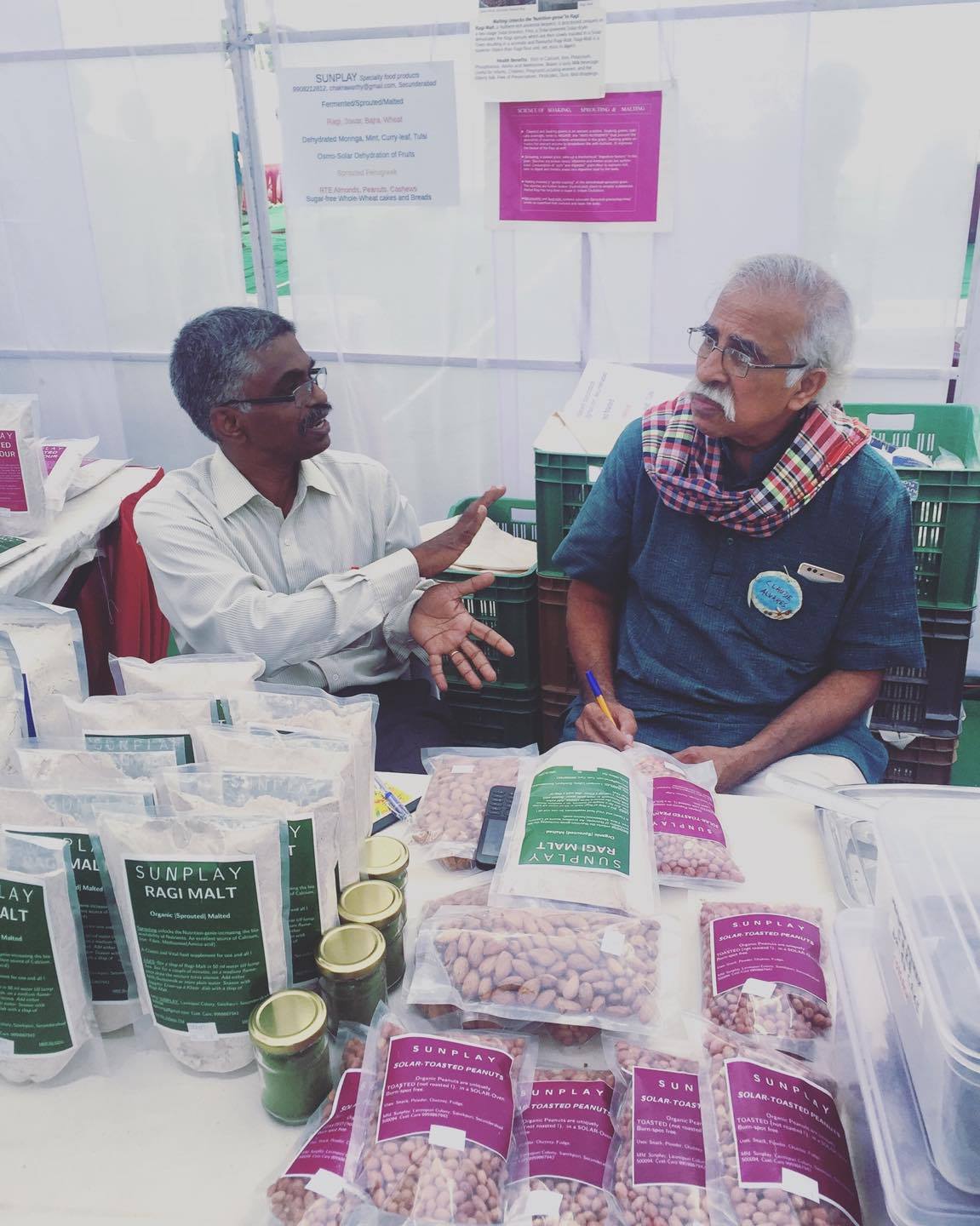 Sunplay now has several products which can be found at the Good Seeds Organic Bazaar and the weekly Sunday organic market at Lamakaan in Hyderabad. On offer are ragi malt, rava and flours of ragi, wheat and jowar, sprouted methi seeds, raw banana and sweet potato flours, crunchy almonds, solar-toasted peanuts, and herbs.
It has been quite a journey for Srinivasa— from nuclear physics to being a manufacturer of food products. His passion for solar energy helped him carve a niche in the hyper-competitive food products business.
Sunplay's USP lies in its unique means of using solar energy to process the ingredients, while preserving their natural nutrients and flavours. We hope to see their products made with sustainable methods in stores across India one day.
(Edited by Saiqua Sultan)
---
You May Also Like: This Ex-Microsoft Director Returned to India to Put Jackfruit on the Superfood Map
---
Like this story? Or have something to share?
Write to us: contact@thebetterindia.com
Connect with us on Facebook and Twitter.
We bring stories straight from the heart of India, to inspire millions and create a wave of impact. Our positive movement is growing bigger everyday, and we would love for you to join it.
Please contribute whatever you can, every little penny helps our team in bringing you more stories that support dreams and spread hope.