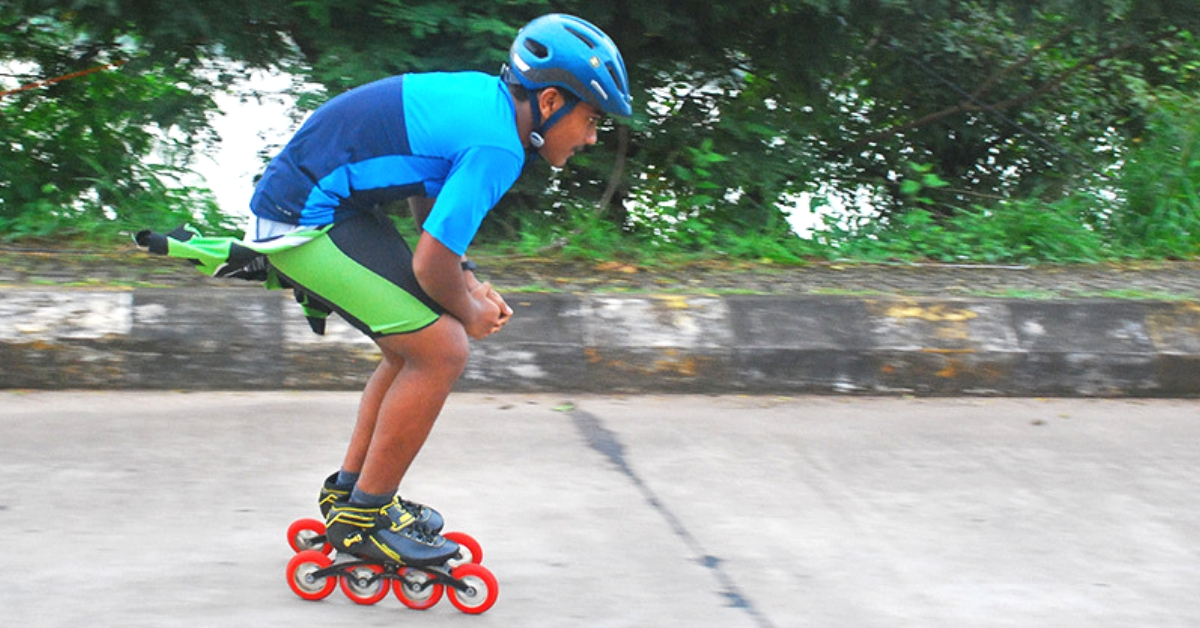 It all started when Niranjan, all of seven, was introduced to roller-skating in school.
It is 5.45 am, and I am huffing and puffing while cycling to the Thannirbhavi beach in Mangaluru. I am to meet a young boy who dreams of winning an Olympic medal in…wait for it…ice skating!
A dream that's next to impossible for an Indian, one who hails from this hot, humid city, where the only ice we know goes well with our drinks.
So, how does he plan to achieve this while training on concrete roads in sunny Mangaluru with his father as his coach?
That's exactly what I wanted to find out too.
I was to meet Rajeev and Niranjan, the father-son duo during their early morning workout. I was 20 minutes late, and sure enough, I saw that their rigorous session had begun.
The father has got the son on some kind of a leash knotted at his waist. The son, crouched and bent forward, is trying to walk sideways, dragging the father along.
"This is to strengthen the muscles for those tight turns he will have to take in the rink," the father explains.
He offers to let me hold the rope.
I accept and almost immediately, get swept off my feet by a tug from the champion, and try to hold my ground. I manage to understand how it is done and proceed to complete a lap.
"How did I do?" I ask the son.
"You did okay. Was a bit jerky though," he says matter-of-factly and gets on with the next set of exercises.
I am tired from all the cycling, pulling and tugging. The father and I decide to take a break and have some tea from a nearby shop. As we walk, the father tells me their journey.
It all started when Niranjan, all of seven, was introduced to roller-skating at the Lourdes Central School, Mangaluru.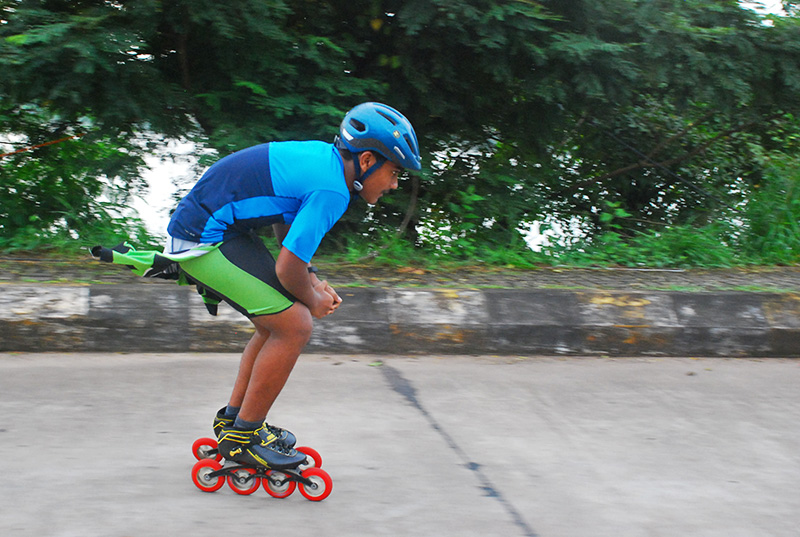 What began as an extracurricular activity soon grew into a passion.
Seeing that the boy had it in him to scale greater heights, Rajeev enrolled him in a coaching school, and encouraged him to do more. The boy responded well.
Within three years, as he moved up from the basic 4-wheel roller skates to Quads and then inline, he also started winning medals at various school, zone and state level championships. It was going well for him in the roller skating arena.
However, in the 2015 state championships, although he was second best in Karnataka, he was disappointed with his performance as he had been working hard for the top honours.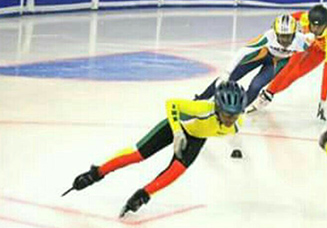 It was at this time that Rajeev learnt about a 10-day ice skating camp to be held in Gulmarg (National Short Track Speed Skating (STSS) Camp). He thought that this would be a good opportunity for his son.
Little did he know that it would be a life-changing decision.
Niranjan did well in the camp and qualified for the National Ice Skating Championship (XIIth National STSS). He went on to win a bronze medal there. The duo was overjoyed as Niranjan won a medal in the first ice skating event that he participated, and decided to pursue ice-skating more seriously.
Unknown to Niranjan, one of the people watching his impressive performance was the head coach for Short Track Speed Skating Team India, Avadhut S Tawade.
Avadhut had moved back from England with a dream of developing an ice-skating Olympic champion in India. He asked Niranjan to participate in another camp in Delhi in 2016 (STSS conditioning camp for National Team).
Niranjan did well there too and was selected for the Indian National Short Track Speed Skating team (Junior D, below 13 years).
There was no looking back from there.
---
Also Read: The Forgotten Story of Jerry Bujakowski, The First Indian at The Winter Olympics
---
Niranjan improved his performance with every camp and competition. He was selected for the STSS training camp held at Erzurum, Turkey. At the Turkey-India Friendship Cup conducted at Palandoken Olympic ice rink, Erzurum, Turkey, he finished with a Silver medal in Men's Relay.
He won the Under-15 National Championship (XIIIth Nationals STSS at Delhi) in Dec-Jan 2016-17 (Junior C Champion by winning the Gold medal in 500 mtrs). He attended a camp in Belarus and competed in Belarus Open Cup no. 1, held in Minsk Arena, Belarus, where he clocked his personal best of 51.6 secs in 500 mtrs and 1 min 47 secs in 1000 mtrs. He won second place in 1500 mtrs Finals-B and third place in the 1000 mtrs Finals-B.
After this, he participated in the Under-15 National championship (XIVth Nationals) again in Dec-Jan 2017-18 and retained his national champion (Junior C) status.
I ask Niranjan about his ultimate ambition. He answers with a lisp, "To be the first Indian ice skating Olympic champion."
So what does it take to be one? Here are the stages to get there:
In any of the International skating union officiated championships, he will have to do 500 mtrs in under 51 secs. This will qualify him for the Junior World Championship (Below 19 yrs.).
Here, he will need to do 500 mtrs in under 47 secs, which will qualify him for the World Cup.
There are eight world cups, and he will need to participate in at least six of them. Points from these World Cups are consolidated, where athletes are ranked based on total points.
The top 32 athletes will get to participate in the Winter Olympics.
Niranjan is currently in Stage 1 and 15 years old. Each trip costs Rs 3 lakh, with 50% of the cost being covered by the Indian Association. This, however, does not include the gear, coaching, etc.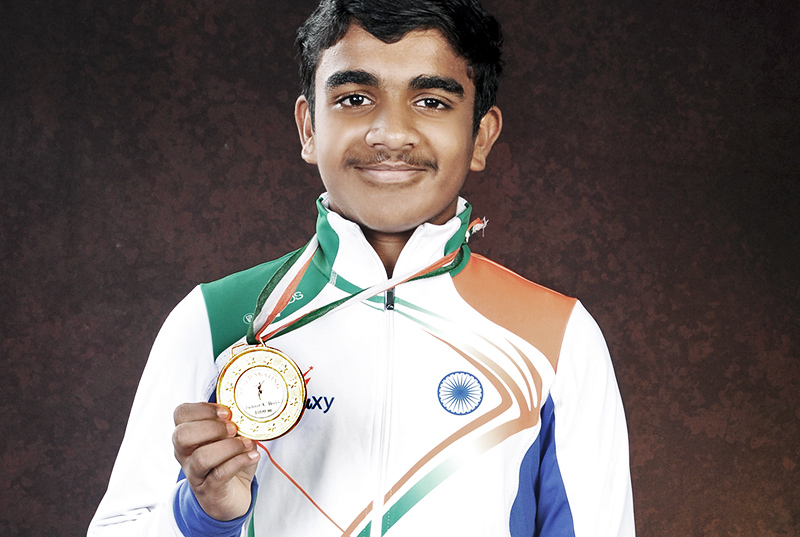 At the recently concluded championship in the Philippines, his timing was 50.89 secs. He won four gold medals (33 mtrs, 777 mtrs, 500 mtrs and Relay) and one overall championship medal. He intends to do better at the next championship to be held in Jakarta.
Now if you're thinking that he is doing well, consider this: even the best skater in India has only managed a timing of 43 secs (for 500 mtrs). To even be competitive in the Olympics, Niranjan will need to break 41 secs.
And to win an Olympic medal, he must aim for 39 seconds or lesser!
His route to an Olympic ice skating medal will take a lot of hard work, better equipment and training facilities. The journey has not been easy for him, and it is going to get a lot harder going forward.
---
You May Also Like: Murder of Dad to Crushing Poverty: 3 Youth Olympic Champs Who Braved Odds to Make India Proud!
---
Being in Mangaluru, he has had to keep up with a strenuous workout routine, utilising the scantiest of resources.The city's hot and humid weather is very tiring for the practice sessions of an ice skater. Also, no outdoor practice is possible during the four months of heavy rains. Continuous absence from school, catching up on notes, and learning the topics by himself have all become norms for him.
Adding to his woes is the fact that ice skating is an expensive pursuit. Securing the right gear and footing the bills for his travels has been burning a deep hole in his parents' pockets.
Despite these limitations, can he beat the Koreans, the Canadians and the other traditional ice skating champions to get India a medal? I have no doubt since I have seen his grit and determination up close.
But it will take a lot more than merely his father's support to get there.
If you'd like to support Niranjan and fuel his dream of bringing an Olympic medal in ice skating for India, get in touch with Rajeev at rajeevg@callystro.com or call him at 9902514954.
(Edited by Shruti Singhal)
We bring stories straight from the heart of India, to inspire millions and create a wave of impact. Our positive movement is growing bigger everyday, and we would love for you to join it.
Please contribute whatever you can, every little penny helps our team in bringing you more stories that support dreams and spread hope.