Did you ever imagine that the most serious conflicts could be solved by just a simple dinner? Eric Maddox did! And that is why he brought India and Pakistan together at a dinner table and talked about the major conflicts between the neighbours. The participants' views about each other will surprise you. Watch the two amazing films and know more about The Virtual Dinner Guest Project.
Did you ever imagine that the most serious conflicts could be solved by just a simple dinner? Eric Maddox did! And that is why he brought India and Pakistan together at a dinner table and talked about the major conflicts between the neighbours. The participants' views about each other will surprise you. Watch the two amazing films and know more about The Virtual Dinner Guest Project.
Did you ever think that a regular dinner can change the perceptions or break the barriers between citizens of two nations with long-standing conflicts? And when two rival countries like India and Pakistan share a dinner table, it indeed is an event worth talking about. Introducing The Virtual Guest Dinner Project, which aims at bridging the gap between these two nations through a simple meal, conversation and a camera.
What do people from Pakistan think of India? What are the biggest misconceptions Indians have about Pakistan? And many more such interesting questions were answered when Eric Maddox connected these two countries over an "internet meal".
"We are not happy with the image that the world has of us. And the younger generation would really like to improve on it. We want to let the world know that we are just like them, we have our aspirations just like them, we want our country to succeed just like them," said Pakistan.
Maddox, a documentary film maker, came to India for a little break a few months ago, but unable to put work aside, or resist the urge to facilitate connections wherever he travels, he quickly found opportunities to work on the project with local partners. He recently organized a virtual dinner between citizens from Bangalore, India and Islamabad, Pakistan.
The discussion that started on a lighter note soon covered critical issues of politics and society. Finally the India team was asked to make a video on "If you could say anything to Pakistan…what would it be?" And here are some of the interesting responses-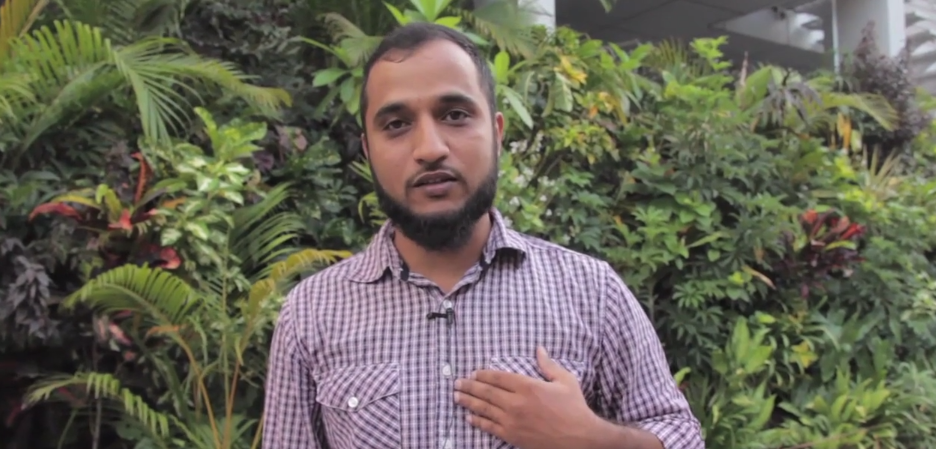 "We respect you. You respect us. Let the politicians go to hell!"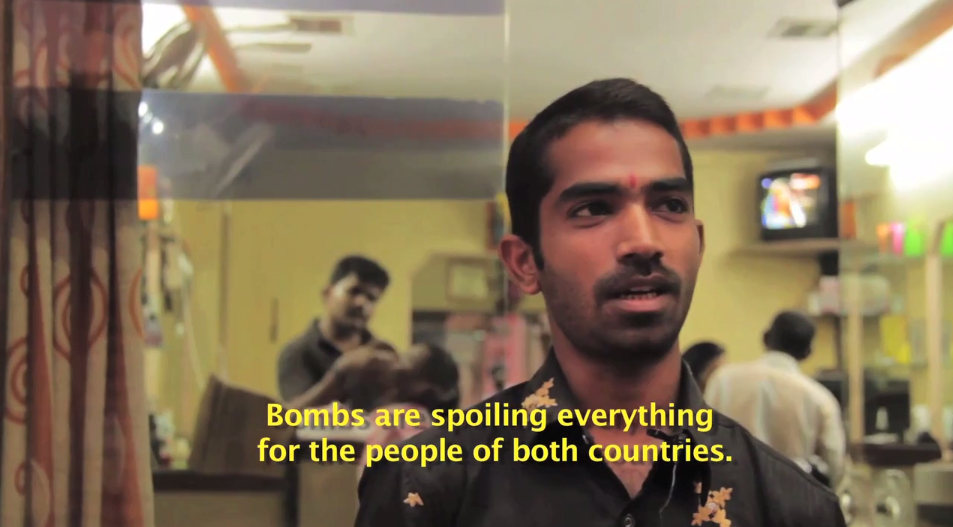 "Bombs are spoiling everything for the people of both countries. How does it benefit either of us?"

"In our minds, we don't hold anything against them. We think of them as our brothers. I hope they think similarly, and together we should strive for a peaceful world."

"They keep infiltrating Jammu & Kashmir. Violation of the ceasefire usually happen from the Pakistani side. I have seen it on the TV. They should not be doing this."
From the food we eat to the people we follow, everything is largely shaped by media. We believe what we see in newspapers, television channels and thousands of websites that we have access to. Media has the power to change our thoughts and perceptions in a few seconds. As media plays such an important part in our lives today, don't you think it should be put to a better use?
By cleverly merging the two agents, Maddox is trying to resolve the complex issues by getting the participants to break bread over the internet in order to encourage camaraderie and understanding. Imagine a dinner table that starts in one country and extends into another.
The start
The idea first came to Maddox when he was making a documentary film in Palestine and Israel. He realized that while the larger audience will understand the conflict, the people actually involved in the conflict might not be able to see both sides of the issue. He brainstormed to bring people from both sides of the border together and that is when the idea of a virtual dinner struck him.
"Sharing a food is something great. It makes us feel that in the end we all are humans," says Maddox.
His first virtual dinner was organized between Mexico and New Mexico. He arranged a virtual dinner between a family from Ciudad Juarez, Mexico and another group of people from Santa Fe in New Mexico through Skype. As both the parties joined each other at this virtual dinner table, they discussed about various topics ranging from serious and sensitive issues like drug trade to simple family conversations like what kind of music they enjoyed.
The success of the first video-conferencing strengthened Maddox's belief in this project and he thought of expanding it to other countries with various social, economical and political conflicts.
"It was difficult, as it is always unpredictable and risky to bring two countries at conflict together at the same table. But I had faith in the idea and I was ready to take it forward without giving it a second thought. I thought this is the best way to break the barriers between people," says Maddox.
What started as an experiment is now a movement that has reached out to 13 countries including North America, South America, Africa, Egypt, Turkey, Syria, Palestine, Lebanon and Asia.
Here is the complete India-Pakistan film:
How it works?
A typical virtual dinner consists of two parts. The first part requires the guests to discuss the recent and most prevalent news of the respective countries. The discussion is moderated and the guests are selected from various universities, NGOs and media centres.
"It is important to have people who have a point of view and who know what's happening in their country. That is why we focus on these three major sources," says Maddox.
Each community is given a topic by the other one and both the teams are expected to go out on the streets, ask the questions from general public and make a small film for the next dinner, which is organized after two weeks. By this time, both the teams are ready with the short films comprising of interesting responses from the people of one country for another.
"It is important for people to go out of their comfort zone. That is when they get honest replies from people," says Maddox.
The documentaries are later uploaded on the official website and Vimeo to make them accessible to everyone.
"The idea is to create a database of all this information which people can have access to. There is so much that has been said and so many opinions from different people. This can be a great source of information and a platform for resolving the complex issues," says Maddox.
What Pakistan had to say?
Similar to India, the citizens of Pakistan were asked to document the question, "What misconceptions do you think people have about Pakistan? Why?" And here is what they had to say-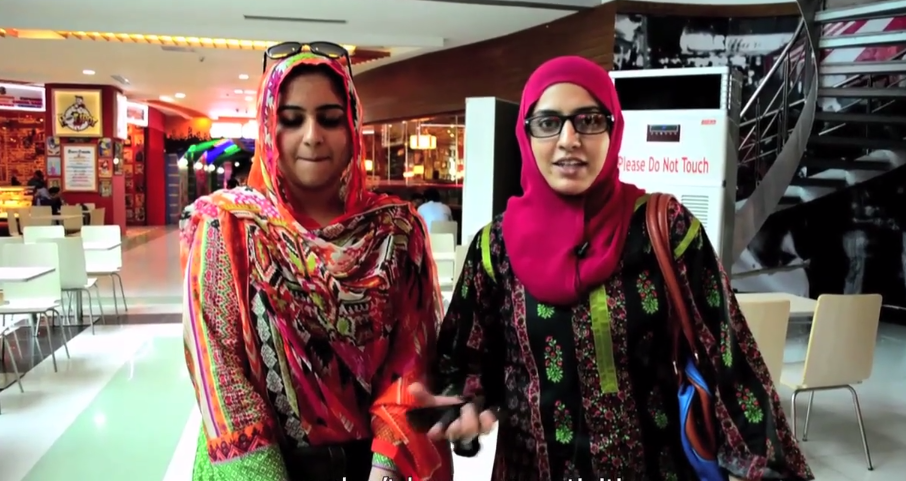 "I think one of the main misconceptions is that we don't have any freedom. We can't go out or we are always in the state of war."

"People don't even know which language we speak. They always think that we speak Hindi. They sometimes think that we are Indians because of the similar colour of the skin."

"People think Pakistan is very backwards because they have never seen our country or never met our people."
The challenges
The biggest challenge is to be sustainable. The lack of funds was a big obstacle which Maddox had to fight in the initial days and still does at times. The project, which requires extensive travel, runs with the help of various grants and donations.
Another challenge came with the language barrier. "We try to get people who can speak and understand English. But, we are trying to solve the language problem by giving subtitles in the movies," says Maddox.
Here is their latest India-Brazil film-
As this unique dinner project takes off, it gives a way to clear the misunderstandings between the two nations without resorting to the shellings and threats that seem to be the order of the day. With the success of the India-Pakistan and India-Brazil projects, we can't wait to know about Maddox's next dinner plans. Let's bury the hatchet through some curry diplomacy?
Want to know more about this amazing project? Check out their Facebook page.
Like this story? Or have something to share? Write to us: contact@thebetterindia.com, or connect with us on Facebook and Twitter (@thebetterindia)