Students from Moradabad Institute of Technology, Uttar Pradesh, have now developed a smart wash-basin that will alert you if there is continuous water leakage from the taps.
In times of water crisis in India, three students of electronic and communications engineering – Yash Khanna, Tanuj Tandon, and Utkarsh Gupta are aiming to use a smart wash-basin to reduce water wastage.
The smart wash-basin alerts the user in two ways. There are LED lights which glow when there is leakage. But what makes the wash-basin truly smart is its ability to send a text message when it detects the leakage.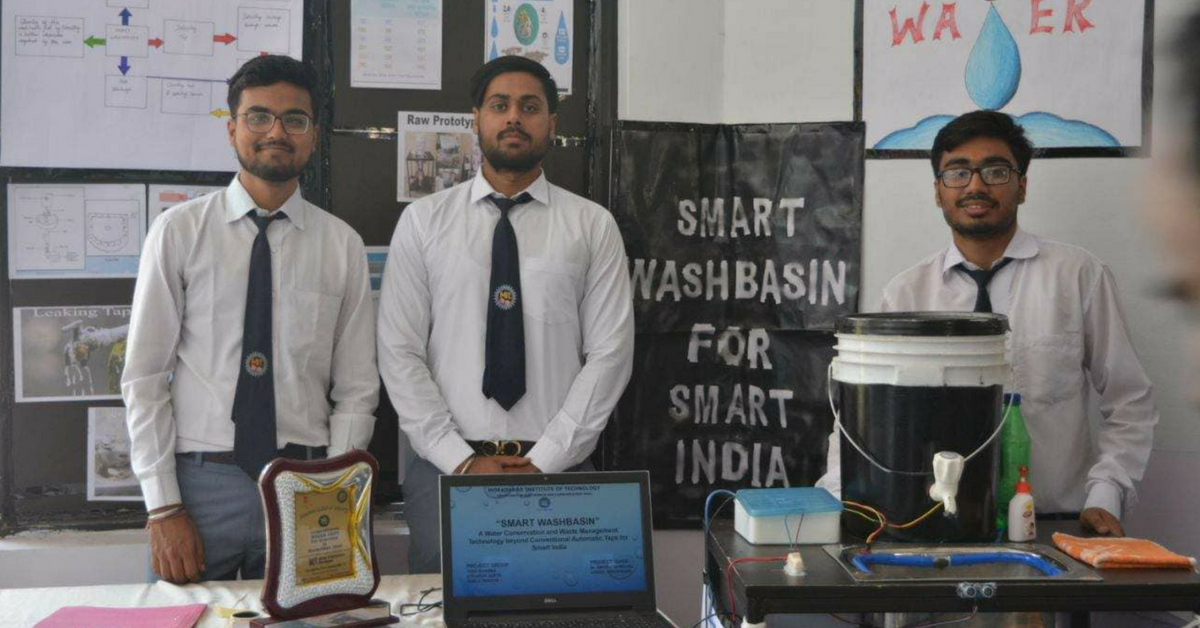 Yash Khanna tells Indian Express, "The idea initially came to my mind when I left my tap open, and water leaked the whole night in the kitchen, and my mother gave me an earful for it. This motivated me to wonder whether I could have somehow gotten a message alert that the tap had been left open — after which I could have closed it quickly."
He continues, "We started working on the idea and then came to a conclusion that the most essential thing is to reuse water. We started doing a lot of research around this idea."
The project was selected in the first phase of a Smart India Hackathon–Hardware edition–where more than 600 teams participated. The students also won a cash prize of Rs 50,000.
It's not just the alert; the wash basin also recycles water by filtering it through a natural filter process, which consists of different graded rocks that mimic the natural process of filtering in nature.
Yash explains, "So in the Smart wash-basin we have made an attempt to recycle the water and reuse it in toilets, gardens, etc. It's still in the crude stage but has the potential to be implemented on a larger scale and can be improved further for the conservation of more and more water."
Along with its features of water recycling and alerting during water leakage, the sink also alerts the user in case of blocked drainage.
Yash concludes, "Actually, considering our idea is in a crude state, several attempts can be made to improve it, but as of now, a system which sends you an SMS when your tap is running and blocked sink including the water recycling system might not exist in India as a whole."
(Edited by Shruti Singhal)
---
---
Like this story? Or have something to share?
Write to us: contact@thebetterindia.com
Connect with us on Facebook and Twitter.
NEW: Click here to get positive news on WhatsApp!