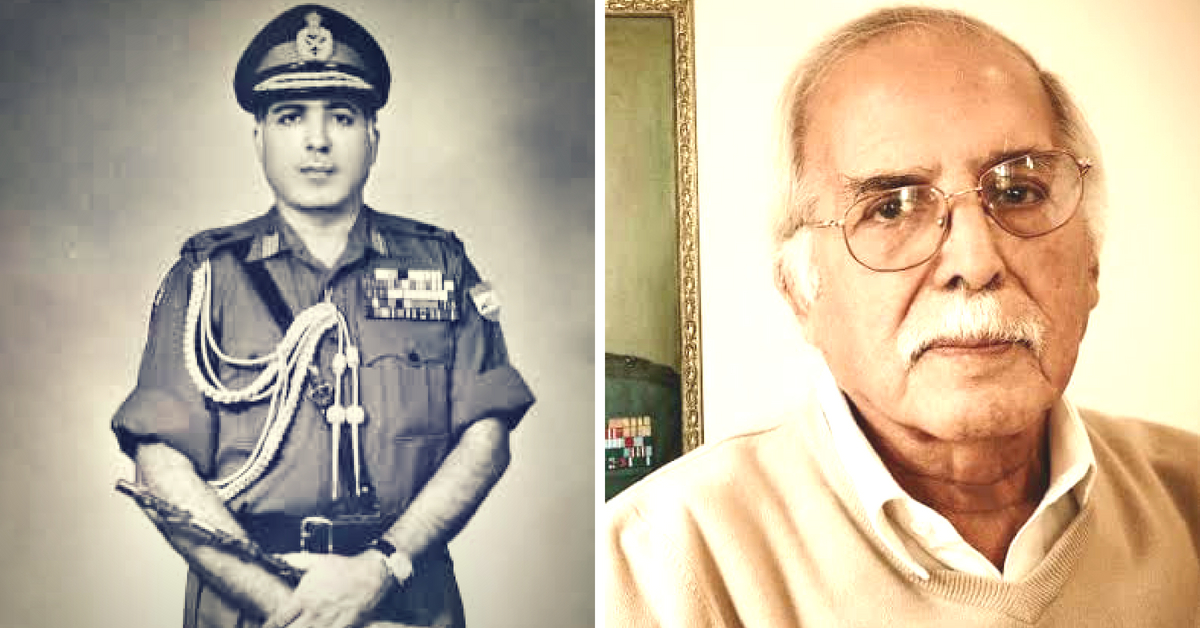 He had been decorated with the Maha Vir Chakra, Vir Chakra, Param Vishisht Seva Medal, Vishisht Seva Medal and the little known but highly prized MacGregor Memorial Medal!
Did you know Lieutenant General Zorawar Chand Bakshi led the Pathans against the Japanese in the British Indian Army during World War-II? After Partition, he subsequently led the Gorkhas against the Pathans. He also led the Indian peacekeeping mission under the aegis of the United Nations against a private army led by European mercenaries in Congo, and prior to that had entered into Tibet disguised as a Buddhist monk on a 400 km reconnaissance mission!
He would go onto fight two more wars against Pakistan, and finally, lead counter-insurgency missions in Nagaland. Is it any surprise that he is India's most decorated officer?
Lieutenant General Bakshi passed away last Thursday at the ripe old age of 97. He leaves behind a remarkable legacy, fighting and serving across different theatres of battle both at home and abroad.
Fondly called "Zoru" by his friends and colleagues, Lt General Bakshi, was born in 1921 in Gulyana town, Rawalpindi district, Pakistan.
His father, Bahadur Bakshi Lal Chand Lau, was a decorated soldier with the British Indian Army. Like his father, Lt General Bakshi enlisted in the British Indian Army, fighting the Japanese with the Baloch Regiment in Burma during World War II. His name was mentioned in dispatches by the British government, for conducting successful ambushes against the Japanese, says this tribute by Major General Ashok Mehta published in The Indian Express.
Following the Partition of India, while his family moved out of Pakistan and into India, he served on the Punjab Boundary Force—an ad hoc military force set up to restore law and order during the bloody communal clashes that took place along the Punjab border.
However, the unit did not last long as it was consumed by the turmoil and carnage the partition left behind.
After the partition, he was commissioned into the 5th Gorkha Rifles (Frontier Force) as a Brigade Major, and for his efforts in the war for Kashmir in 1947-48, he was awarded the Vir Chakra.
Speaking to The Print, Lt Gen Narayan Pathania, who served with him from 1970 to 1979, said, "He belonged to the 5th Gorkhas, who wear the chin strap of the Gorkha hat not under the chin but under the lower lip. He believed that it signalled doing your job and not talking about it and followed that in principle."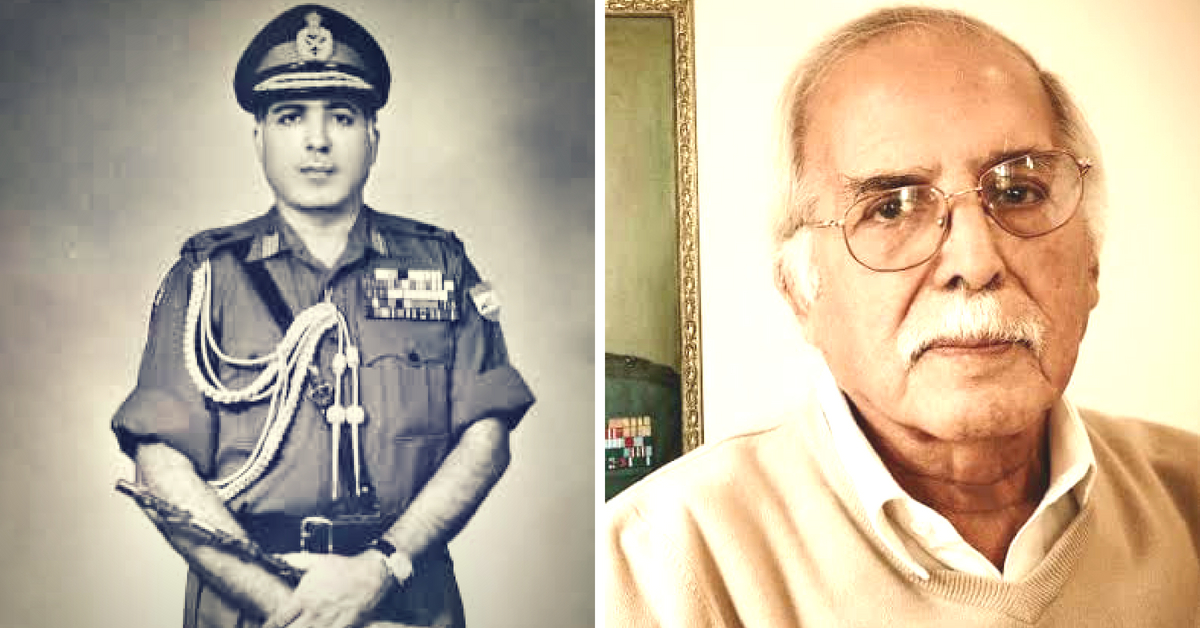 Two years later in 1949, Major Bakshi undertook a military reconnaissance mission into Tibet reportedly on the orders of Sardar Patel, the then Home Minister.
He trekked a distance of 400 km over 80 days disguised as a Buddhist monk; traversing along some of the highest mountain passes in the world on foot. It is imperative to remember that this was a time when no foreigners were allowed inside Tibet. Entering Tibet via the famous Nathu-La pass, he brought back with him critical strategic intelligence.
For his successful mission, Major Bakshi was awarded the MacGregor Memorial Medal. "That is a decoration instituted in 1888 in memory of Sir Charles MacGregor, the founder of India's original secret service, the 'Khufiya Bureau,' and awarded to Indian army personnel for exceptional feats of reconnaissance. Only 15 soldiers have won it since Independence and Zoru was the first of them," says this poignant profile on Lt General Bakshi by GQ Magazine.
After spending a few years as a military instructor in the 1950s with the Infantry School in Mhow and the Staff College in Wellington, where he was promoted to the rank of Lieutenant Colonel, he was given charge of the 2/5 Gorkha Battalion. In the early 1960s, he led the battalion on a United Nations peacekeeping mission in civil war-ravaged Congo, as a result of which he missed the '62 China war.
However, his efforts in Congo helped the war-torn nation rid itself of the warlord Moise Tshombe, whose private army led by a group of European mercenaries captured the Katanga province and killed the nascent nation's democratically elected leader Patrice Lumumba.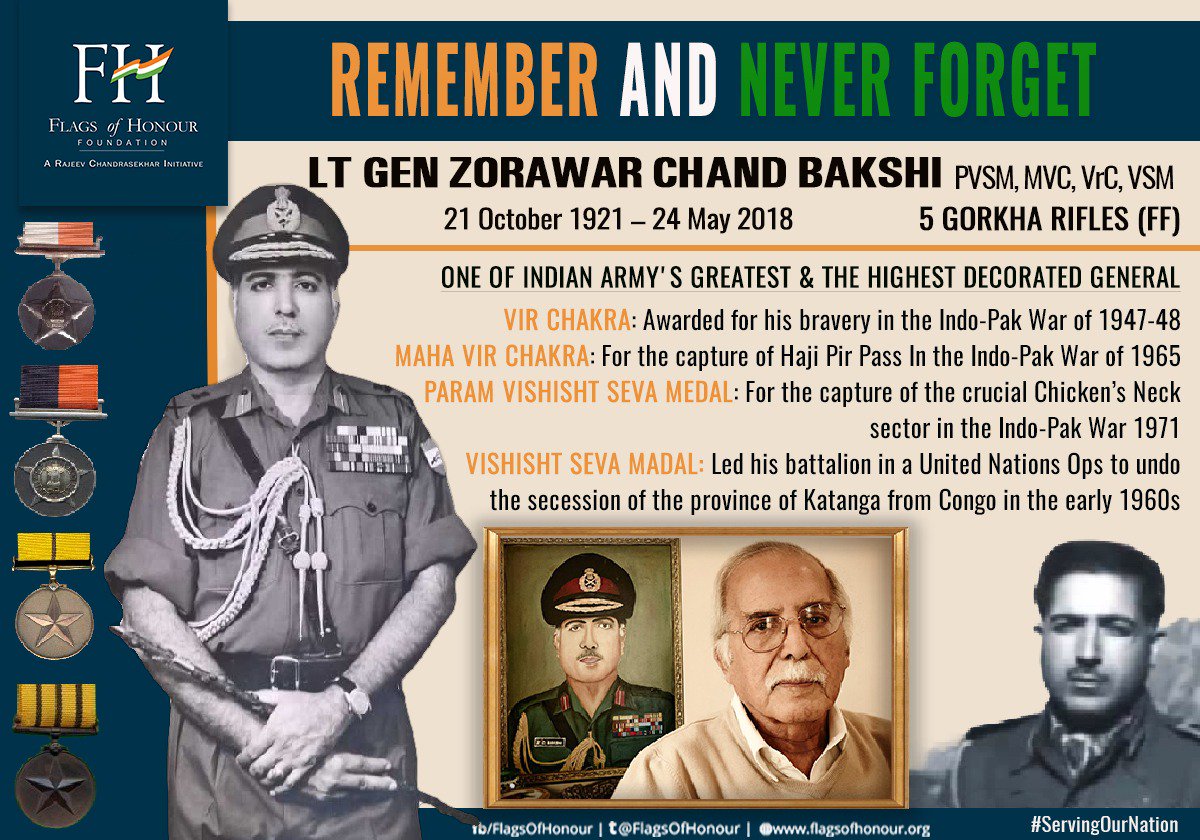 There was one particular incident, which Brigadier AS Narula, who served with Lt Colonel Bakshi in Congo, tells GQ Magazine.
"Tshombe's 'gendarmes' (private army) shot down one of our reconnaissance helicopters and captured one of our officers—Jasbir—and would not release him. Zoru was sent to negotiate. He had to cross a no man's land of 500 yards of elephant grass—and Zoru was just 5 feet 2 inches. Time Magazine called him 'a short Indian officer with a tall ego.'
He defied his height. And none of us could look into his eyes for more than a few seconds. So, he went and met Tshombe, and while they were talking, Tshombe pointed his finger at him. Well, Zoru just hit Tshombe's hand with his baton and pushed it into his chest. 'Don't do that again with any Indian officer,' he warned. And he came back with Jasbir."
Also Read: Lion of Ladakh: The Legendary Soldier Who Saved India While Still a Teenager!
Finally, in December 1962, the Indian forces sent on behalf of the United Nations ran through Tshombe's army in a major offensive called the Operation Grand Slam. The following year, he was awarded the distinguished Vishisht Seva Medal.
However, Lt General Bakshi's most notable achievement was the capture of the Haji Pir Pass, a critical access point connecting Poonch to Uri in the Kashmir Valley during the 1965 war against Pakistan. It was Operation Bakshi—codenamed after him—which led to the capture of the Haji Par Pass and proved to be a significant turning point for the Indian forces.
For his efforts, he was awarded the prestigious Maha Vir Chakra, the second highest gallantry award, along with the heroic Major Ranjit Singh Dayal.
In the 1965 #IndoPakWar Lt Gen Zorawar Chand Bakshi, (then Brigadier) Commander 68 Infantry Brigade in Kashmir was assigned the mission to capture the Haji Pir Pass , the whole operation was codenamed 'Operation Bakshi'. Here he speaks on the capture of Haji Pir Pass pic.twitter.com/xoE1qdCmXR

— Flags Of Honour (@FlagsOfHonour) May 26, 2018
Next on the list of achievements was his role as Divisional Commander during the 1971 War against Pakistan, where he led his forces to capture the narrow strip of Pakistani territory (approximately 170 miles) that extended into the Indian state of Jammu and Kashmir south of Akhnoor.
The Pakistanis called this strip of land as the 'Akhnoor dagger,' as it was a vital pathway for their troops into Rajouri and Poonch in Jammu and Kashmir. Lt General Bakshi, however, called it the 'Chicken's neck' and sought to snap it into two and push the Pakistani forces back.
"It's a chicken's neck, and I'm going to wring it," he reportedly said. As predicted, he was successful in making it happen, and once again led a moment that would turn the tide of the war in India's favour. He was awarded the Param Vishisht Seva Medal for his efforts. After leading counter-insurgency operations in Nagaland, he retired in 1979.
"Apart from being a brave soldier and a remarkable leader, he was an ideal and an inspiration," said Gen Pathania to The Print. However, except for the few who served with Lt General Bakshi or encountered him in his heyday, there was little by way of tribute from the government.
Deeply mourn the demise of Gen. Zoru Bakshi. Last I met him was after the capture of Haji Pir Pass in the 1965 War. He was then the commander of 68 Brigade and I was ADC to Army Commander Gen Harbaksh. A great soldier. His death is a great loss to the country! RIP Sir!

— Capt.Amarinder Singh (@capt_amarinder) May 27, 2018
It's time we paid tribute to this remarkable soldier.
(Edited by Gayatri Mishra)
Like this story? Or have something to share? Write to us: contact@thebetterindia.com, or connect with us on Facebook and Twitter.
NEW: Click here to get positive news on WhatsApp!