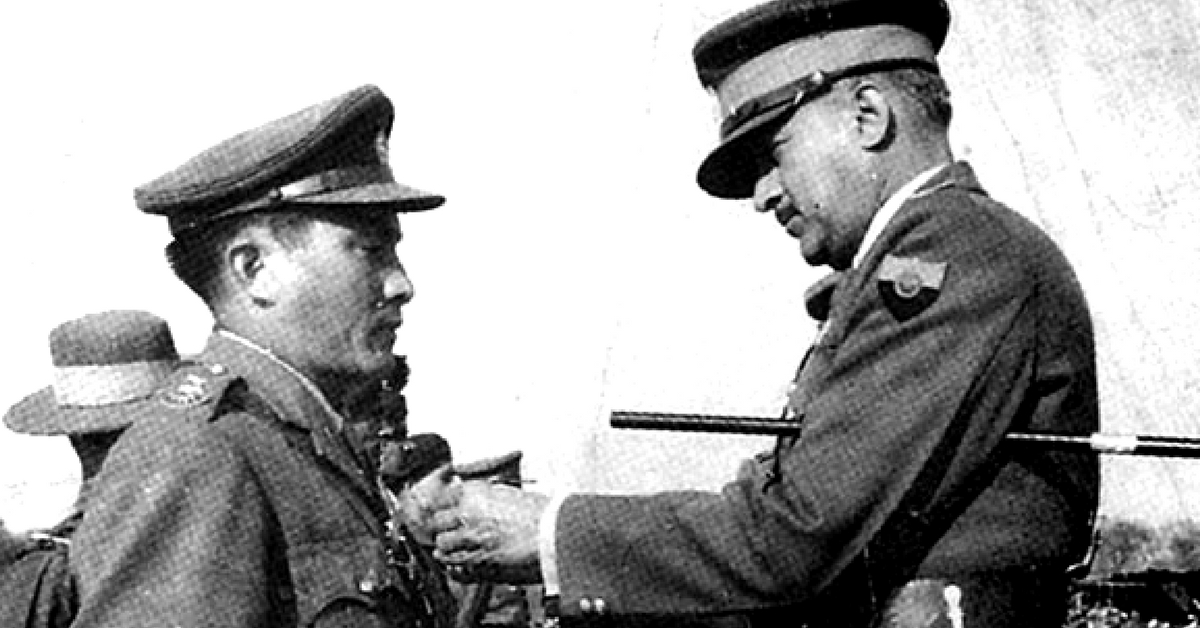 Colonel Chewang Rinchen, a two-time recipient of the Mahavir Chakra, embodied the spirit of India that lives within every Ladakhi.
India holds a special place in the minds and hearts of the people of Ladakh.
When there were discussions about a United Nations-monitored plebiscite to determine the fate of the erstwhile Dogra kingdom, a Ladakhi civil society delegation issued a memorandum to India's first Prime Minister Jawaharlal Nehru in May 1949 stating that the region would like to "merge with India straightaway", irrespective of the outcome.
"We seek the bosom of that gracious mother (India) to receive more nourishment for growth to our full stature in every way. She has given us what we prize above all other things—our religion and culture. The Ashoka wheel on her flag, the symbol of goodwill for all humanity, and her concern for her cultural children call us irresistibly. Will the great mother refuse to take to her arms one of her weakest and most forlorn and depressed children—a child whom filial love impels to respond to the call?" stated the memorandum, rather dramatically.
Is it any surprise that the region has given birth to some of India's bravest souls in uniform? Among the first in Independent India, however, was Colonel Chewang Rinchen. Born on November 11, 1931, in the remote, and picturesque village of Sumur in Nubra Valley, he lived a remarkable life.
In May 1948, tribal raiders from Pakistan captured Kargil, leaving Leh susceptible to further raids, and possible occupation. There was no significant Indian army presence in the region.
Among those defending Ladakh then, were 33 men of the J&K State Forces, a Leh-based garrison, along with a team of 20 volunteers led by Lieutenant Colonel Prithi Chand, who had crossed the extremely harsh climes of the wind-swept Zoji La pass in winter with his band of men.
With the passage of winter came melting snow and open mountain passes, paving the way for tribal raiders from Pakistan to converge on Leh. Their mission was driven by the promise of hidden treasures and wealth stored in Buddhist monasteries and the belief that the peace-loving people of the region weren't capable of fighting back.
On May 13, 1948, Lieutenant Colonel Prithi Chand hoisted the tricolour in Leh and sought the help of local volunteers to take on the tribal raiders. Legend has it that a 17-year-old Chewang Rinchen, who was still in school, raised his hand first.
After receiving basic training, Rinchen led a band of 28 volunteers called the Nubra Guards, and took on the battle-hardened tribal raiders, holding them off till more reinforcements came.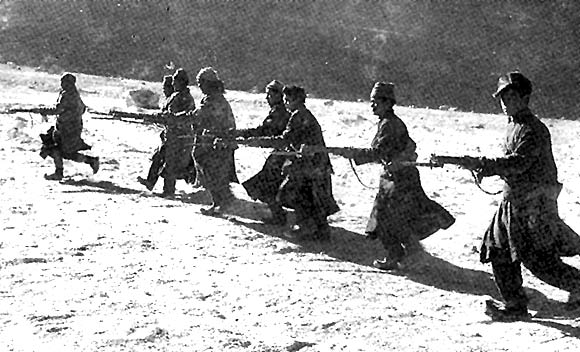 For his display of courage and leadership, Rinchen became the first commissioned officer in the Indian Army from Nubra and awarded the Mahavir Chakra (MVC), the second highest gallantry award. Till date, he remains the youngest recipient of the MVC.
The citation for Colonel Rinchen's first Maha Vir Chakra reads:
"As a young lad of 17 Chewang Rinchen enrolled himself in the Ladakh Guards on 25 July 1948. With hardly a week's training, he organised and trained a local militia unit of 28 youths. In September, operating alongside Indian Army units, he fought in the Nubra Valley.
His grim defence of a position on the Kharu Nullah earned him a promotion to the rank of Jemadar (Naib Subedar). In the same month, negotiating a 17,000 feet-high snow-clad pass under most trying conditions, he helped the capture of Lama House, a vital enemy stronghold.
On 15 December, having marched for three days over high snowdrifts, he put in a fierce attack on a high hill feature near Biagdangdo and captured it. This action was immediately followed by his capture of Tukkar Hill, the last enemy position in Leh tehsil. This last action involved crossing over snow-clad hills 21,000 feet high. Half of his platoon was suffering from frostbite.
But under his inspiring leadership and following his example of personal bravery, his men had accomplished a seemingly impossible feat."
His subsequent career saw him bagging the Sena Medal in the 1962 war against China, for his defence of the Daulat Beg Oldi Tri-junction. It was a symbol of India's bold and courageous stand amidst heavy losses.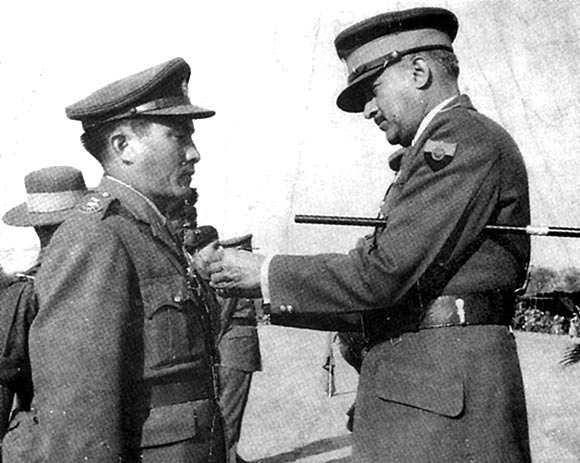 Another Mahavir Chakra medal came his way in the 1971 war against Pakistan. While the Bangladeshi front occupied a significant chunk of both the action and attention, Major Rinchen and his band of Ladakh Scouts (formed after the 1962 war, and today a full-fledged infantry regiment of the Indian Army serving in high mountain terrains) managed to capture over 800 square kilometres of territory from Pakistan. The area they occupied included the village of Turtuk, which is of critical strategic value. He managed to get all this done without a single casualty on the Indian side.
Rinchen eventually retired as a Colonel in the Indian Army, and remains one of the institution's defining figures, playing a critical role in the creation of the Ladakh Scouts. He passed away on July 1, 1997.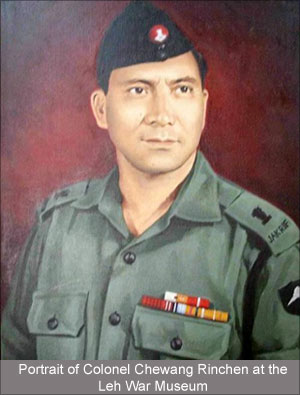 As a military commander, Colonel Rinchen always preferred to surprise the enemy and avoid any sort heavy fighting while acquiring maximum gains. As a local, he understood the tactical requirements of fighting in high altitude conditions and extreme cold. For example, he would replace steel helmets for monkey caps, standard-issue army boots for traditional Ladakhi 'pabos' (footwear) which were lighter and warmer, and water bottles filled with a mix of rum and water to prevent it from freezing at high altitudes. Travelling light is a prerequisite for battle on this high-altitude terrain.
Read also: From Monk to Statesman: Here Is a Remarkable Indian You May Not Have Heard Of!
His methods and battle tactics were unconventional, as detailed in this brilliant tribute by Claude Arpi, a French historian and journalist. Unconventional, but ideally suited for geographical conditions and the requirements of battle.
Irrespective of the faith followed by communities living near the border, Colonel Rinchen always believed that cooperation with local civilians was critical. He knew that the lives of his troops depended on local civilians. There is a memorable anecdote about the moment his troops had captured the village of Turtuk, which was earlier in the hands of Pakistan.
Fearing the presence of Indian soldiers, the women and children of this predominantly Muslim village were hiding away in a nullah nearby. In his tribute to Colonel Rinchen, Claude Arpi recounts what he said to the village elders, assuring them that nothing untoward would happen.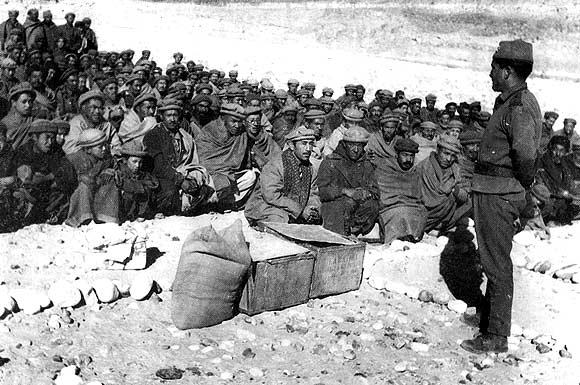 "We welcome you again to the Indian nation after 23 years. Bring back your womenfolk and children. They are like our mothers and sisters. I will be responsible for their safety, if there is any misbehaviour on the part of any soldier or civilian who has come with us, I shall take disciplinary action against the person who misbehaves. I want you all to settle down as free citizens of India where people of different religions live and work together in peace and harmony," Rinchen said.
There is also a memorial Stupa dedicated to him in Leh, among other structures of remembrance. However, it will require more than a book or Stupa to capture the legacy of Colonel Rinchen. His story remains an inspiration to many young Ladakhis looking to serve their nation even today.
Like this story? Or have something to share? Write to us: contact@thebetterindia.com, or connect with us on Facebook and Twitter.
NEW: Click here to get positive news on WhatsApp!
We bring stories straight from the heart of India, to inspire millions and create a wave of impact. Our positive movement is growing bigger everyday, and we would love for you to join it.
Please contribute whatever you can, every little penny helps our team in bringing you more stories that support dreams and spread hope.