Developed by the Defence Institute of High Altitude Research (DIHAR). these eco-friendly subterranean vaults have increased the income of the village farmers!
Ladakh is at the Ground Zero of humanity's battle against climate change. The explosion in the tourism sector, allied with the rising inflow of vehicles, has not merely brought prosperity for many families but has also accentuated the scourge of climate change in the region, especially in the Leh district.
For the region, the results of climate change present a rather grim picture—significant shortfalls of snow, rising temperatures and glaciers melting at a faster pace. With an average altitude above 10,000 feet above sea level, these developments have resulted in serious problems.
Considering that nearly 80% of all local farmers depend on glacier water for irrigation, and annual precipitation does not exceed 100 mm since the towering mountains block most rainfall; climate change poses a significant threat to their basic survival. With Ladakh getting hotter every passing year (temperatures regularly rise above the 30 degrees Celsius mark in the summer), even storing the limited produce farmers harvest on their fields has become problematic.
However, the tiny village of Nang, which is nearly 40 km from the main administrative centre of Leh, has found a way for local farmers to address these concerns. Situated at an altitude of 12,400 feet above sea level, the village is spread across 300 acres and has a population of less than 400.
Farming and livestock rearing are the primary sources of economic sustenance for most villagers. Unlike many parts of India, farmers here have a very short window to grow their crops. Cultivation begins in April, and the crops are harvested by late September-October in most cases.
Also Read: Solar-Heated Mud Huts? Sonam Wangchuk's New Innovation for the Indian Army!
As stated earlier, climate change has hurt not just the economic prospects of these farmers, but also posed a serious threat to their survival since a fair share of the produce is stored over the harsh winter where temperatures fall below -15 degrees Celsius.
To address the problem of receding glaciers, villagers turned to man-made glaciers (popularly known as ice stupas) in the upper reaches of Nang, first developed by 82-year-old Chewang Norphel, who received the Padma Shri in 2015 for his work in creating artificial glaciers. Similar initiatives were also started by Sonam Wangchuk and his educational institution, SECMOL.
For storage, however, the village has turned to vegetable cellars developed by the Defence Institute of High Altitude Research (DIHAR), which do not require any fossil fuels. These eco-friendly cellars have resulted in better incomes for farmers and ensured their survival through the winters.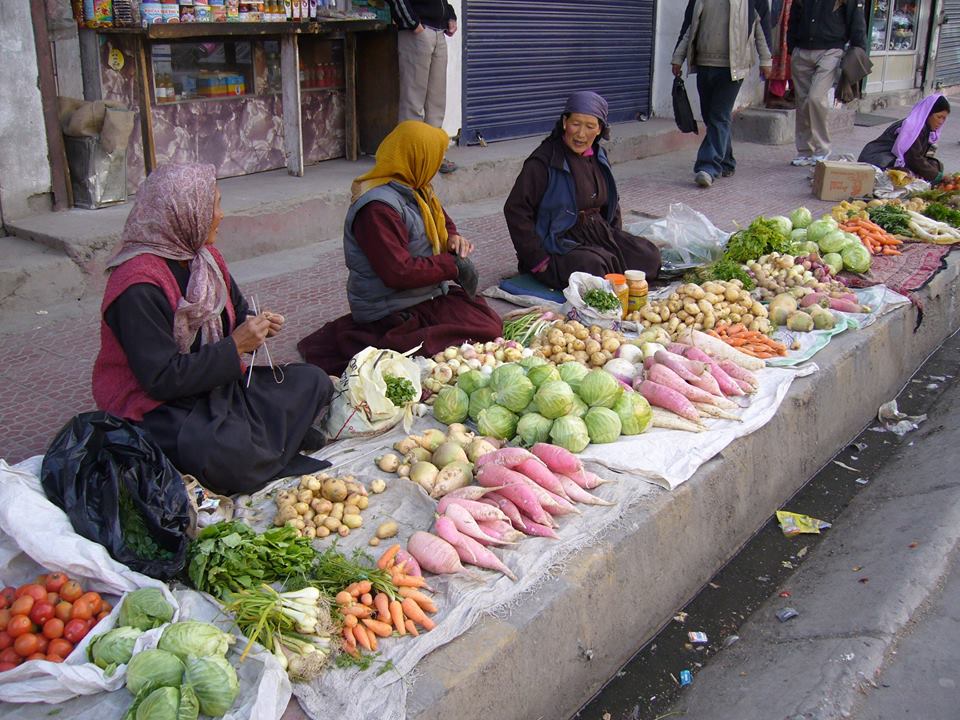 Earlier, farmers would store surplus produce in underground pits, but extreme temperatures have rendered many crops, particularly potatoes, unfit for consumption. Thanks to these eco-friendly vegetable cellars or "hibernation hubs" made up of sticks, hay, and mud, farmers have even stored other root crops like cabbage, spring onions, turnip and radishes.
These room-like structures, which mitigate humidity levels to prevent crop decay, are constructed six feet below the ground and two feet above.
Also Read: How an IAS Initiative Is Weaving Pashmina's Profits Back to Ladakhi Women
"Sacks of vegetables, particularly potatoes, are stacked on the elevated cellar floor, around which water is filled. The cellars are air-locked to delay sprouting, thereby ensuring a better quality of potatoes. The added advantage is that no energy or electricity is required to sustain the life of farm produce inside these cellars and maintenance cost is negligible. Each cellar can accommodate 100 bags," says this explainer by N Shiva Kumar for The Hindu Business Line.
Villagers now want these cellars constructed across the entire village to serve all households.
(Edited by Gayatri Mishra)
Like this story? Or have something to share? Write to us: contact@thebetterindia.com, or connect with us on Facebook and Twitter.
NEW: Click here to get positive news on WhatsApp!