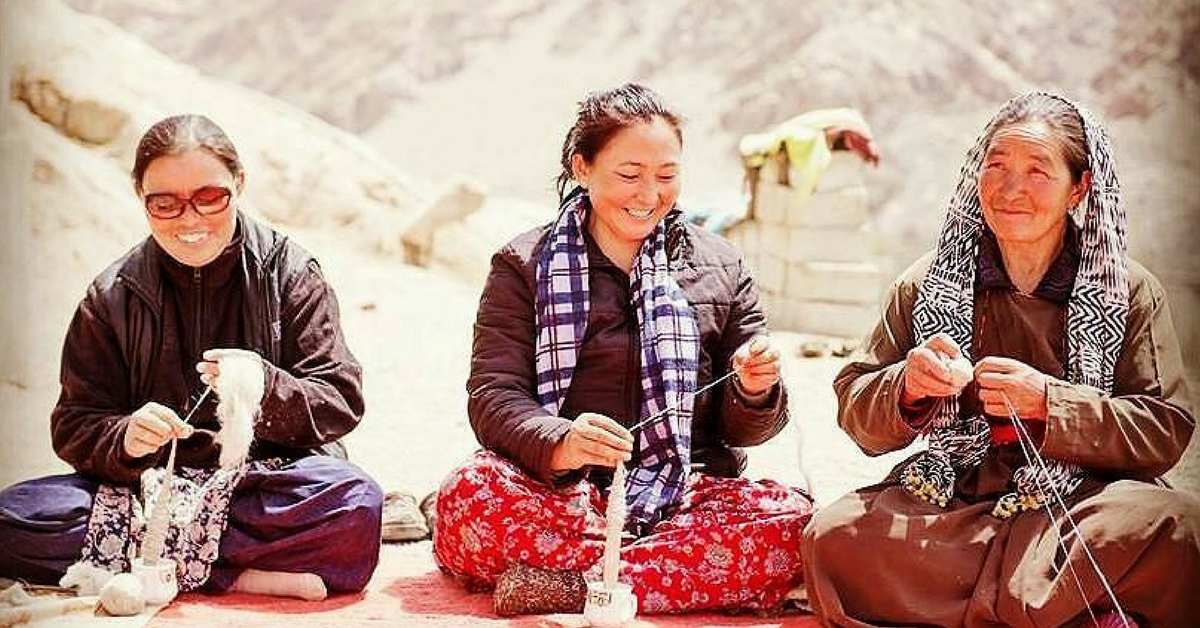 Started by an IAS officer and his wife, the Looms of Ladakh initiative is the first such local effort.
Pashmina, the fine woollen fabric popularly known Cashmere, is deeply interwoven with the history of Ladakh. Although it was Kashmir that brought the West's attention to Pashmina (the Persian word for 'pashm' meaning finest wool fibre), the raw material came from goats that graze in the high pastures of the Changthang region spread across east-southeast Ladakh and Western Tibet.
In this high-altitude region, the Changpas are an agro-pastoralist community which traditionally herd livestock, including the famous pashmina goat. Changthang is the source of some of the finest pashmina in the world with a fibre thickness of 12-15 microns.
Project Laksal, envisioned by G Prasanna Ramaswamy, the deputy commissioner (DC) of Leh from September 2015 to September 2017, and his wife Abhilasha Bahuguna, works towards training unemployed women artisans from Ladakh to make finished knitted and woven woollen products.
Alongside a dedicated unit of locals, their efforts at project strategy, capacity building and developing partnerships gave birth to Looms of Ladakh women's cooperative, which now sells these products for a living. Speaking to The Better India, Abhilasha Bahuguna who takes care of Project Strategy and Brand Development, talked about the origins of this initiative.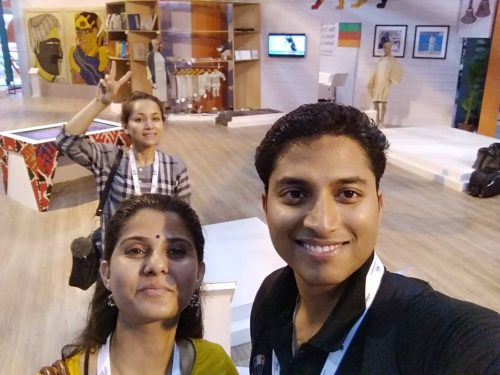 "The idea struck my husband in December 2015 during one his district tours to Chumur, a border village in the Changthang region. At Chumur, he received a beautiful pair of local socks knitted by members of the local Ama Tsogpas (mother's collective) as a gift. This chance encounter spawned an idea. He wanted to establish proper backward and forward linkages, which could allow these women to leverage their innate traditional skills for better livelihood prospects. Not only does this initiative seeks to enhance livelihood opportunities, but also foster the creation of an identity for a region with its traditional crafts and textiles," says Bahuguna.
Prasanna, meanwhile, speaks of a deeper socio-economic basis for this initiative. It is well documented that the there is a great deal of migration from the countryside to urban settlements like Leh.
"Migration is a serious concern for two reasons. We might end up losing a unique way of life. Also, these communities stand as sentinels of our borders with China," he said. "The objective here is to ensure that they do not have to leave their villages in search of work".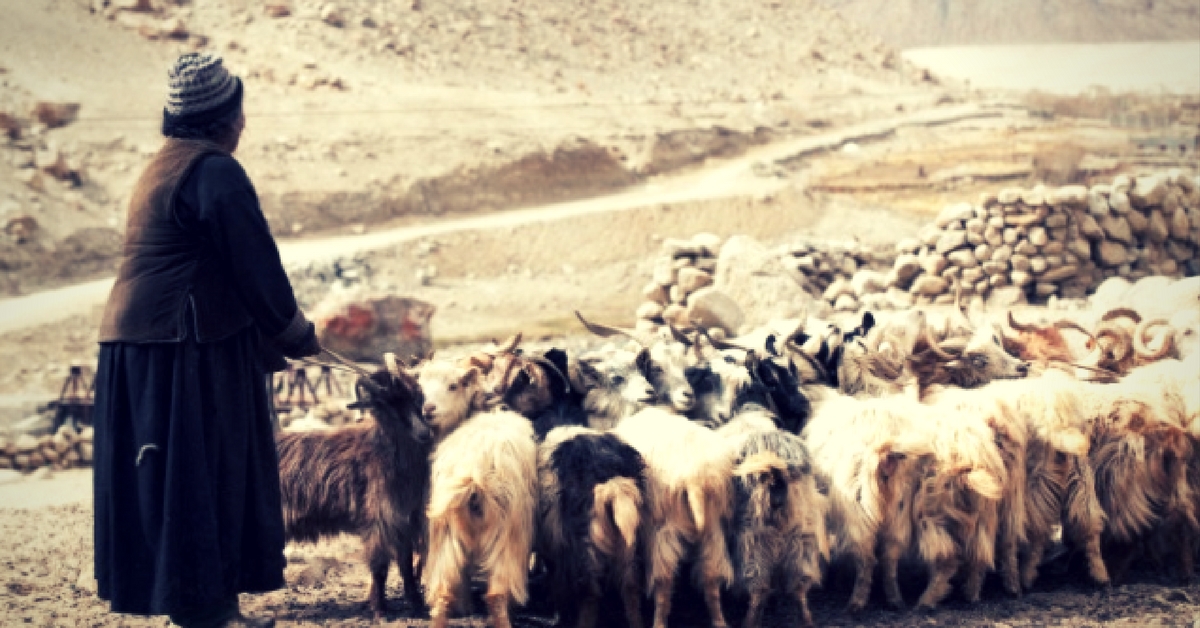 Most of the 450 quintals of untreated pashmina that is produced every year in Leh is sold to traders in Kashmir and other parts of the world, where they are converted into finished articles like shawls. With most of the value in pashmina locked higher up in the supply chain, the region has not enjoyed any real economic benefits. Project Laskar and the establishment of Looms of Ladakh is the first such local effort towards converting available raw materials into finished products.
"One goat produces 250 g of raw material per year. The earnings of a nomad after rearing the goat throughout the year is negligible. A shawl made from 75-100g can fetch more than Rs 15,000 in the market. So, we are trying to add value to the raw material in Ladakh itself. This year, these women were able to convert eight quintals of raw material into finished products. By next year they will be able to add value to 20 quintals of Pashmina," says Dr Tundup Namgyal, the nodal officer appointed by DC Prasanna to implement Project Laksar, until its evolution into the Looms of Ladakh.
The cost of Pashm after dehairing (the process of getting rid of impurities like excess fibre) was Rs 7600 per kg in 2016. In 2017 it was Rs 7000 per kg. In the international market, the price of pashmina is dependent on production in Mongolia, China and Ladakh, alongside global demand. There is little to no price stability.
"By adding value to the raw material available to them, pashmina growers can hedge against these fluctuations in the price of pashmina, thus benefitting 2000 nomadic households engaged in livestock rearing," Namgyal adds.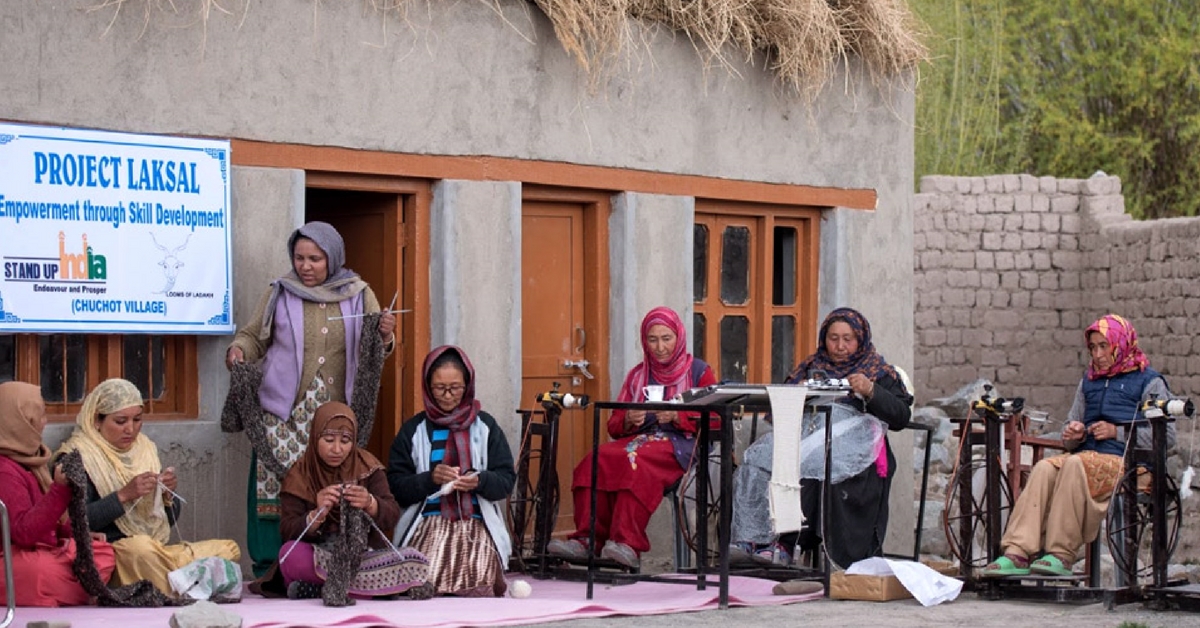 The planning behind Project Laksal began in July 2016, and by the following month, it had already entered its pilot testing stage in Stok and Kharnakling village, near Leh. The first phase of this project also saw these training exercises conducted in the villages of Chuchot, Phyang near the Leh area.
Through the winter of 2016/17, the project had entered its second phase, and these training exercises were extended to the villages of Chushul, Merak, Parma and Sato which are on the Chinese border. Aided by a dedicated unit of locals, government officials and design mentors Sonal Chanana and Stanzin Palmo, these women underwent extensive training. All eight villages with 150 women working in them have now become production units for Looms of Ladakh.
"Initially I gave them an orientation programme in which I made them understand the value of the raw material (pashmina), and their skill, which they initially used just to develop products for personal consumption with the excess inventory of pure wool products sold in the market at a cheap rate. Later, I made them understand the importance of design, size standardisation and finishing," says Stanzin Palmo, a design mentor from Leh who had recently graduated from NIFT-Delhi. She had conducted these training exercises for 40 women in and around the Leh area.
Read also: How Ladakhi Women Are Giving a Makeover to Centuries-Old Art Treasures
Through these training exercises, the local women realised the importance of branding. "I felt that if the products are sold under a brand with proper tags and labelling, it will enhance the appeal of their products and provide the necessary recognition for their hard work," adds Palmo. After her mentorship stint, she undertook the task of designing the logo. With the opening of their first store in the Leh main market on May 12, 2017, the Looms of Ladakh brand was born.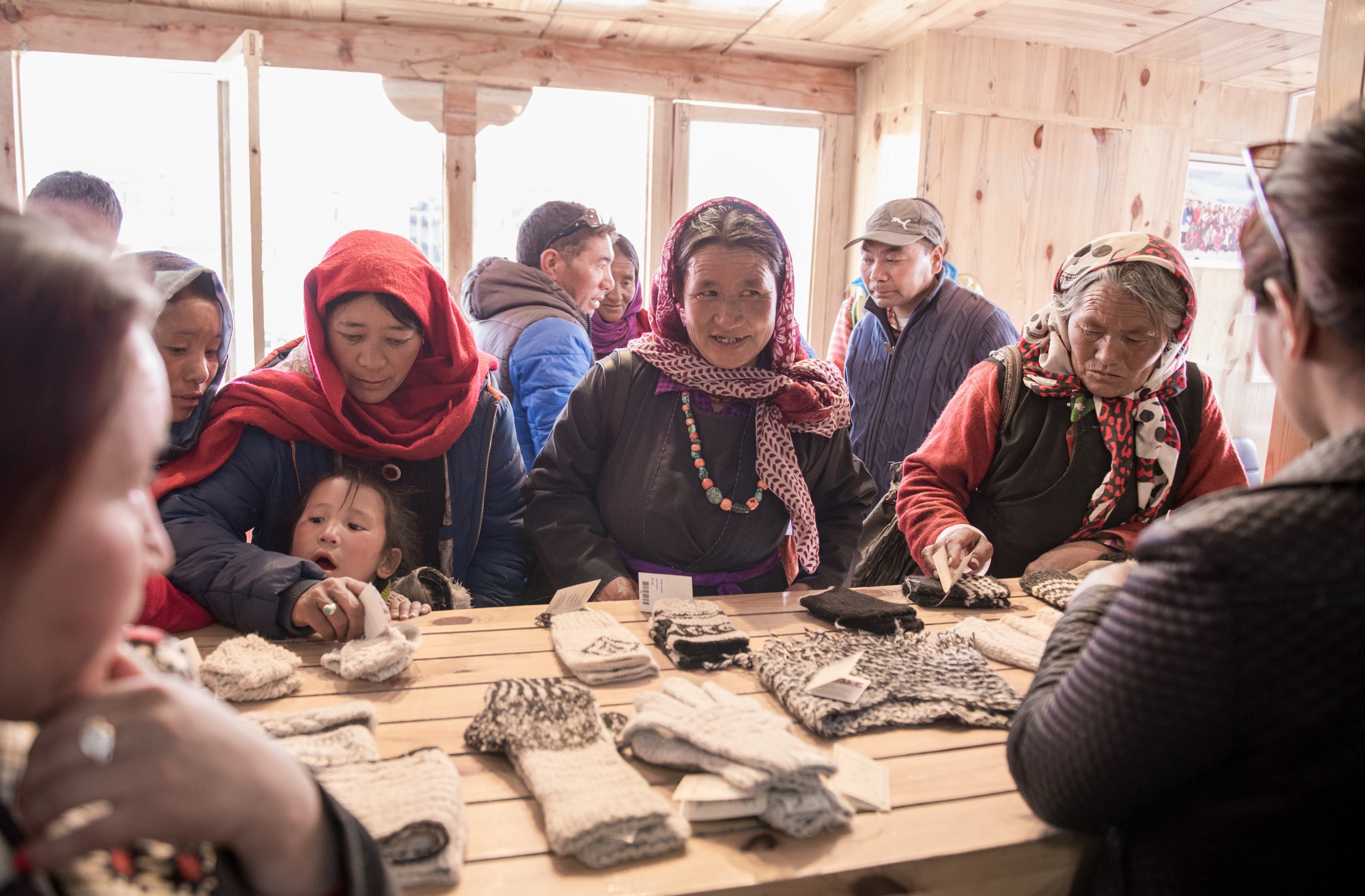 "Peer learning was a critical element behind reaching out to these women. Two women artisans who were trained in the first phase, were sent along with the design mentor Sonal to the Changthang region in the second phase so that the new trainees connect better with the vision," adds Bahuguna.
Tsering Youdol from Chushul (200 km away from Leh), a village located in the Changthang region, gives a first-hand account of the production process at the Looms of Ladakh unit there.
"Some of our group members have 70-80 pashmina goats, and some even have more than 100. So, we procure pashmina from them and other villages too. We also procure it from sheep department farms. We then take it for dehairing and distribute dehaired material to our members. Earlier we weren't aware of the value of Pashmina. At home, it used to lie here and there. Now we know its value," she said.
Looms of Ladakh has found success in showcasing and selling their unique wool fibre at the Theme India Pavilion of Textile India Fair in Gandhinagar in June 2017. Local Ladakhi women from the cooperative have also sold products at Dastkaar design fairs in national capital through the winters of 2016-2017. They will now venture towards the Mahalaxmi SARAS Mela in Mumbai.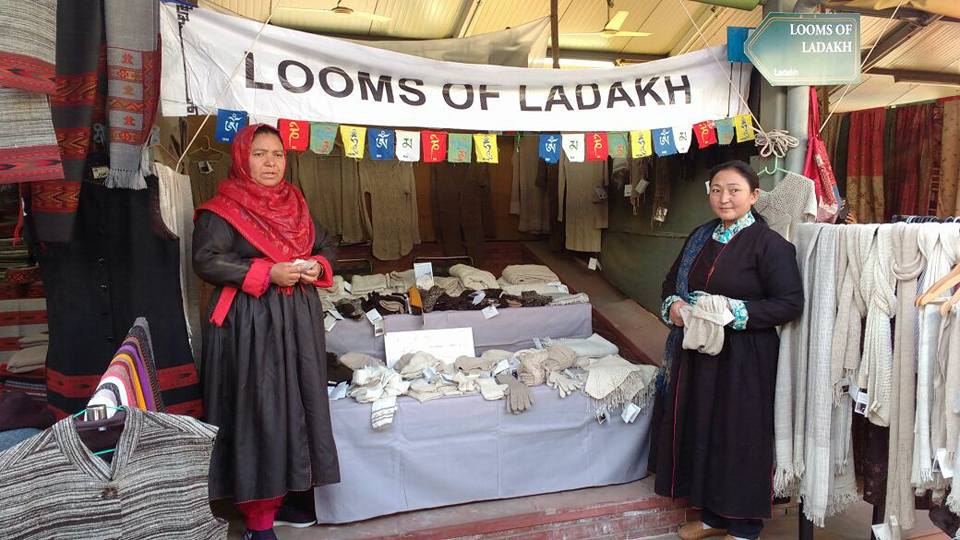 The cooperative is working towards entering the e-commerce sphere, but logistics remains an issue with the region hampered by inefficient shipping services. From the inauguration of the flagship store on May 12, 2017, to October 2017, Looms of Ladakh has seen sales worth Rs 23 lakh, but this is less compared to overall demand because the production process was not entirely planned.
Training was more focused on product innovation and skill development. Since the establishment of Looms of Ladakh, the women receive 37.5% from each product sold. Each product is barcoded to identify the sale of different producer groups and the earnings are distributed accordingly. 41% is kept with the cooperative to purchase raw material for the next production season, and the remaining sum is utilised for running the organisation, paying utility bills, marketing material, accountant remuneration, and skill development needs, among other expenses.
Read also: When Tradition Triumphs Modernity: Ladakh's Dry Toilets
A percentage is also kept aside as a welfare fund, which member artisans can only use for health expenses and the educational needs of their children.
The success of this entire initiative goes to the convergence of resources and expertise from various quarters. Seed capital for Project Laksal came from the District Administration in Leh. The Ladakh Autonomous Hill Development Council (LAHDC) in Leh was supportive and delivered a revolving fund of Rs 15 lakhs to the cooperative in May 2017 at the launch of its flagship store.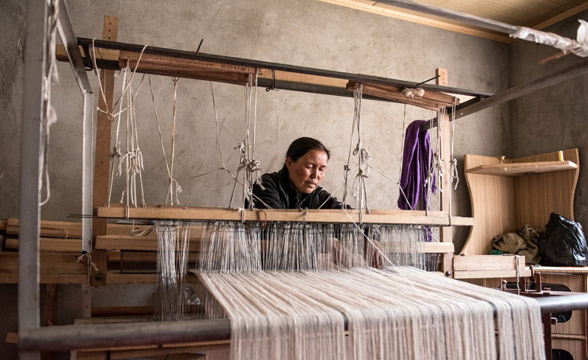 Funds amounting to Rs 3 lakh have also come from the CSR arm of the National Hydroelectric Power Corporation, besides their employees who delivered an additional Rs 1.5 lakh from their salaries. Office bearers of this cooperative, elected among the working women in this endeavour, were also trained in driving, considering the need to maintain contact between distant producer groups and the source of these raw materials. Individual experts in various fields of design, rural development, marketing have also come forward to build the organization. Local board members of this cooperative including Tatpar Joldan, Jigmet Namgyal, Phuntsog Toldhan, Jigmet Angmo, the office of Sheep Husbandry Department to name a few, have passionately supported the endeavour.
There is an attempt to institutionalise the effort, and the new Deputy Commissioner Avny Lavasa is playing an integral role in keeping the Looms of Ladakh ticking. In times of transition between one IAS officer to another, prior initiatives often take a back seat. This is not the case here.
There is a long way to go, but if this initiative succeeds, and complete ownership finally lands at the doorstep of these enterprising Ladakhi women, it may yet prove to be the most significant landmark in the region's return to economic independence after centuries of deprivation.
For further information on the organisational structure of Looms of Ladakh, click here.
You can follow them on Facebook and Twitter.
Like this story? Or have something to share? Write to us: contact@thebetterindia.com, or connect with us on Facebook and Twitter.
NEW: Click here to get positive news on WhatsApp!
We bring stories straight from the heart of India, to inspire millions and create a wave of impact. Our positive movement is growing bigger everyday, and we would love for you to join it.
Please contribute whatever you can, every little penny helps our team in bringing you more stories that support dreams and spread hope.
Tell Us More