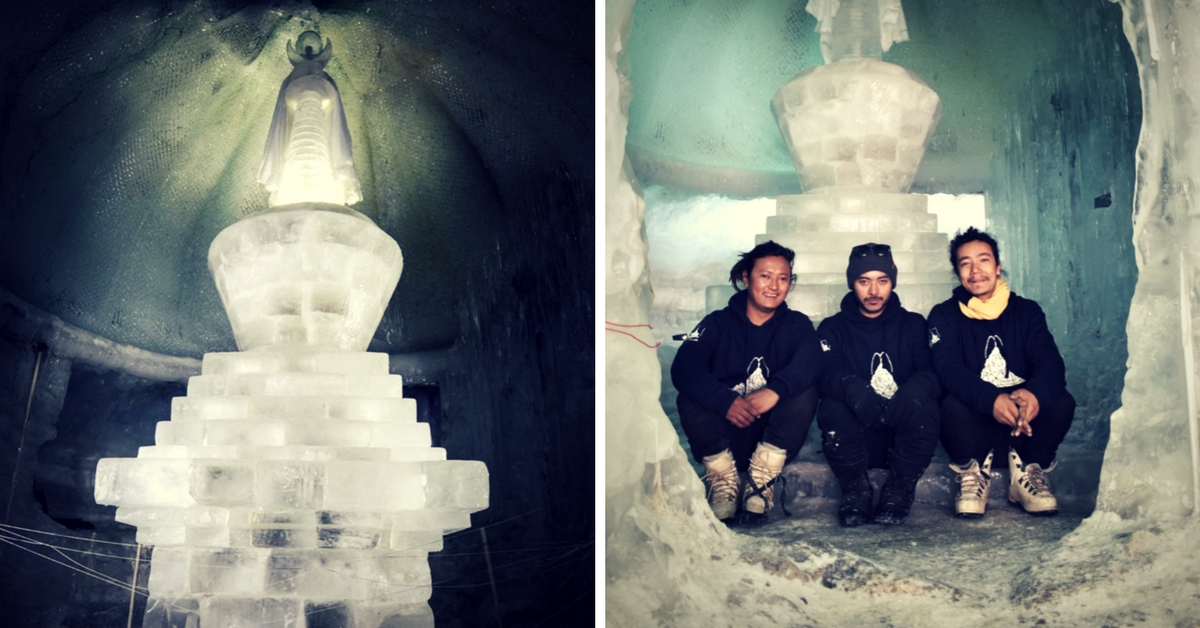 Awareness of impermanence and appreciation of our human potential will give us a sense of urgency that we must use every precious moment. – His Holiness The 14th Dalai Lama
Awareness of impermanence and appreciation of our human potential will give us a sense of urgency that we must use every precious moment. – His Holiness The 14th Dalai Lama
Ladakh is at the forefront of the battle against global warming. The people of this cold desert region, where the annual rainfall does not exceed 100mm, are acutely aware of its effects. A critical source of water in this region is the mountain glacier that melts through the spring and into the summer. Nearly 80% of all local farmers depend on glacial water for irrigation.
As a consequence of global warming, however, the region has witnessed a shortfall in snowfall. "A quick glimpse at the Customized Rainfall Information System (CRIS) of the Hydromet division of the India Meteorological Department (IMD) for Leh shows that between 2012 and 2016, snowfall in November for four out of five years showed 100% departure from long period averages for the district. For December, three out of five years show above 90% departure from long period averages for the district," writes Nivedita Khandekar, a journalist who has covered the region extensively.
Erratic snowfall and rising temperatures have resulted in receding glaciers, and the consequences for villages dependent on glacial water have been devastating with water shortage becoming the norm during the spring and summer season. It is from the cradle of crisis, where new and innovative ideas arise and take shape. Chewang Norphel, a retired civil engineer, first conceived and implemented the idea of artificial glaciers to address this concern. It was Sonam Wangchuk, an engineer and educator, who further developed, popularised and constructed what is now popularly known as 'ice stupa'—a 35 to 40-meter high structures which can store up to 16,000 cubic litres of water.
Here is a short explainer of how ice-stupas are constructed artificially. (Courtesy: Al Jazeera)
"The purpose of the artificial glacier is to conserve every drop of winter water—which otherwise goes to waste—and use it at springtime. Since it is at a lower altitude, it starts to melt earlier than a natural glacier. By April-May it begins to melt and supplements the existing source for crop sowing," says Tsering Tundup, a coordinator for Leh Nutrition Project.
In the past five years, the ice stupa initiative under the vision and guidance of Sonam Wangchuk has flourished with assistance from local villagers, young Ladakhis, enterprising school students, and international agencies. However, earlier this year, three young local artists came together and found a unique way to further enrich this initiative by constructing an ice-sculpted Changchup Chorten inside the Ice Stupa in Phyang village (approximately 15 km from Leh) with the twin aim of attracting winter tourism and generating a sustainable livelihood for local villagers.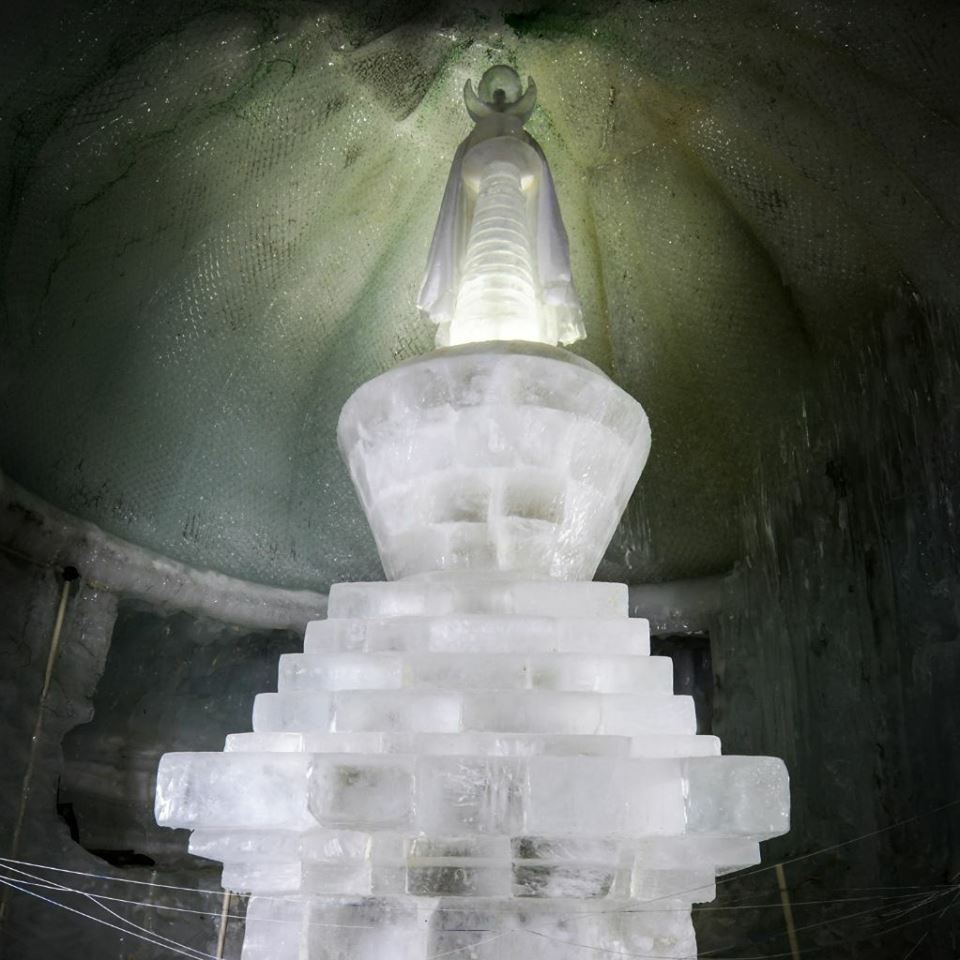 Traditionally, Chortens (Stupas), which grace the entry of every village, are made of white-washed stone and mud, tapering up to approximately 20 feet or so depending on the structure. "The whole structure represents the fundamentals of Buddhist teachings. A crescent moon cradling the sun at the very top symbolises the oneness of life, the cessation of duality, thus reminding passers-by that all things, even the sun and the moon, which seem so far apart, are inextricably related," writes Helena Norberg Hodge, a Swedish linguist, in Ancient Futures, her seminal book on Ladakh.
In this case, however, a team of three young Ladakhi artists in their mid to late 20s—Tsering Gurmet, Chemet Dorjay and Stanzin Khangsar—sculpted a 10-feet-high Changchup Chorten (symbolising the Buddha's moment on enlightenment) out of ice.
Creating art out of ice, this Chorten is steeped in Buddhist symbolism. After a meeting with Sonam Wangchuk, these artists, led by Tsering Gurmet, a master sculptor, began working on this Chorten in January 2018.
Over the course of 25 gruelling days, these artists worked through the harsh winter. The challenges of sculpting the Chorten were not merely limited to the weather, but working on ice, which all three were doing for the very first time. Although the temperature in the ice stupa was five degrees Celsius warmer than it was outside, these artists had their struggles with certain electronic gadgets not turning on because of the freezing temperature (-12 degrees Celsius).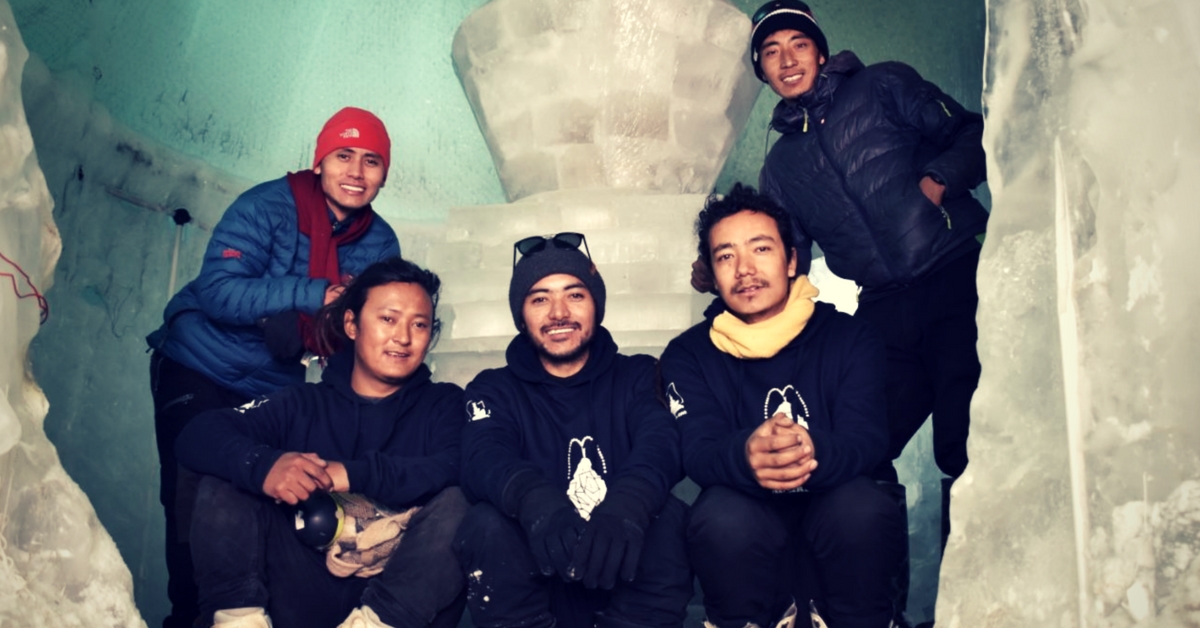 Growing up in Ladakh, children grow up attached to the snowy winter with thoughts directed to the formation of ice, which would then give them an opportunity to skate. Despite not working on ice before, Dorjay feels that ice is "our own medium which we can work upon to create art."
As their first composition on ice, Gurmet understood very early that if they sculpted something steeped in the modern art aesthetic, then Ladakhis would not quite understand. Since Stupas are an integral part of Ladakhi Buddhist heritage, they believed that sculpting one would not only grab Ladakhi eyeballs but also prove to be an easy medium for them to understand.
Read also: What You Probably Didn't Know About Ladakh's History With the Pashmina
"Art is for the community. It's what they think, how they react and express themselves. What I witnessed was amazement in the eyes of the people seeing an ice stupa inside another one for the first time. Moreover, the reaction of the local villagers was 'okay it's an ice stupa, but at the end, it's going to melt and benefit our farm and livestock'. I believe it is a piece of artwork which is both visually attractive and materially beneficial for the people," says Dorjay in this excellent YouTube clip published by Know Ladakh, a channel dedicated to imparting knowledge of local culture.
"We did a lot of experiment with tools like wood and stone carving, and we learned that for ice sculpture we need sharp tools," says Gurmet, speaking to The Better India. Although these artists have worked on stone before, they understood that ice is a very delicate substance. After much deliberation, they decided to work with "sharp tools and bought flat knives."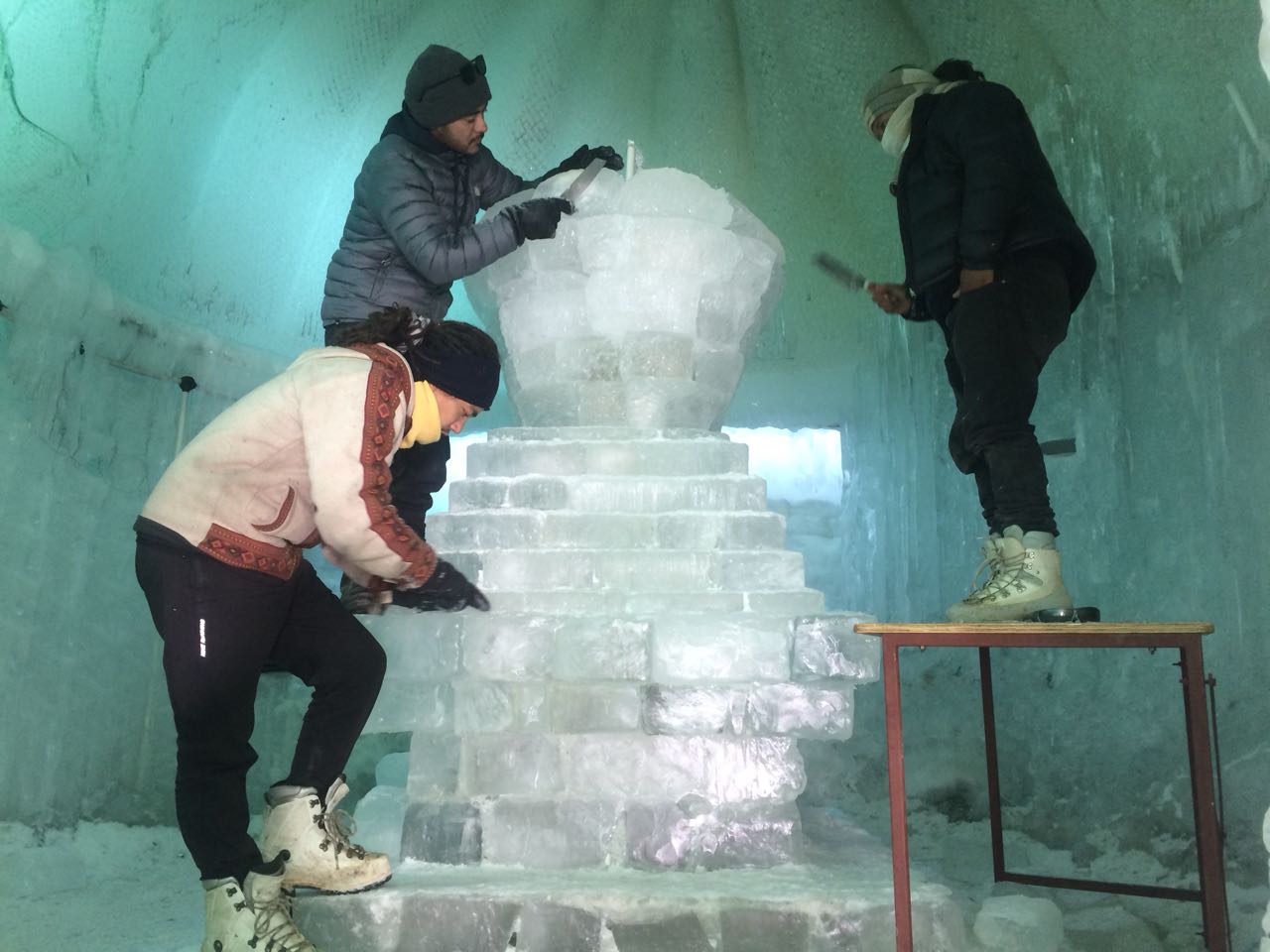 "In terms of modern art conceptualism, the Stupa is a very good composition of basic shapes. If we distribute basic shapes mathematically, then all things in the universe are composed of basic shapes (mountains-triangle and the earth-sphere.) Likewise, the Stupa is a strong composition of basic shapes like cylindrical and rectangle," says Gurmet.
At the site, these artists assemble ice blocks, which they argue is similar to working with cement blocks. The only major difference, they say, is the tools used to carve them out. Moreover, working under sub-zero temperatures, it becomes very easy to repair anything with a mixture of ice powder and water.
Read also: Snow Leopards Eat Their Cattle, but Ladakhi Villages Found a Unique Solution!
In the first week of February, the artists completed the Chorten. "This will create awareness among the people about the importance of preserving ice. In the future, we can also work on ice city like China. It's a good thing that they have begun. Younger generations will now have a greater interest in working with ice," argues one teacher from SECMOL, a school started by Sonam Wangchuk.
However, there is one question which continues to nag observers. Why invest so much love and labour into a structure that you know will melt away in the future? As argued earlier, this structure is steeped in Buddhist symbolism. The ice Chorten is the perfect embodiment of impermanence—that nothing lasts forever.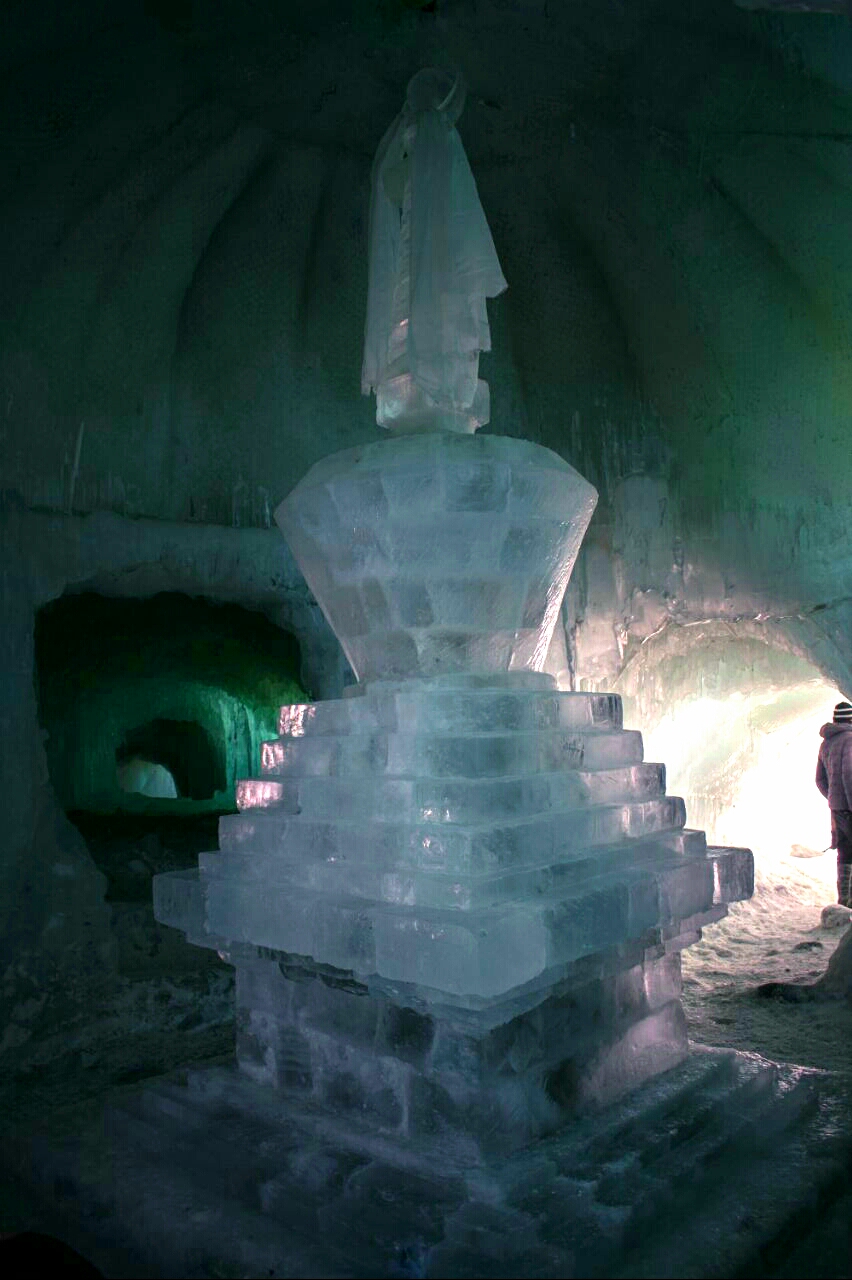 "They are carving it to tell the world that time is very precious and like ice, it melts away. It is a reminder to everyone that global warming is depleting our glaciers, and if we don't act soon, we will all suffer the consequences. What we must take away from this wonderful initiative is the urgent need to find alternative solutions for such environmental challenges," says one local observer.
Another significant aspect of this project is to promote winter tourism in these parts. With most of the tourist traffic restricted to the summer, the aim is to further the scope of winter tourism in Ladakh beyond the Chadar Lake trek in Zanskar Valley. After the construction of the Chorten, the aim now is to build hotel rooms and art galleries using ice.
Read also: After Ice-Stupa, This Ladakhi Innovator Seeks to Revolutionise Higher Education
"After trying their (the three artists mentioned above) hands on this stupa, HIAL alternative university sent them to Kiruna near the arctic circle in Sweden to learn the art of creating Ice Hotels (entire hotel is made out of snow and ice blocks). We aim to usher in winter tourism in the Phyang Valley in the coming years," said this recent Facebook post by Sonam Wangchuk.
On their return to India on March 20, Gurmet spoke of the team's experience. "When we were working on the Ice Stupa, most of our time went in experimenting. During our trip to Sweden, we came across different techniques and better tools that could be employed on ice. It was a wonderful learning experience for all of us," says Gurmet.
In times of crisis, those with a spark of ingenuity find innovative solutions, and with this Ice Chorten, these three artists may have potentially paved the way for the future.
Like this story? Or have something to share? Write to us: contact@thebetterindia.com, or connect with us on Facebook and Twitter.
NEW: Click here to get positive news on WhatsApp!
We bring stories straight from the heart of India, to inspire millions and create a wave of impact. Our positive movement is growing bigger everyday, and we would love for you to join it.
Please contribute whatever you can, every little penny helps our team in bringing you more stories that support dreams and spread hope.