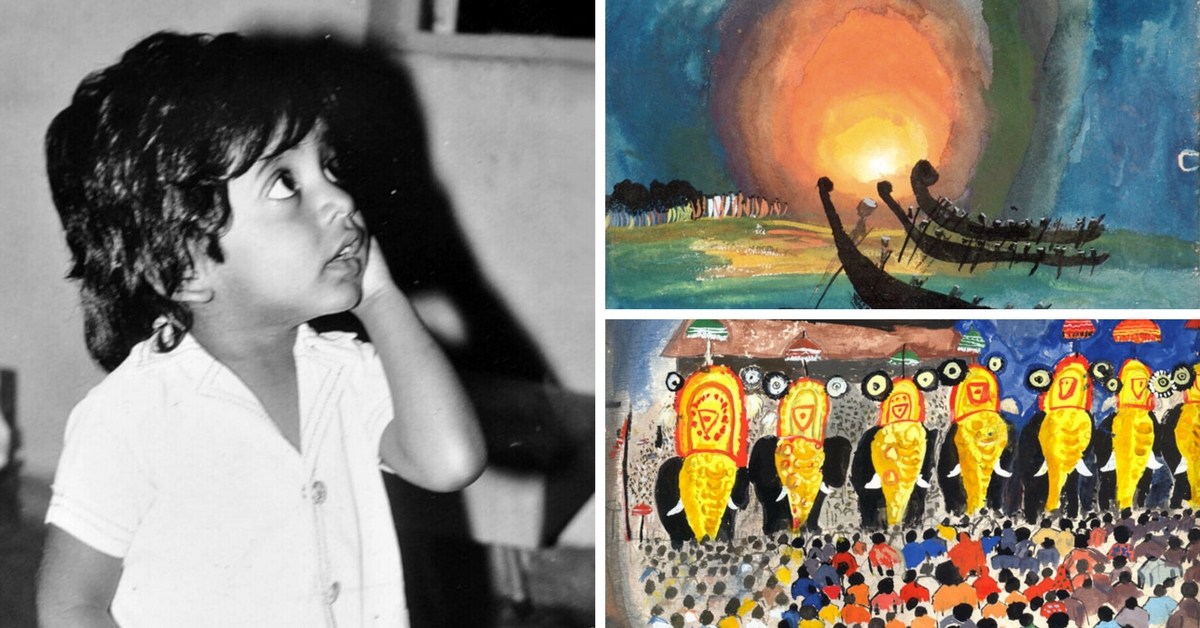 Born to Kochi residents, Mullaparambil Thomas Joseph and Chinnamma Joseph in 1976, Clint was named after the legendary actor and filmmaker, Clint Eastwood.
When it comes to child prodigies, India has its own share of extraordinary talents to boast about.
From mathematical geniuses to musical virtuosos, these children have stunned the world with their prodigious skills.
What is even more astounding is the tender age at which they showcase such dexterous abilities, which normally requires years of training and experience for an adult.
One such child prodigy was Edmund Thomas Clint, who continues to remain an enigma for artists and art lovers across the world and has mesmerised generations with his remarkable artistic integrity.
In a brief lifetime of just seven years, he left behind a legacy of more than 25,000 artworks.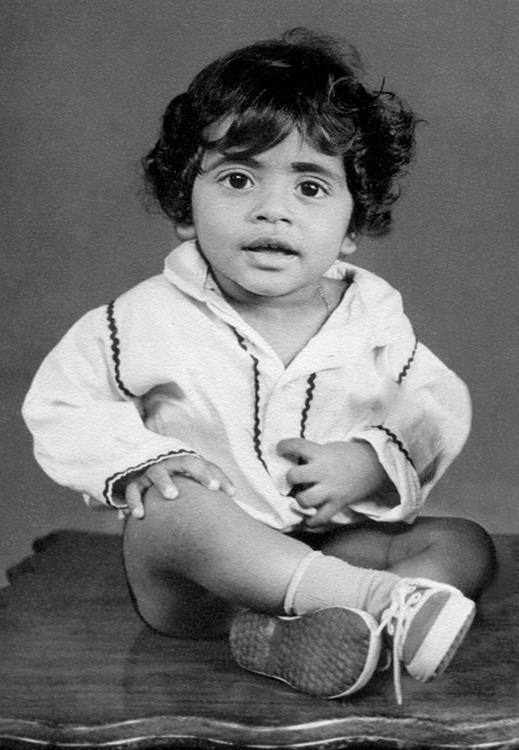 Born to Kochi residents, Mullaparambil Thomas Joseph and Chinnamma Joseph in 1976, Clint was named after the legendary actor and filmmaker, Clint Eastwood, for his father's obsession with cowboy films.
With a frail frame and cherubic face, the boy grew up listening to stories and parables from the Bible and Hindu mythology by his father whom he lovingly called, Papu and about the wonders of nature from his mother, a natural sciences lover. One can find many of Clint's later paintings showcasing various characters from these very tales.
In fact, the first drawing that Clint ever made was that of a perfect circle with a chalk piece on the floor of their living room—even before he turned one!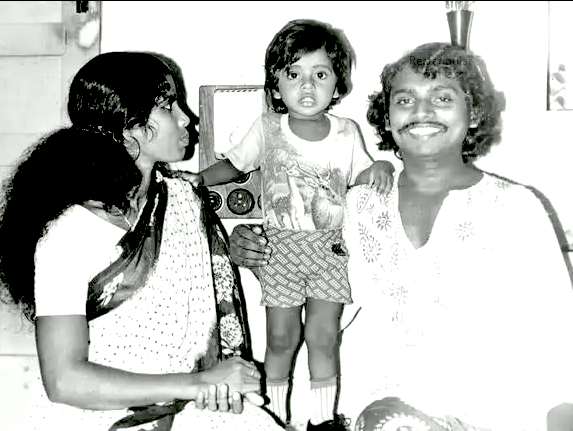 This, they say, was probably inspired by Joseph's artist friend G Mohanan, who used to frequent their home and often paint in the presence of the toddler. An age where most children refuse to remain idle and have limited attention spans, Clint, on the contrary, would watch the artist's strokes of paint taking form with undivided attention.
Being the only son, his parents dotted on Clint and got multi-coloured chalks for the little one to scribble his heart's content. But spending too much time amidst chalk dust proved unhealthy and made Clint's tiny body swell up.
Not wanting to deter his child's urge to draw, Joseph got his son a set of crayons. By then, Clint had found a new canvas—their walls!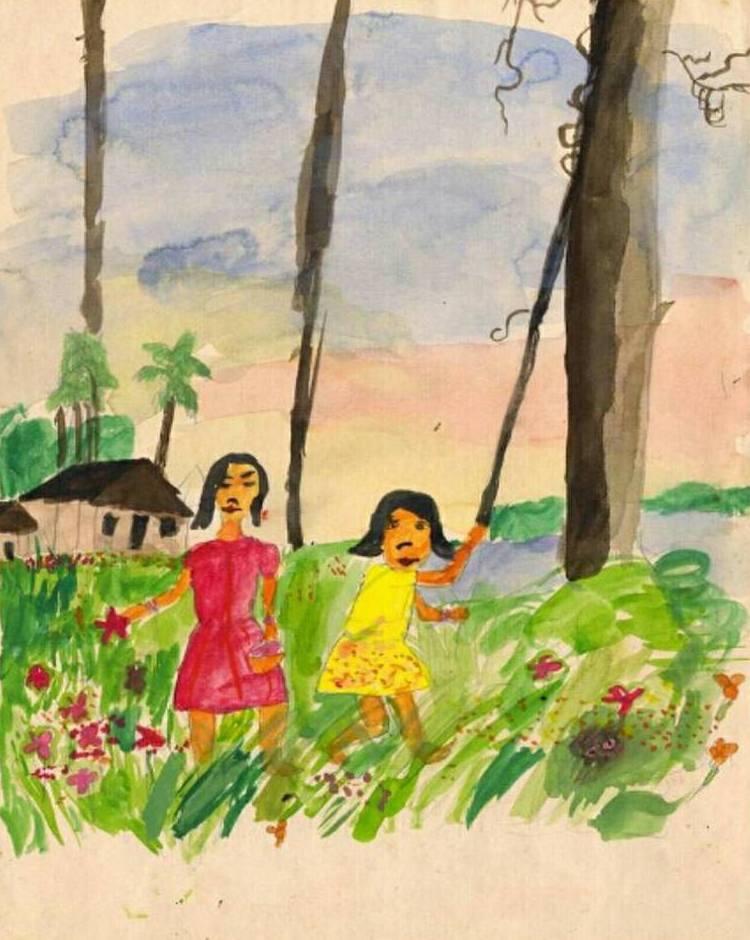 Drawing everywhere the tiny fingers could reach, a time came when the walls had no space left to hold the boy's doodles. Joseph countered that by bringing 5,000 carton boxes, which Clint finished in a span of three months.
Despite being a struggling accountant at the time, Joseph did everything in his capacity for Clint to chase his artistic calling. With every outstation business trip he took, he would spend hours hunting for art supplies in those cities' factory outlets and tiny shops.
By then, most of his drawings comprised simple line drawings but reflected the daily facets of life with such pensive observation on the creator's part.
Many of his animal sketches had such anatomical precision that would have taken years for an art student to imbue and perfect.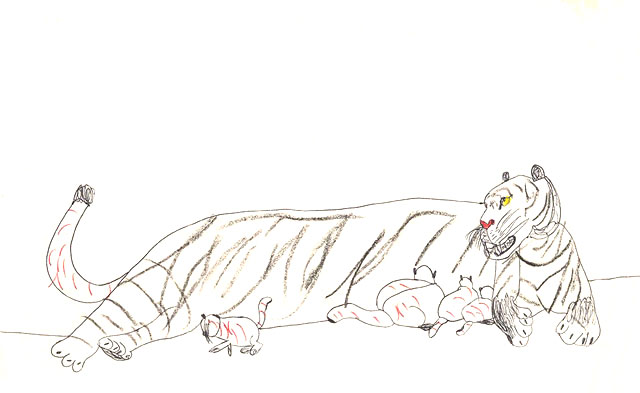 Though Joseph and Chinnamma encouraged Clint's talent, they were yet to recognise the underlying genius within their son.
It was Mohanan who realised that with better art supplies and an assistive environment, Clint could become a fine or probably an extraordinary artist. "Let him draw what he wants. He has something to say," he had suggested.
On being requested by Joseph to mentor his son, Mohanan felt that he was unqualified to guide someone as prolific as Clint, for art was in every pulse of his being. Nevertheless, Clint looked up to Mohanan and considered him as Guru.
And thus began a journey for the little maestro of whose artistic progression no one had foreseen, even in their dreams.
Some days would come along with an outburst of ideas that would see the earnest artist draw as many as 100 drawings in a single day!
Shortly after turning three, Clint had a near tryst with death. Diagnosed with a debilitating kidney disease, his little body was put through a painful trial that resulted in a ballooned up belly and swollen limbs. Despite perpetual exhaustion, Clint continued to create art relentlessly and often dealt with themes as deep and dense as death, solitude, and love.
When almost every doctor Joseph and Chinamma consulted, had signed off Clint's condition as a lost cause, it was Dr Joseph Abraham, a famous homoeopathic doctor who quite literally brought Clint back from the ghastly clutches of death.
Replete with good health, the next two years for the little boy saw no restraints in capturing his expressions of creativity. Around the same time, he began school and soon became an ethereal wonder in the eyes of students and teachers alike for his unbelievable talent.
His moment of fame that made him a sensation in the state was when he bagged the first prize in a painting competition for artists under 18 years of age!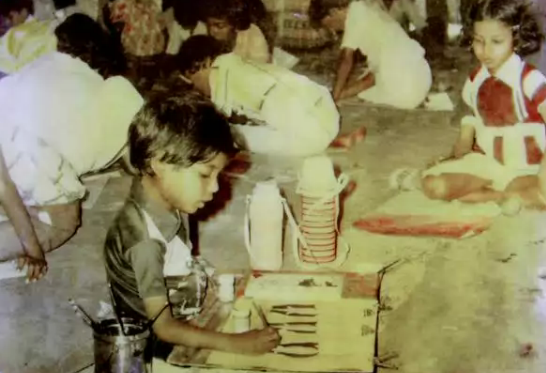 It was with this competition, that a 5-year-old Clint made his debut with watercolours and found his niche.
However, the little boy was unperturbed by the awards and recognition that he was garnering and rather displayed an elevated level of maturity for his age—in art and in life. Posing complex questions like 'Where do we come from? Where do we go when we die? And why do we die?', he often left his parents dumbstruck and struggling for words.
Some of his best works emerged during this time. From vivid landscapes to the elephant processions of Thrissur Pooram, he tried capturing the world as a kaleidoscope of events that are often ignored by others.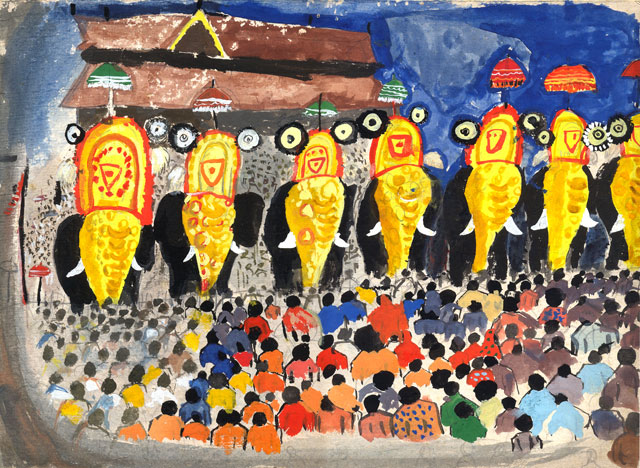 Unfortunately, a month short of his seventh birthday, Clint bade goodbye to his earthly commitments. The kidney disorder had crawled its way back into his system and this time proved to be fatal. What had started as a brief illness transformed into a coma from which Clint never woke up.
But the little boy seemed to be prophetic about his end. Moments before he slipped into the stupor, he told Chinnamma, "It's nothing, mummy… I might suddenly fall asleep. I might not wake up when you call me… I am just sleeping. Please don't be sad, mummy… Please don't cry."
Clint passed away on Vishu, the Malayalam New Year in 1983, leaving behind a treasure trove of artworks that continues to allude generations of art lovers.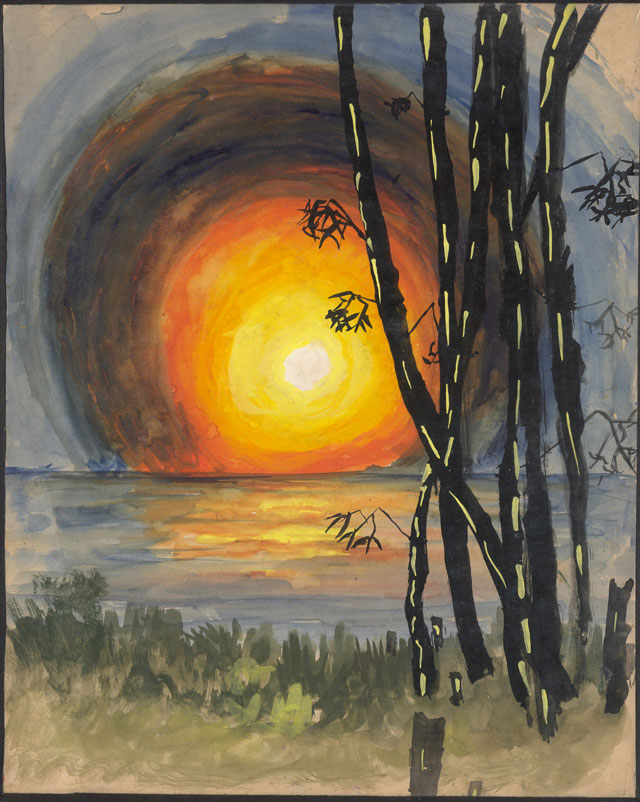 As a tribute to the young master, Kerala Tourism department organises a painting competition inviting budding artists across the world every year.
Also, the people of Kochi could never grapple with the fact that their child prodigy had made an untimely departure. In his memory, they named a road after Clint in Perumanoor, Kochi.
The story behind Clint's last completed painting is even stranger than one could imagine.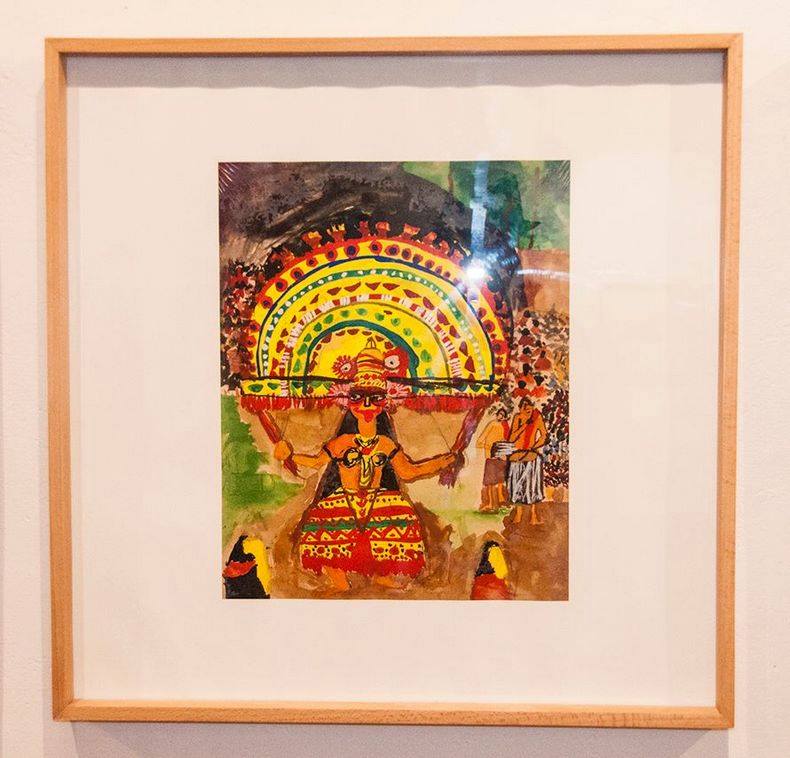 Folklores and ritualistic dances are an essential part of Kerala's culture and nothing seemed to enthral Clint more.
On the way back home after a painting competition, Clint, along with Joseph, happened to witness a Theyyam performance for the first time. Featuring Muchilottu Bhagavathy, who is the universal mother, the performance swept the little one away with the divine fervour it exuded.
Two months later, the universal mother danced her way into Clint's canvas, completed to perfection and remains to be one of his best works.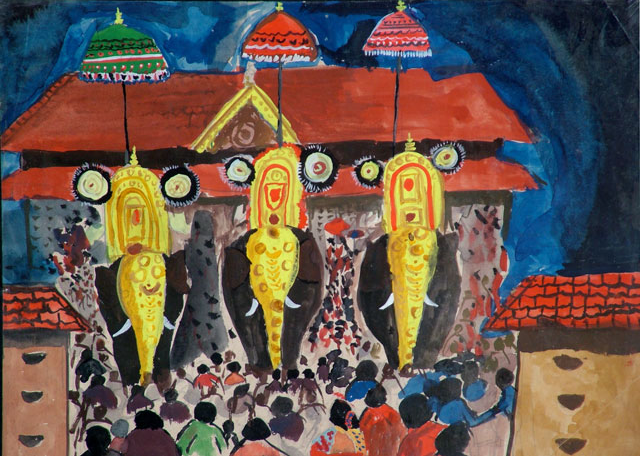 It was only many years later that his parents realised that events looming around the painting—coming across the deity and Clint subsequently giving shades to the universal mother, all were pointing to the inevitable fate of their little one.
During one of the exhibitions of Clint's pictures in Thiruvananthapuram, they found a group of Theyyam performers and makeup artists amidst the crowd. Keen to know about the deity in Clint's picture, they inquire with this troupe of performers, whose answer is something they would never forget.
"The painting displayed here is the Theyyam of Muchilottu Bhagavathy. When we perform the elaborate process of Theyyam makeup, we deliberately leave it unfinished. We fear that if the makeup is complete, the artist will die soon. This Theyyam is absolutely complete and perfect", one of the makeup artists said.
The brief time that Clint spent on Earth lays testimony to the quote, "It is not how long you live, it is how you live that matters".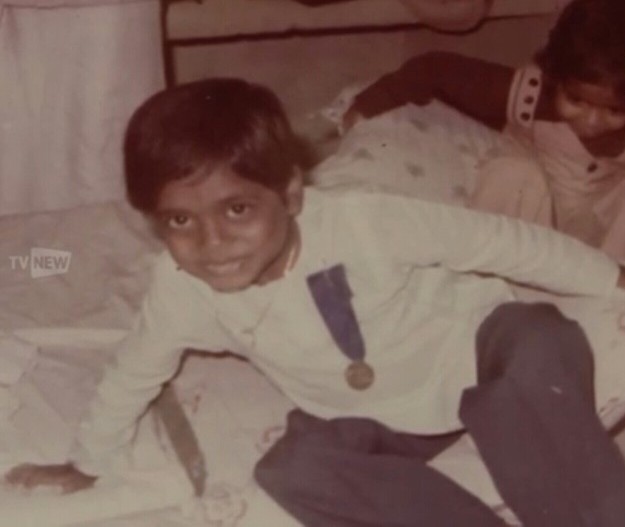 And Clint lives on, defeating death through his art.
To read about the life of Clint more extensively, you can check out Ammu Nair's A Brief Hour of Beauty. The quotes used here are referred from this book.
Like this story? Or have something to share?
Write to us: contact@thebetterindia.com
Connect with us on Facebook and Twitter.
NEW: Click here to get positive news on WhatsApp!
We bring stories straight from the heart of India, to inspire millions and create a wave of impact. Our positive movement is growing bigger everyday, and we would love for you to join it.
Please contribute whatever you can, every little penny helps our team in bringing you more stories that support dreams and spread hope.