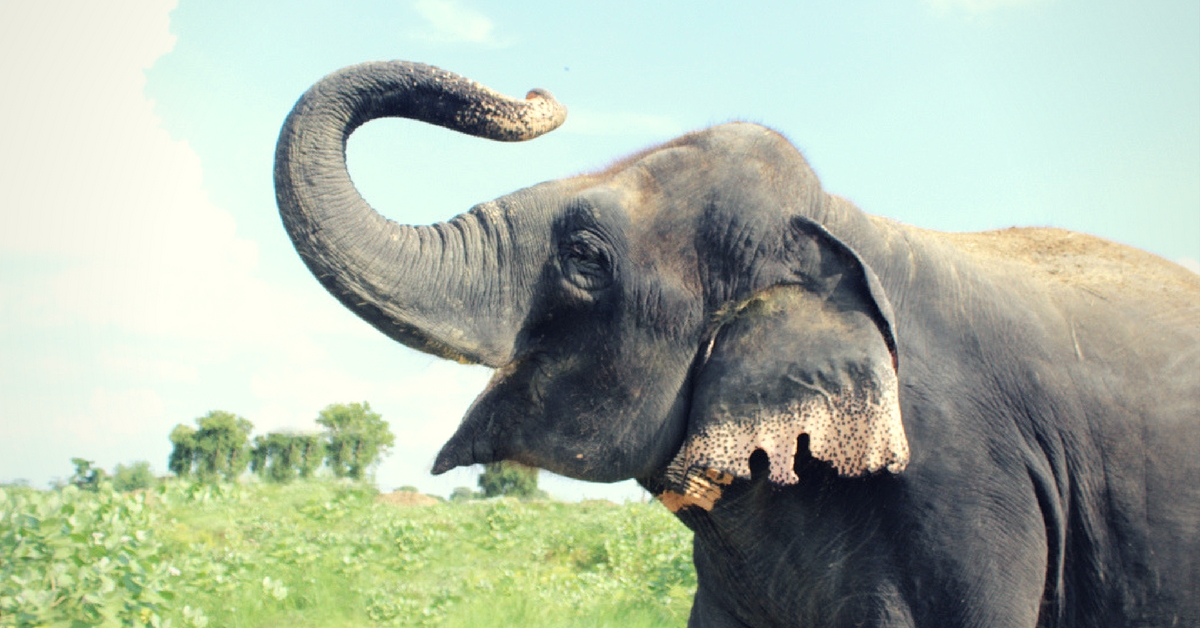 Revered in Indian mythology and culture, it is quite ironic to see the same animals being treated with violence and abuse in captivity.
As we celebrate World Elephant Day, in honour of these majestic creatures that walk this earth, it is important that we spread a conscious message as part of wildlife rescue and rehabilitation NGO Wildlife SOS's efforts to protect and conserve elephants.
Asian elephants as well as their African counterparts are under constant threat of poaching, habitat loss, man-animal conflicts, abuse and ill-treatment in captivity. This incessant exploitation of this species has long since put them under the "Endangered" category on the IUCN Red Data List of threatened species. Home to nearly 60% of the world's elephant population, India is plagued with a lack of public awareness and education which is leading to the persistent enslavement of these magnificent animals for manual labour, performances, processions, entertainment and street begging.
Today, nearly 3,500 elephants continue to be held in captivity. Revered in Indian mythology and culture, it is quite ironic to see the same animals being treated with violence and abuse in captivity.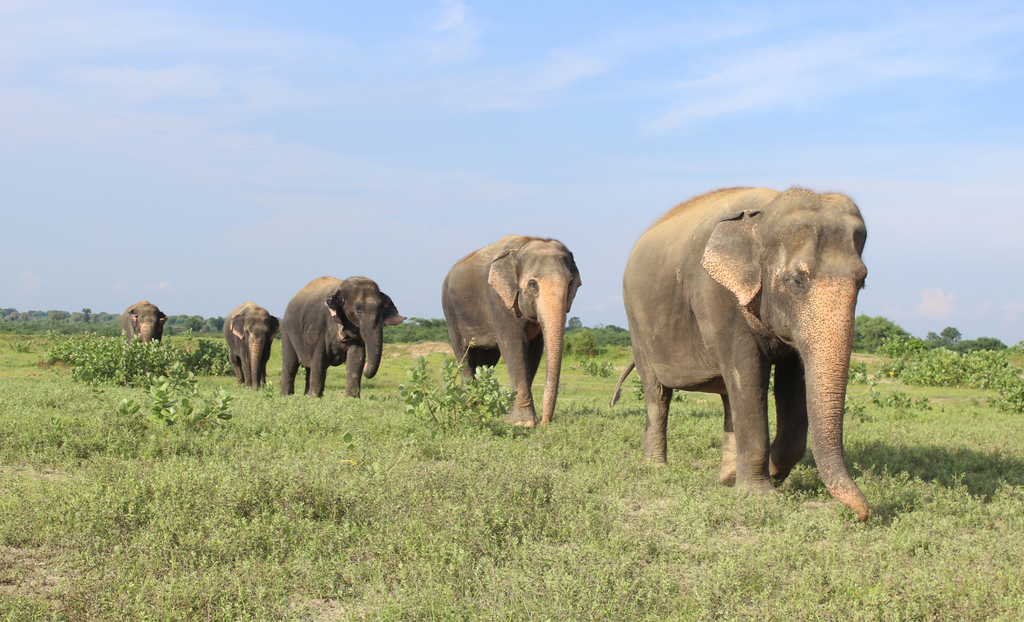 Wildlife SOS's Elephant Conservation and Care Centre in Mathura is the first of its kind in India and currently houses over 20 elephants that were rescued from illegal captivity and circuses.
The NGO runs another rescue center in Haryana which currently houses 3 rescued elephants. All of their rehabilitated elephants have shocking stories of the circumstances from which they were rescued. Several of these elephants have spent a majority of their lives working hard in harsh and cruel conditions, which in turn has taken a negative toll on them both physically and psychologically. Today, these majestic creatures are adjusting to a life of freedom and peace, in a place where they can spend their days happily, with frequent baths, a nutritious diet, and good veterinary care.
When Wildlife SOS rescues elephants, they do everything in their power to give them a life of freedom, health and companionship, and a chance to be free and healthy elephants again. But with years of brutal captivity behind them, and having had their wild spirits broken through decades of systematic abuse, neglect and boredom, these elephants have lost a lot of their wild instincts. Accustomed to being given their food in a pile on the ground, and having gotten used to standing chained in one place for hours on end without any opportunity to move, these elephants have lost critical years of exercise and mental stimulation – resulting in a horrifying host of physiological and psychological issues.
At the Elephant Conservation and Care Centre, the organisation uses enrichments as one of the key ways of helping the rescued elephants heal from their traumatic pasts through the stimulation of behaviours that are natural and instinctive to them.
With the triple benefit of encouraging elephants to exercise, interact and think to obtain their food, enrichments play a vital role in teaching the elephants… to be elephants again!
Full of energy and spirit, today 21 year old Chanchal's life is quite different from what it is used to be. Forced to beg on the streets, she was a victim of a horrific truck accident in the outskirts of Delhi in 2012. Five years on, this playful pachyderm has settled in perfectly at her new home, and can be seen playing in the water and throwing mud on herself, when she is not busy stealing fruits from her friends-Bijli and Laxmi. She truly lives up to her name (Chanchal means "mischievous") with her daily antics, winning hearts every day.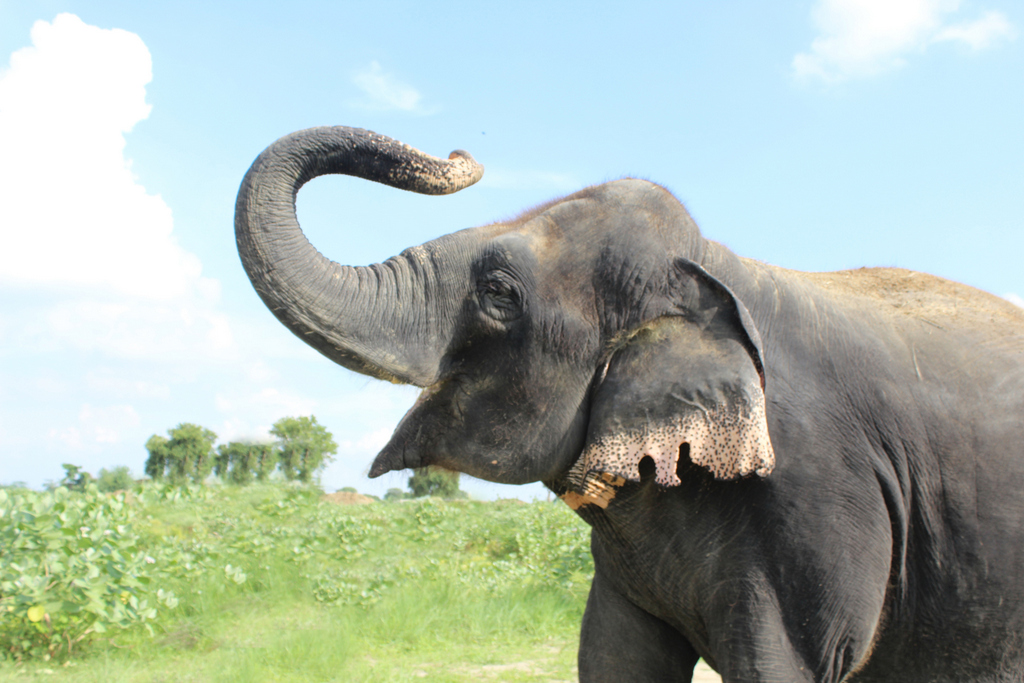 Suraj, a 47 year old bull elephant had spent decades, restrained by spiked chains in a dark, dank room in a temple in Maharashtra. Years of neglect have led to severely deteriorated health including multiple bullhook wounds, foot rot and a terribly malnourished frame, and this magnificent tusker had even lost his entire left ear (believed to have been torn off when he was poached from the wild as a calf).
One of the happiest moments since his arrival at the centre has been his growing fondness of the elephant pool, where he loves taking baths and enjoys splashing water. Though the mental and physical scars from his traumatic past will take years to heal, it is truly heart-warming to see Suraj take his first few steps towards a more positive future.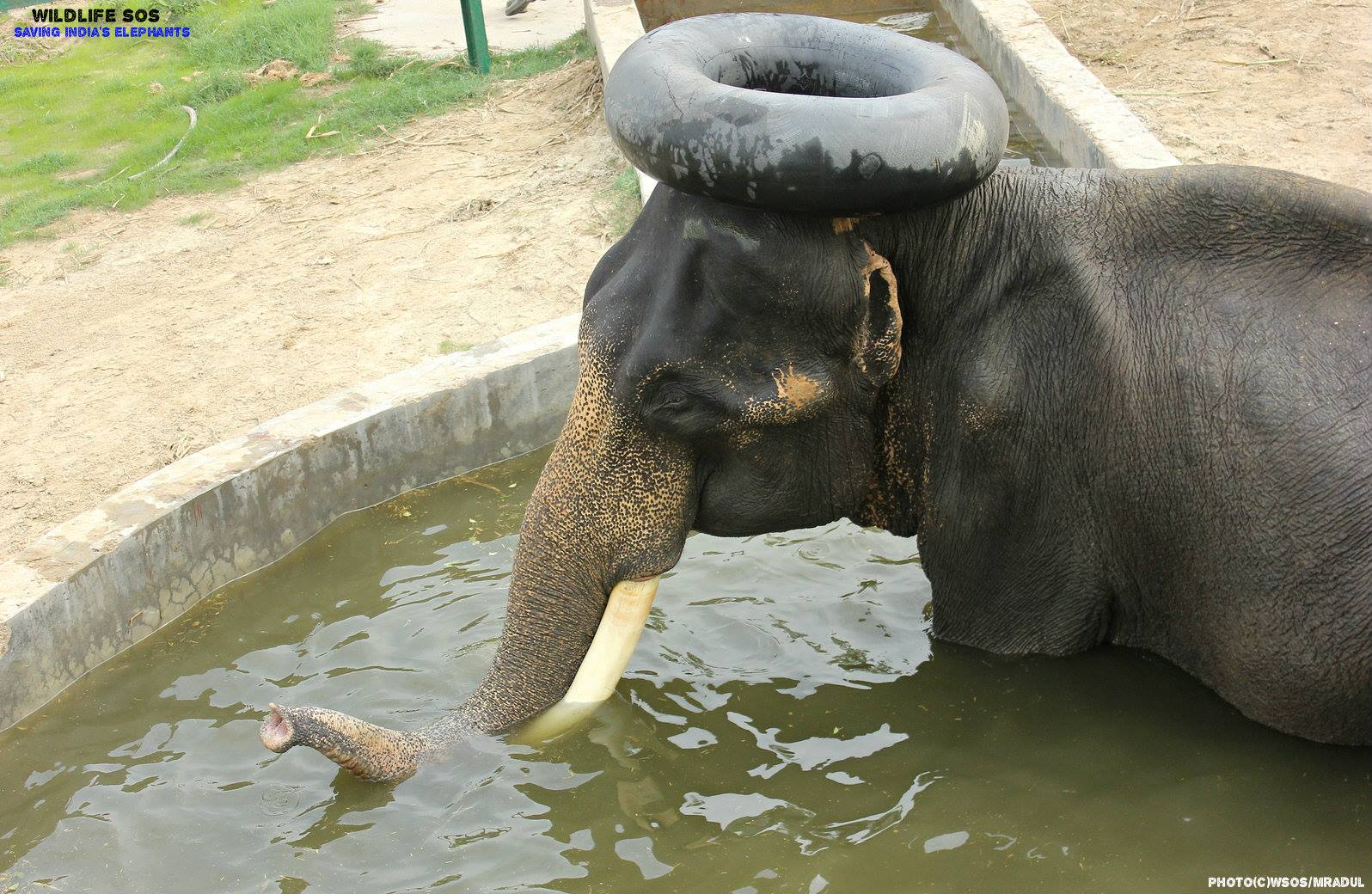 Rescued circus elephants- Macadamia (24 year old bull), Walnut (20 year old bull), Coconut (14 year old female) and Peanut (8 year old female) suffered for years as performing elephants and when they were not being exploited for the amusement of the circus audience, they were made to spend long hours standing in filth and restrained painfully by tight ropes around their legs. Lovingly nicknamed the Nut Herd, their journey towards recovery so far, has been remarkable.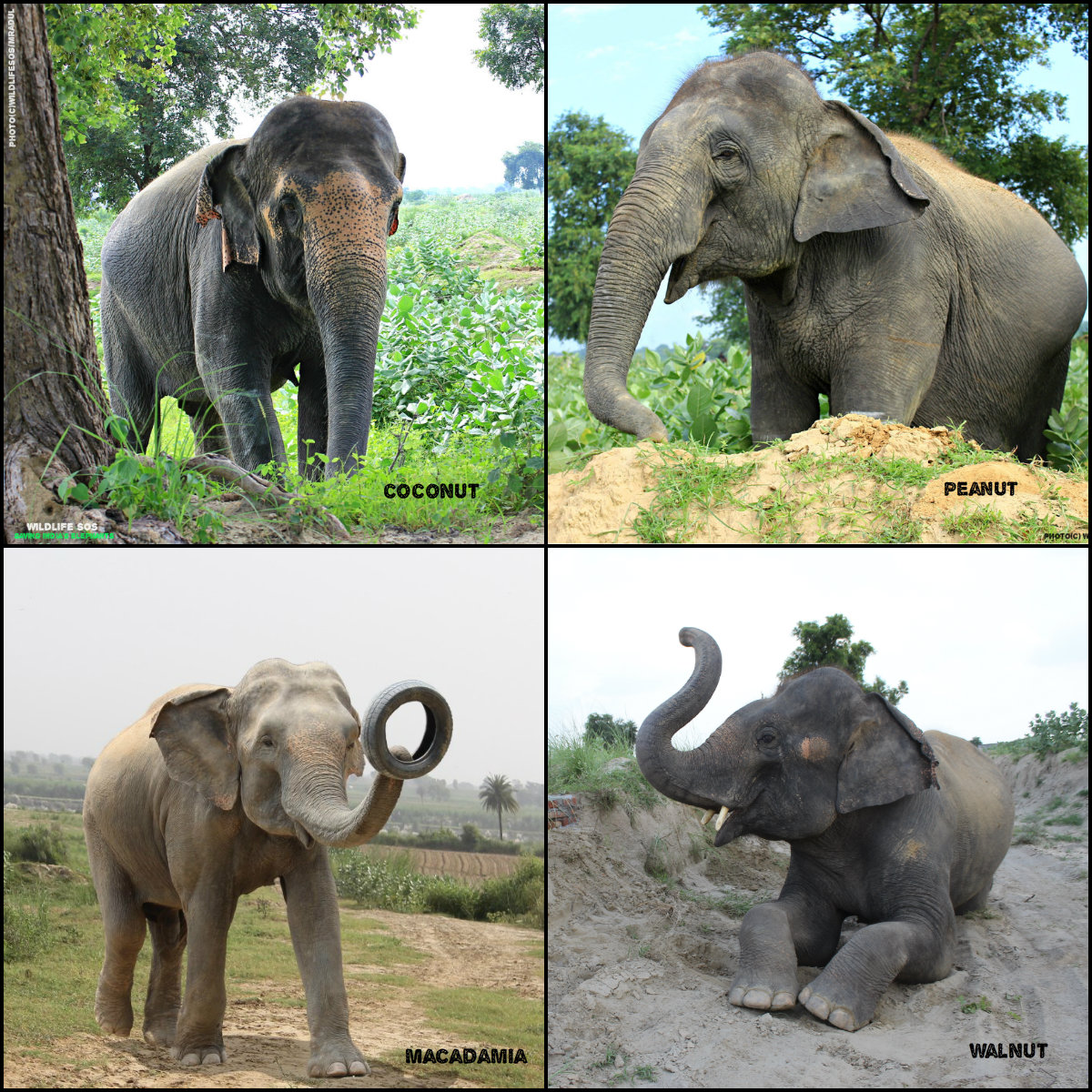 No longer forced to bear heavy loads, or walk on hot pavements and face starvation, these gentle pachyderms are finally able to live a life of freedom at our centres, which are full of natural vegetation and open fields for their daily walks, making it closest to their habitat in the wild. They are also provided with enclosure enrichments for active engagement and water pools where they can bathe and play in the water, at will.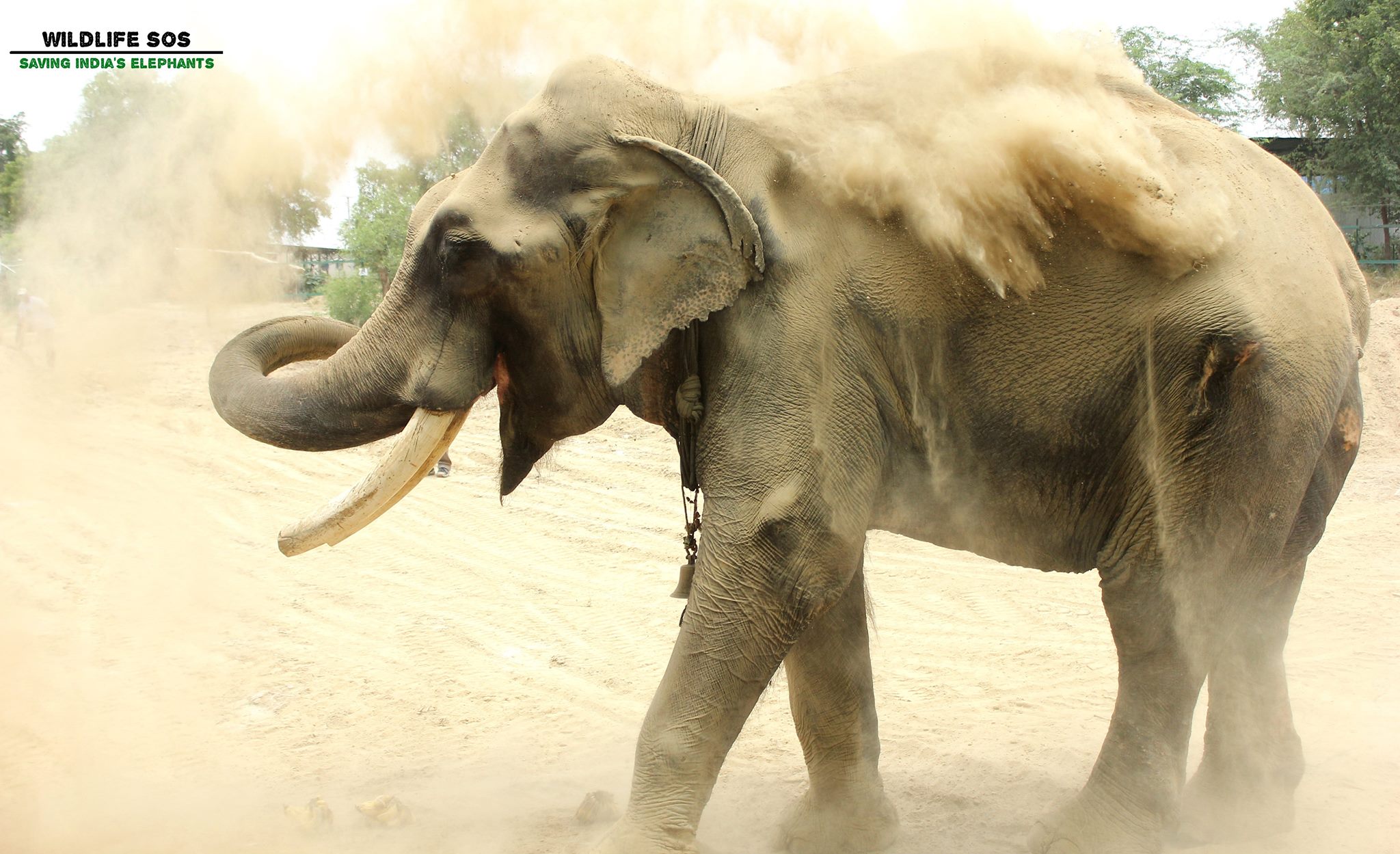 The goal is to bring about a change in the state of the captive elephants in India by advocating modern and cruelty-free methods of management, training and by providing advanced veterinary support to the elephants, who have suffered decades under abuse and harsh conditions.
Wildlife SOS encourages the use of an ethical and more humane approach towards managing and training rehabilitated elephants through positive reinforcements which involves a response from the animal through novel stimuli. The elephants are "target-trained" via positive conditioning to present its feet, ears, trunk etc. for inspection and treatment, thereby reducing stress for both the elephants and the keepers. They also believe that mahouts and elephant owners should be encouraged to adopt alternative livelihood options which will help ensure that these sentient beings of the forest stay where they belong, in their natural habitats.
You can help play a role in their recovery – consider a donation towards the care of these wonderful rescued pachyderms at this link.
Like this story? Or have something to share?
Write to us: contact@thebetterindia.com
Connect with us on Facebook and Twitter.
NEW: Click here to get positive news on WhatsApp!