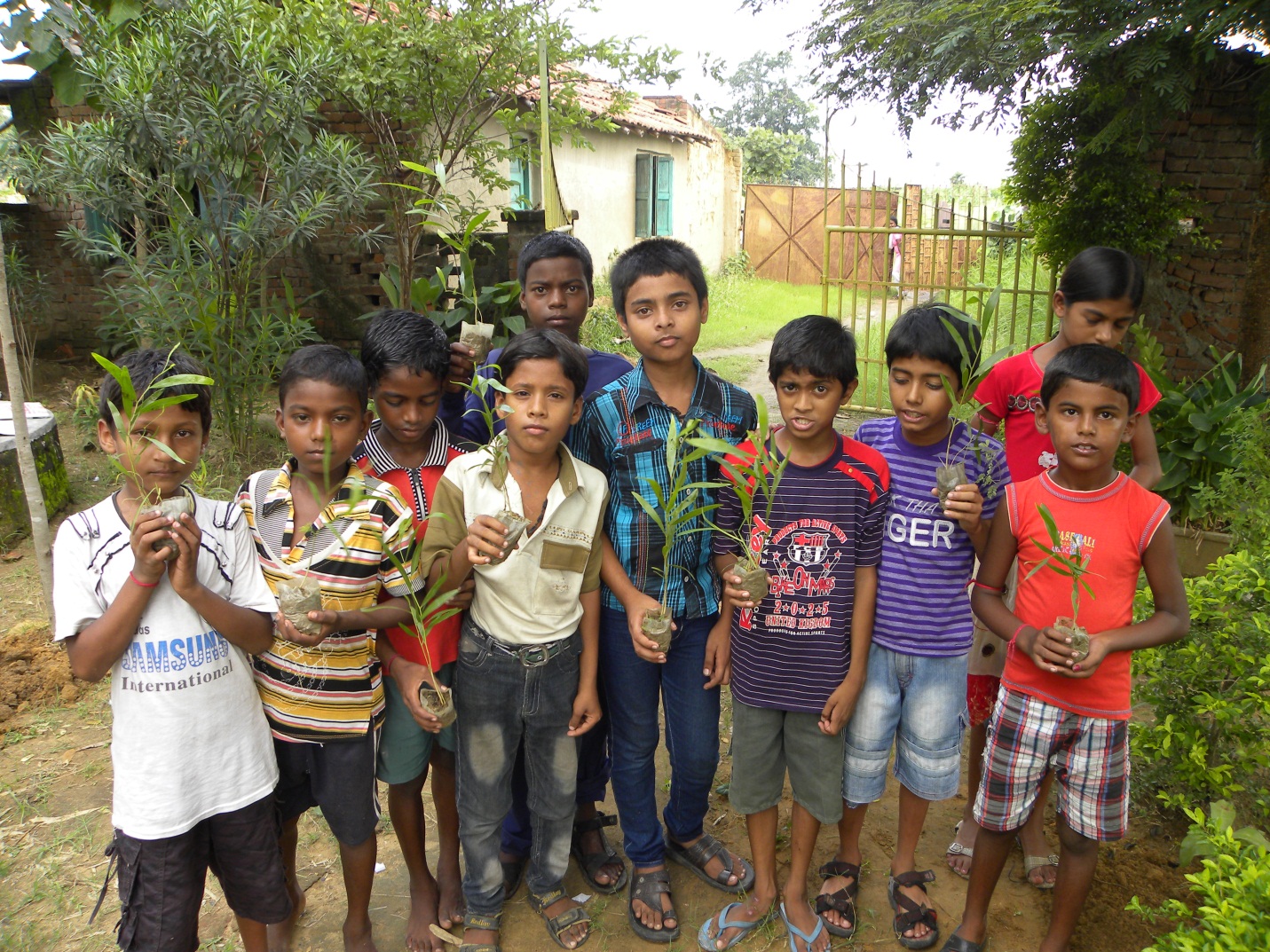 Meet the man who has been working for 26 years with a tribal people to include them in India's growth story. Be it education, health, arts and culture, women empowerment, infrastructure - there is not a single aspect of their lives that Mr. Debabrata Ghosh has not touched upon and improved. Is it even possible for one man to do so much? Read more to find out!
Since his childhood, Saunak's school art teacher fascinated not only him but the whole school. He was a multi-talented person. However, when Saunak met him years after he left school, he learnt other facets of his life. Instead of the canvas, he was sketching beautiful villages and better lives for the Santhals. Here is the story of his beloved and respected Art sir – Mr. Debabrata Ghosh.
The Santhal is the largest tribal community (adivasi, adi = old; vasi = inhabitants) in India. West Bengal is the second largest (38% of the total Santal population) home to these indigenous set of people. Be it the 1855 'Santhal Uprising', or Pandit Raghunath Murmu's Ol Chiki script in 1925 or pre-independence Santhali agricultural techniques or their unique music, this tribe has contributed to India's history and culture in a number of ways. However, in the era of globalization – the Santhals have found themselves increasingly outcast from the core society. Here is Debabrata Ghosh, a good samaritan working with these tribal people for the last 25 years and making the change happen in their lives.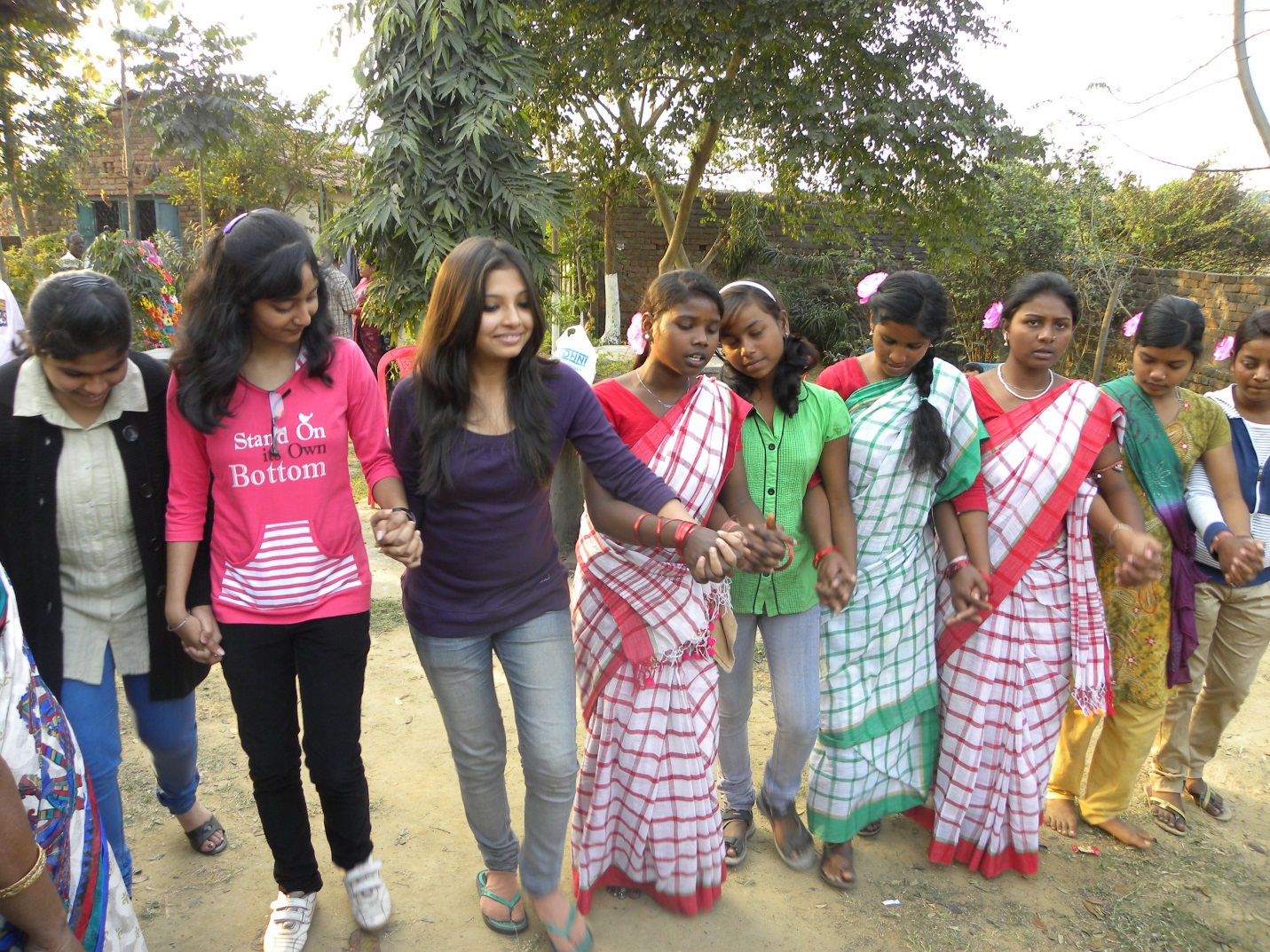 Mr. Ghosh, an ex-teacher by profession has many facets as he is an artist, journalist and a sportsman. A resident of the industrial town Asansol in West Bengal, in 1988 he went to look after his ancestral land at Bonogram nearby to the group of Santhal villages of Dihika, Jorpara & Haramdihi. These villages are 8 kms away from Asansol on the banks of Damodar river. Mr. Ghosh could not stay away from the land because of the heart-melting void of basic facilities like education, health, hygiene, etc. Above all, the love of the people and warmth of the soil gave him an inner calling to become one of the Santhals. This alumnus of Narendrapur Ramakrishna Mission School started walking in the path laid by Shri Ramakrishna.
Coming back to 2014, Mr. Ghosh is working with the larger chunk of Dihika block comprising of 8 to 9 villages and thousands of its inhabitants. I was struck by the depth and practicality of his work and vision. These tribal families are away from the mainstream development owing to lack of government machinery and the usual suspicion towards the new and the unknown by the Santhals. As a forward thinker and learner of society, he was quick to address the bridge between the urban people and these tribal. Witnessing the Naxalite-Maoist revolution – he understood that the only way to keep away those elements is to improve their livelihood and give them a better environment to live in.
Thus started the journey of 'Damodar Adibasi Development Society', with the sole objective of social and cultural evolution, and disbanding the easy path of revolution. Once, the curtains of suspicion rolled over, the Santhals treated Mr. Ghosh as one among them. Mr. Ghosh recalls that his first project with these poor tribal people was to address the infrastructure issues. By 1990, he himself, along with the immense tribal labour power, constructed a bridge. The bridge shortened the journey to reach the nearby Damodar station and the bus route to the towns of Burnpur and Asansol.
Next, being an artist – he truly understood and patronized the rural forms of art & craft of the villagers. He taught them the modern techniques of painting and usage of colour. Also, to create rural women empowerment he started teaching craft work using jute. After decades of hard work, hundreds of young girls are preparing carpets, jute bag and masks. The scale is yet to be reached – but the products are creating a huge demand in the neighboring states and with city people. Mr. Ghosh is now mulling on new go-to-market plans for these products.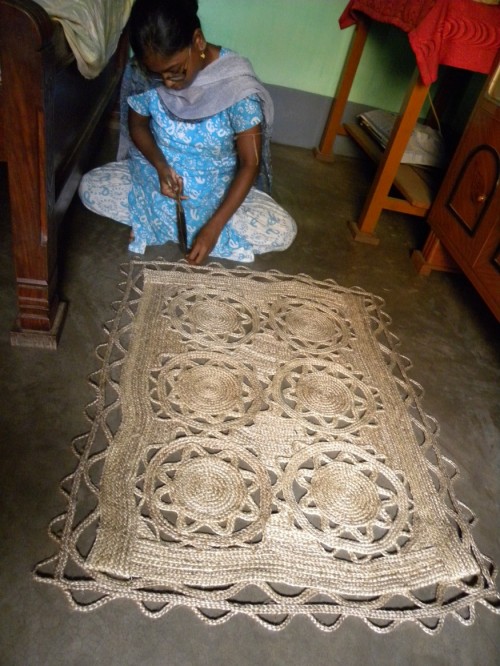 Back in the 90's illiteracy was at its peak. Mr. Ghosh took time out from his teaching profession for counselling the Santhals and showcasing the usefulness of education. Next, he started mentoring a few educated youths and started running tuition centers in the villages. Now each year, before the Santal girls are married off they have studies at least up to the 10th or 12th grade. Few are showing even higher ambitions, like Boni Hembram who dreams to be the first graduate of the entire block. She is looking for financial assistance to pursue the graduation stream of her choice in the renowned Vishwa Bharati University in Shantiniketan.
To encourage and ease the journey to school – each year Mr. Ghosh and a handful of his friends have gifted cycle to these girls. Owing to the rising literacy, for the last few years Mr. Ghosh has encouraged them to start Santhali Little Magazine. This is helping to revive the rich Santali language, which is also being encouraged through translation work and some book publications.
To grow culturally, the Santhals have formed formal groups of Folk Play (locally 'Jatra') and performed in the nearby districts. Riding on the popularity of the Santhali dance, Mr. Ghosh had offered platforms to perform in the cultural hubs like Rabindra Bhavan or at famous book fairs. These villagers are slowly witnessing the enthusiasm and mingling with city people. Further, these cultural troops are not only participating in but also winning sub-divisional level cultural competitions.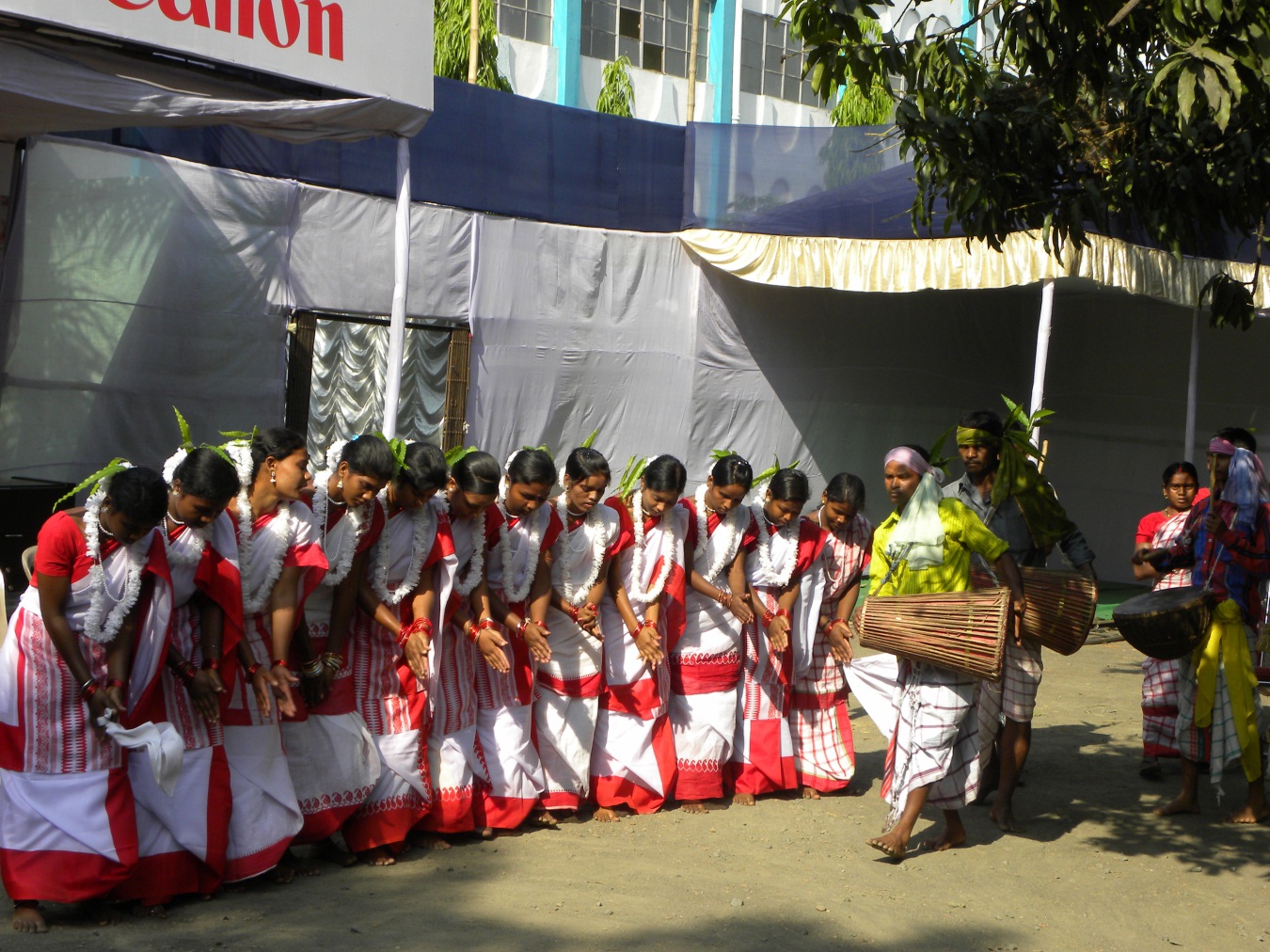 After trying his persuasion skills for the last two decades, Mr. Ghosh succeeded in gaining clothing independence for the women. Now, young girls do wear clothes other than Sari in the village and while travelling. Also, to discard social taboos, villagers are going out on picnics and touring nearby places. Further, he is training a couple of girls to drive a car. Mr. Ghosh wishes to widen their horizons through these initiatives.
Football being the favourite sport of Bengal, Mr. Ghosh used it as a means of exchange and communication. The village team coached by him recently won the Madhukonda Shield tournament. Now, annual sports day is a regular affair for the inhabitants of Dihika block. To preserve nature, Mr. Ghosh has started tree planation with the kids. This is making them and their parent's eco-sensitive in their day to day lives.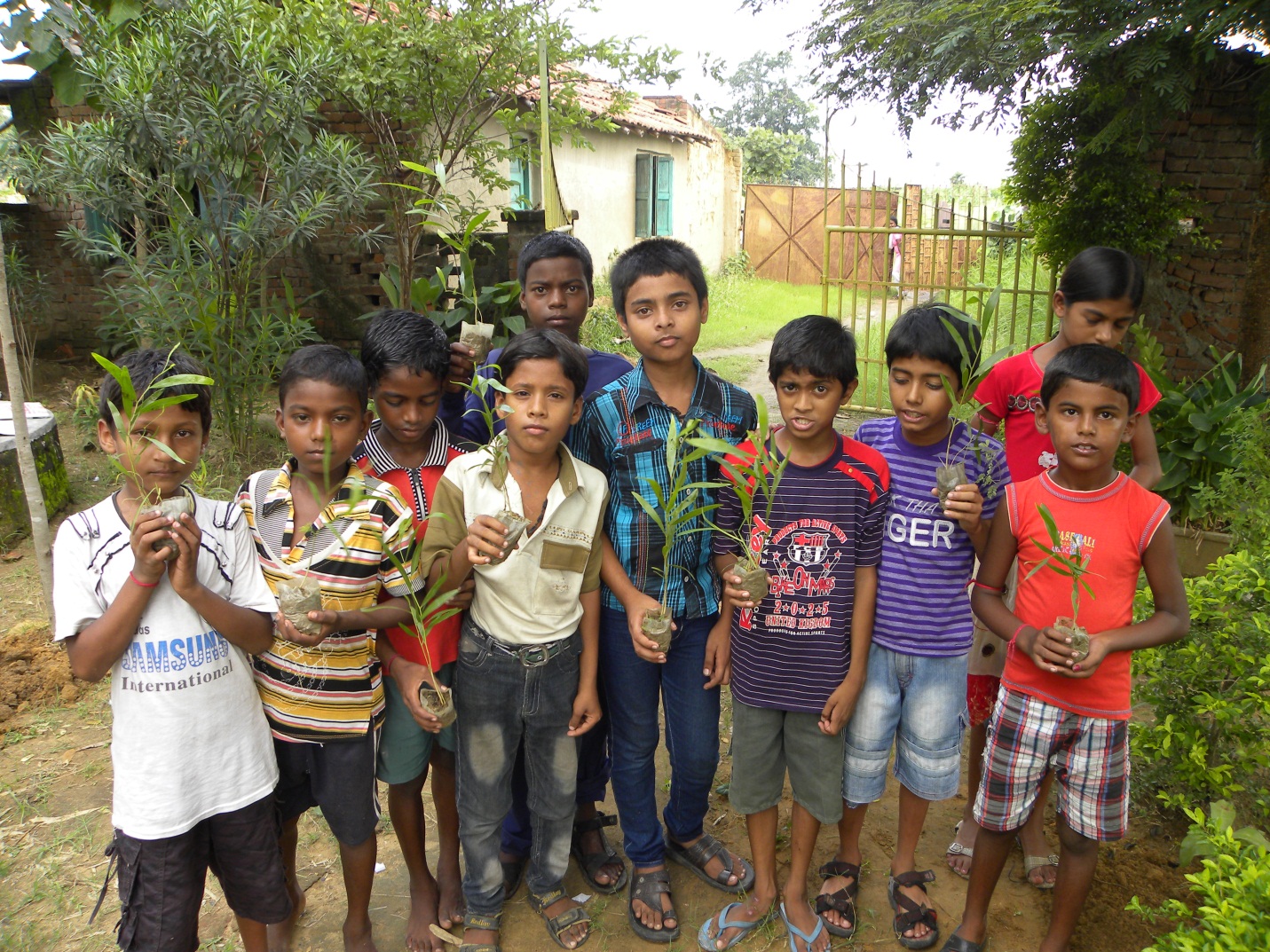 When I expressed my curiosity on the work in the health front, Mr. Ghosh shared a story. Twenty years ago, the Santhals were against blood donation. As an outsider back then, he could not just merely counsel them and expect them to change their views. He found high infant mortality because of a shortage of blood. So he suggested only grouping of blood, so that blood could be arranged from the district hospital. Next, after the grouping of blood groups, when the villagers found shortage of blood in the hospital – someone among the Santals came forward to donate blood. Mr. Ghosh smiled from a distance, as it saved life and served the purpose.
Now, till date dozens of blood camps have been held and hundreds of villagers, irrespective of gender, have taken part. To take care of emergency situations – Mr. Ghosh has gifted the villagers an ambulance. He also conducted counselling classes along with the local police so that the alcoholics could get rehabilitated.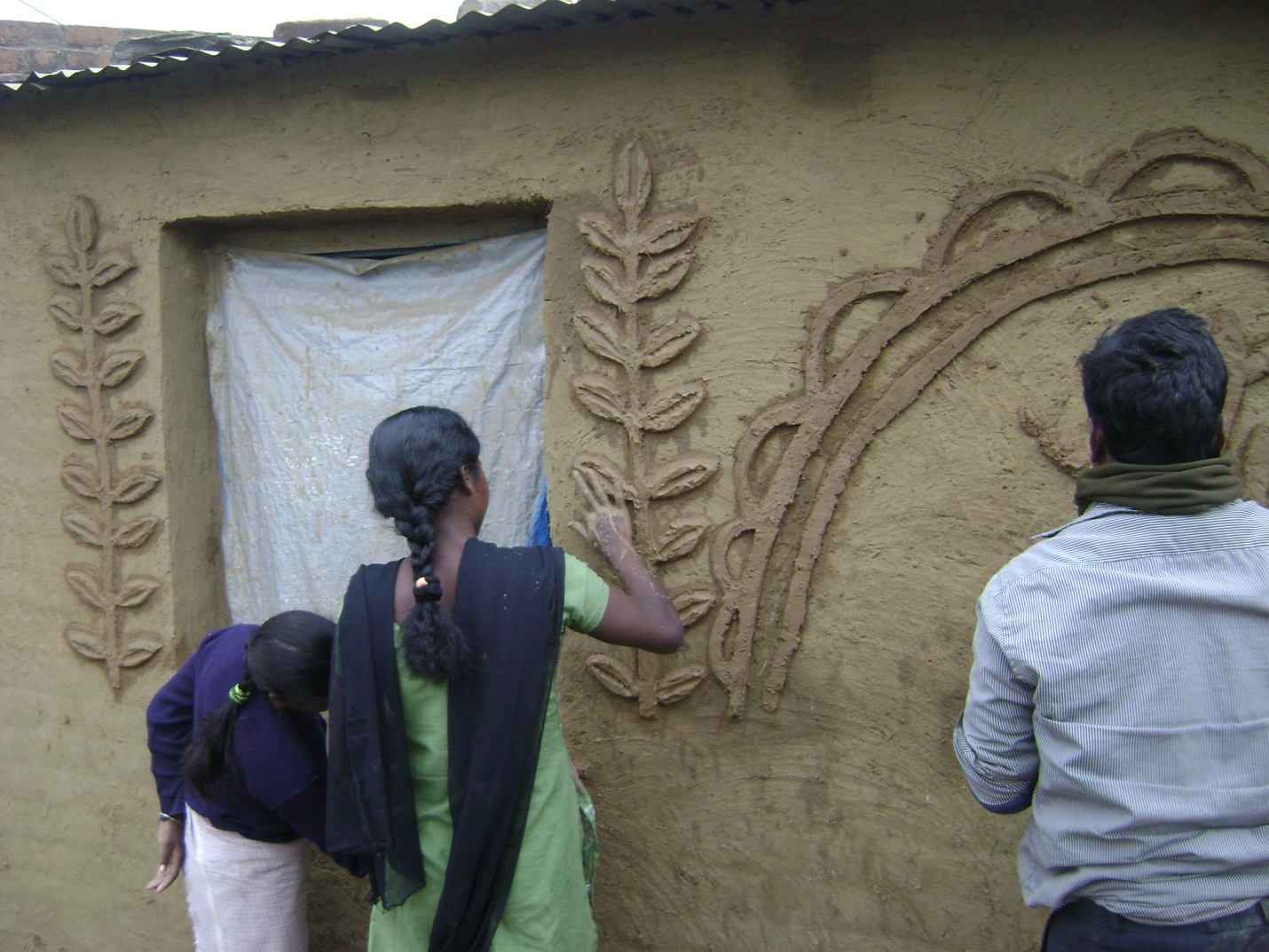 In the above picture, using only village resources – starting from raw materials to civil technique to artisans – Mr. Ghosh and his Santhal family is constructing a hall. This would be used in the coming days as a workshop and community center. The center is coming up in the spirit of the Santhalis. This center would be used as a marketplace for their craft work, host tuition classes, awareness sessions and be used for other projects. Last but not the least, in a state where chit funds do rampant business – Mr. Ghosh's financial literacy classes and awareness programs have kept these greedy fund owners at bay.
All these 26 years, Mr. Ghosh has funded and tried to make most of the projects self-sustaining through his individual mammoth effort. This karma-yogi finds guidance in the words of Swami Vivekananda. Mr. Ghosh has treated the Santals in the light of his master – 'Daridra Deva Bhavo' (seeing God in all while serving). This one man's effort not only created a physical bridge in the past, but a stronger connection between two cultures of our nation – bringing down social and superstitious boundaries.
Mr. Debabrata Ghosh can be contacted for this project at dbrata2005@yahoo.co.in. Boni hembram needs Rs. 24,000 per annum for the next 3 years to fulfill her dream of becoming the first graduate of the village. You can help Boni become the inspiration for hundreds of others in the village.
Saunak resides in Chennai and is a business consultant with an IT company. He has around 7 years experience of volunteering work with rural orphanages, down-syndrome NGO's and corporate volunteering teams. Saunak is also a happy social investor with various community development funds aimed at poor women entrepreneurs. Lastly, he is a student of development economics who likes to learn the psychology, finance, risks, policies & use of technology associated with the lives of the poor and marginalized of the society.
We bring stories straight from the heart of India, to inspire millions and create a wave of impact. Our positive movement is growing bigger everyday, and we would love for you to join it.
Please contribute whatever you can, every little penny helps our team in bringing you more stories that support dreams and spread hope.