Anindya Mukherjee recently became the first Indian to cycle across the Sahara, covering more than 2,300 km. in 28 days. Here, he recounts his experiences and memories from this epic solo journey across the African wilderness.
For the last 12 years of my life, I have had a love affair with Africa. I have climbed and hiked its highest mountains (Kilimanjaro, Kenya, and the Rwenzoris), and biked from the Equator in Kenya to the Tropic of Capricorn in Namibia. I have retraced Bibhuti Bhushan Bandyopahyay's fictional character Shankar's trails to the fabled Mountains of the Moon (Chander Pahar).
Each of these trips has kept on renewing my sense of curiosity and fed my longing to go back to Africa and absorb its intense human vibration and spirit a little more. Its daily struggle, resilience, music, colours, and the sights and the smells of its markets – everything fascinated me. Africa reinstated my faith in being positive towards life and helped me keep powering ahead, no matter what came my way.
But so far my experience of Africa had been limited to six countries only, and these countries were located in the East, Central, and Southern part of this huge continent. The vast expanses of West and North Africa were still unknown to me, and it was as though a giant lodestone kept beckoning me in my day dreams. That opportunity finally came in February–March 2017, and this time I chose to explore the North and North-Western side of this great continent. I chose to cycle through the Sahara Desert.
The Plan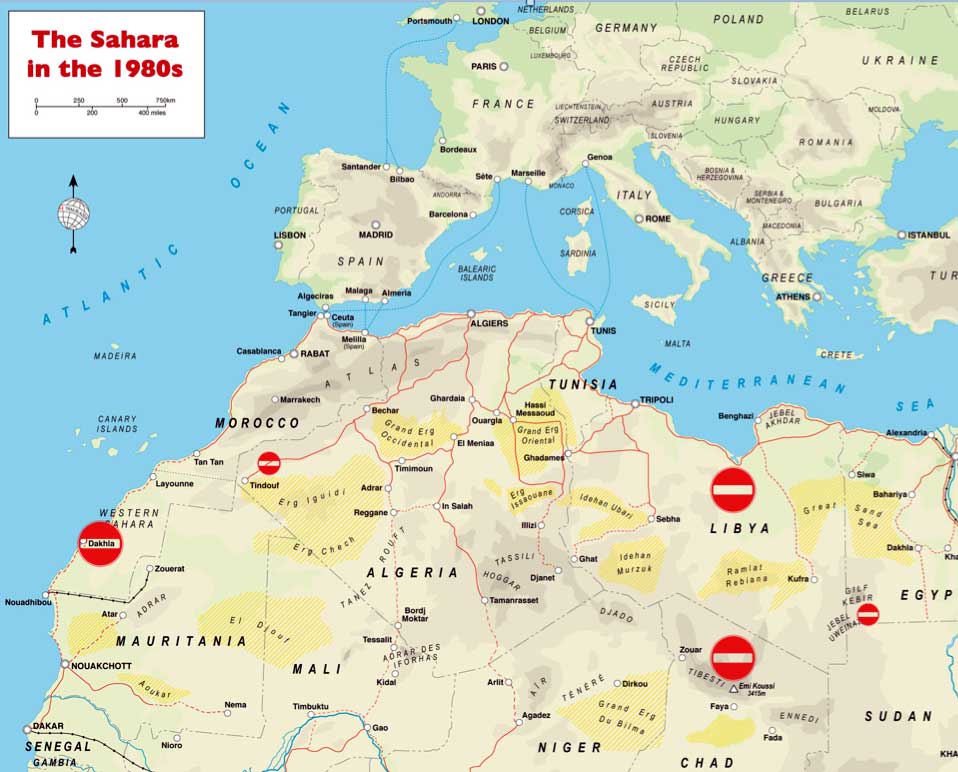 Since my school days, I have been deeply fascinated by the Sahara, and have often dreamt of crossing it with a caravan of camels. After some homework on the region and its geo-politics, I realised the only sensible and safe route to travel alone on a bicycle through the Sahara would be on the Morocco-Western Sahara-Mauritania route.
Gone are the golden days of the 1980s when one could take the more central routes through Algeria, Libya, Mali, or Niger. Since the 1990s, regular instances of terrorism, political disturbances, and armed conflict have resulted in a strict no-no for all Trans-Saharan overland travel. Today the only overland international border crossing allowed is on the Morocco-Mauritania-Senegal route, making my selection obvious.
I came across a few cyclists' reports of recent crossings of the Sahara, and after scrutinising their reports, I realised it was possible to cycle this distance through the Sahara (approximately 2,085 km.) without carrying any tent, sleeping mat, and cooking utensils. I realised that it was possible to reach from one human post/settlement to the next in a day. The longest distance between two such posts is around 160 km., and thus I formulated my own itinerary, with an average of 100 km. of riding per day. This enabled me to travel extremely lightweight. I did not even need a front pannier.
I figured that the vast distances of nothingness would be my main challenge, and French cyclist Jean Baptist's report gave me confidence that if I carried 4-5 litres of water during the ride each day, I would be able to survive. It would be like a lightweight, alpine style ascent in the Himalayas, or so I thought.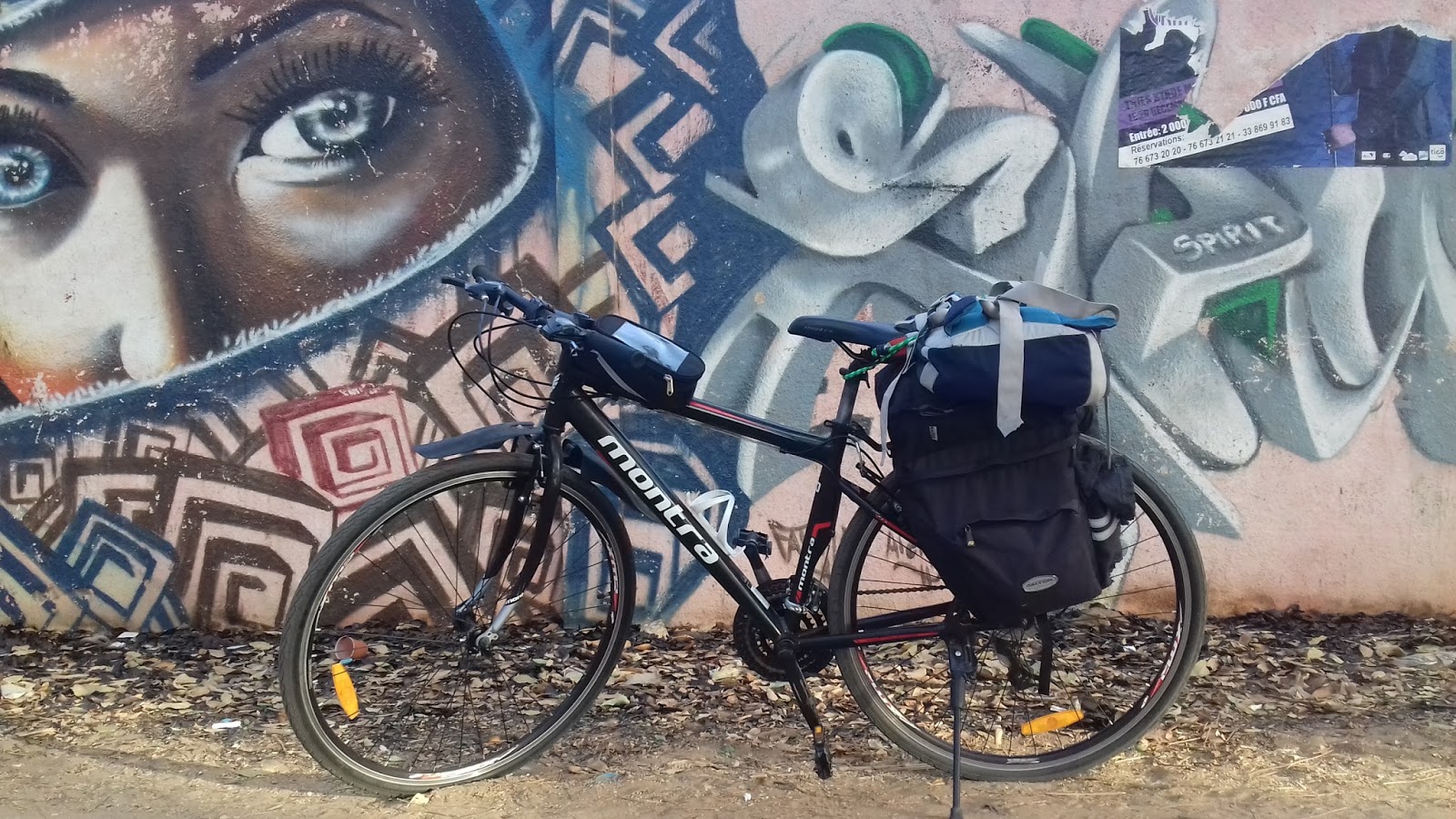 Red Tape
I originally intended to start cycling from Rabat, Morocco. But I received the first set of blows in the forms of visas. Yes, being an Indian citizen, I needed visas for my route, except in Senegal. Morocco issued me a visa with the wrong dates (leaving me with too little time to cover the distance from Rabat to the border), and after making me wait in Rabat for four days, Mauritania also put up wrong dates in their visa stamp. My Morocco visa expiry date was on 15th March, and the Mauritania one on 25th March. This meant I literally had just 10 days to traverse Mauritania.
But first I had to reach Guerguerat, the border of Morocco and Mauritania, by 15th March. Anyway, these visa complications forced me to cut short my riding days, and hence I had no choice but to start riding from Guelmim, the gateway of Sahara. I reached Guelmim by an overnight bus (CTM) from Casablanca on the morning of 26th February. The very next day, I started cycling. I had exactly 17 days to cover 1,300 km. to the border before my Moroccan visa expired, and then another 10 days to cover Mauritania. It became a race against time.
Total distance travelled: 2,300 km.
Total distance cycled: 2,015 km.
Cycling days: 23
Rest days: 5
Average cycling per day: 87.60 km.
Longest distance cycled in a day: 190 km. (Laayoune to Boujdour)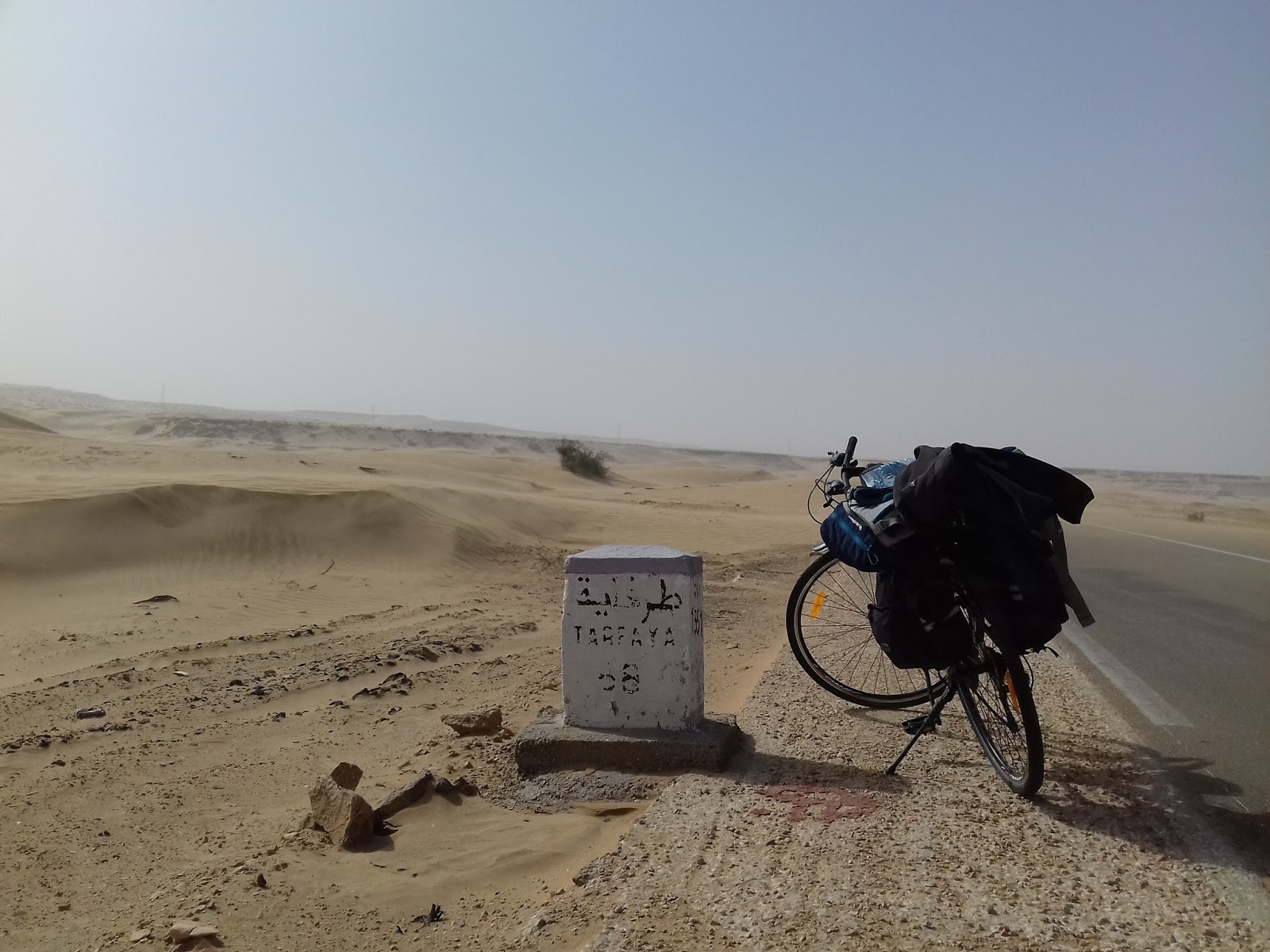 Observations of a solo cyclist across the Sahara
My journey proves that it is possible to cross the Morocco-Western Sahara-Mauritania route on a bicycle without having to camp or cook. It is possible to reach a human post – be it a village, a manned mobile tower, a police post, a shop in the middle of nowhere, or a town with all the modern amenities – quite easily. The real challenge of cycling this route is its absolute nothingness. It becomes hard to ride miles and miles of nothing, without passing a village or a single human being. Once south of Nouakchott, villages become more frequent. But there one faces other problems.
After the desolation, the wind (its force and direction) is the next factor to consider, being almost always very strong. On an average, it had a speed of 30 km./hr. though my journey. On 50 % of the days, I faced side or headwind drafts. Cycling would become really strenuous then.
I was able to receive mobile signals almost every day. The poorest was north of Nouakchott in Mauritania. It is possible to get a 'sim' with 3G/4G connection at every border post. I used Inwi in Morocco, Mauritel in Mauritania, and Orange in Senegal.
The army and police in Morocco and Western Sahara are always extremely helpful when it comes to cyclists.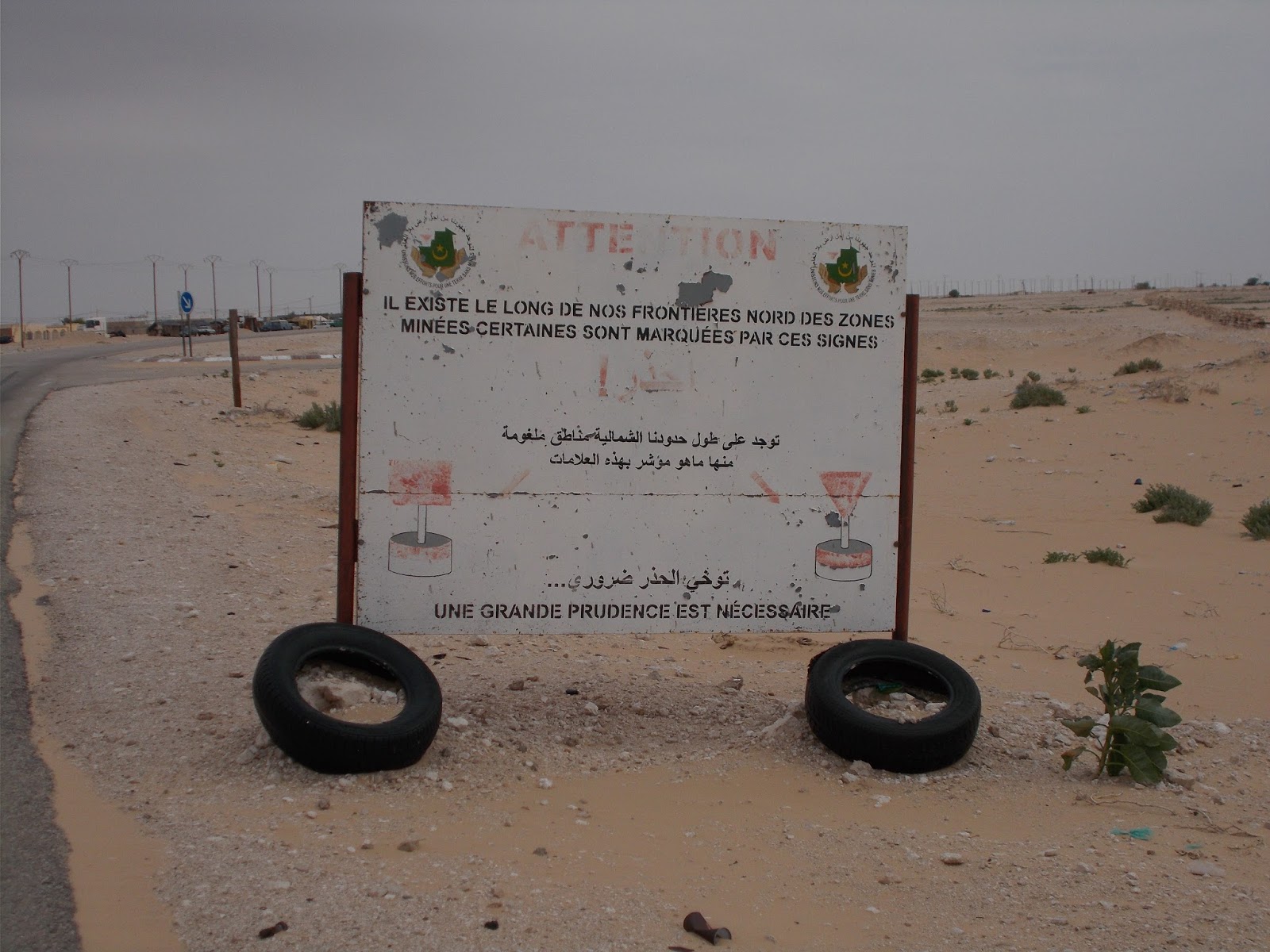 Crossing the No Man's Land between the Guerguerat and Mauritania border posts is easy. But there still are landmines even beyond the No Man's Land. I have seen sign posts with landmine warnings even in Bou Lanouar, so it is better to stay on the road.
The white Moors of Morocco seemed quite racist. Most of them refused to talk to me, or even look at me. Children in villages threw stones at me. That was the precise reason I skipped 237 km. of riding from Gare du Nord to Nouakchott. The stone-throwing continued even south of Nouakchott. The black Moors of Mauritania, on the other hand, were very kind and helpful people.
The roads in Morocco and the Western Sahara are generally good, though not very wide, and have a lot of traffic till Dakhla. The roads in Mauritania are bad and full of potholes, while those in Senegal are generally good, with sensible drivers and heartwarming people.
All along Morocco and the Western Sahara, it is possible to sleep in mobile towers, as they are usually manned, and the people manning the towers are friendly (and lonely). They will happily offer a cyclist food and shelter. I never had to stay with them, but got water refilled a few times.
The cafes/restaurants/shops/petrol stations are also possible night halt options.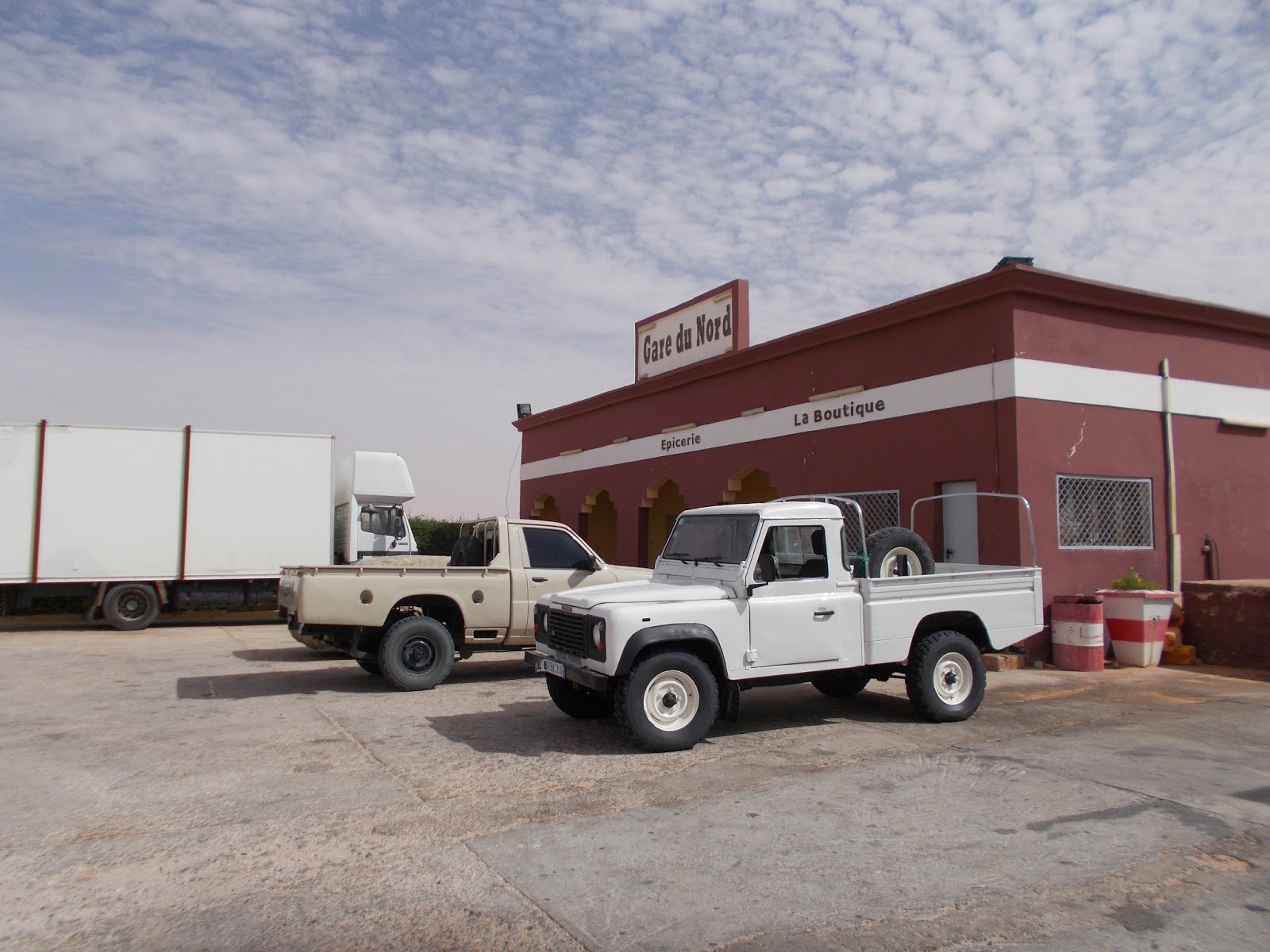 I always carried 4-5 litres of water during my ride. I found that to be sufficient, and I could buy bottled water in most places. It is also possible to refill bottles in army and police camps. A working knowledge of the French language helps considerably, as does the Google Translate app. Mauritania feels lot more remote and sandy than the rest of the route.
Although a few Indians have cycled in the continent of Africa before me (namely Ramnath Biswas, Bimal Dey, Bimal Mukherjee, and few others like Somen Debnath in recent years), none of them seemingly cycled through this region, to the best of my knowledge. In Commune Bir Anzarane, Mahfoud, who works for the UN, has been documenting all the cyclists passing this route through the Sahara, and going by his records, I am the first Indian to cycle the Sahara. This was later reconfirmed by the border police of Mauritania.
It took me 28 days in total (23 days of riding + 5 rest days) to cover this distance. In this whole length (approximately 2,380 km.) of the Trans-Sahara road, I had to skip 285 km. (237 in Mauritania, and the rest in the Western Sahara). It will go down in my memory as one of the most life-changing journeys I ever undertook.
As I moved across the Sahara, as an insignificant human being on a bicycle – against wind and sand, and taking in love and hatred in my stride – one revolution at a time, the vast nothingness of the desert taught me a lot. I can only hope that I will be able to imbibe the spirit of the Sahara in me for the rest of my life.
About the author:
Anindya Mukherjee
is a mountaineer with a passion for exploring and documenting the unknown areas of the Indian Himalayas. He has a keen interest in experiencing the wild places and mountains of other continents too. He is also a freelance adventure travel writer based in Howrah, West Bengal.
Like this story? Or have something to share? Write to us: contact@thebetterindia.com, or connect with us on Facebook and Twitter.
NEW: Click here to get positive news on WhatsApp!