An array of institutional and domestic reasons discourage women from pursuing careers in science, technology, engineering and mathematics (STEM).
---
The views expressed in this article are that of the author's and do not in any way reflect the views of the organisation.
---
It has taken us over 100 years to understand the importance of educating women in order to bring social and economic changes in society. Yet, the prejudices and perceptions circumventing the 'fairer sex' have not been completely surpassed. Despite the effort of governments and various organisations, underrepresentation of women in science, technology, engineering and mathematics (STEM) remains a burning issue.
According to a recent survey by Kelly Global Workforce (KWG) on Women in STEM, 81 per cent women in India perceive gender bias in performance evaluations.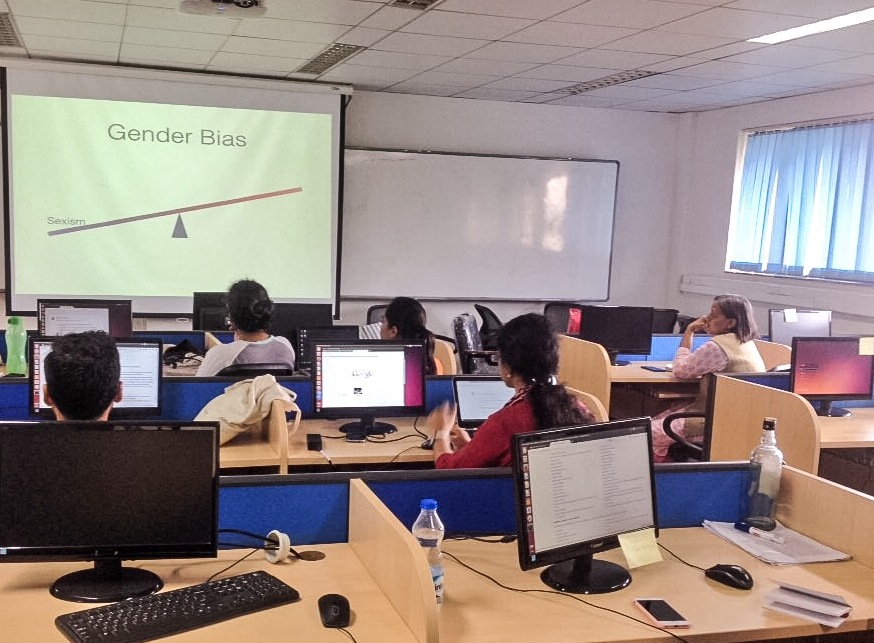 Image source: Psubhashish, via Wikimedia Commons
In the decades before Independence, eminent Indians social reformers planted the seeds of social reform via women's empowerment and education. Raja Ram Mohan Roy abolished the practice of sati and Savitribai Phule co-founded the first vernacular school for girls in Bhide Wada, Pune, in 1848.
With many social reformers fighting gender and social discrimination, special reference regarding women education was made in the Woods Despatch, 1854, by Sir Charles Woods, president of the Board of Control of the English East India Company. Along with other reforms, he recommended the government to support female education and the Woods Despatch is hailed for its great influence on Indian education system.
However, a slow rise in women literacy rate was manifested during this period (0.2 per cent in 1882 to six per cent in 1947). Women education was greatly emphasised in the decades post-independence, despite the harsh words from many educators. The University Education Commission (UGC) came across a college principal's comment, "Women's present education is entirely irrelevant to the life they have to lead. It is not only a waste but often a definite disability".
Currently, the Indian government is pushing the way forward to educate each and every girl child through programmes like Sarva Siksha Abhiyan (SSA), Mahila Samakhya Programme, Kasturba Gandhi Balika Vidyalaya Scheme (KGBV), National Programme for Education of Girls at Elementary Level (NPEGEL).
Pre-conceived notions about women and domestic barriers emerge as major roadblocks for women in STEM in India.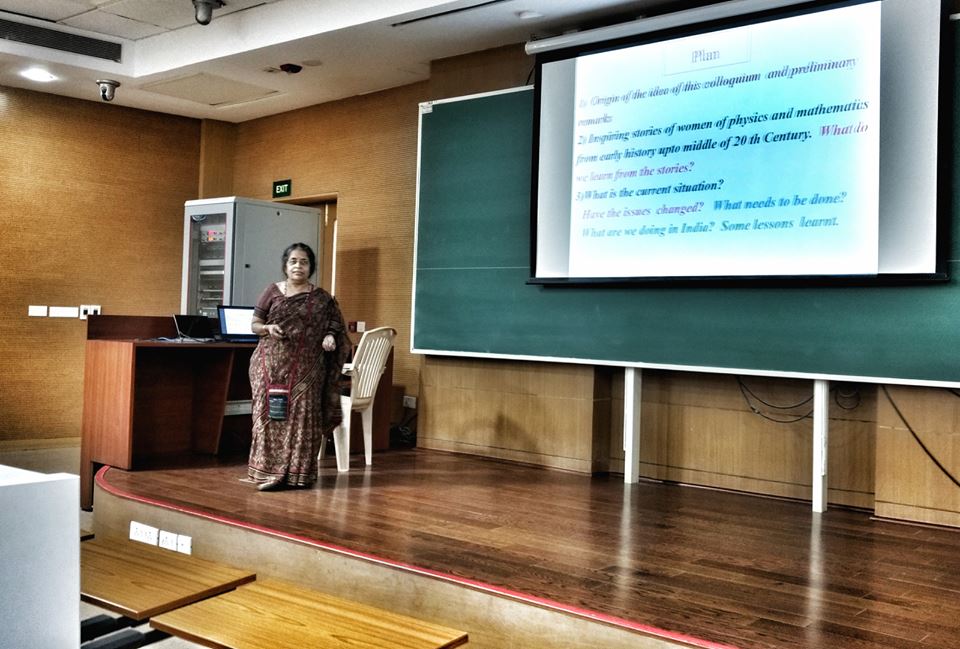 Prof Rohini Godbole at Women in Physics and Mathematics. Source: Facebook
In India, gender based discrimination in research is subtle, compared to other parts of the world where obvious discrimination manifests itself in less salary for female employees compared to their male counterparts or preferential treatment of women for awards, etc. Here every time a woman steps out of the door, the notion that "you are a woman" clings on, irrespective of the career she is headed towards. Inherent and unconscious biases cages women in stereotypes.
Speaking specifically about STEM, the prejudice that pursuing technological fields is harder for women hinders their participation in these disciplines. "My own female students sometimes, surprisingly, used to say, "It's so gratifying to see you can talk science just like the male faculties", says Prof Rohini Godbole, a professor at the Centre for High Energy Physics, Indian Institute of Science. However, this notion is taking a backseat thanks to young girls excited about exploring science and technology.
In a male-dominated society, the social role of women in India was historically confined to the domestic. Traditions like patrilineality (inheritance through male descendants) and patrilocality (married couples living with or near the husband's parents) have transcended to the work environment, leading to gender inequality.
Moreover, the double burden syndrome—struggle of balance between work and family—is one of the main reasons for mid-career dropouts in India.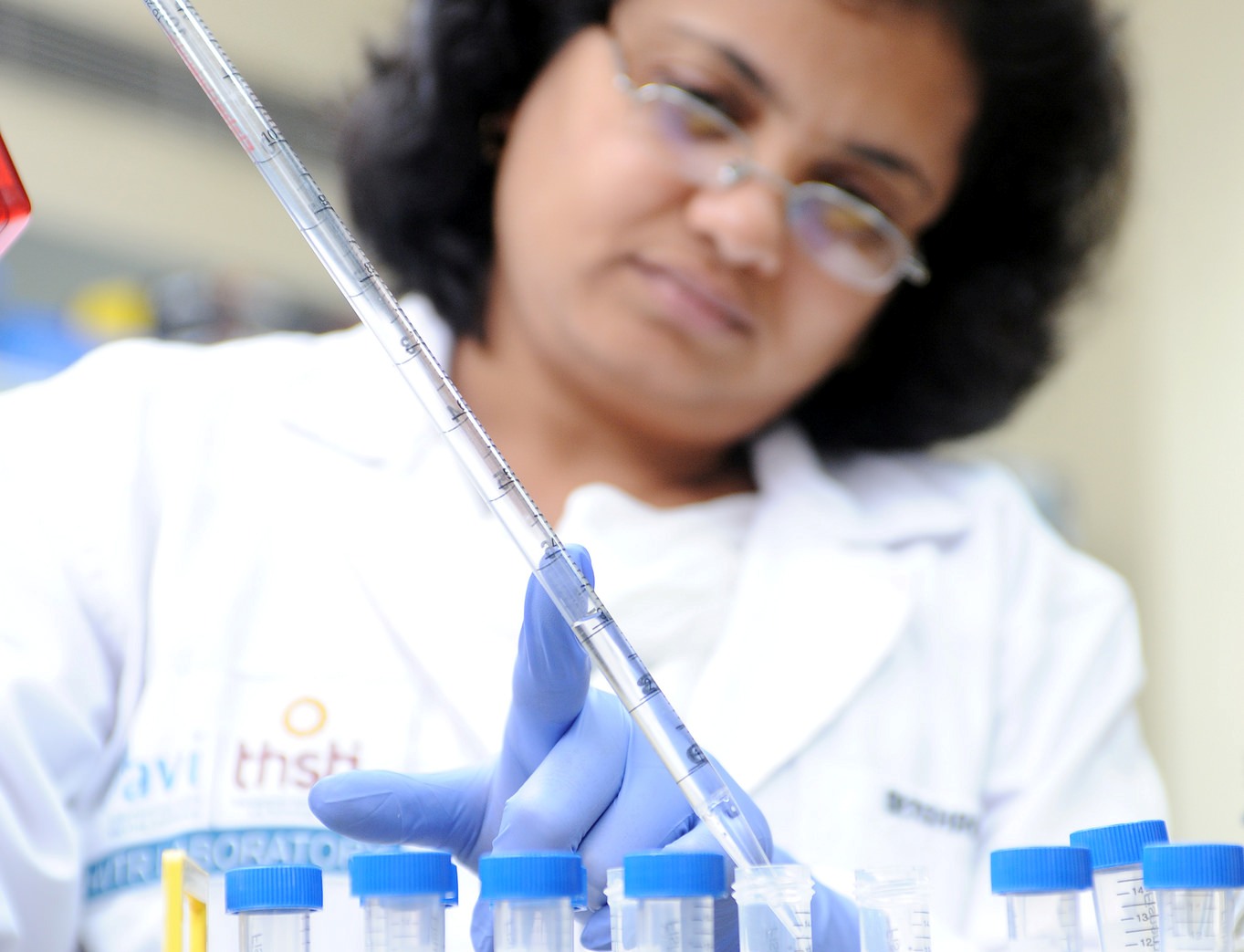 Image source: Flickr
Prof. Shobhana Sharma, Chairperson, Department of Biological Sciences, Tata Institute of Fundamental Research (TIFR), Mumbai, India, highlights this concern in the book Lilavati's Daughters: The Women Scientists of India. According to her, "However rational or scientific a couple may be, the worries of running the household falls (and accepted by) the women. To have women put in their best in their jobs, it is necessary to take care of those worries. Until that happens, the representation of women in demanding professions will continue to be low."
"It is important to note that the norms for excellence are defined experts (historically men), who may not be sensitized to inherent gender differences," she adds. "By having more women in policy making bodies, and more men involved in caring for home and children, hopefully the norms for an excellent professional life will even out for the two genders."
Adding to domestic hurdles, appreciation from the society is given great importance in India. "What other people will think," is a question which everyone considers before pursuing anything 'unconventional'. For example, a stay-at-home husband and the wife going to work is a big no-no (again the outcome of preferential gender treatment in the society). This factor also augments the dilemma of women pursuing STEM.
To boost women participation in STEM, awareness about gender inequality and its outcome has to be increased.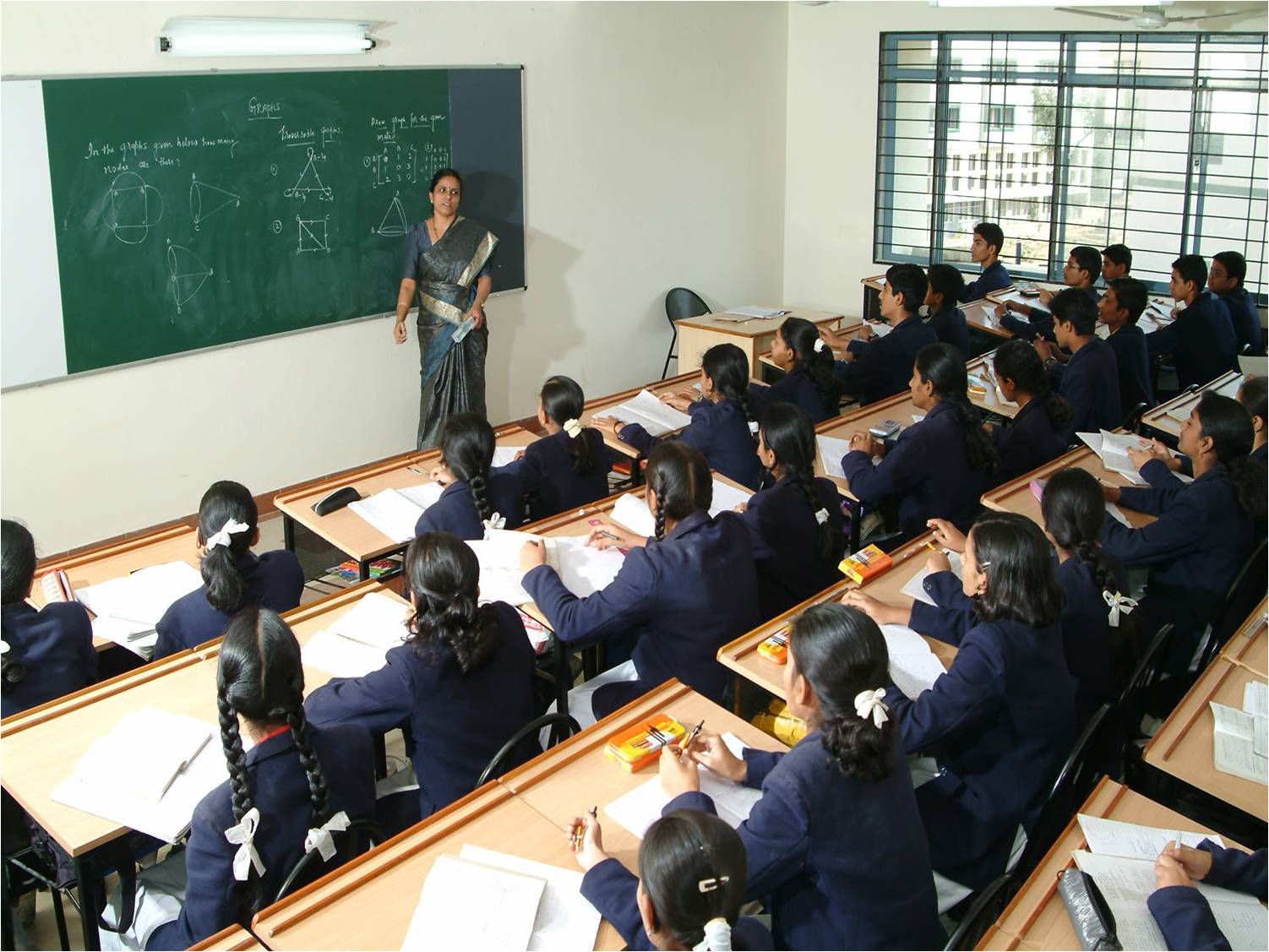 Image source: Wikimedia Commons
Women's participation in STEM should be encouraged from primary school level rather only in higher studies. With increased awareness, the community should be supportive and understanding of career prospects for women.
Conducting gender audits over a specified period of time can help decision-makers keep tab on the number of women pursuing PhDs and holding faculty positions.
It becomes difficult for women after marriage, or having a baby, to get back on track after a career break. Change of selection criteria in scientific communities and considering scientific experience over physical age can help women pursuing STEM careers to a great extent. Introducing crèches in institutes with women employees and research fellows will help to provide a congenial atmosphere for working mothers.
Above all, young girls having big dreams of pursuing STEM should never indulge in gender inferiority complex. No subject is gender biased, it is people who make it so. Diverse thinking brains benefit everyone.
(Written by Khushboo Pandey)
Read the survey by Kelly Global Workforce (KWG) on Women in STEM online.
About the author: Khushboo Pandey is a mechanical engineer and PhD student at the Indian Institute of Science, Bengaluru. She blogs at This article emerged from an interview with Prof Rohini M Godbole, about women in science. The author thanks Prof Rohini for her great insights on the issue of Women in STEM and measures to encourage female participation.
Like this story? Or have something to share? Write to us: contact@thebetterindia.com, or connect with us on Facebook and Twitter.
NEW: Click here to get positive news on WhatsApp!