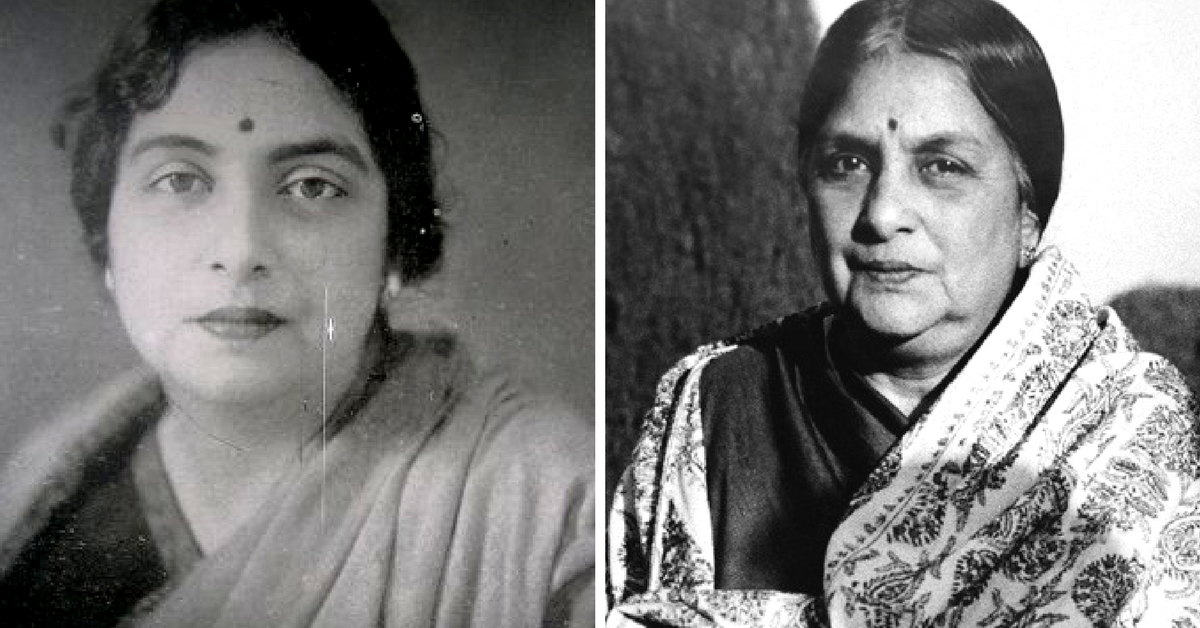 A freedom fighter, social activist, and free-thinking feminist all rolled into one, Kamaladevi's ideas continue to remain relevant even today. Here's the little known story of this amazing woman.
In 1986, when renowned Indian novelist Raja Rao wrote Kamaladevi Chattopadhyay's memoirs, Inner Recesses Outer Spaces, he described her as "perhaps the most august woman on the Indian scene today. Firmly Indian and therefore universal, highly sophisticated both in sensibility and intelligence, she walks with everyone, in city and country with utter simplicity."
A freedom fighter, actor, social activist, art enthusiast, politician and free-thinking feminist all rolled into one, Kamaladevi's contributions to India are staggeringly diverse. Her ideas, from feminism and egalitarian politics to her abiding confidence in Indian handicrafts, continue to remain relevant even today. Yet, this amazing woman is little remembered in her motherland and is almost virtually unknown outside India.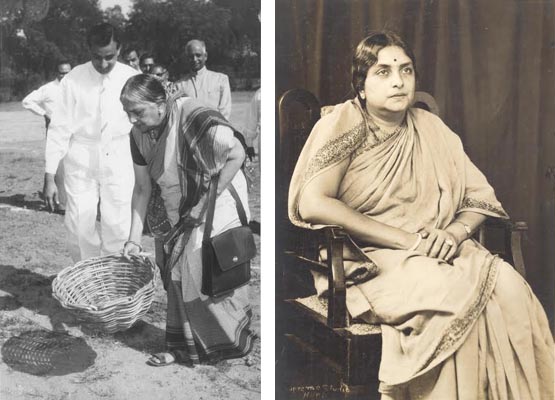 Born on April 3, 1903 into a Saraswat Brahmin family in Mangalore, Kamaladevi was the fourth and youngest daughter of Ananthaya Dhareshwar ( a district collector in South Kanara district of the then-Madras Presidency) and his wife Girijamma.
Kamaladevi's early childhood was dotted by a succession of tragedies. The first of these were when Kamaladevi's elder sister, Saguna, whom she was very close to, died in her teens soon after an early marriage. Soon after, at the age of seven, she lost her father. To compound the tragedy, he left no will and the ownership of all his properties were transferred to his son from his first marriage, leaving his second wife and surviving daughter in the lurch.
So Kamaladevi grew up at the home of her maternal uncle who was a notable social reformer. He was often visited by political luminaries and public figures, like Gopalkrishna Gokhale, Sir Tej Bahadur Sapru, Mahadev Govind Ranade, Srinivasa Sastri, Annie Besant and Pandita Ramabai.
Kamaladevi's interactions with these eminent personalities sowed the seeds of political consciousness in her mind when she was still a young girl. However, it was her educated mother and enterprising grandmother who left the deepest impression on her mind. It was from them that she inherited her independent streak and lifelong love for books.
In 1917, 14-year-old Kamaladevi was married off but her husband died within a year of the marriage, leaving her a widow. However, her father-in-law was liberal-minded and encouraged her to continue to education. She took his advice to heart and for the next few years, she devoted herself to studies.
After finishing her school education in Mangalore, Kamaladevi joined Queen Mary's College in Madras, where she developed friendship with Suhasini Chattopadhyay.
Suhasini was the younger sister of Sarojini Naidu and it was through her that Kamaladevi met Harindranath 'Harin' Chattopadhyay (Suhasini's elder brother).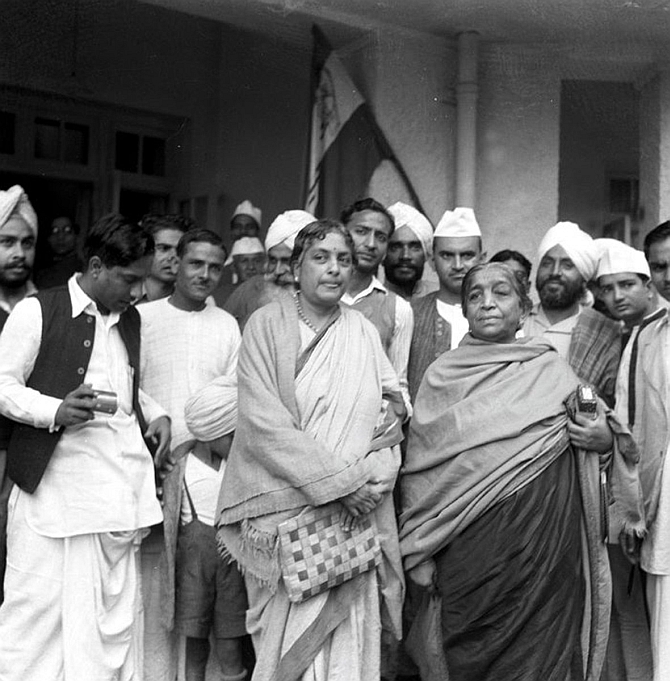 Kamla Devi Chattopadhyay and Sarojini Naidu at the Shimla Conference in July, 1945.
A highly personable poet, playwright and actor, Harin shared many common interests with Kamaladevi such as a passion for arts and a love of music and theatre. The duo soon fell in love and married despite much opposition from the orthodox society (as Kamaladevi was a widow). Their only son Rama was born the following year.
Along with her husband, Kamaladevi performed across India, experimented with folk theatre and regional drama, and even acted in silent films. In her own words, theatre for her, was "like a crusade that drew its life-force from its connection with people's everyday lives."
---
Also Read: What Made Anasuya Sarabhai, a Woman Born to Privilege, Become India's First Woman Trade Union Leader?
---
Shortly afterwards, the couple left for London where Kamaladevi joined Bedford College, University of London, to pursue a diploma course in Sociology. They later parted ways amicably, with their divorce said to mark the very first legal separation granted by the courts of India.
In 1923, Kamaladevi was still in London when she heard of Gandhi's Non-Cooperation Movement. She promptly returned to India, enrolled herself in the Indian National Congress and joined Seva Dal (a Gandhian organisation that worked towards social upliftment of the poor). Her dedication saw her soon being put in charge the organisation's women's department that recruited and trained women of all ages across India to become voluntary workers.
Three years later, Kamaladevi earned the unique distinction of becoming the first woman in India to run for political office. Inspired by Irish-Indian suffragette Margaret Cousins, the founder of All India Women's Conference (AIWC), she competed for a seat in the Madras Legislative Assembly and lost by a mere 55 votes.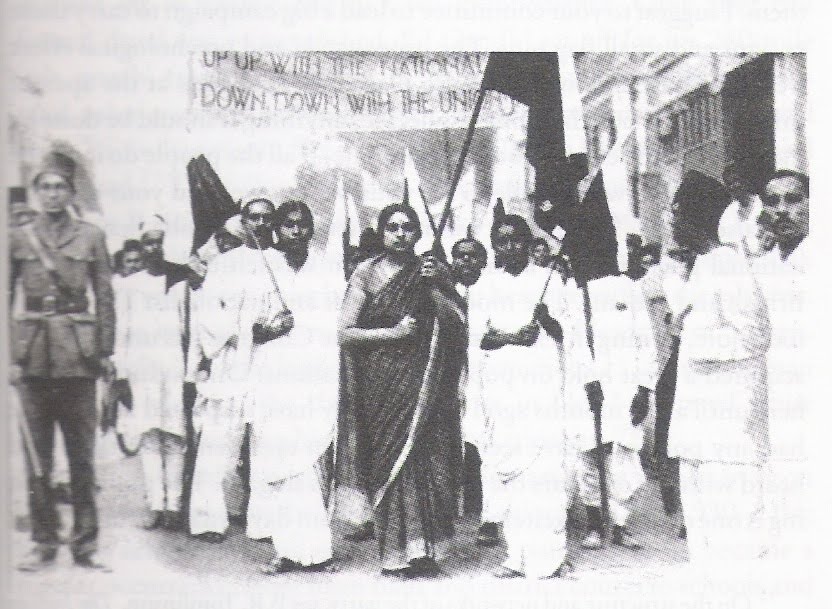 Kamaladevi Leading a Flag Procession, 1930.
An ardent feminist, Kamaladevi also pressed for a uniform civil code as a means to promote gender justice, worked hard for the prevention of child marriage and emphasised on the need to consider women's unpaid household labour an economic activity. By campaigning for improving the quality in women's education, she also planted the seed for what later became the Lady Irwin College in New Delhi.
In 1930, Kamaladevi participated enthusiastically in Gandhi's Salt Satyagraha movement, even entering the Bombay Stock Exchange to sell packets of 'freedom' salt and was sentenced to a prison term for violation of the salt laws.
But the dramatic moment that brought her to the nation's attention occurred when, in a scuffle over the Indian flag, she clung to it tenaciously to protect it from the British troops.
Kamaladevi's visibility as a participant and her forthright assertiveness helped draw hundreds of women as volunteers. In 1936, she became president of the Congress Socialist Party, working alongside Ram Manohar Lohia and Jayaprakash Narayan.
However, it was feminism that remained closest to her heart. Through her long involvement in the freedom movement, she never shied away from opposing her own colleagues if they infringed on or ignored women's rights, even if they were veterans like Motilal Nehru, C. Rajagopalachari and Mahatma Gandhi.
In fact, when Gandhi had opposed the inclusion of women in the salt satyagraha, she had spoken out against this decision.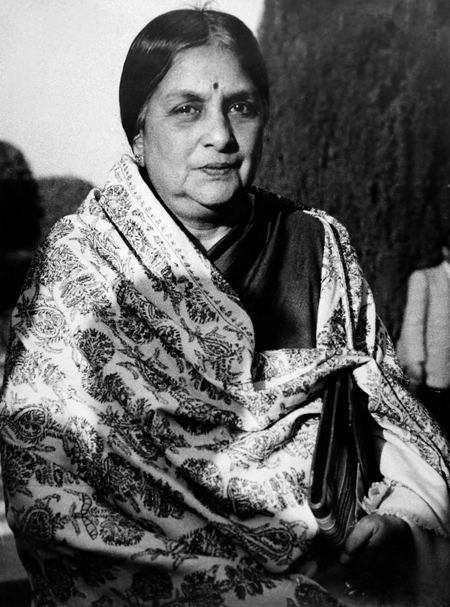 Photo Source
In 1939, Kamaladevi Chattopadhyay travelled to Denmark to attend a conference about women's rights and was in England when World War II broke out. She immediately began travelling to different countries to highlight India's situation and drum up support for India's nationalist movement.
She especially spent much time in the USA, travelling the length and breadth of the country, making friends with American feminists, interacting with African-American civil rights activists and writing for several American publications. "You are fighting the patriarchy," she would tell her audiences in the US; "we are fighting imperialism."
A prolific writer, Kamaladevi wrote some 20 odd books, many of which drew from her personal experiences during visits to foreign countries. For instance, her visit to Nanjing and Chongqing in China while it was under Japanese rule resulted in her book, In War-Torn China, while her visit to Japan inspired another book, Japan: Its Weakness and Strength.
She also wrote widely on the US, with her books, Uncle Sam's Empire and America: The Land of Superlatives, furnishing more evidence of her global outlook and the wide array of her intellectual interests.
After India got its hard-won Independence, Kamaladevi refused offers of posts such as ambassador, Union minister, governor and even vice-president to devote herself to humanitarian service. As she would say later, "I left the highway of politics to step into the side lane of constructive work."
One of Kamaladevi's first initiatives was drawing up a rehabilitation plan for the tens of thousands of post-partition refugees. Mainly from West Punjab, they had come to Delhi in search of shelter and work and were living in makeshift tents in and around the city.
With the fast approaching Delhi winter guaranteed to worsen the situation, Kamaladevi decided that constructing houses on a cooperative basis was the solution and founded the Indian Cooperative Union. Despite huge obstacles, ICU managed to create an industrial township called Faridabad (on the outskirts of Delhi) entirely through community effort!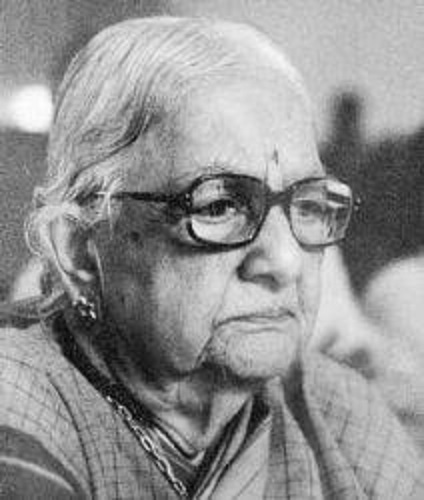 Kamaladevi also played a phenomenal role in reviving thousands of indigenous art and craft traditions in India during the post-Independence era. Other than making it fashionable to wear hand spun sarees and adorn homes with traditional handicrafts, she set up a series of national institutions (including National School of Drama, All India Handicrafts Board, Sangeet Natak Akademi and Central Cottage Industries Emporia) to archive, protect and promote Indian dance, drama, art, puppetry, music and handicrafts.
For her, artisans were equal to artists and with this in mind, she also constituted several national awards for master craftsmen.
The government of India honoured her with the Padma Bhushan in 1955 and later, in 1987, with the Padma Vibhushan. In 1966, she was conferred the Ramon Magsaysay Award for Community Leadership. In 1974, she was awarded the titles of Ratna Sadsya by the Sangeet Natak Akademi and Desikottama by Shantiniketan, the highest awards of both the organisations.
She was also honoured by UNESCO, UNIMA (Union Internationals de la Marlonette), International Puppetry Organisation and World Crafts Council for her contribution towards the promotion of handicrafts.
A rare woman whose vision gifted India so many of its iconic cultural institutions, Kamaladevi passed away on October 29, 1988, at the age of 85. As Indian President R. Venkataraman said on her death, it is difficult to prefix the word 'late' to Kamaladevi's name, because "hers was, and will always be a palpable presence."
---
Also Read: The Forgotten Spy: The Untold Story of India's Youngest Covert Agent, Saraswathi Rajamani
---
Like this story? Or have something to share? Write to us: contact@thebetterindia.com, or connect with us on Facebook and Twitter.
NEW: Click here to get positive news on WhatsApp!
We bring stories straight from the heart of India, to inspire millions and create a wave of impact. Our positive movement is growing bigger everyday, and we would love for you to join it.
Please contribute whatever you can, every little penny helps our team in bringing you more stories that support dreams and spread hope.
Tell Us More