RuralShores was started keeping in mind the problems associated with mass migration of rural youth to the cities in search of jobs, both to the individuals and to society as a whole. It focuses on enabling these youth to have access to jobs without leaving the villages. On the whole, this is positively impacting the development of rural parts of India as well as giving stable jobs and incomes to the people.
He promised his parents that he would go to the city and make a good living there. He was sure he would get a good job and a decent income. He told himself that he would regularly send back some money to his ageing parents. He thought that the city would be the answer to all his problems. But in reality, it was nothing like what he had dreamt. It was difficult to get a job and even harder to find a place to stay. The city life was hard and he soon found himself returning to his village, hopes and ambitions crushed.
This is the life story of thousands of youth across our country. The limited progress in rural areas forces them to leave behind their families and flock to the cities in hopes of making a decent living. This is mainly because the metropolis and urban parts of our country are rapidly developing, leaving their rural counterparts in the dust. However, unless rural India is included in the nationwide development, the progress will not be sustained in the long run.

The Beginning
These two problems led to the genesis of an organization christened RuralShores. Founded by a group of highly successful and motivated professionals headed by Mr. Murali Vullaganti, it drives the implementation of a very unique idea. It is driven by social motive and does not intend to materially benefit from the venture.
Usually, the rural youth is lured to the cities for non-critical business transactions such as data entry, simple book keeping, expenses handling and document digitization. Instead of bringing them to the offices in cities, why not bring the offices to them? Their tagline, 'Bringing jobs to the people rather than bringing people to the jobs' seems to convey their initiative in a nutshell. This would benefit not only the villages, but also the companies that 'take the jobs to the people' in the form of cost benefits.
How It Works
This organization ropes in enthusiastic youth from the villages and trains them to be able to perform basic computer and English-speaking tasks. RuralShores provides immense help to people in the villages. It gives opportunities to people with disabilities and also focuses on women empowerment. An impressive statistic reveals that nearly 50% of the workforce constitutes of female employees. The organization offers companies skill development solutions in sectors like Banking & Financial Services, Insurance, Retail, and Telecom. The foundation training is provided by local institutes specialized in skilled training for educated rural youth. After three months of training, they are ready to take on a job that can provide them with a sufficient means of livelihood.

The Impact
Through RuralShores, the standard of living of the employees and their families has undergone a tremendous. In an internal study done recently, it was found that employees have invested in household conveniences, besides providing for higher education for themselves and their siblings. The initiative has brought self-confidence and empowerment to the lives of thousands of people, without forcing them to relocate to the cities.
On the whole, RuralShores benefits society at three different levels. It brings employment, education, infrastructure and income into the villages. Corporate organisations have access to a dedicated work force and cost attrition. It also benefits India as a whole, contributing to rural development, improving literacy, expanding the talent pool, while simultaneously curbing urban migration.
RuralShores is a boon to villages because it also has a number of indirect effects. With a stable source of income, individuals can support family needs and higher education for youth. Educated individuals see the importance of education; hence they are motivated to send their children to school, improving literacy rates. Since migration to cities is curbed, families are no longer fragmented, retaining character and values.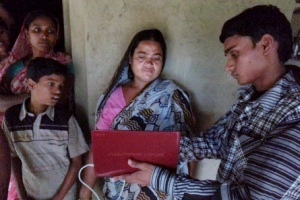 The Journey So Far
This initiative is already in action. Over five years, RuralShores has launched 17 centres in operation in Karnataka, Gujarat, Andhra Pradesh, Rajasthan, Uttar Pradesh, Madhya Pradesh and Tamil Nadu, employing more than 2500 rural youth. Each centre has an average of 100 seats with a capacity for 180 people in two shifts. Their main objective is to establish one RuralShores centre in each of the 500 rural districts of the country thereby providing sustainable employment to over 100,000 rural youths by 2025.
RuralShores has gained awards and recognition for its work. Some of them include the Economic Times BPO award – Social Catalyst and the Wall Street Journal's Top Best 3 Innovations in the Asia Pacific.
It is promoted by a group of IIT/IIM educated and accomplished senior executives from E&Y, HP, HDFC Bank, Mastek and Wipro who share common values and a passion for rural development.
To bring India to the forefront, economic growth and development is needed, not only in the major cities but also in the rural parts of the country. Without development in the villages, it is impossible for the entire country to develop. When we grow, we have to grow as a whole and that needs to be realized. Organisations like RuralShores have that perspective and are a step in the right direction.
Rishika Gundi, is currently a 9th grade student being mentored by
Ivy Aspire Counseling
, Bangalore's leading SAT, GMAT, GRE and overseas counseling firm, run by Shaista Baljee. Rishika has published a book " Wings of Imagination".
We at The Better India want to showcase everything that is working in this country. By using the power of constructive journalism, we want to change India – one story at a time. If you read us, like us and want this positive movement to grow, then do consider supporting us via the following buttons.
Please read these FAQs before contributing.