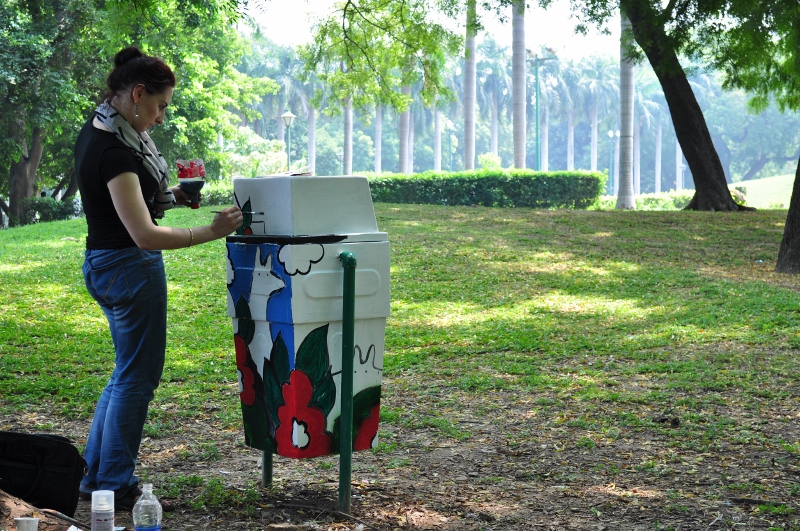 A brilliant initiative is giving artists in Delhi a chance to display their creativity in a prominent public space while making garbage bins aesthetically appealing! Read on to find out how.
A brilliant initiative is giving artists a chance to display their creativity in a prominent public space while making garbage bins aesthetically appealing! Here's how.
One of the issues most Indian cities face is garbage management – be it the lack of adequate garbage bins where you would expect to find them or timely clearing from garbage collection points. Delhi is no exception, though being the capital city it gets a lot more attention on such matters – thanks to active citizens and a watchful media. While the city may not have garbage bins strategically located at major street intersections, it does have plenty of them in the more prominent public parks such as Lodi Gardens.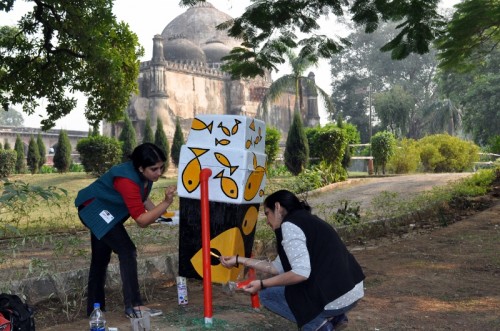 A few months back, Yogesh Saini, who grew up in Delhi and has recently returned as a resident, was on his morning jog in Lodi gardens and noticed the city officials replacing older garbage bins with new ones. It seemed to make little difference to many park visitors, who either stubbornly refused to use them or chucked their waste around or near the bins – just not in them. Often, at the end of the day, park staff could be seen collecting strewn items and stuffing them into the bins. Saini wondered if the garbage cans were just not catching the eye of those who were meant to use them – despite being newer and cleaner. If so, what purpose was really being served by this exercise?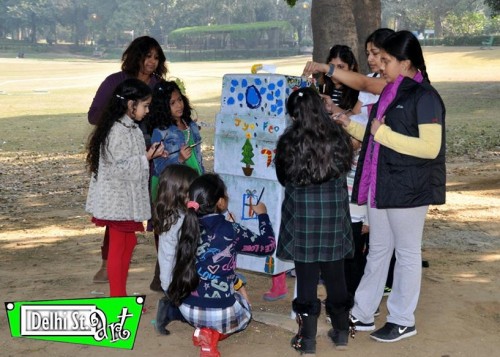 While mulling over this question Saini, an entrepreneur, avid photographer and keen observer, decided to do something other than the usual ritual of exasperated complaining of how money was being wasted etc.
Lodi Gardens is like a giant oxygen tank of Delhi and blessed with all kind of natural beauty. These garbage bins stood out as sore thumbs – on one hand, not particularly visually appealing and on the other, failing to attract the utilitarian attention they were designed to seek. This is where morphing them into objects of art came as a thought and this led to the creation of Delhi Street Art!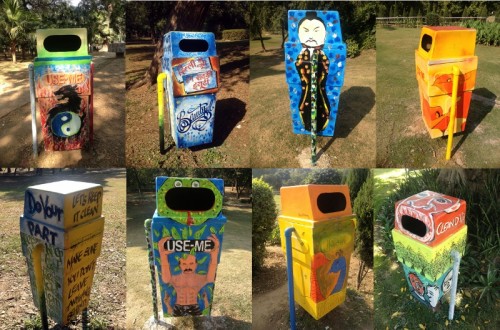 One of the early lessons of being an entrepreneur is to be able to visualize what your idea is going to result in and be able to convince customers, investors etc. to buy into your vision. It took Saini just a couple of hours to create digitally clad images of these bins with random art images. Finding the right people to sell the idea to required a little more effort starting with the NDMC (New Delhi Municipal Council) website, followed by several phone calls and finally leading to in-person meetings with city officials. Just armed with "before" and "after" images of bins, Saini managed to convince NDMC leaders how this idea will work. Surprisingly he received an immediate positive response despite words of caution about the prominent location of the park and the fact that politicians and other high profile visitors can be the worst critics of anything they deem unfit for the green space.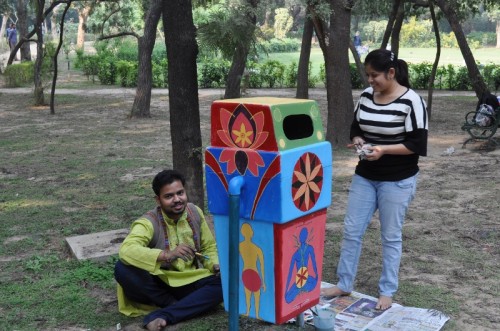 "Street Art Saturdays" started out as a series of events conceptualized and meticulously executed by Delhi Street Art (www.facebook.com/delhistart) in partnership with New Delhi Municipal Corporation (NDMC). Since the launch in September, four such events have been organized on September 14, September 21, November 16th and December 14th, 2013 and have involved nearly 75 artists.
The primary goals of the Lodi Gardens events have been to add more color to Delhi's open spaces, give local artists a creative outlet to express themselves, and to encourage the citizens to keep their public spaces clean, while appreciating the art.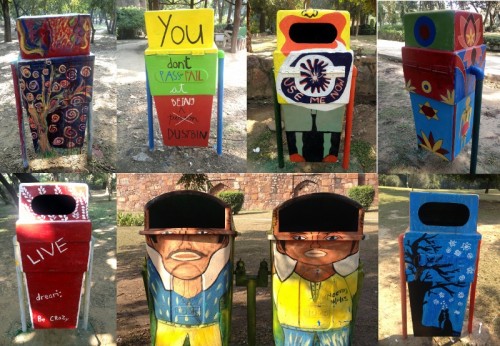 "Once all the garbage bins of Lodi Gardens have been painted in myriad styles and hues, it will become one of the most unique public parks in the world where over 100 individual art works have been conceived, created and displayed within the confines of the park itself. While there are several parks that house sculpture gardens and art galleries, we hope to turn Lodi Gardens itself into a huge public art gallery and studio!" says Saini who is an engineer and an MBA with a strong creative streak and interest in the public domain. He observes:
You will not usually come across people strumming a guitar inside a Delhi Metro station or practicing the latest breakdancing moves around India Gate. People are generally wary of the authorities and over the years have been conditioned to maintain some 'decorum' and stay within acceptable guidelines in public places. But, all that is starting to change – from appearance of a smattering of wall murals to impromptu street theater performances. Delhi will see more of such expressions in the coming years as it's in the process of cultural liberation.
O. P. Mishra, Director, Projects, at NDMC is an enthusiastic supporter and a vocal proponent of Delhi Street Art's efforts. It was he who ensured that Saini got all approvals for his project within days and turned both the chairman of NDMC, Mr. Jalaj Srivastava, as well as the former Delhi Chief Minister, Shiela Dixit, into fans of the effort. "We have bigger dreams. We may now look at walls, subways, school compounds. The idea is to involve the citizens of Delhi so that they feel a sense of ownership about the public spaces of the city and take pride in living in the capital" says Mishra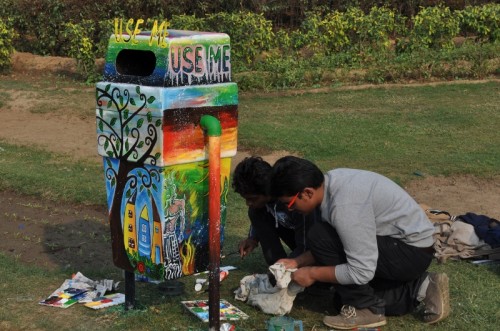 Artists are given a certificate and memento jointly by Delhi Street Art and NDMC for the time and effort they spend on transforming trash bins into the vision of their creativity.
Nishat Rehman, an accomplished Delhi photographer and artist who has held several shows, was one of the first to join Delhi Street Art and brought with her a long list of achievements and a large following of friends and art lovers. She is an active participant in all Lodi events as well as one of the key members of the organizing team. Maria K. originally from Russia, calls Delhi her home and in between learning Kathak and classical music, enjoys applying Russian folk art style blended with Madhubani strokes to her public art. She too joined Delhi Street Art back in August and has been an active participant in all events.
In addition to the events at Lodi Gardens, Delhi Street Art has also been involved in organizing street art workshops and other projects including an "Art on the Rooftop" event in November.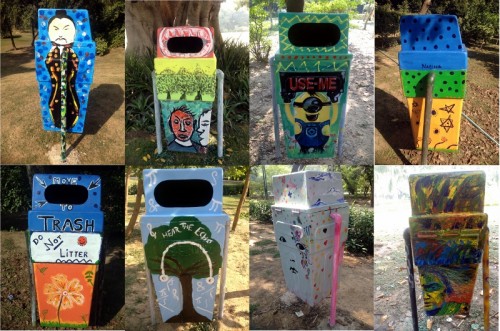 Following the very positive response to the events in the past couple of months, Saini is looking at possible larger format art initiatives in other public spaces of Delhi as well as other Indian cities. Says Saini:
We hope this is just a small beginning and have several ideas we would like to explore in the coming months. It was really important to get initial validation before we stepped out to do more. Artists are reaching out as are art lovers and we will continue to do our best to bring more color and creativity to public spaces.
We at The Better India thank the Delhi Street Art team for bringing a spattering of Art to our public places, and hope for many more such efforts in all Indian cities, towns and villages!
We bring stories straight from the heart of India, to inspire millions and create a wave of impact. Our positive movement is growing bigger everyday, and we would love for you to join it.
Please contribute whatever you can, every little penny helps our team in bringing you more stories that support dreams and spread hope.