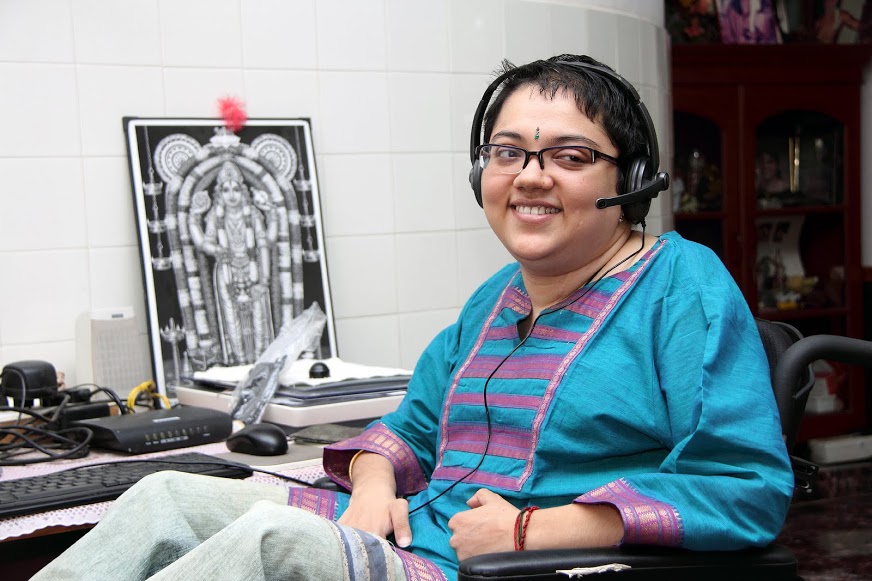 She had physical and mental sufferings of her own. But instead of grieving about them, she chose to draw lessons from these and reach out to others with a similar or worse plight. Preethi Srinivasan is a quadriplegic but that's not what defines her. She chalks out and realizes plans to help other people with severe disabilities to stand on their own feet with dignity.
She had physical and mental sufferings of her own. But instead of grieving about them, she chose to draw lessons from these and reach out to others with a similar or worse plight. Preethi Srinivasan is a quadriplegic but that's not what defines her. She chalks out and realizes plans to help other people with severe disabilities to stand on their own feet with dignity through her organization, Soulfree.
Preethi Srinivasan was the captain of the under-19 Tamil Nadu women's cricket team. She was a champ swimmer. Even after the unfortunate accident that left her quadriplegic, she continues to have all the virtues of a champion sportsperson. Today, she champions the cause of others in need. Post the accident that has left her paralysed below the neck, her life is harder but has found a new meaning that she enthusiastically embraces. Yes, the championship streak of this sportsperson continues.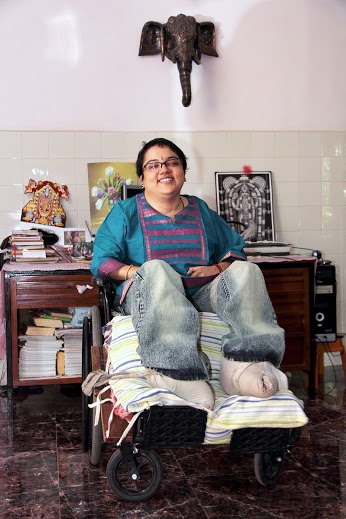 Her accident altered her course of life. Physically, mentally and emotionally. An easier choice might have been to succumb to life's and society's unfairness, sit back home and lament the twist of fate. But what emerged eventually out of all the struggles was a new messiah and leader for people. Physically, she might be confined to a wheel chair but she weaves plans of freedom for others like her through her organization Soulfree. Soulfree is a Tamil Nadu based small, public charitable trust that Preethi has started to provide women with severe disabilities with hope and assist them in fulfilling their highest human potential by providing a basic quality of life.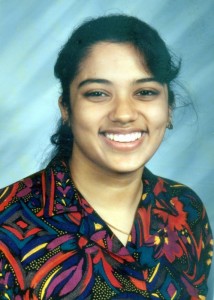 Could you expect a girl in India to be so much into cricket right from the age of 4 years? You might, if you are talking about Preethi Srinivasan. The most devoted fan of the legendary West Indies cricketer, Sir Isaac Vivian Alexander Richards, Preethi was the youngest at just 8 years old to play for the Tamil Nadu Women's Cricket Team. Her passion for the game even made her attend a cricket camp that had been organized for 300 boys. And no, she didn't shy away from the boys; on the contrary the boys were apprehensive of bowling to such a hard hitting 'batswoman'! She also captained the U-19 TN Cricket team to its only victory in 1997. That aside, she was also a champion swimmer. She stood first in the state in the 50m breaststroke and came second in all the other swimming events. The sport helped her develop strong shoulder muscles.
And then came the ill-fated incident on 11th July, 1998 that could possibly shock any body's imagination. Preethi was 18 at that time. She had had a wonderful college trip to Pondicherry and was returning to Chennai, when they stopped by to spend some time at a private beach owned by a classmate's father. Soon, they went to the shores and with the other girls, she started to jump on the waves in thigh deep water while the boys swam and played in the deeper portions. Preethi narrates those horror-filled moments that followed:
A receding wave churned up the sand from under my feet, tripping me up. I stumbled a bit and dived face forward into the water. Having been a swimmer since the age of three, you would think I would have an instinctive knowledge of how to fall into water. However, as fate would have it, the moment my face went underwater I felt a shock like sensation travel through my body. That's it – no impact (I did not hit any rock or the ocean floor, or anything hard at all), not a drop of blood, just a split-second of misfortune. I didn't feel pain or lose consciousness, and there was absolutely nothing dramatic. As soon as I felt the shock travel through my body, I couldn't move. I tried to get back out of the water, and nothing happened, so I held my breath until my friends pulled me out.
Pandemonium and fear struck everyone. Yet, it was Preethi who kept her cool and even as she felt faint, she got others to conduct her own first aid, following which she was taken to the JIPMER Hospital in Pondicherry in an ambulance. There she was made to wear a spondylitis collar, without proper diagnosis and sent to Chennai for a thorough check up after labeling it as a case of "accident". It took four crucial hours to reach Chennai for proper treatment, where she was diagnosed not with spondylitis but a severe case of paralysis. Preethi still wonders if those four hours of misdiagnosed medical care would have made all the difference in her condition today. Now, improvement in emergency medical care is one of the topmost priorities of her organization Soulfree. Says she:
Anyone who has been in a road accident in India understands that the emergency medical care system we have is extremely poor. Many a time spinal-cord injuries occur after an accident, when the victim is being removed from the vehicle, taken to the hospital or soon afterwards. It is vital that trained emergency medical technicians who are aware of how to stabilise the spine so that spinal-cord injuries can be prevented are available soon after an accident. In Western countries all one has to do in case of an emergency is to make one phone call – to bring exceptionally well-trained personnel who know exactly how to stabilise and deal with the given problem in a professional and skilled fashion.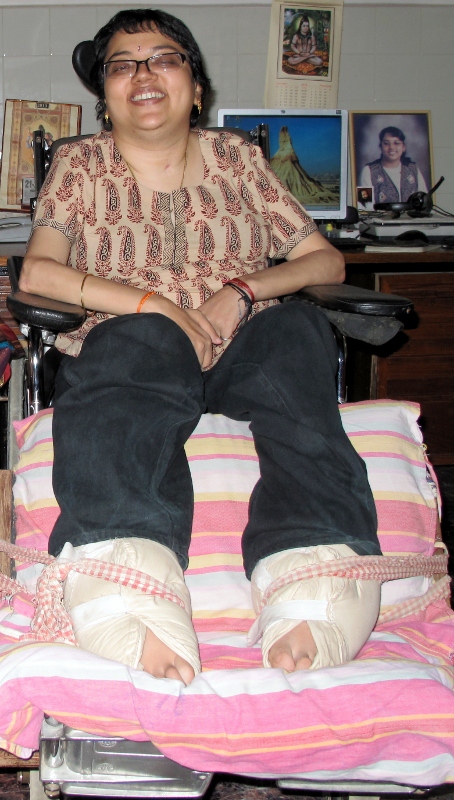 For an athlete and a young person, dealing with such a life-changing accident can be a calamity, and requires super-human strength to carry on. Preethi recalls the difficult time:
For the first 18 years of my life I had effortlessly excelled in every area of my life, and the future seemed to be brimming with infinite potential. Then, in a split-second, it was all over and I found myself having to come to terms with life in a wheelchair. At 18, one identifies oneself completely with the material plane – appearance, achievements, status amongst peers, et cetera. I thought I deserved all the success I got purely because I worked hard with integrity and sincerity. Then, I reached a stage where I could not even move my little finger no matter how hard I tried. What could I have done to deserve such a fate? I was shattered. My identity was completely lost and I felt invisible to the world. Who was I? I didn't know, I didn't want to know – I wanted to die.
A disability is not just a mere robbing of the physical vital functions of body parts, although that is painful enough, but for most it also brings with it the loss of a sense of dignity and self-worth, and a feeling of becoming secluded from the world, as Preethi described. For Soulfree, hence an important agenda is to build or retain the self-esteem in the victims of severe disability by helping them identify their own strengths and latent talents and earn a living and command respect, not mere sympathy from others.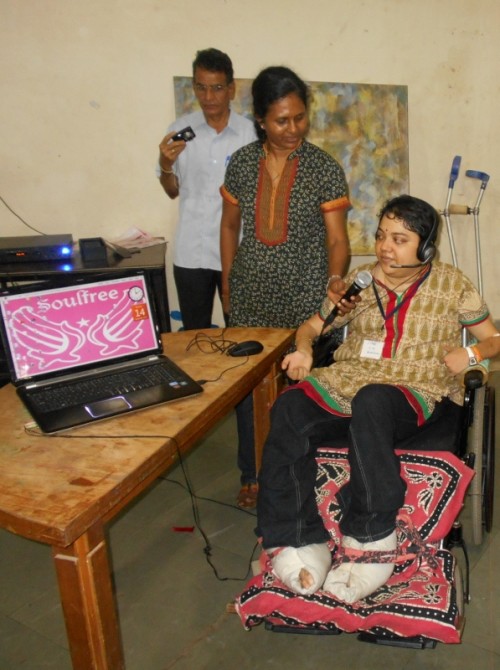 If Preethi intends to be the sturdy support of the severely disabled in need, it is Preethi's parents who have in turn, been her backbone. In fact, it was Preethi's mother who had convinced her to start such an organization. Preethi reminisces:
After my father's death, my mom also became very sick and needed to have a quintuple bypass surgery in 2011. I guess she also had the stress and worry of what would happen to me if she was not around to care for me. So, in her usual generous way, she started to think that this must be a concern all parents of the disabled would have, and because there was no solution in India, she encouraged me to start an NGO and begin working towards providing sanctuary for many more like me. I became more exposed to the plight of the disabled, especially women in India – I was really disturbed. I began hearing of cases in which women were encouraged by their own families to commit suicide. When I found out that so many are being treated as a burden by their own families, not given rehabilitation or even a basic quality of life, and so severely stigmatised that they feel there is shame in staying alive, I could not sit quietly anymore. If those of us, who are reasonably secure, decide to ignore the cries of those in need, then our society will never evolve. People like Helen Keller became an inspiration for me, and I thought, if they had a place to go, if they were given hope and a reason to live; if they could live with dignity, a basic quality of life and become productive members of the society, they wouldn't be forced to commit suicide. This has to happen, and if it must happen through me, then so be it. This is how Soulfree was born.
A community support system can be that much-needed backbone that could help them bounce back to life. In this respect, Preethi is proud of her parents. Says Preethi,
The greatest blessings in my life are my parents who've always showered me with unconditional love and support. After the accident their generosity of spirit and greatness was even more evident as they quietly sacrificed their lives so that I could live with dignity. Never once did they blame me for destroying not only my own life, but theirs as well and all their hopes and dreams for my future. I'm alive today because they stood by me and cared for me every moment of every day. My mother is my Goddess.
However, not everyone is as blessed in this respect. Many families feel burdened by the responsibility of a severely disabled member. And if such a person is a woman, and that too from an economically weaker section, then it spells a bigger trouble. Soulfree aims to tackle this key issue by having certain rehabilitative measures like providing a home for quadriplegics and paraplegics who wish to live independently or are unable to get adequate support from immediate family, and making available skilled and qualified doctors, physiotherapists and attendants on call, and also have a caregiver training institute. In addition, they hope to provide skills training to facilitate productive employment.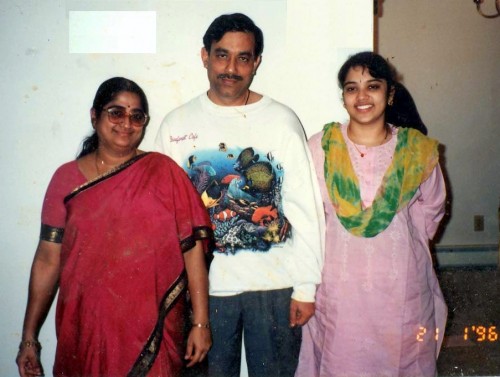 Today, her wheelchair restricts her movement. There was a time when she was an avid traveler. Her father had a transferable job and the result was that she had visited 9 different schools in 3 different continents. Recalls Preethi:
It's extremely difficult to always be "the new girl" and each time I would settle into a milieu and start making friends, it would be time to go. At the time, the constant adjustment was painful, but now I realise the tremendous value it provided me in terms of exposure to various cultures, traditions and types of people. Perhaps, it has also given me a deep intuition about people and how to make them feel comfortable and confident about themselves.
It was probably her born intuition about people, her keen interest on the workings of the human mind, human relationships and perhaps her natural talent to be a Secret Keeper where people would comfortably divulge personal and confidential thoughts with her that made her want to study psychology. But that wasn't meant to be for the girl who in grade 12, had made it to the Who's Who List of America for being among the country's top two percent merituous students!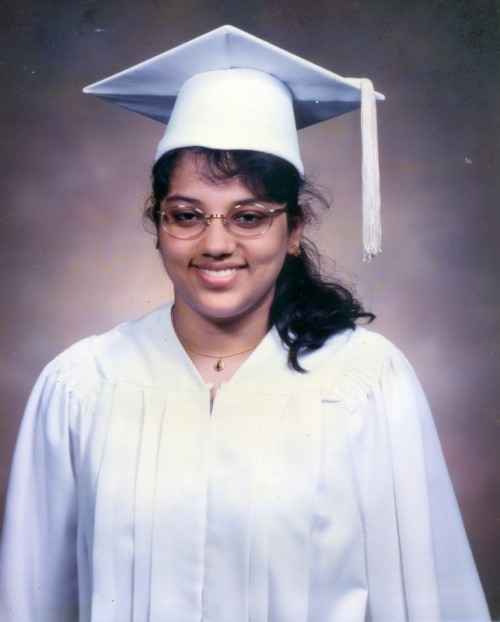 In 2001 my father approached various universities (in Tamil Nadu) to join a bachelors in psychology. However, the rule book was thrown at us saying that I would have to come and spend 15 days at the University for compulsory contact classes, and that the buildings at the University are not wheelchair accessible at all. At one point my father got vexed and said that there was no need for some paper certifying that I'm intelligent or knowledgeable. He brought me books I could read and expand my horizons with, and so I continued the learning process, even though I couldn't have a degree.
It seemed as if her excelling experience in swimming and cricket was being tested severely. She had to swim against the societal tide of rejection, pity and even being associated with misfortune. Her shoulders might have given way, but her sturdy will power and family support made her hold on to the bat and hit all the curve balls and off spins that fate was mercilessly bowling out at her in the battlefield of life. She took a pause and once again started hitting out to the boundaries. She describes,
Not being able to control even the most basic functions of one's body, being totally dependent on others for one's most private needs, the complete and total decimation of all of one's hopes and dreams for the future are things no one can get over easily. It took me a long time, and I still have hope that a miracle is possible in any moment… I do wish I could be healthy again, I do wish I don't have to be dependent on any one ever again, and if it happens, it would make me blissfully happy. At the same time, there is an existence beyond the physical plane, and somehow, my limitation has opened that realm up to me. It is magnificent in its own way, but impossible to explain or express in words. I believe that a human life is most meaningful when it brings about growth and evolution in the body mind organism. In that way, I'm exceptionally blessed because I have evolved more in these 16 years than I could have in 16 "normal" lifetimes – innumerable struggles and two near death experiences have given me that much.
There were dreams that were abandoned and hobbies that had to be given up but that gave way for new ones. Among her many interests, she wishes that she could have pursued cooking and photography. However, she has still kept alive her interest in music, art, films and literature. She enjoys reading, watching films.
I also started working doing synopsis, editing and reviews for some friends, as well as spiritual magazines like Tattvalokha, which allowed me to gain a great deal of knowledge about spiritual texts. After doing web-content writing work for a few years, I'm presently working for a movie-based website called www.moviebuff.in as a synopsis writer. A few years after the accident, I also started doing mouth paintings and designing of posters, business starter kits, et cetera. When I embarked upon my journey with Soulfree, this experience came very handy, because I was able to design the logo for Soulfree myself – and that gave me a lot of joy and satisfaction.
She also recently completed her Bachelors in Medical Sociology (thankfully this did not have any compulsory classes to be attended on campus) and is in the process of enrolling for Masters.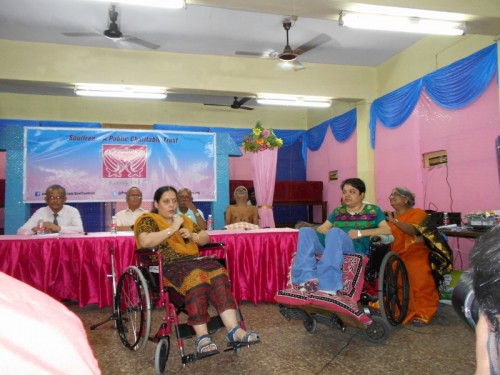 Preethi has given several inspiring talks of motivation at various institutions. In fact, she hopes to use her voice to the fullest for this cause. She explains,
Through my words and example, I feel that I can be a source of inspiration for many, and motivate them to look beyond just the material realm, into something more meaningful and worthwhile. I honestly believe that I've been chosen as an instrument by the cosmic flow to spread light, love and laughter in the world, and the greater positive impact I can have in this world, the more fulfilled I feel.
Through her organization, Preethi hopes to create a massive change in the Indian society for the severely disabled by spreading awareness about spinal cord injuries and their prevention, better treatment, enabling greater educational and employment opportunities, creating an exclusive toll free helpline in Tamil Nadu to reach out to those in dire need in connection with spinal cord injuries, organizing networking events for them and changing the perception of the wheelchair-bound in India. With the help of the entertainment industry and corporates, Soulfree aims to create gainful employment for those who can only use their voices. This initiative, called "Throat Fort" aims to train quadriplegics in the use of their voice for various vocations like recording of audio books, radio jockeys, voice dubbing artists, telephone marketing, etc.
The NGO that is still in its infancy is one of its kind in India and has the potential to bring about monumental change, an inclusive society and create a revolution for those suffering from severe physical disabilities. However, to realise this dream of Preethi's and her parents', the support of one and all is required. Youth and voluntary organisations like Rotary, Vaergal and Nal Vidhaigal in Tamil Nadu have already come forward in support of this initiative. In Preethi's words,
Grace has run my life and continues to guide me through everything. I have full faith that the citizens of India will respond to the sheer merit of the Soulfree cause. Already, many people are coming out in support and wish to volunteer their time, expertise and resources for Soulfree. I have no doubts that, as and when more and more people come to know, the movement will gain momentum and begin creating a positive impact in the lives of many. I do not wish to go around asking for donations. My idea is to go to schools, colleges and corporate houses to give inspirational talks and use the funds collected from them for Soulfree's activities. There is so much to do in terms of building databases of the disabled, volunteer databases, and setting up programs to increase awareness et cetera that we are going to need a lot of help from volunteers, and the media.
We do wish Preethi and the Soulfree initiative great success in achieving their goals and encourage all our readers to free their souls and do their bit for a more inclusive India. For more information about their initiative, feel free to visit their website: http://www.soulfree.org/ or Facebook pages: https://www.facebook.com/Soulfreetrust and https://www.facebook.com/ThroatFort. You could also contact Preethi directly at Preethi@Soulfree.org
Ipsita Sarkar is a freelance writer.
We bring stories straight from the heart of India, to inspire millions and create a wave of impact. Our positive movement is growing bigger everyday, and we would love for you to join it.
Please contribute whatever you can, every little penny helps our team in bringing you more stories that support dreams and spread hope.