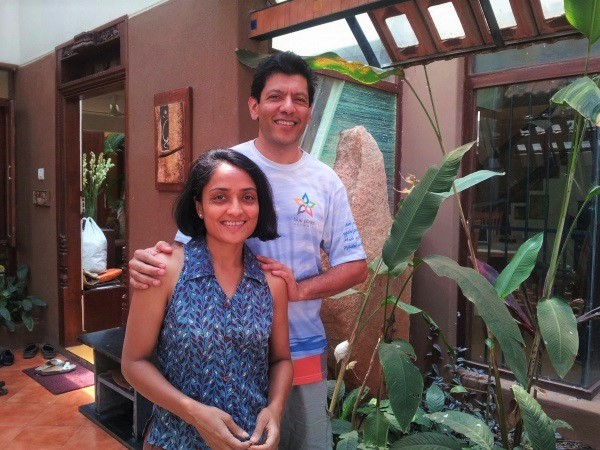 In recent years, an increasing numbers of Bengalureans have started making efforts to minimize both environmental impact and financial outlay by outfitting their homes with sustainable technology.
The term sustainable homes is thrown about quite a bit these days, but there's more to it than just segregating your waste and calling it a day. True sustainability is made up of many facets, from building materials to the use of renewable energy sources to design that strives for efficiency and harmony with the surrounding environment.
A green structure is an environmentally sustainable building, designed, constructed and operated to minimise the total environmental impacts. The carbon footprint of a home can be minimised through practices like reduced energy consumption, water conservation, and waste recycling.
In recent years, an increasing numbers of Indians have started making efforts to minimize both environmental impact and financial outlay by outfitting their homes with sustainable technology. The resulting boom in sustainable building is driving new levels of architectural innovation.
Here are 6 remarkable homes in Bengaluru that are setting an example for eco-friendly living.
1. Hombelaku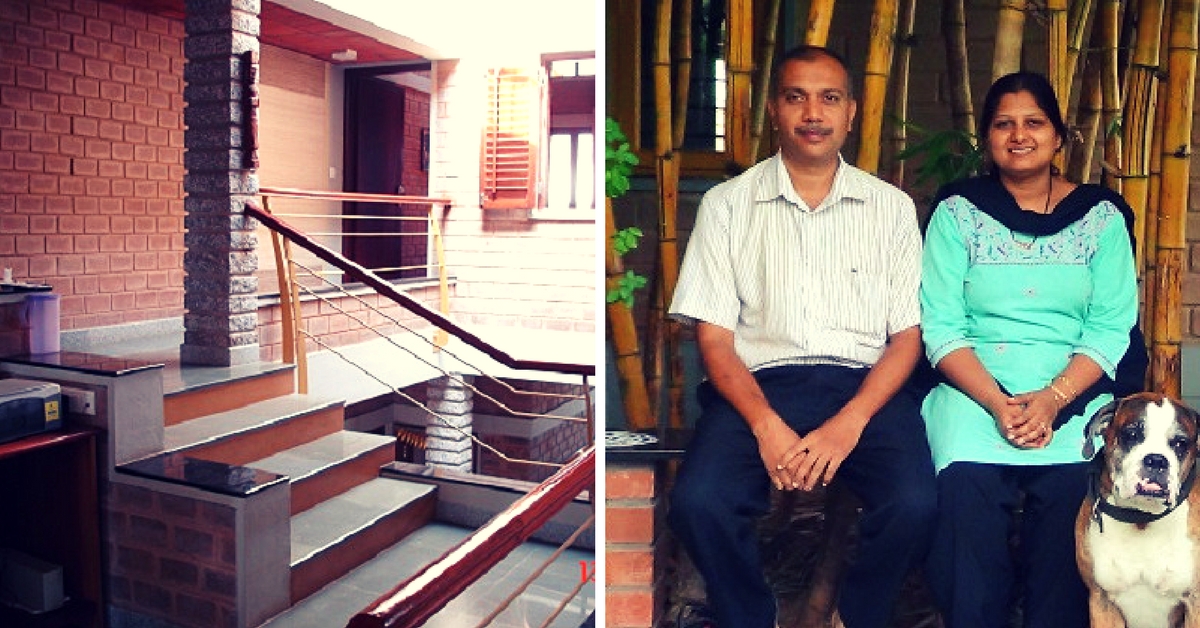 From handmade mud blocks, rain water harvesting units, an organic vegetable garden, ethnic Warli art and skylights that let in a flood of sunshine, Homebelaku in HSR Layout is one of Bengaluru's greenest homes. Karunaprasad Kanavi, 50, the son of Chennaveera Kanavi – the popular Kannada poet, and Vishakha Kanavi, 44, an artist, along with their son Kushal, are the residents of this beautiful house. The house is named Hombelaku after his father's collection of poems.
Sustainable Features:
Clay and mud blocks have been used for construction instead of bricks
The walls have not been plastered or painted to avoid usage of lead.
Simple Kota tiles and clay tiles have been used for flooring instead of mosaic tiles.
Solar water heaters and solar lanterns (for power shortages) to reduce consumption of electricity.
The house has big skylights that serve as a major source of lighting during the day time.
Waste segregation is practised and compost is made for the vegetable garden.
Efficient rain water harvesting system that supplies all the water required by the household.
Grey water recycling system that uses waste water from washing machine and kitchen to clean cars etc.
Built at a 15% reduction in cost as compared to a normal house (no plaster, paint or cement was used).
2. Kachra Mane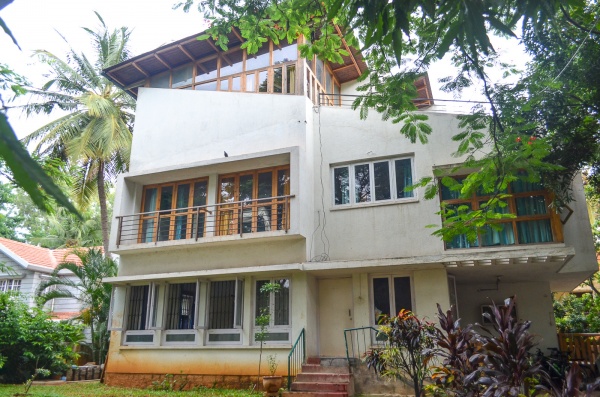 G V Dasarathi has truly taken the idiom "one man's trash is another man's treasure" to a whole new level. His home is called Kachra Mane, which literally translates from Kannada into Trash Home. A man who strongly believes in "Reduce, Reuse, Recycle and Rethink" principle, he has made his house literally from trash that he collected from demolished houses and second-hand markets. The house has been designed by the architectural firm Maya Prexis, with interiors by Vismaya Interiors.
Sustainable Features:
80% of the fittings are from demolished houses, wood is from scrap dealers and most household appliances bought second hand.
Parts of the house, such as the windows, staircase, kitchen cupboards, book shelves are made from discarded pinewood packing cases that were polished using linseed oil.
Solar power systems, rainwater harvesting units and grey water recycling units have been installed.
The house is constructed on an existing building and makes use of the structure as it is, without any changes.
It took just seven months to build, with the cost being less than half of what a "conventional" house would cost.
3. Laughing Waters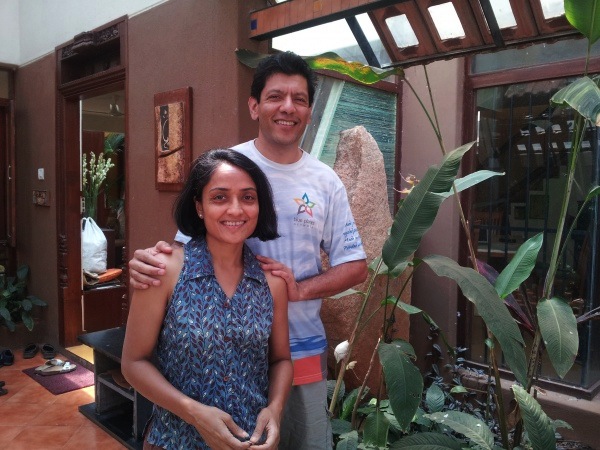 When Rajesh Shah, a water conservation expert, and Vallari Shah, a passionate community gardener, moved back with family to India, they wanted to ensure that they lived a life as close to nature as possible. The result is a home in Laughing Waters, Whitefield, that they retrofitted for sustainability, one that today is intensely smart about water use and recycling, gets 90% of its vegetables from its own backyard, uses the power of the sun and has extended the philosophy to a thriving community garden project right inside their layout.
Sustainable Features:
The household gets 90% of their kitchen need from their own terrace garden.
Harvested rainwater is filtered through a sand bed before being stored in underground storage tanks.
Except for a few, all electronic devices run on solar power.
An effective grey water-recycling system helps irrigate the sprawling gardens.
4. Hosamane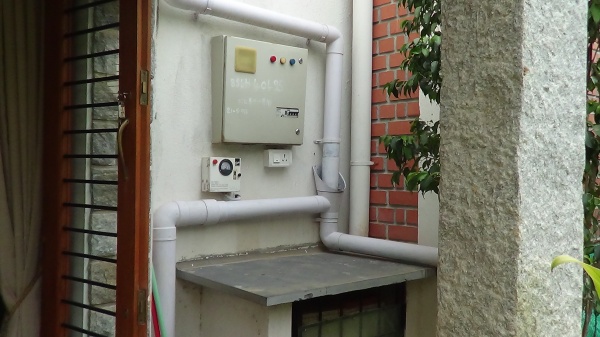 Mr. Jannappa Kataveeranahally's house in Bommanahalli, Hosamane, boasts of over 100 varieties of plants, an abundance of natural light, and a state-of-the-art rainwater harvesting system. The house, designed by architect Satyaprakash Varanasi, was constructed from material purchased locally and a number of energy and resource-saving measures were put in place during the construction phase itself.
Sustainable Features:
The house runs almost exclusively on solar energy
The rainwater harvesting system, installed two years ago, supplements the family's water requirement
Grey water is used for gardening, flushing and other purposes.
The household's wet waste is used as compost in the garden and all dry waste is sold.
5. Sanjay and Pratibha Singh's House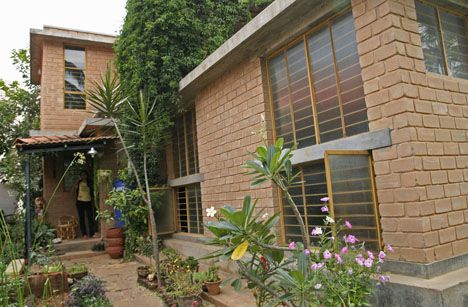 When artist Pratibha Singh and her husband, fellow-artist Sanjay Singh, moved into their home in Singapura, about 13 km from Bangalore, it was to get away from the city. Their idea of simple living took the shape of an environmental friendly home that is comfortable in every season. Enter the compound and you are greeted by a virtual green cave – a Pongamia tree-covered driveway. The house itself is built using stabilised mud bricks (a mix of cement, mud and quarry-dust) that, along with the similar flooring, ensures the house is cool in summer and warm in winter.
Sustainable Features:
With plenty of green around the house, and sunlight streaming in through the 8 foot-tall windows and skylights, the house has just one rarely-used fan.
The waste water from the kitchen is recycled using a natural filter – a system of gravel, sand and other sediments that doesn't use electricity – and then used to water the garden.
The rain water harvesting facility also waters the garden for five months a year
An organic garden is nurtured by vermicompost made from their wet waste.
6. Chockalingam Muthiah's House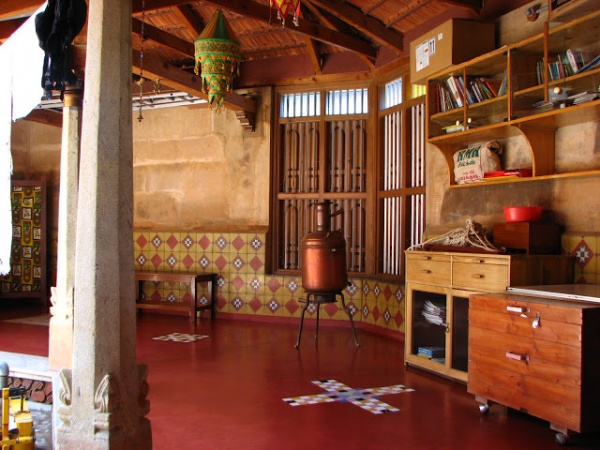 A house that is completely off the grid for energy, a family that uses rain water for its everyday needs, and a lifestyle that presents a perfect blend of sustainability and traditional wisdom is what Chockalingam Muthiah's home welcomes you with. A businessman by profession, Muthiah believes in consuming only what can either be generated or preserved.
Sustainable Features:
Mud blocks have been used while use of cement has been minimized.
The house is designed in a way that allows for good ventilation and entry of abundant natural light.
All electronic devices run on solar power.
All waste is segregated; the dry waste is disposed off to BBMP while the wet waste is used to prepare biogas (in the biogas plant) and compost for the garden.
Rainwater harvesting recharges an open well that meets the family's water needs for up to 10 months in a year.
Grey water from washing machine and kitchen is filtered through a sand bed before being used in the garden.
---
Also Read: This Man Quit the Corporate World to Embrace Indigenous Architecture and Build Eco-Friendly Homes
---
Bengaluru-based architect, Chitra Vishwanath, has been a pioneer in green living for over 25 years and has used her experience, to design ecological spaces that conserve and use natural resources judiciously. Her firm, BIOME Environmental Solutions Private Limited, has created over 700 mud homes in India and Nigeria and many eco-friendly homes, schools and resorts. She is also an expert on rainwater harvesting.
Vishwanath believes that the time is right for people to adopt eco-friendly lifestyles, through sustainable architecture and not wait for the future. "Our resources are getting scarce. The more we trash our environment today, the bleaker our future will be. I believe in Mahatma Gandhi's philosophy – The future depends on what you today," she maintains.
Also, if your apartment complex or villa is eco-friendly, here is a chance to get it recognized. All you need to do is to get registered for My Place of Pride contest, an initiative of Rotary Palmville, in association with Bangalore Political Action Committee (B.PAC), to recognize eco-friendly communities in the city, encourage sharing of best practices and motivate people to adopt sustainable ones by ranking them. So far, 65 communities have registered; the process is open till February 2017.
---
Also Read: This Man Built a House That Harvests Rainwater, Produces Solar Energy, Organic Food, and Biogas!
---
We bring stories straight from the heart of India, to inspire millions and create a wave of impact. Our positive movement is growing bigger everyday, and we would love for you to join it.
Please contribute whatever you can, every little penny helps our team in bringing you more stories that support dreams and spread hope.
Tell Us More