Developed by a Mumbai-based design studio, Altifarm is a mobile horticultural unit designed keeping urban space constraints in mind.
Gardening can be an enriching hobby and an ideal way to grow your own foods. But for the urban dweller, gardening is often restricted by a variety of reasons, including space. After all, how many people can boast the pleasure of having space for a garden. But now, there's a solution.
Presenting Altifarm, a tech-driven mobile gardening unit that allows you to have a patch of green irrespective of space.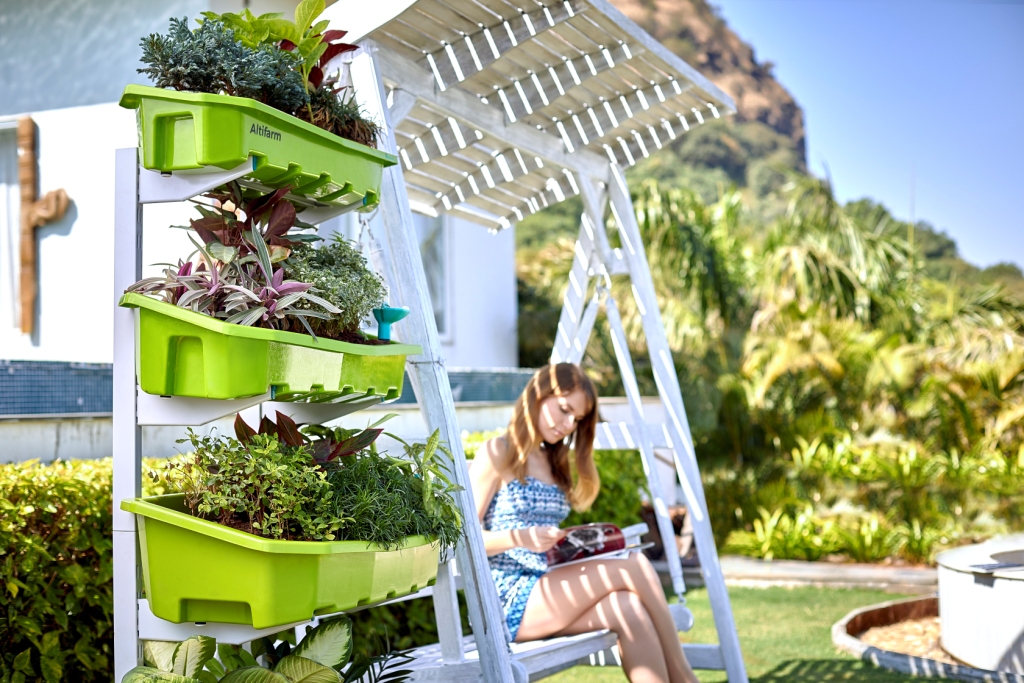 The man behind these innovative farms is 31-year-old Arun Raj who runs Primus Design, a boutique industrial design studio comprising a 10-member strong team of designers, engineers and technicians. Working to develop products in electronics, consumer durables and FMCG domains, among others, it was his work that led him to develop the Altifarm concept.
"We were working on a project of a bespoke modular garden installation of a much larger size in granite with a Swiss client," Arun says. "We had interactions on making a modular gardening product for people like myself, which led to multiple rounds of design and development, leading to Altifarm. Our association is still strong and he was our first overseas customer; they help us with our distribution in Europe."
To put it simply, Altifarm is a four-tiered mobile garden that can be set up anywhere. It consists of four self-watering tiers – with a collective area of only about one square metre — held together by a metal frame. An inner tray holds the growing medium in cones that are immersed in water in the reservoir pockets of the outer tub. This medium in the cone allows more water to pass upwards to the plant roots while ventilation holes in the inner trays facilitate oxygen circulation.
The mobile garden kit seems designed to resolve the numerous crises of the urban horticulturist.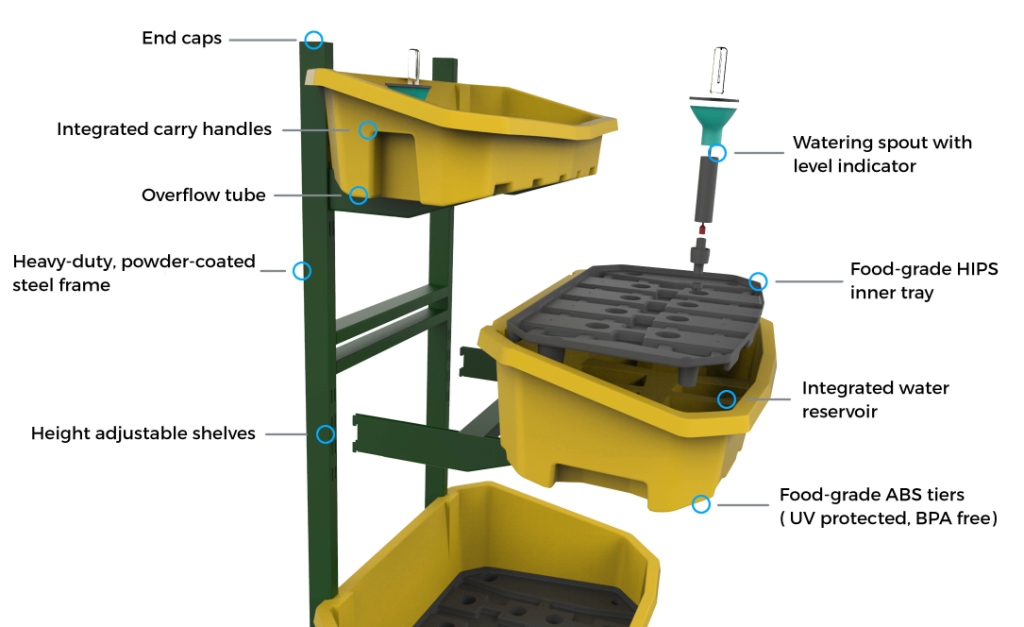 As it's often said, the devil is in the details. The metal frame is powder-coated to prevent rust, and the wicking cones can pass water without resorting to electricity. The trays are height-adjustable to account for the growing trees. Altifarm also addresses issues of space constraint, lack of natural light and oxygen, and even the grower's lack of time.
"As a resident of Mumbai, who lives in an apartment, I know how important space is, in an urban setting. Our biggest constraint was trying to get maximum growth area from a minimal foot print," says Arun. "Innovative autonomous self-watering technology was incorporated so that users could be decoupled from routine watering and guesswork. We even thought of Growlights as an expansion pack, to address the lack of sunlight. Wheeled mobility and Greenhouse Packs were also introduced, for convenience and all-weather use in colder regions respectively."
Designing a self-sustaining, mobile garden is easier said than done. It took three years of research and development to launch the product, and Arun acknowledges that it's an ongoing process.
---
You might also like: India's First Social Innovation Incubator, the Kakatiya Hub, Launched in Telangana
---
"We started off in 2014 with paper sketches and made a proof-of-concept with Acrylic sheets and held them on basic frame made from hardware pipes. This gave us an idea of real world scale. This was followed by intensive CAD based design, followed by 3D printing for trials and moved on to mould-making. We had the first product ready by late 2014. The perfectionists in us saw scope for improvising the same. We took feedback from the market, went back to drawing board and started from scratch!"
Launched in the beginning of February 2017, this is Altifarm 2.0 and the team believes it's their best yet.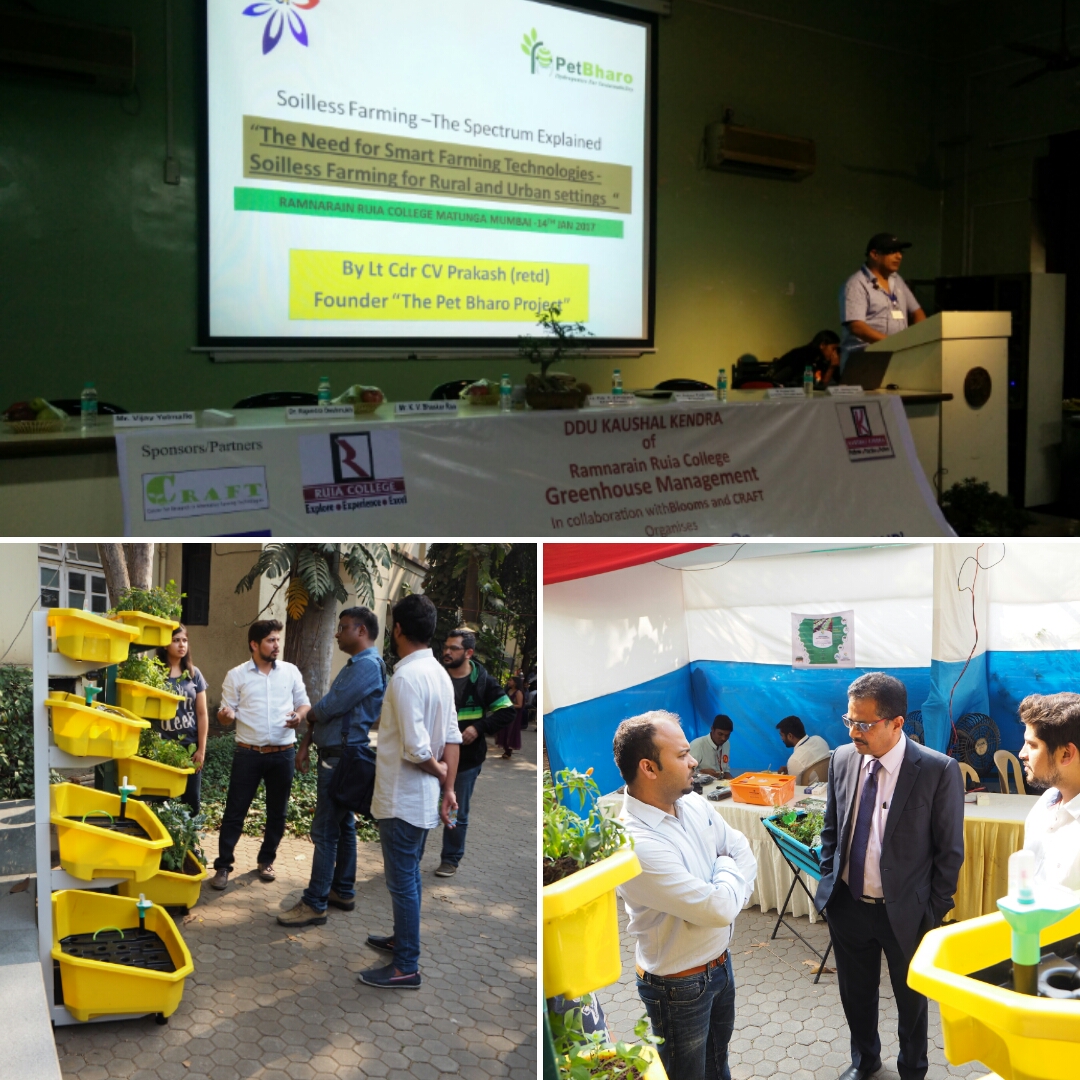 "All the learning we had over the years as a design studio has been distilled into the Altifarm," says Arun. "It has helped us meet amazing people and take some huge risks."
The product was launched through a crowdfunding platform, which has helped the team with feedback and outreach. "Rather than the conventional approach of sales and marketing, crowdfunding provides a direct one to one interaction with potential customers and early adopters," says Arun. "We have covered 30% of our goal in the first week and the response from around the world on social media has been phenomenal."
Available in four colours, Altifarm is available at an early bird pricing of $199, followed by $219 for a 4-tier model. The unit arrives in a compact box and can be assembled in minutes—customers source their own seeds and soil. The brand is now focused on developing the project with more variants and expansion packs.
---
You might also like: IIT-Delhi Researchers Develop Tiny Nasal Device to Help Breathe Clean Air Even in Polluted Cities!
---
A completely self-funded project till its launch, Altifarms' initial success has been heartening for Arun. "Looking back I am surprised myself, how we pulled all of this development over the years with the limited resources available at our disposal."
On a personal note, the project has also inclined Arun towards developing a green thumb. "I'm not much of a gardener myself, as I have to wear multiple caps in a day and get to spend very little time at home. During the development of Altifarm, we learned so much about gardening/plant care and trust me, it is a most enjoyable and rewarding pastime."
Visit the Altifarm crowdsourcing campaign on Indiegogo. To contact the team, click here.
Like this story? Or have something to share? Write to us: contact@thebetterindia.com, or connect with us on Facebook and Twitter.
NEW: Click here to get positive news on WhatsApp!