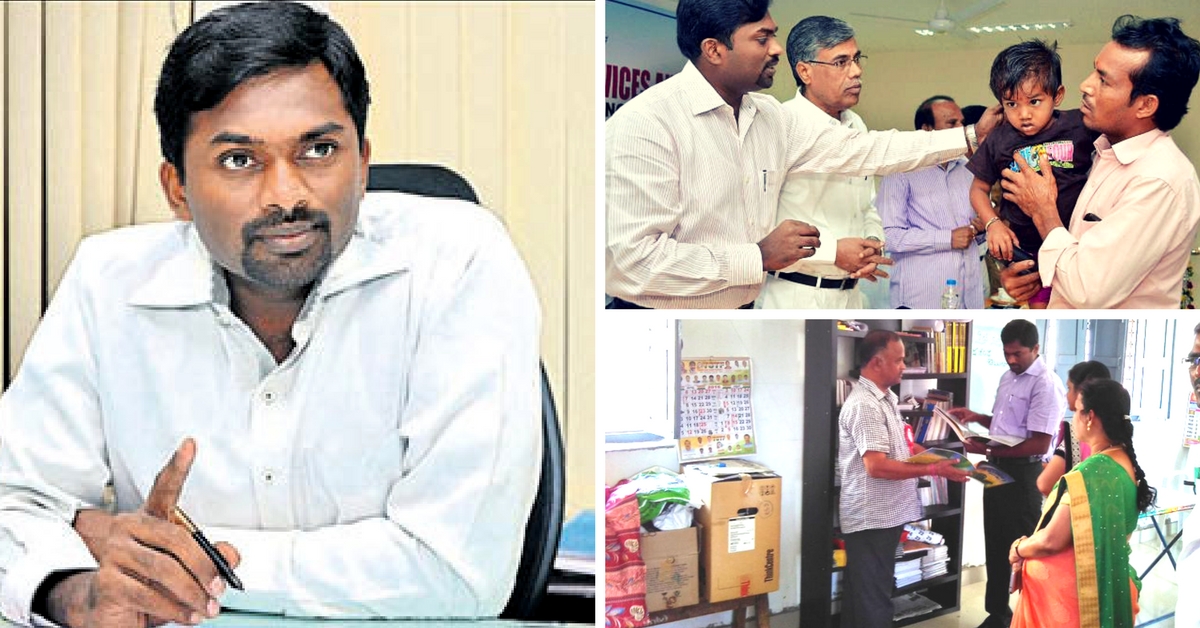 From encouraging organic farming to introducing educational reforms, this enterprising district collector has taken his district to the forefront of the rural development in the state.
Mahbubnagar district (formerly Palamoor) in Telangana has been setting quite a few development records for some time now. Villages have rapidly become open-defecation free and farmers are increasingly turning to organic methods. The district has also been in the news for successfully digging soak pits in all the houses with cent percent target achievement. The results have been amazing – dried-up borewells have come to life again and ground water levels have increased considerably!
After success in water harvesting, the district is now setting an example with its afforestation drive. The administration is getting ready to plant 3.4 crore saplings this year under Haritha Haaram programme and each village in the district will be supplied about 40,000 saplings. Detailed planning and responsibility allocation has also been done, by both the officials and villagers, to ensure their survival.
The man driving this change is the enterprising district collector of Mahbubnagar, Ronald Rose. Not only has this IAS officer single-handedly ensured effective implementation of government initiatives, he has taken it to the forefront of the rural development in the state.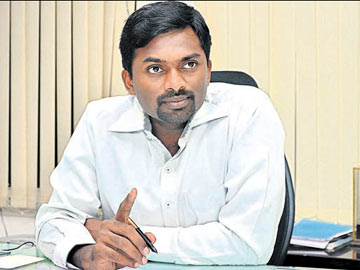 A 2006 batch IAS officer of the Telangana cadre, Ronald Rose spent the initial years of his job working in the remote tribal areas of the state for the welfare of the tribals and their livelihoods. After a few years as a zonal commissioner in the Greater Hyderabad Municipal Corporation, he was posted as the district collector of Nizamabad.
Soon after taking charge of Nizamabad's administration, Ronald realised that there was much to be done in the fields of health, education and women's welfare. He started by strengthening villages through participative governance. But this was easier said than done. Many villages lacked basic amenities and people did not know much about how this approach would work.
An able administrator, Ronald ensured that the suggestions of the public were heard and that officials got the basic facilities to carry out their jobs. Next, he focused on improving water and sanitation, health and nutrition, education, social security and poverty eradication, natural resources management, agriculture and infrastructure in the district's villages.
"I strongly believe that the onus of responsibility to take the administration close to the public lies with the district administration itself. This was always in my mind while planning any initiative," he says.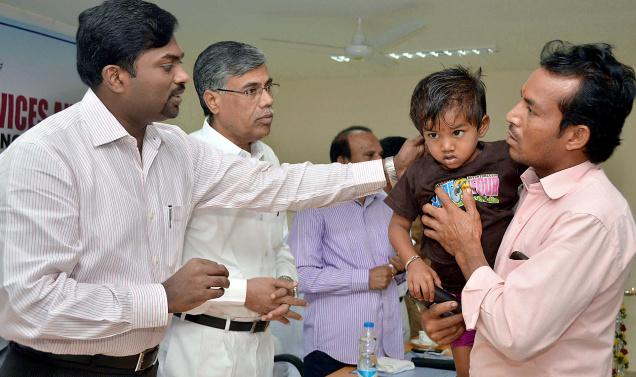 In Narayanakhed, one of the most remote and backward areas of the state, Ronald ensured the completion of a project that brought drinking water to parched villages at the height of summer. Completed within three weeks, the project diverted water from a canal to the village through reverse pumping, quenching the thirst of about 50,000 people in the constituency. Today, the people of Narayanakhed fondly call him Apara Bhagiratha, or harbinger of precious water.
In a bid to increase transparency and accountability in the electoral process, Ronald also played a major role in weeding out fraudulent Elector Photo ID Card (EPIC) card holders from the existing voters' database in Nizamabad. He organised several programmes encouraging people to vote responsibly and took special steps for conducting elections.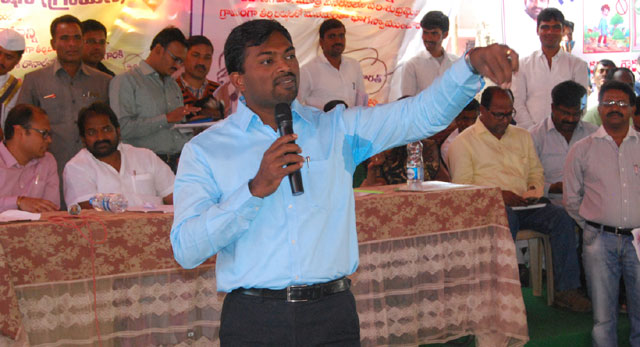 In 2015, Ronald was transferred to the district of Medak. As the district collector of Medak, he started an organic farming initiative called Bhusanjeevini to not only encourage farmers in Medak district to take up organic farming but also to create self-employment opportunities for rural communities. According to the scheme, the district administration set a goal of encouraging 50 farmers from every mandal in Medak district to cultivate at least 1 acre of their land using organic farming methods.
Apart from providing organic fertilisers (like vermicompost, jeevamrutham, panchagavya etc) to farmers on 50 per cent subsidy, the district administration also trained agricultural officers and farmers on organic farming. Workshops by rural innovators were also held. The results have been promising with farmers reporting better yields.
When Ronald was posted in 2016 to the Mahbubnagar district, he used his previous experience to implement all these innovative initiatives in the region. He also started new projects to address the new region-specific development challenges in the district.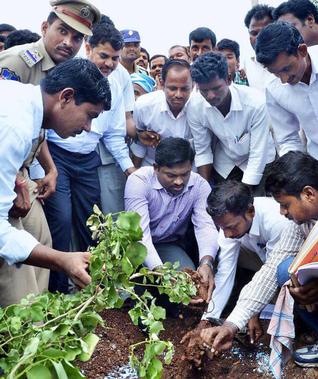 One of his key initiatives is aimed at making the district of Mahbubnagar open-defecation free. To do this, in 2016, he formed 21 teams of special officers, MPDOs and tehsildars, with each team supervising 16 households. He urged the villagers to come forward and build their own toilets, and announced that the government would provide financial support of Rs 12,000 to every house that built a toilet.
He also asked the officials to prepare a comprehensive plan and to ensure the implementation of the same.
"It is painful to see that even after four national programmes since 1951 to the latest Swachh Bharat programme two years back, people have not changed and are still living in the same conditions as six decades ago. It is time that we change our mindsets and move towards 'swachhata' and development," he observed.
Thanks to his support and encouragement, Sallonipally village of Mahbubnagar district created a record by successfully building 336 toilets in 48 hours, ensuring that every household in the village had an individual sanitary latrine. Till the drive was completed, of the 384 households in Sallonipally, only 48 households had toilet facilities. Ronald hopes to replicate this success in other parts of the district as well.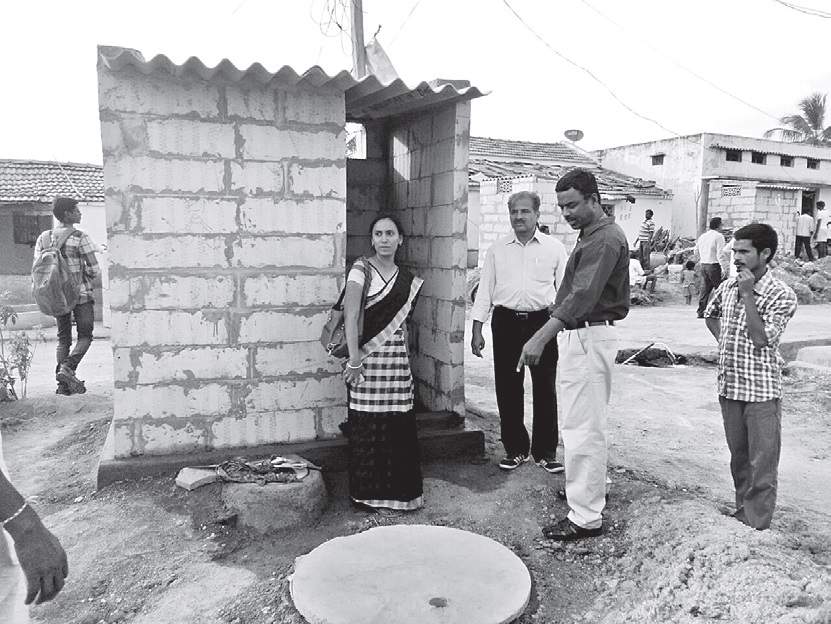 Observing large-scale unemployment among their community, differently abled people of Medak had approached District Collector Ronald Rose in the past, requesting him to work out something so they could stand on their own feet. They were led by Zubeida, a woman with locomotor disability who has been working to protect the rights of the differently abled for the past 20 years. She is also the founder of Vikalangula Chetana Service Organisation, an NGO for differently abled people.
---
Also Read: Meet Pratyaya Amrit, the Inspiring IAS Officer Who Has Placed Bihar Firmly on the Road to Success
---
In response to their request, the hardworking district collector decided to protect the rights of the differently-abled while helping them adopt sustainable livelihoods. Earlier, Ronald had been impressed by the work of a renewable energy company, Thrive Solar Energy Pvt Ltd. He decided to involve them and an NGO related to them, One Child One Light (OCOL), in his initiative to provide employment to the differently abled. The company readily agreed to the collector's idea.
Called the Divyang Solar Society, the idea behind this initiative was to employ differently abled persons in the production of affordable, effective, energy-efficient and non-polluting products for rural India. In the first step, 14 differently abled persons from Kandi, Isnapur and Tellapur villages were given training in assembling components, electronic parts, printing of panels and in moulding plastic components at the National Institute of Rural Development (NIRD) for four days.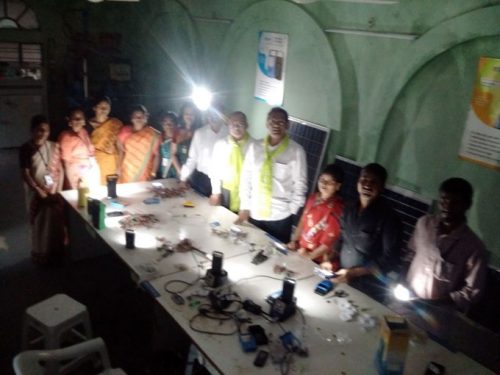 Next, a manufacturing unit was inaugurated on the Old DRDA office premises on February 2, 2016, which employed these newly trained workers. Under the able leadership of Zubeida, the 14-member team manufactured more than 600 solar mini lights since then, each of them with a 0.5 watt LED, a 0.5 watt embedded solar panel and a rechargeable NiMh battery.
The solar mini-lights got great response from the public. The mini lights were highly useful for farmers as they could act as torch lights as well as room lights, were easy to carry and could go on for eight hours once they were charged by sunlight. Presently, the workers of Divyang Society are not only assembling solar mini lights, but are also marketing and selling them. There are also plans to expand the training programmes to cover the manufacturing of other products as well.
Another cause close to Ronald's heart is ensuring quality education to children. Recently, while he was interacting with class 5 students in a government school, he was aghast to see that no child could write their and their parents' names. On further enquiry, he found out that there was no timetable being followed in school and the workbooks of children were incomplete.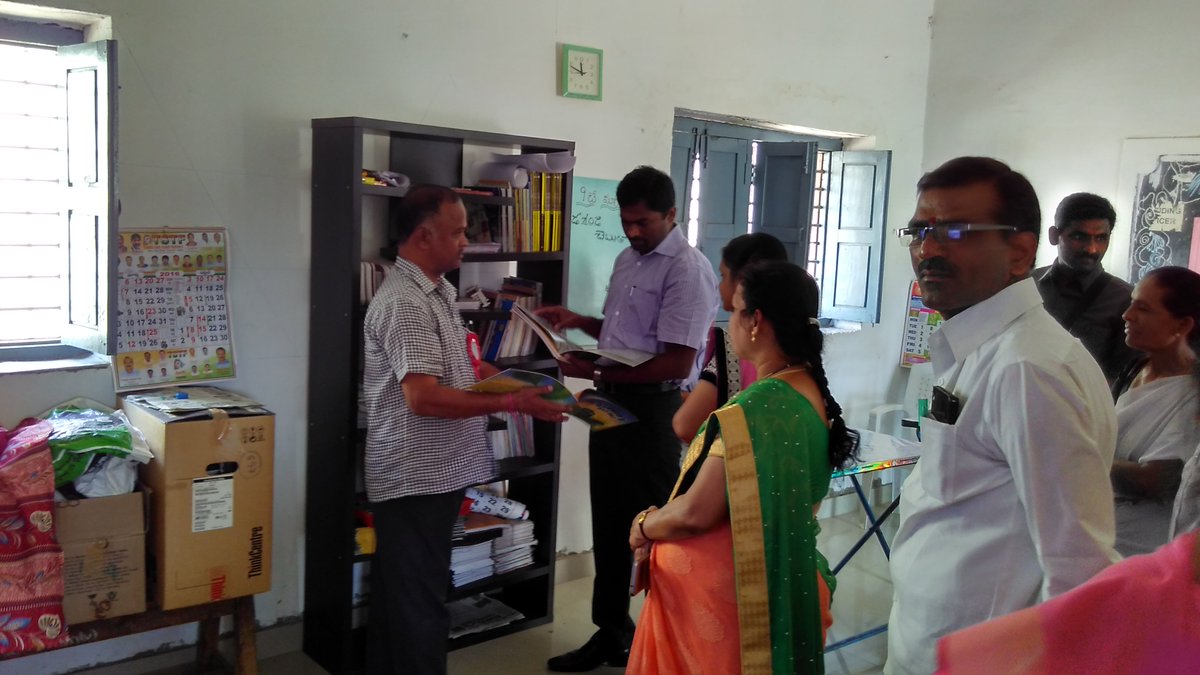 Furious at the lethargic attitude of the teachers in government schools, Ronald immediately ordered the inspection of all government schools in the district, with strict action being taken against those found neglecting their duties. To improve the quality of education and reduce school dropouts, he also initiated the Mission Kalam project to introduce digital classes in schools. Also, apart from strengthening the anganwadi centres that are directly within reach of the underprivileged sections, he has introduced 10-day awareness camps for adolescent girls in government schools.
To further revive Mahbubnagar's faltering education system, the enterprising collector is also trying out innovative school reforms. Under the leadership of Dr. Nirupam Bajpai of the Columbia Global Center, Mumbai, a team of learning experts from Columbia University New York will be implementing a reading method based on cognitive science.
This simple yet effective approach will be used to improve language-based understanding of school children and is important because, without this skill, they cannot learn other subjects, such as science, social science and math. Knowing that the 'one-size-fits-all' yardstick used to assess the abilities of all children in India's education system did not recognize that each child is unique, the insightful officer has also introduced a multi-tiered system of education where people are grouped into classes according to their learning level, not age.
"I come from a humble background. All my higher education has been done through distance programmes as I had to keep working so as to be able to afford them. So I know the value of education. Children coming to public schools deserve to get education that is good in quality as well as quantity," says the hardworking officer who enjoys reading books in his free time.
It's little wonder then, that development experts have hailed Ronald's work for its people-centric initiatives, evidence-based policy-making and rigorous programme evaluations. They know that this hardworking IAS officer's consistent and innovative leadership can help the government of Telangana achieve its ambitious goal of ensuring holistic and inclusive development of all its villages. It is due to innovative and pro-active officers like him that a positive change in Indian governance is finally rolling in.
To contact Ronald Rose, click here.
---
Also Read: How a Young IAS Officer Used Education to Transform the Naxal-Affected District of Dantewada
---
Tell Us More
We bring stories straight from the heart of India, to inspire millions and create a wave of impact. Our positive movement is growing bigger everyday, and we would love for you to join it.
Please contribute whatever you can, every little penny helps our team in bringing you more stories that support dreams and spread hope.