Rapid urbanisation and industrialisation have created severe imbalances in the environment of India's cities. Thankfully, there are still some cities and towns that have managed to escape growing pollution levels due to due diligence and efforts.
Rapid urbanisation and industrialisation have created severe imbalances in the environment of India's cities. Thankfully, there are still some travel destinations that have managed to escape growing pollution levels due to due diligence and efforts.
American lawyer Robert Green Ingersoll once said, "In nature there are neither rewards nor punishments; there are consequences." How alarmingly appropriate! We pour in so many efforts for our well-being materialistically, not even realizing that we are jeopardizing nature to the extent where it is deteriorating and yielding poor living conditions for us.
India is a land where nature is worshiped in every possible form, where the Panchatatva, or five elements of Air, Water, Fire, Earth, and Space, are considered sacred. Distressingly, India is also a country where these fundamental elements of nature are hampered, compromised, and polluted more than one can imagine.
It's about time that we realize how important it is to control the pollution that's taking over our cities, towns, and even villages that were once the epitome of minimalism and exoticism. The disturbing levels of pollution in our air and water, to begin with, are an indication to act and act fast.
Here's the bright side. Amidst all this, there are a few cities (sadly, the number is limited to few) in India that have a well-controlled pollution level, and are green, clean, and perfectly safe to breath in!
Have a look at the greenest cities in India (in no particular order) with minimum pollution, and what it takes to make it to the list!
Kinnaur, Himachal Pradesh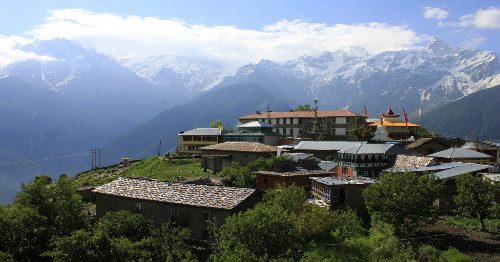 Famed as the place in India with the cleanest air, Kinnaur is an under-rated tourist destination in Himachal Pradesh. If you are planning to visit Shimla or Manali, visit Kinnaur instead, and you'll be treated with a fresh bout of pure air. The level of particulate matter (which causes pollution) in the air of Kinnaur is, on average, 10 % lesser than our national air quality target.
Home to gorgeous valleys, and offering varied opportunities for adventure tourism, Kinnaur totally deserves to be on your bucket-list!
Kollam, Kerala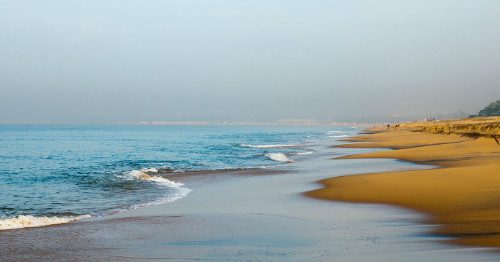 Formerly known as Quilon, this port city of India flaunts fantastic natural beauty and also has excellent quality of air and water. Famous for low levels of air pollution, and high air quality and drinking water quality, Kollam is one of the most unpolluted cities of India, without a doubt. Add to that a good number of well-kept parks and pristine lakes that are dotted with coconut and cashew plantations on the banks, and you've got a winner.
Visit Kollam for its pretty beaches and serene backwaters, and treat yourself with a bout of fresh air, since the air quality of Kollam is said to be one of the best in the world.
Pondicherry, Tamil Nadu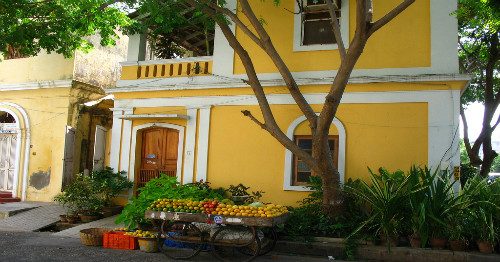 A splash of fresh yellow, an international vibe amalgamated with Indianness, hippie, spiritual, and classically beautiful, Pondicherry is so much more than just a destination. While there are plenty of reasons why you should visit Pondi, as it is delightfully called, one of the prime reasons is its quality of air and water. The destination has seen a remarkable increase in the air and water quality, thanks to the combined efforts of the local government, NGOs, and the people.
Today, Pondicherry is one of the least polluted cities in India, along with being an immensely popular tourist destination. Do you need more reasons to go here?
Gandhinagar, Gujarat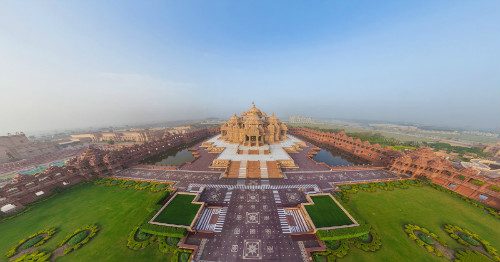 The city ranks high in air quality, and consistently sees some of the least air pollution in India. Add to that first-rate drinking water quality, low levels of noise pollution, and well-planned garbage disposal, and you would want to pack your bags and move here permanently.
Gandhinagar is Gujarat's capital city, and is popular for its admirable neighborhoods, parks, and retreats. It is a great destination if you are looking for a splash of green. Authorities make special efforts, like constantly planting and maintaining trees to keep the pollution levels low, which makes it one of the greenest cities of India.
Chandigarh, Haryana/Punjab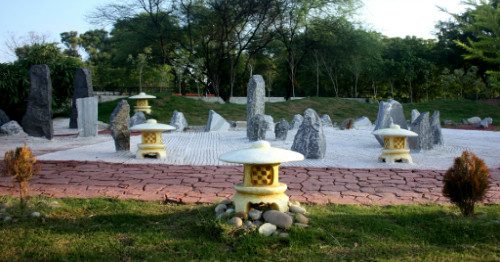 One of the most well-planned cities of India, Chandigarh is a delight to visit and stay in. Although the city is struggling to reduce its air pollution levels further, what sets it apart from other rapidly developing cities in the country is the verdant parks that adorn it. With spacious roads, well-organised traffic, and good quality air to breathe, it could be anyone's dream city!
Plan a trip to Chandigarh and visit the Rock Garden. An epitome of wealth from waste, this park was designed using figures from recycled waste!
Hassan, Karnataka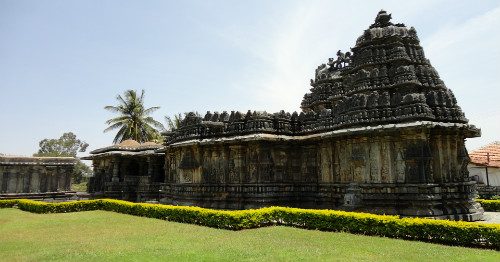 Located a short drive away from Karnataka, this destination is a peaceful bounty of nature that is pristine, clean and green. Famed as the 'poor man's Ooty', Hassan was termed the third least-polluted city in India by the World Health Organisation in May, 2016.
The district's air is considered to be purer than most of the cities in India and has 6x lesser pollution than our capital city.
Gangtok, Sikkim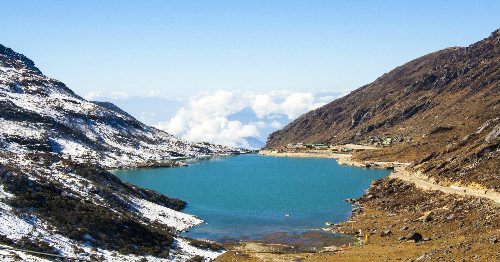 This delightful city nestles in the majestic Himalayas and is one of the least polluted cities in India. The city has stunning natural beauty owing to the Himalayas, and mystic Tibetan monasteries that can transfer you into a sublime world away from the chaos.
Just a few kilometers away from the Chinese border, on your visit to Gangtok, you can plan a trip to the Nathu La pass and the Tsomgo Lake.
The Government has taken special efforts to maintain its cleanliness as well as low levels of air and water pollution. Visit Gangtok, and breathe in pure air from the Himalayas!
Madurai, Tamil Nadu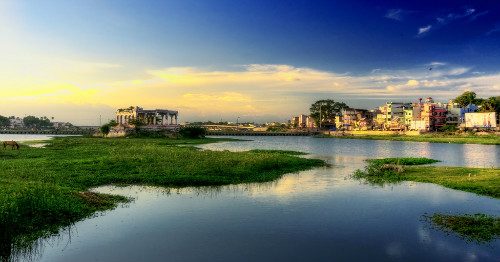 Famed as the 'Athens of the East', Madurai is one of the most ancient cities of India. It has a great set of history, mythology, and culture associated with it since its existence. The city is listed by WHO in its "five least-polluted cities in India" list. This is the result of constant effort by the government, local organisations, as well as the local population.
The number of vehicles in the city has risen in recent years, and air pollution has hence increased. But the city has implemented interesting initiatives to cope with the same. For the city's ample dust, huge road-sweeping machines work constantly, setting an excellent example for other cities of India.
Nagpur, Maharashtra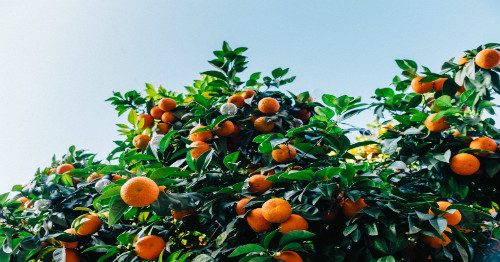 Nagpur has classically been one of the cleanest cities of India, which remains partly true to date. The increasing air pollution is a major concern that the city needs to resolve in the coming few years. But it still ranks among India's greenest cities, with well-manicured parks, gardens, and ample tree plantation within the city. Nagpur also has good levels of accessibility to clean drinking water and very little noise pollution. The city of oranges may need to buck up, but it remains one of the cleanest places in India.
India is developing, progressing, and emerging as a major game changer in the world. Hence, it's sad that there are so few places that could make it to this list. However, instead of just criticizing, we can do our share for Nature and the community we belong to. Sign up for clean-up drives, be responsible when travelling, and speak up when you think urbanisation is hampering Nature. Prefer public transport over private vehicles, and opt for eco-friendly hotels during your travels. Pause to think about the changes we can make in our day-to-day lives to decrease pollution levels. Starting change with ourselves, and starting today, is the need of the hour.
Let us remember to go green—there's no planet B. As a travel company, TripHobo promotes responsible tourism, and encourages travellers to join hands for a cleaner and greener India.
Organisations like Deeksha are working consistently to help curb the problem of pollution in Indian cities. Find out how you can help their efforts, here.
Like this story? Or have something to share? Write to us: contact@thebetterindia.com, or connect with us on Facebook and Twitter.
NEW: Click here to get positive news on WhatsApp!