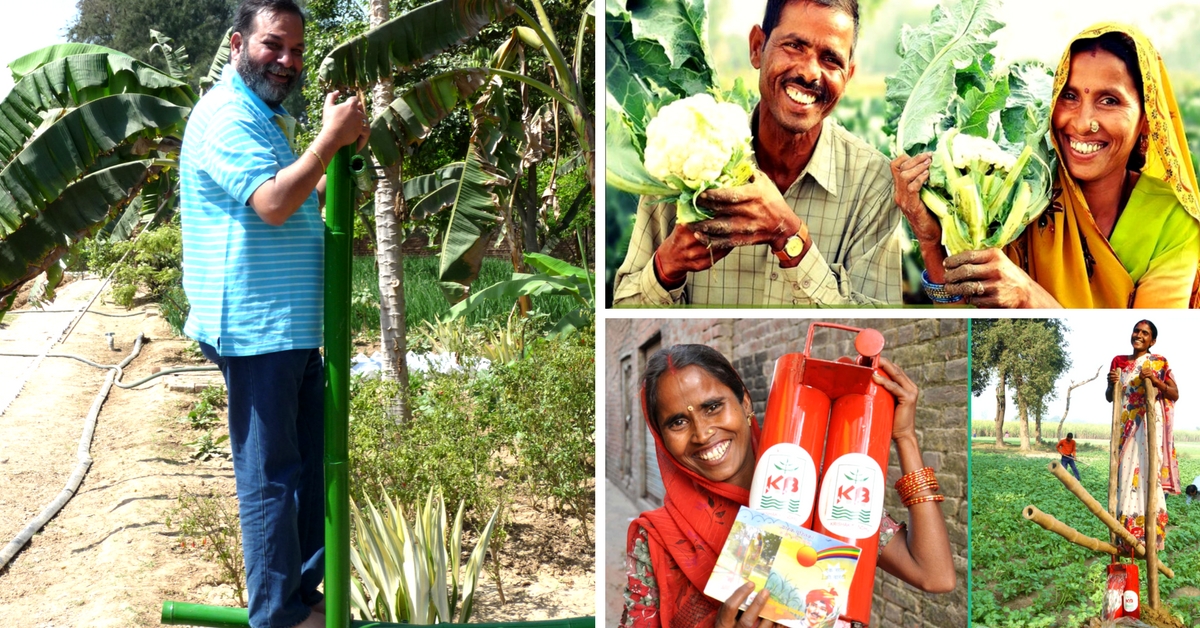 Founded by Amitabha Sadangi in 2001, International Development Enterprises-India (IDEI) makes and sells a low-cost irrigation tool that has helped cash farmers increase their crop yield and lift themselves out of poverty. Till date, the organization has helped one million farming households spread over 17 states increase their annual income!
"My entire life, I have listened to the poor and learned from them." – Amitabha Sadangi
Having been desperately poor during most of his young life, Amitabha Sadangi intimately knows the struggles that the world's lowest-income families experience on a daily basis. He also knows, from experience, what they are capable of accomplishing.
International Development Enterprises-India (IDEI), which Sadangi founded in 2001, makes and sells low-cost irrigation tools that has helps marginalised farmers increase their crop yield, cultivate during the dry season and lift themselves out of poverty. Till date, the organization has helped one million farming households, spread over 17 states, increase their annual income!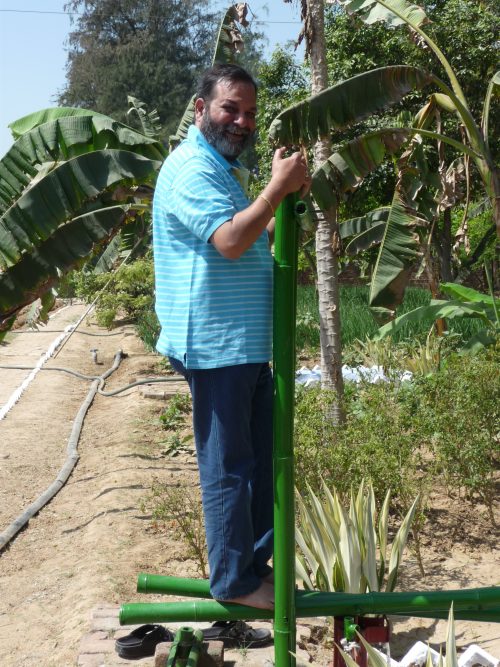 Born in the Gallery village in Odisha, as a child, Amitabha Sadangi was so poor he couldn't afford 2 meals in one day. Working extremely hard – he used to sell newspapers – to put himself through school and college, he got a job as an assistant labour officer in the Odisha government.
In 1991, Sadangi, who has a degree in law and social development, left his secure government job to start working on the nebulous concept of inexpensive micro-irrigation system. The result was International Development Enterprises India, or IDEI, launched in 2001, with Sadangi as chief executive.
Sadangi knew that though irrigation technologies were available in the country, most were costly and were meant to be used by large farmers on huge tracts. However, India mostly had (and still has) subsistence farmers who till less than two hectares. Sadangi wanted to reach out to them by creating simple and low-cost irrigation techniques that suited small plots. Micro-irrigation was the answer.
"Farming in India is planned around the monsoon. But that allows farmers to grow only one crop. If they have a reliable system of irrigation throughout the year, they can grow more than one crop on their land. Also, affordability is crucial. Marginalised farmers cannot invest much more than their labour", he says, explaining the idea behind his initiative.
Sadangi heard about the manually operated treadle pumps of Bangladesh, bought two and started manufacturing low-cost treadle pumps that can pump out about 4,000-5,000 litres of water through an hour's pedalling. Made of iron, the treadle pump is similar in principle to a hand pump. But instead of the latter's single barrel or cylinder and the use of hands to pump water, the treadle or pedal pump has two cylinders and uses foot power to lift water from underground. Men, women, children and even elders can operate it by holding a bamboo or wooden frame for support.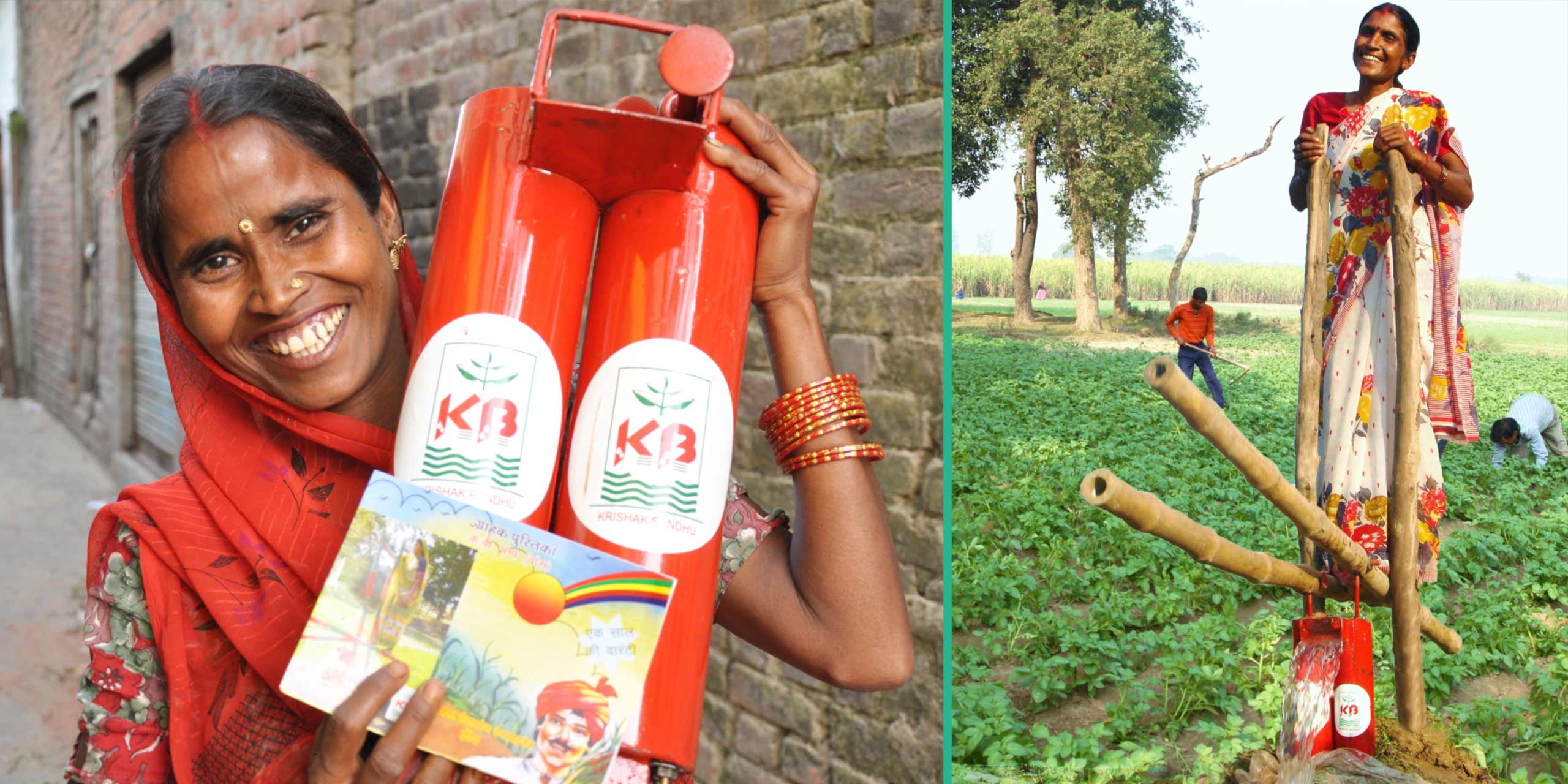 An hour's pedaling can pump out as much as 5,000 litres of water. Two hours' pedaling would be enough to irrigate half a hectare of dry season vegetables. Another nifty feature of IDEI's treadle pump is that it is foldable. At 18 kilogrammes, it is also portable – a necessity for most small farmers who have non-contiguous farmland holdings.
IDEI engineers further developed two variations of the basic micro-irrigation technique. For eastern India, where the water table is shallow, they introduced a modified treadle pump. In the western states, where the water table runs deep, they offered affordable drip irrigation technology intervention (ADITI).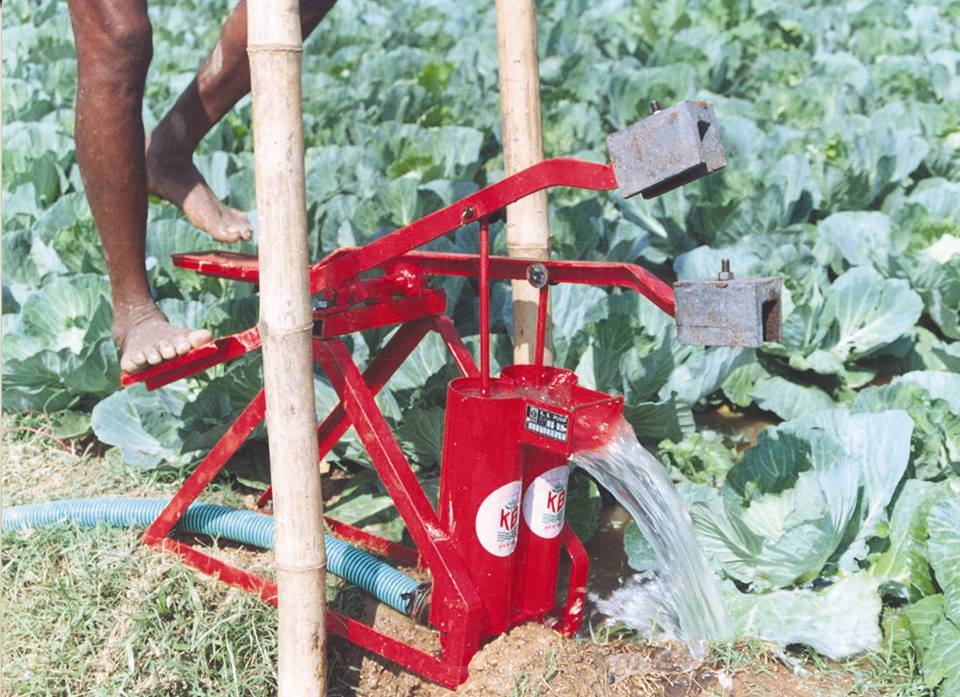 The technologies also came accompanied by ready-to-use kits, such as a bucket kit or a drum kit, which were customized to help farmers grow off-season crops and raise their income. Unlike expensive diesel pumps or drip systems for large tracts, these kits could be used on tiny plots and could be bought for as little as Rs 250.
A small farmer, Nabin Amanatya, can attest to the IDEI pump's user- friendliness. Afflicted with polio, he struggled for years farming his family's spit-sized plot that reached a mere tenth of a hectare. Then in 2006, he bought a treadle pump. His neighbours teased him when they saw him trying to make a go with the pedals. But he was soon tending a thriving garden of cucumber, ridge gourd, and lady's finger – vegetables that are very popular in the local market. Within two years, Amanatya had repaid his father's loan and had switched to better seeds and fertilizers.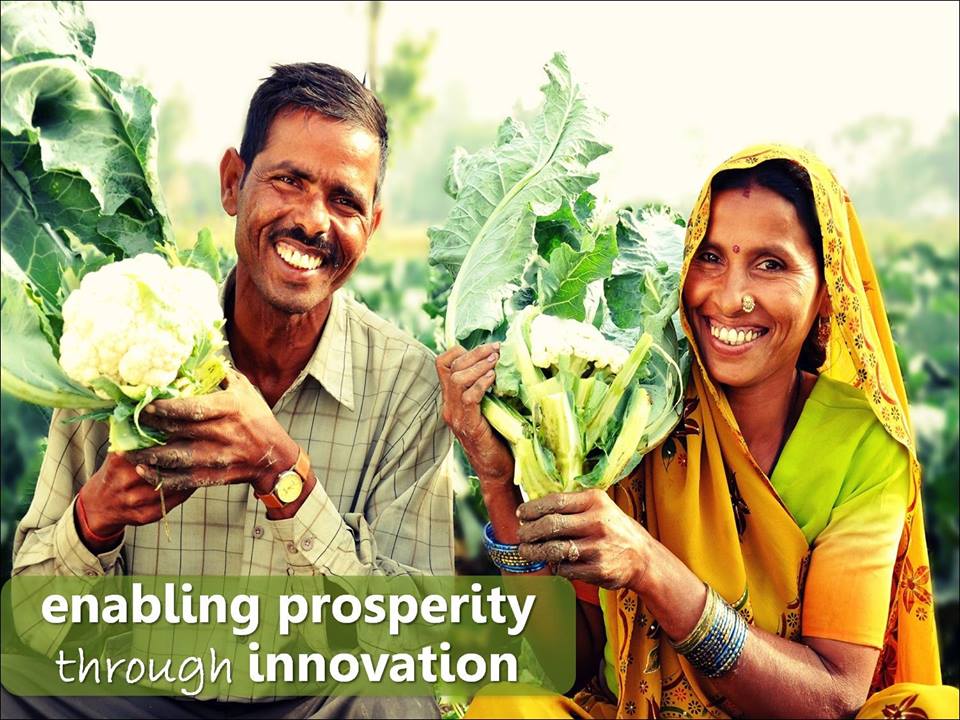 While there were many such encouraging examples, Sadangi realised early on that developing technologies and making them affordable wasn't enough. It also had to be sold to mostly illiterate farmers who preferred using age-old means and were reluctant to try new technology.
"Farmers need to be made aware of the benefits of using a treadle pump, of how it can improve the quality of their lives. When a farmer can think beyond the next meal, he can think of his family's nutrition, his children's education, thereby creating a sustainable chain", says Sadangi.
To build the demand for IDEI's innovations, Sadangi resorted to another innovative approach—film-making. IDEI produces films that have a hero, a plot, singing and dancing—and problems. This comes along with a product that solves the problems and makes everyone happy.
---
Also Read: Celebrating India's Rural Women: 3 Inspiring Stories of Women Farmers Bringing About Change
---
Most studies have shown that farmers who have used IDE-India's treadle pumps and other systems have managed to increase their net annual income by at least Rs. 20,000. The low-cost micro-irrigation equipment has also helped farmers reduce their dependence on India's notoriously unreliable monsoon showers.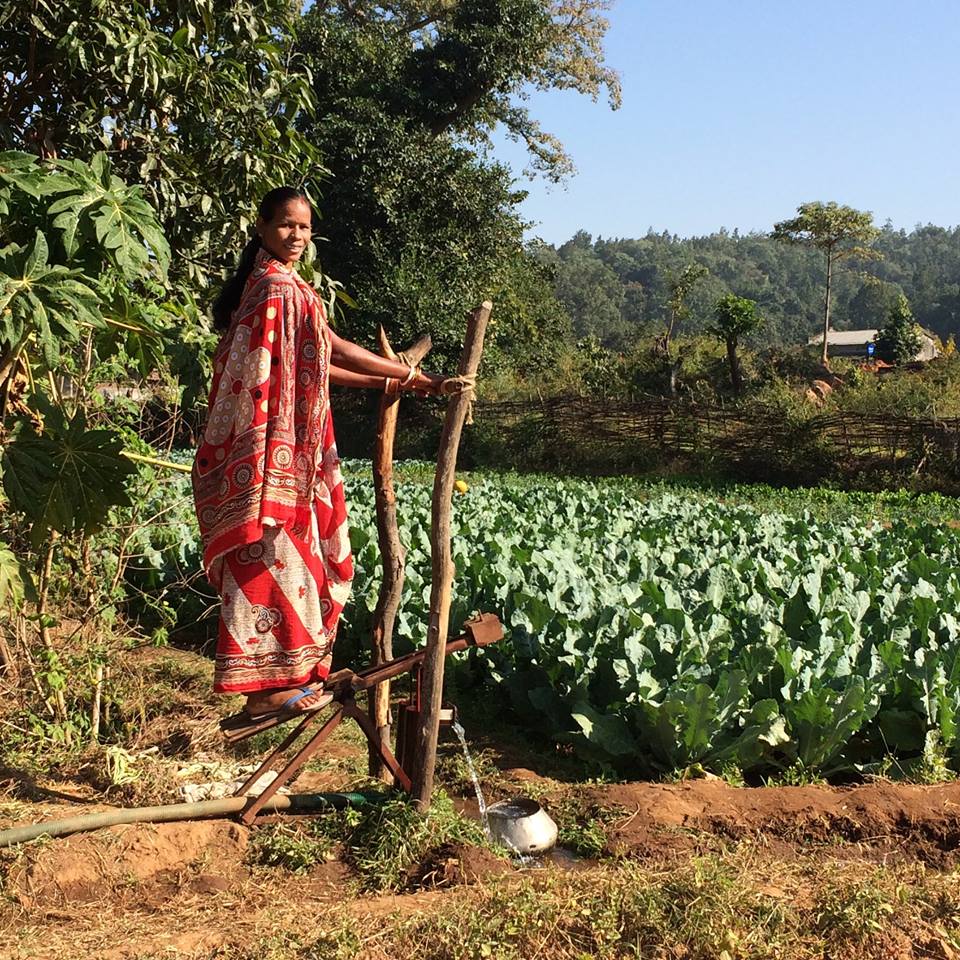 With grants from the US-based Skoll and Lemelsen foundations,IDEI is constantly looking for better and newer technologies and has moved on to devising low-cost sprinklers and water storage tanks. As their treadle pumps make a huge saving on diesel, the organisation also raises funds by selling carbon credits to MNCs. These funds will be utilised in developing cheap solar and wind pumps as well as setting up a micro-credit company for poor farmers.
Sadangi's vision is to empower even the poorest farmers to irrigate their land. Opposed to idea of freebies and subsidy, he believes that giving rural farmers a chance to pull themselves out of poverty is the way towards sustainable and dignified development. A soft-spoken and shy man, he says,
"If ten more people will start working like me, I think that will be my biggest contribution."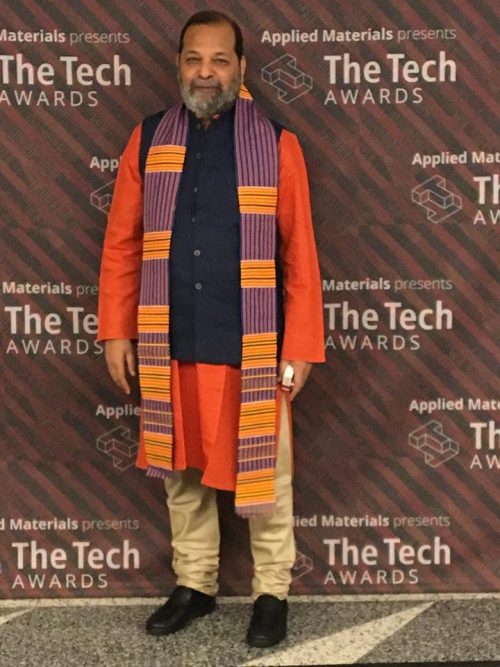 Over the years, the non-profit initiative has evolved into an organization that works to provide the poorest populations of the world with the tools and resources they need to become self-sufficient and build both their income and their community. Each IDEI technology is designed to be one-fifth the cost of its competitors, scaled down to fit one-tenth hectare plots, and able to generate sales at an unsubsidized market price.
IDEI also provides technical, financial, consulting and business development services to its customers, enabling them to enter high-value commercial agriculture. For instance, IDEI learnt that due to incomplete labelling and use of English, farmers were often unable to get the exact information about the product they are buying. As a result, they unknowingly ended up buying expired seeds or low quality ones.
In response, IDEI is promoting Vegetable Nurseries in the villages. The organisation builds the capacities of smallholder farmers who have overcome irrigation challenges (either through IDEI promoted technologies/ through other devices) and can spare some land on their field exclusively for establishing nursery. These farmer-entrepreneurs provide good quality sapling to other farmers, teach techniques to assure germination in the field and promote high value crop cultivation that will bring good returns to the poor farmers.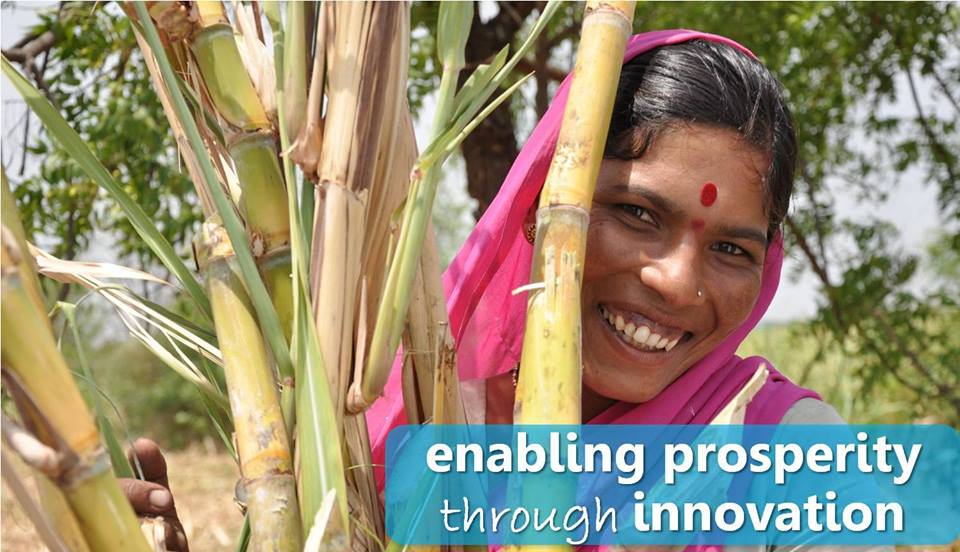 The capacities of these farmers are further built in developing bio-fertilizers, bio-pesticides and plant nutrient. The entrepreneurs then package these materials and sell to other farmers. These items are developed from locally available material such as dried leaves, cow dung etc and are therefore not very expensive. While the user farmers save money as these are cheaper than other available material and the farmer-entrepreneur is able to augment his/her income.
In addition, IDEI is also promoting the concept of developing soil health cards among the farmers. To facilitate this IDEI collects soil sample from the field of representative farmers as specified by the agencies and deposits at the nearest institution. Once analysed IDEI shares the analysis with the respective farmers and encourages them to undertake the required treatments for betterment of the soil.
IDEI conducts training programme for the identified entrepreneurs in allied agricultural fields like apiculture/ honey bee farming, spice cultivation, agro-climatic vegetable cultivation, rice intensification system etc. It has also developed a low cost greenhouse to benefit small holder farmers who find it difficult to afford conventional greenhouse structures.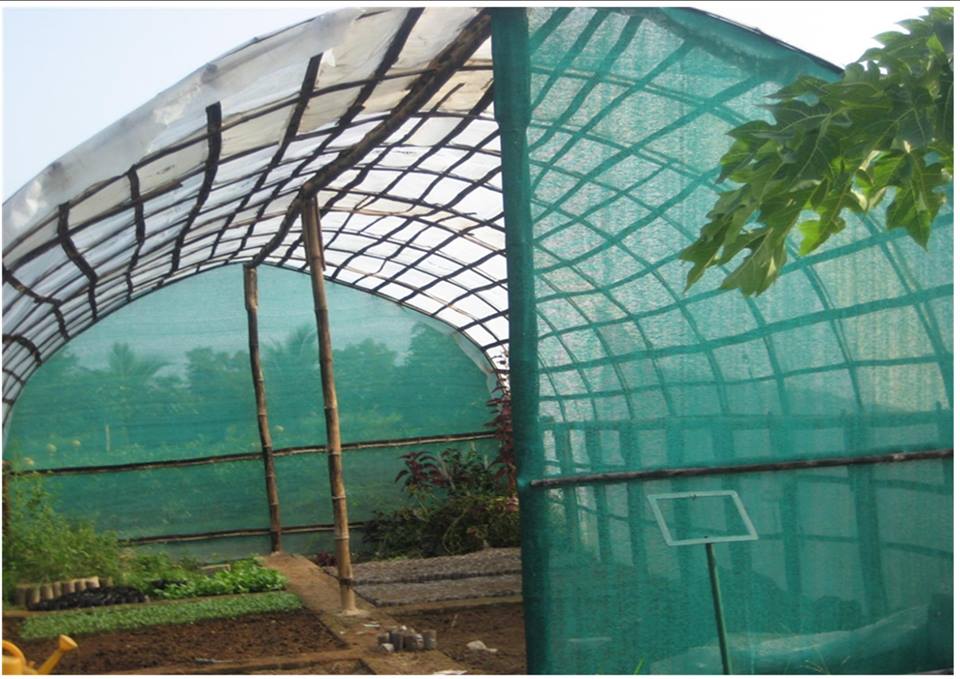 Thanks to IDEI's efforts, many marginalised farmers now cultivate throughout the year, which contributes to increased food security and a decline in migration; 20% reported investing income in their children's education and 15% have increased spending on family health.
Till date, the organization has helped one million farming households spread over 17 states increase their annual income! IDEI is now exporting its technologies to countries in Africa and Southeast Asia, aiming to reach 30 million people by 2020.
In recognition of their efforts to improve the social, economic and environmental conditions of the rural poor, Sadangi and IDEI have been honoured with several awards, including the prestigious Templeton Freedom Prize for Social Entrepreneurship (2005), the Tech Museum BD Biosciences Economic Development Award (2010), the Zayed Future Energy Prize (2010), and the Ashden Outstanding Achievement Award (2009).
Contact Details
Email: amitabha@ide-india.org
Website: www.ide-india.org
 You can connect with the organization on Facebook at www.facebook.com/ide.india.
---
Also Read: How a Young Couple from Delhi Left City Life behind to Become Full-Time Organic Farmers in Mysore
---
We bring stories straight from the heart of India, to inspire millions and create a wave of impact. Our positive movement is growing bigger everyday, and we would love for you to join it.
Please contribute whatever you can, every little penny helps our team in bringing you more stories that support dreams and spread hope.
Tell Us More