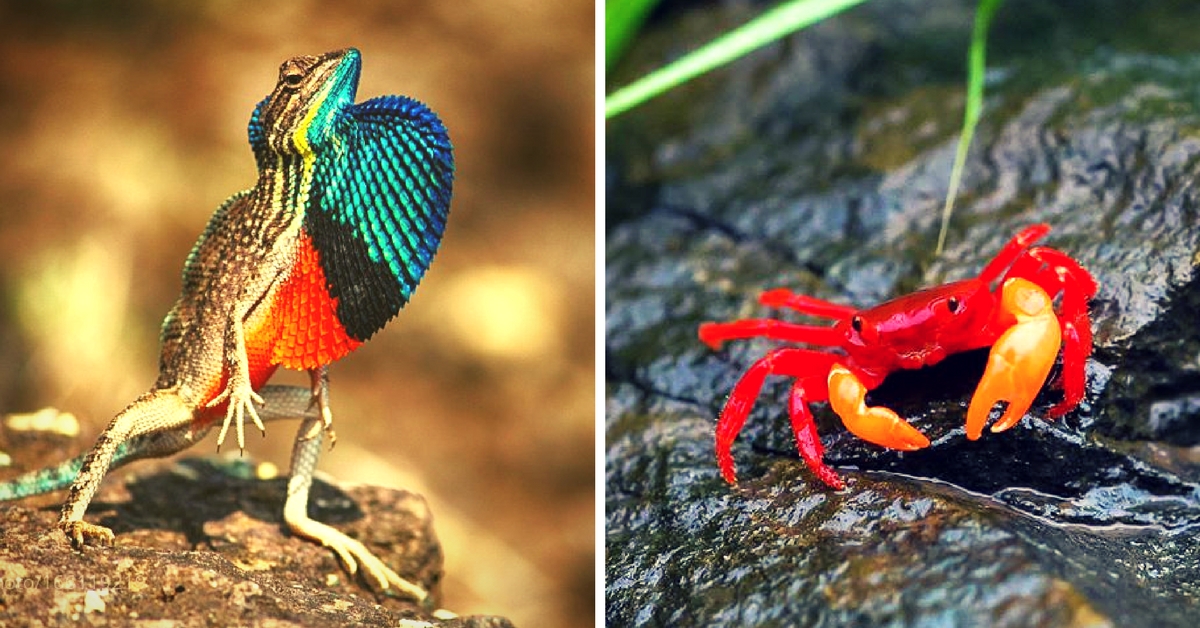 The year 2016 has been rich and eventful for wildlife discoveries of all sorts around the globe -- nature has never ceased to amaze.
The year 2016 has been rich and eventful for wildlife discoveries of all sorts around the globe. From the discovery of a two-headed shark and a rare white giraffe to a caterpillar that drums its anus to find friends, nature has never ceased to amaze.
Here are eight new animal species found in India this year:
1. Khaire's Black Shieldtail (Melanophidium khairei)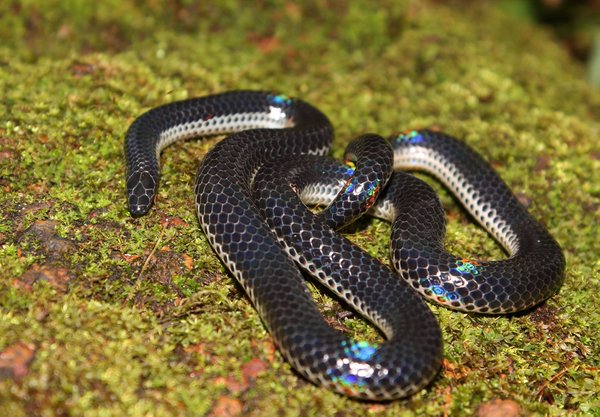 This iridescent, bluish black snake discovered in the forests of Western Ghats was mistaken as another species of its cousin snakes in the genus Melanophidium for nearly 145 years. A team of British and Indian scientists made the discovery. Khaire's black shieldtail can grow up to 55 cm long. It lives deep underground and surfaces occasionally. The snake's bullet-shaped head and small eyes are ideal for burrowing. The shiny scales help keep the body free of dirt and mud even during rainfall. So far, these snakes have been reported from south Maharashtra, Goa and north Karnataka. Scientifically named Melanophidium khairei, the non-venomous snake was named after Neelimkumar Khaire, founder of the Katraj Snake Park in Pune and the Herpetological Society of India, to acknowledge his efforts in the field of snake conservation.
2. Himalayan forest thrush (Zoothera Salimalii)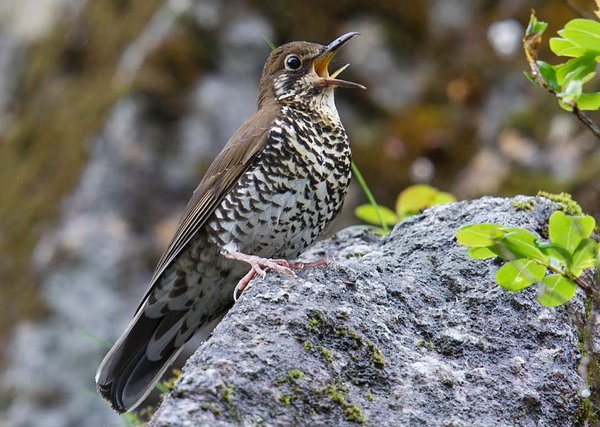 Thanks to its distinct song that sounds like Adele's, an international team of scientists discovered this new bird species in the forests of Arunachal Pradesh, India, and Yunnan province, China. According to a study published in the journal Avian Research, it gave itself away through its musical sounds with rich, clear, drawn out notes unlike the raspy, scratchy voice of the similar looking Alpine thrush. Zoothera Salimalii, named in the honour of the famed Indian ornithologist Salim Ali, is only the fourth new bird to be discovered in India since Independence in 1947. The six-year long study began in 2009 and concluded that the new bird had shorter legs and tail with a longer bill than its Alpine counterpart. The new species is not under any threat as it is found in abundance in the Himalayan range.
3. The Indian Dancing Tadpole (Micrixalus herrei)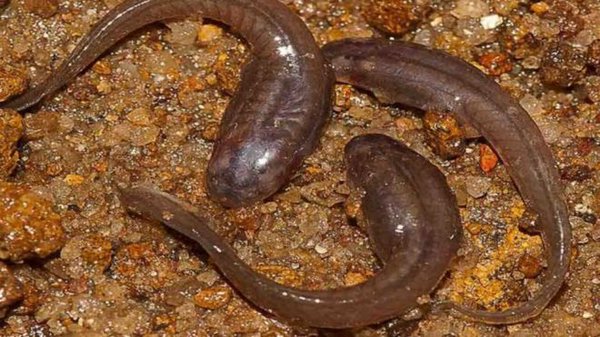 For the first time in 125 years, scientists discovered a new tadpole from the Indian Dancing frog family, Micrixalus, which is known for waving its legs in territorial and sexual display. Tadpoles from this family had remained unknown due to their burrowing nature. Micrixalus herrei was discovered in the rich biodiversity hotspot of Western Ghats. The tadpoles remained unnoticed because they live deep in the sand until they turn into froglets. The tadpoles look like eels with strong muscular structures. They have skin-covered eyes that protect them while burrowing in the sand.
4. Red Forest Crab (Gubernatoriana thackerayi)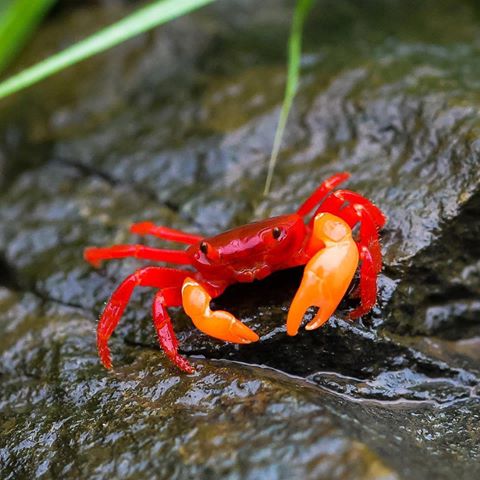 Photo Source: Imgrum
This vibrant forest crab was discovered in the forests of Western Ghats in Maharashtra by Tejas Thackeray, an arts student. Found during the monsoon season, it is active during the day and feeds on worms. It comes out when rain fills the rocky crevices of sloping hill formations in Ratnagiri district. The shell and legs are bright red in colour while its pincers are orange-red and spoon tipped in shape. The shiny crab's long walking legs have brown bristles underneath them. The pincers vary in length for males and females. Thackeray had originally suggested the name Gubernatoriana rubra (Latin for 'red') but his co-authors decided to name it after him.
5. Sorting Hat Spider (Eriovixia gryffindori)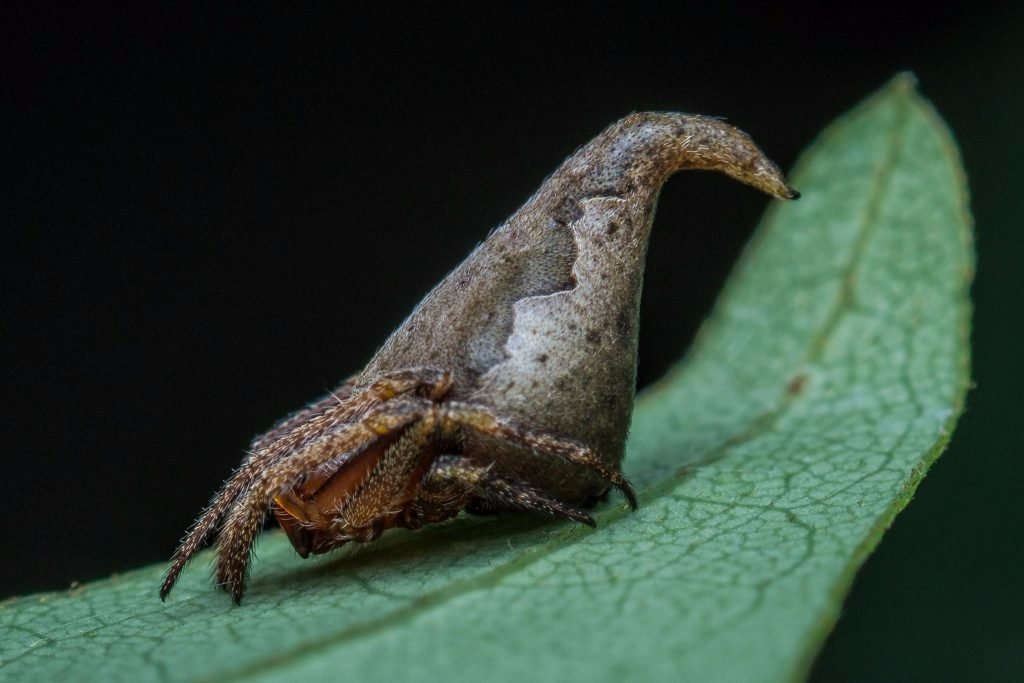 Eriovixia gryffindori is a unique new species of spider discovered in the Kans forest area of Karnataka. It resembles the Sorting Hat from J. K. Rowling's Harry Potter series. It was named after the Sorting Hat's fictitious wizard owner Godric Gryffindor by Javed Ahmed, a self-professed fan and independent naturalist. The scientists described it as an "ode to draw attention to the fascinating, but oft-overlooked world of invertebrates." The team comprised Ahmed, Rajashree Khalap and Sumukha J.N. They found the specimen in a bush four feet off the ground. Its appearance helps it camouflage to look like a dried leaf and protect itself against predators. The spider measures only 7 millimeters in length and its discovery was published in the Indian Journal of Arachnology.
6. Glyptotermes Chiraharitae (Termite)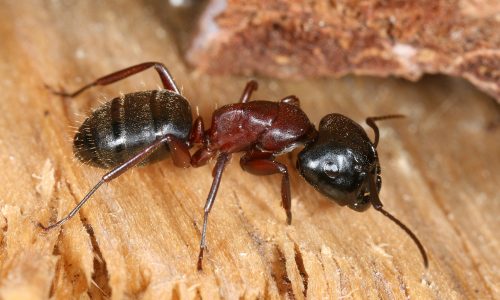 Photo for representation only. Source: Wikimedia Commons
This new species of termite is named after the Western Ghats forests where it was spotted and discovered at Kayakkam in the Malabar Wildlife Sanctuary, Kerala. These termites infect damp wood with high moisture content and do not require soil to survive. They are mostly found on wood that is decaying and rotting. Amina Poovoli and K. Rajmohana, senior scientists with Zoological Survey of India made the discovery. The study was published in Zoosystema, the journal of Natural History Museum, Paris.
7. Fan-Throated Lizards
V. Deepak from the Indian Institute of Science believed that with a biodiversity as rich as India's, it was impossible to have just two species of fan-throated lizards since 1829. After scouring 81 locations across 160,000 sq. km, he discovered 5 new species of fan-throated lizards in the drier parts of India. These brightly coloured lizards live on the ground. Only the males have a fan-shaped, multi-hued fold of skin on their throats, which bloat to attract the opposite sex during the mating season. The dewlap (fan) can be puffed due to the presence of a cartilaginous structure below the skin. During the breeding season, the males climb heights such as top of boulders of trees and then arch their backs and puff out the fan-throat. As they live on dry soil with little vegetation, they begin to skitter about their hind legs during the day when the heat increases. Three of the new species discovered belong to the genus Sitana whereas the remaining two to a new genus that Deepak called Sarada, the local name for the fan-throated lizards. The study was published this year in Contributions to Zoology journal.
8. Laterite Narrow-Mouthed Frog (Microhyla laterite)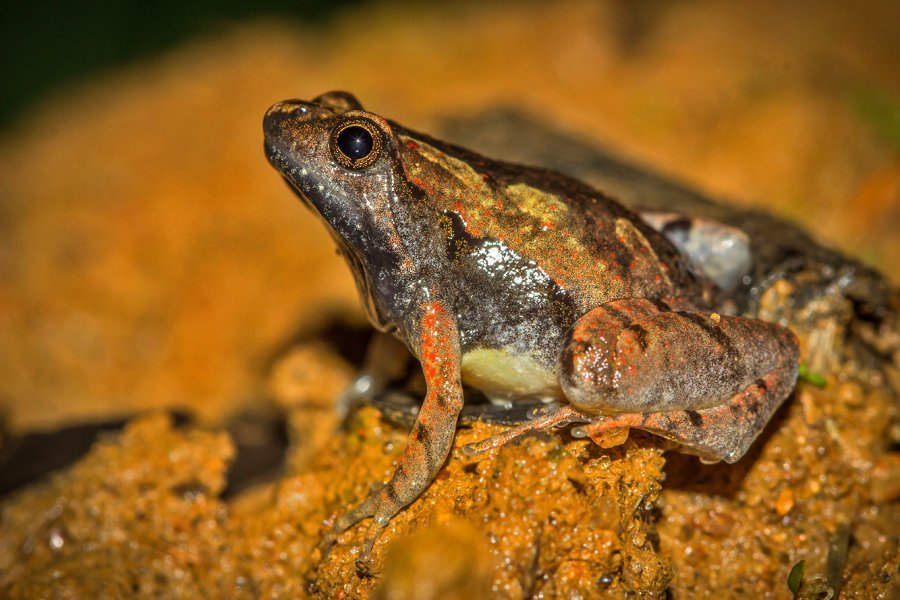 This thumb-sized frog chirps like a cricket and was discovered near Manipal, Karnataka. Its scientific name is Microhyla laterite and it measures about 1.6 cm (0.6 inches). They found the new species in the Indian laterite rock formations in an 'urban' wasteland with less vegetation. It is a surprise to find new wildlife in such areas as these lands are used for garbage dumping and mining, unlike biodiversity hotspots where new species get discovered most of the time. The frog is pale brown with black patterns on its body. This 'wasteland frog' survives in an area that is not environmentally protected and hence, it features under the endangered species on the International Union for Conservation of Nature's (IUCN) Red List of threatened species. It partly remained undiscovered for a long time because it sounds more like an insect than a frog by its "zeeeeee, zeeeeee" calls.
Like this story? Or have something to share? Write to us: contact@thebetterindia.com, or connect with us on Facebook and Twitter (@thebetterindia).
We bring stories straight from the heart of India, to inspire millions and create a wave of impact. Our positive movement is growing bigger everyday, and we would love for you to join it.
Please contribute whatever you can, every little penny helps our team in bringing you more stories that support dreams and spread hope.