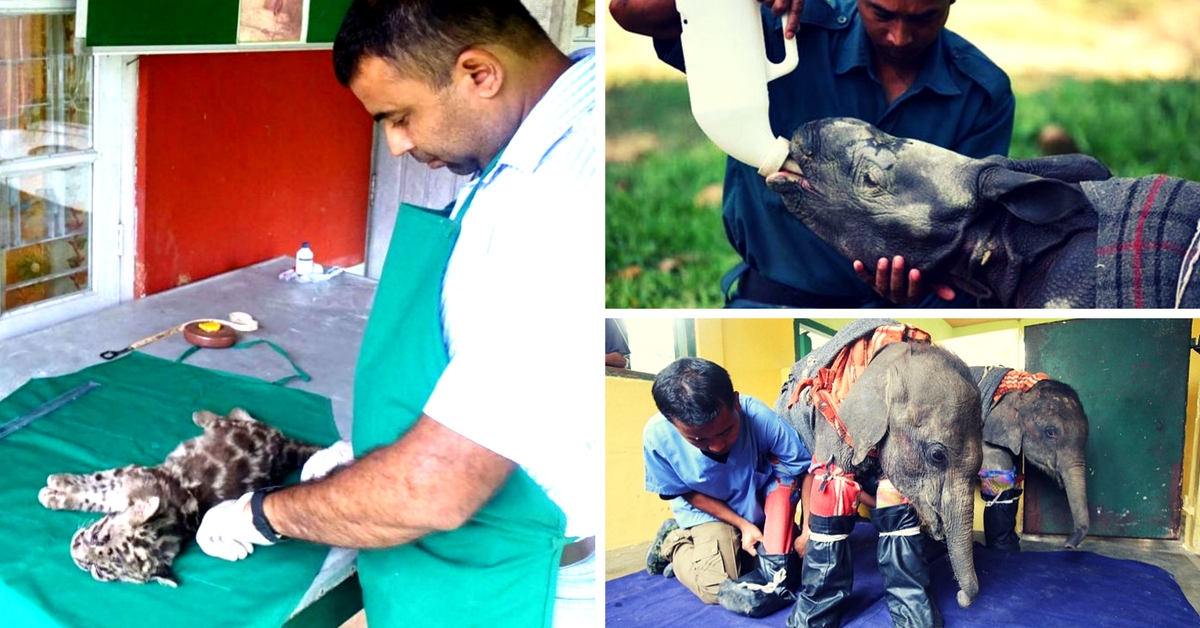 The IFAW-WTI Wildlife Rescue Centre in Kaziranga is India's first scientifically managed wildlife rehabilitation and reintroduction programme. Here's the heartwarming story of Dr. Bhaskar Choudhary, the hardworking vet who has played a pivotal role in the success of this incredible programme.
In 2009, a pair of tiny spotted cubs were dropped onto the doorstep of the International Fund For Animal Welfare – Wildlife Rescue Center (IFAW-WRC) in Kaziranga in Assam. A closer look at the days-old felines revealed that they were clouded leopards – the smallest of the big cats, the clouded leopard is an extremely shy, nocturnal and tree-dwelling animal, it is found in the forested foothills of northeast India.  Only about 10,000 clouded leopards remain in the wild – they face the double-jeopardy of poaching and dwindling forests due to human expansion – and the species is classified as 'vulnerable' in the IUCN Red List of threatened species.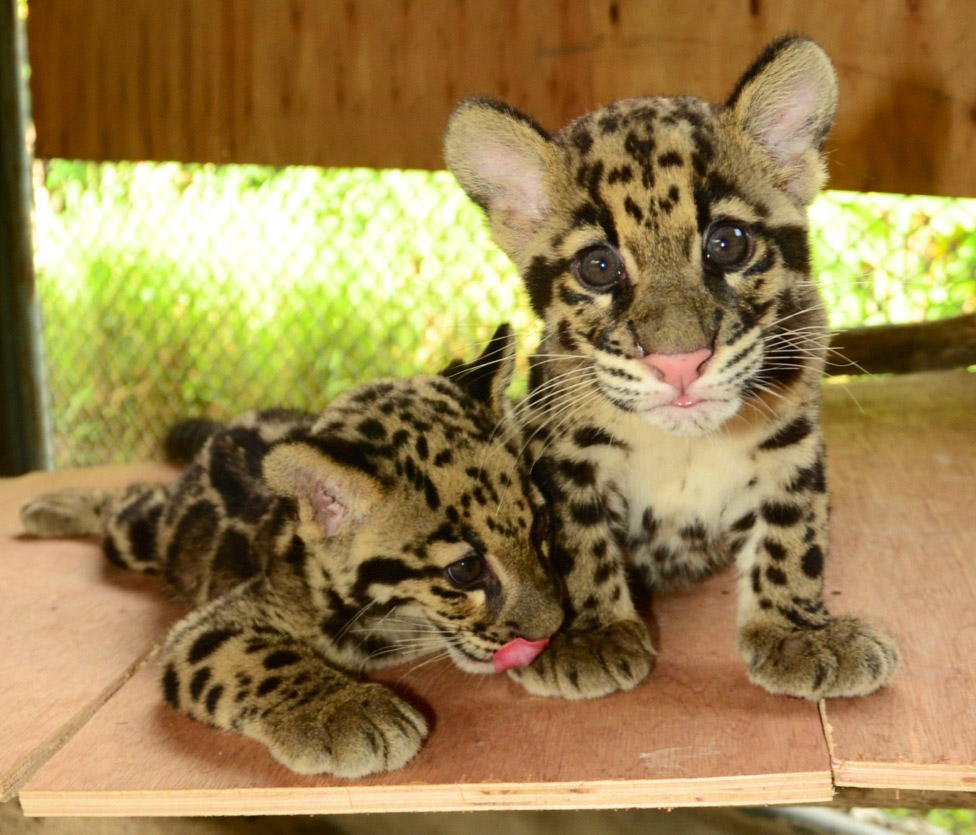 The newborn cubs, found unaccompanied by the residents of the Kanthalmari village, were most likely orphans, having lost their parents to poachers. Wild Life Trust of India vet, Dr. Bhaskar Choudhury realised that he had two options in front of him – send the cubs to a zoo or euthanize them. Talking to The Better India, Dr Choudhary said that he couldn't bring himself to do either. So, he decided to raise the cubs himself and teach them everything their mother would have to help them survive.
In the first attempt to rehabilitate clouded leopards in India, Dr. Choudhary brought together a team of vets, conservationists, and photographers to save and hand-raise the cubs he had named Runa and Kata. As not much is known about the behaviour of the mysterious clouded leopards, there was no guidebook to help the team in their project. Dr Choudhary says,
"When we started, we were almost unconvinced with our own idea. However, we decided to do our best."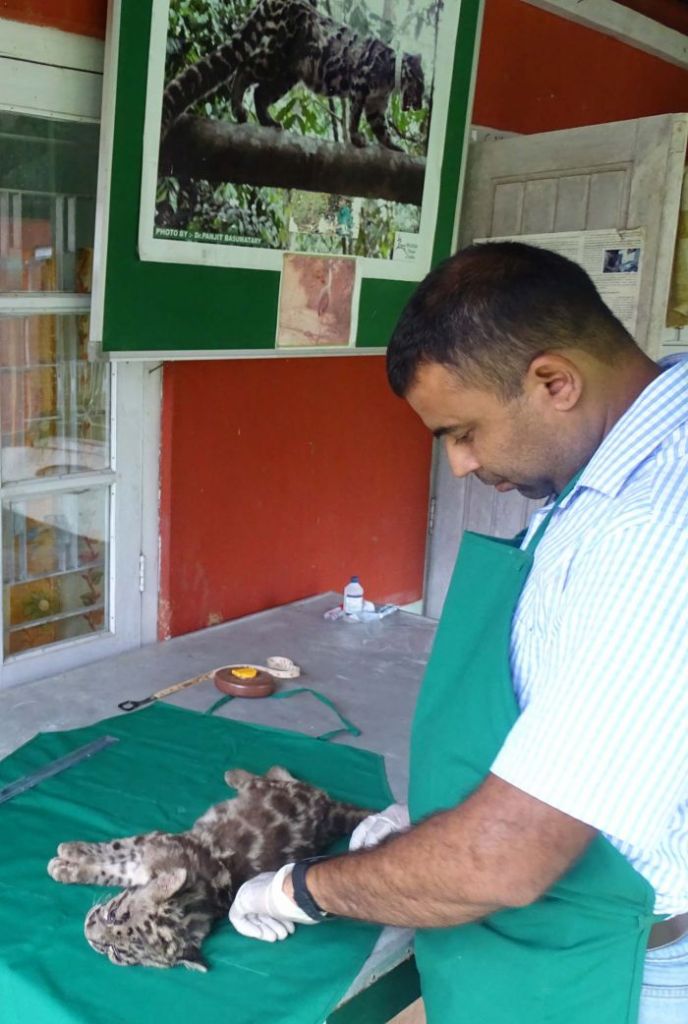 Along with his team, Dr Choudhary devised a new protocol (modeled on bear rehabilitation programme) to ensure that the cubs received the essential hunting skills while keeping their dependence on humans to the minimum.
After about six months, the team began taking the cubs on daily walks into the jungle. The cats would clamber up trees, using their rotating rear ankles to descend head first, their short limbs and long tails helping bolster their center of gravity. At night they were placed in a cage, suspended over the forest floor to get them used to the environment of their natural habitat.
As nursing orphan animals through bottles creates a dependency on human foster parents, the protocol mandated that amount of food provided to the cubs was reduced gradually. This was done to compel the cubs to interact with prey species for hunting and reduced their dependence on keepers. Finally, after one year, the cubs were radio-collared and released in the forest.
After that, locals reported sightings of a spotted cat with a collar but Dr Choudhary wanted to know for sure if the rehabilitated cubs had survived. A year later, after a long wait, installed camera traps finally captured images of a collared clouded leopard. As the collars are meant to fall of after a year, there were no further sightings but Dr Choudhary remains hopeful about their continued survival. He says,
" If they made if for a year, they could make it for the rest of their lives. I hope they are alive."
Interestingly, Runa and Kata's entire journey had been filmed by wildlife photographer Sandesh Kadur for what would end up becoming a National Geographic documentary!
---
You May Like: Time is Running Out for These 16 Endangered Wildlife Species in India. Learn More About Them.
---
Ever since, Dr Bhaskar Choudhary has been working tirelessly to help orphan and injured animals return to the forest and survive independently. The IFAW Wildlife Rescue Center, where he is the lead vet, cares for a wide range of species, including orphan elephant and rhino calves, wild buffaloes, tigers, leopards, deer, and birds.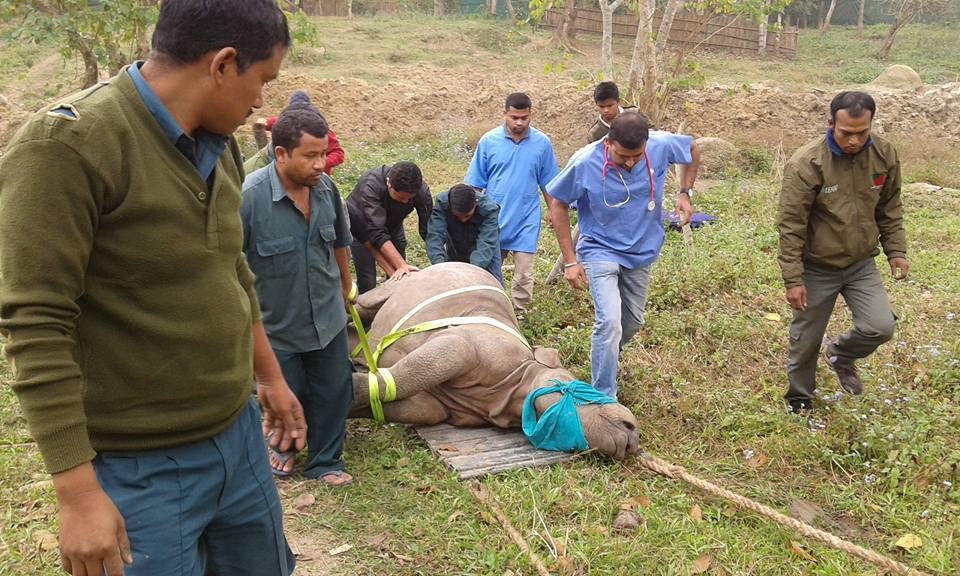 Having grown up in a village where close contact with wildlife was common-place, Bhaskar Choudhary ended up studying to become a wildlife veterinarian. After graduating in Veterinary Sciences and Animal Health from the Assam Agricultural University in 1999, he took a job with the Wildlife Trust of India. In 2000, he was posted to
the IFAW's Wildlife Rescue Center, an outpost on the outskirts of the sprawling Kaziranga National Park
At the IFAW – WRC, Dr Choudhary would regularly treat injured creatures. He was also part of the original team that encouraged local people to provide support and information on displaced animals, specially during natural disasters like floods. In 2004, during the annual floods in Kaziranga National Park, the Assam forest department and IFAW-WCR rescued two stranded rhinos who were named Ganga and Jamuna.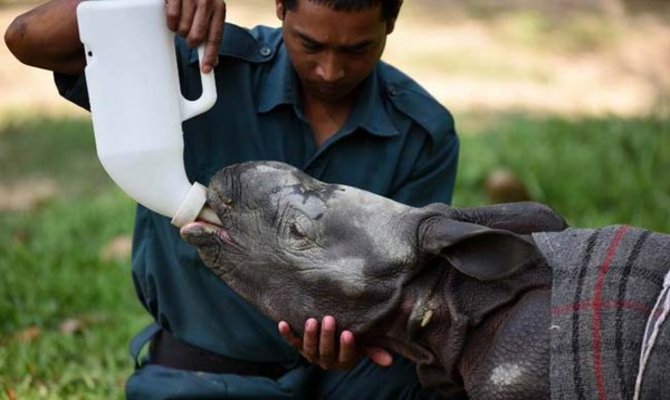 However, the first rhino to be rescued was Mainao, back in 2002. Mainao had been quite traumatised and injured when she was rescued – the few weeks old rhino had been stuck in forked branches of trees during the floods. All three were nursed back to health at the WRC and when old enough, shifted to Manas National Park. Mainao, Ganga, and Jamuna were the first hand-reared rhinos to ever have been rehabilitated in the wild in India.
"While it was a proud moment for the team, what made me most happy was the fact that these little girls, who had been displaced from their natural habitat, were finally back where they belonged. Later, when we got the news that one of 'our' girls had become a mother, we were beside ourselves.

Nothing can beat that incredible rush of joy and pride you feel when you see an animal you have rescued coming into their own. Also, this was literally history in the making – first rehabilitated rhino gives birth in the wild in India! So, I was doubly delighted."
---
Also Read: Wildlife Rescuers Work Overtime to Save 107 Animals, Including Rhinos, From Assam Flood Waters
---
Another innovative effort by the IFAW-WRC that deserves a mention is the rehabilitation of elephants who had been separated from their mothers soon after birth. Missing maternal warmth and affection, they struggled to sleep on the cold concrete floor of their rescue centre in north-eastern India  (Small elephants have a hard time regulating their own body temperature).
A WRC veterinarian, Dr. Panjit Basumantary, came up with an innovative solution – he fitted them with pajamas and socks for better sleeping at night!  Keepers quickly saw improvements in their condition — they were warmer and more content in the mornings.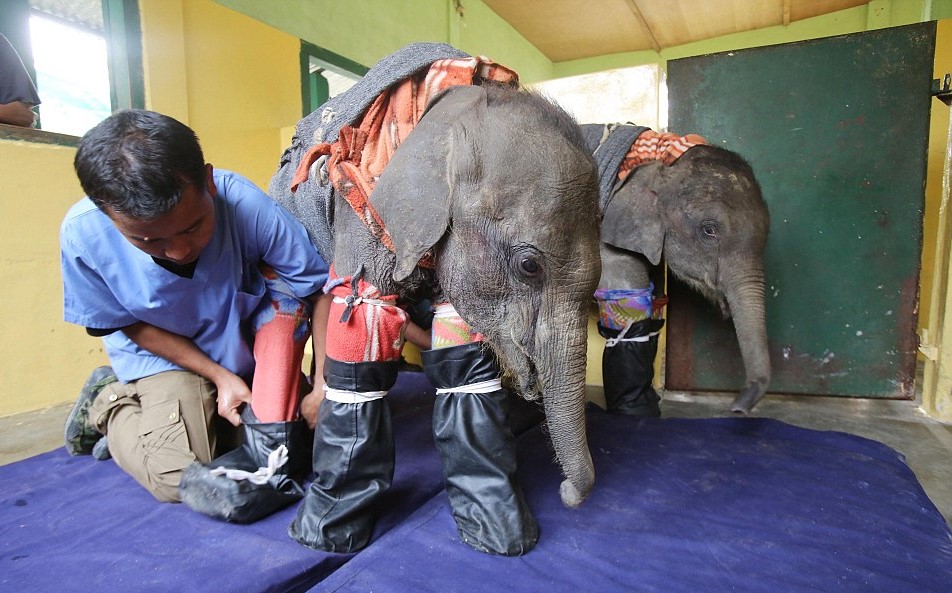 Over 16 years, Dr Choudhary and his team of WRC vets have worked with over a thousand animals. The astute wildlife vet currently heads all activities in the region, including facilitation of emergency relief for wild animals in distress, implementation of rehabilitation of hand-raised animals and post-release monitoring. He is also responsible for connecting with government and non-government agencies to work towards Wildlife Trust of India's mission to conserve northeast India's fragile ecosystems.
Dr Choudhary also supervises the care for animals under WTI's five Mobile Veterinary Service (MVS) teams. The primary objective of an MVS unit is to minimise the crucial time gap between detection of an affected animal and subsequent veterinary aid. In addition to providing on-field medical assistance, the MVS assumes the responsibility of relocating affected animals to nearest rescue centres or field stations, as the need may arise.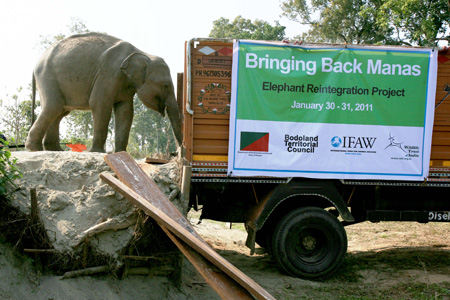 Keeping in mind rescue missions of previous years, the team has fabricated multiple rescue cages for mammals, reptiles and birds, which include five cages made especially for deer. Efforts are also being made by the IFAW-WRC team, along with the Assam Forest Department and other local NGOs, to make people aware about the rescue protocols for the wildlife.
"Every year the locals of the fringe villages give their all in trying to rescue distressed wildlife, even while their own homes may be submerged. Such dedication and passion in protecting the natural heritage of the park is extremely touching", says Dr Choudhury, appreciating the efforts of the local villagers who give timely information to IFAW-WRC.
Asked how other people can help them in their efforts to rescue and rehabilitate wildlife, Dr Choudhary says that the most important thing one can do is raise awareness about vulnerable species and what is being done to save them. Not only does it encourage people to volunteer for wildlife conservation, it also brings in much-needed funds that can help them get better equipment to rescue, rehabilitate and track the release of injured and orphan animals.
"It is my mission to ensure that rescued animals are rehabilitated in a way that they live a life that will keep them forever wild. And this is possible only due to the people who support our work at IFAW-WRC. So, I believe that awareness is of crucial importance", explains Dr Choudhary.
A simple, unassuming man who enjoys music, photography and bird watching, Dr Bhaskar Choudhary was  honoured with a national award by the Association of Indian Zoo and Wildlife Veterinarians. He is now working to enable the placement of trained and equipped wildlife veterinarians in major protected areas across the country to ensure round-the-clock medical attention to displaced and distressed wild animals in need. The hardworking and determined vet ends by saying,
"I truly feel blessed to have been part of such ventures for the past decade. They have allowed me to experience life in such miraculous and invaluable ways. To see rescued animals back in the wild is worth every sleepless night spent worrying about them, every single drop of sweat spent trying to rescue them."
Contact Details:
We bring stories straight from the heart of India, to inspire millions and create a wave of impact. Our positive movement is growing bigger everyday, and we would love for you to join it.
Please contribute whatever you can, every little penny helps our team in bringing you more stories that support dreams and spread hope.
Tell Us More