Read about a remarkable organization working from villages in Tamil Nadu, and exemplifying service in its every deed. With various initiatives ranging from orphanages and a school to medical care and an old-age home, it is interesting to note how they manage the many activities, and how these complement each other and come together as one cohesive whole.
There are a lot of needs in this world which remain unfulfilled. Many charitable organizations are making Herculean efforts to address the needs. Philanthropy in many cases is very specific. Some organizations address the needs of homeless kids by providing shelters and educating them, and yet others take care of older people who have nowhere to go. I have always dreamed that there must be one organization which can devote itself to wants of many – the children, senior citizens, et al.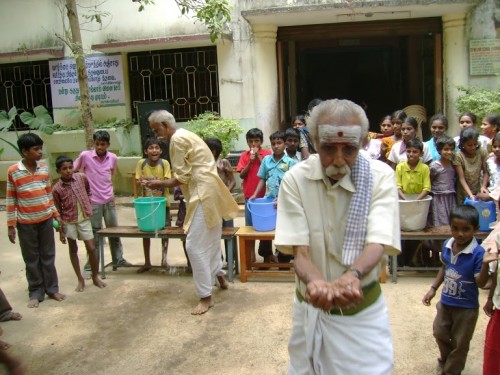 This is because I feel that kids and the elderly get along so fabulously – they get attached to each other in no time. My daughter is a case in point. She is always enquiring from my parents whenever they go back to my brother's home, "When are you coming back?" Elders can help with the studies of the youngsters and guide them in life. Youngsters can assist the elders in learning new age technologies like operating the mobile phones, computers, etc. In effect ,they can complement each other.
One of my friends had sent me an mail about Sevalaya as they were looking for funds. As I read about Sevalaya, it became clear that this was the one organization which was very comprehensive as it catered to orphans, senior citizens, rural women, and more. Moreover, it is for all, irrespective of caste, creed, religion, gender, etc. It is in rural Tamil Nadu, in Kasuva hamlet near Thiruninravur, to the west of Chennai. Sevalaya means temple of service. It is service for those who have nowhere to go as they are too poor.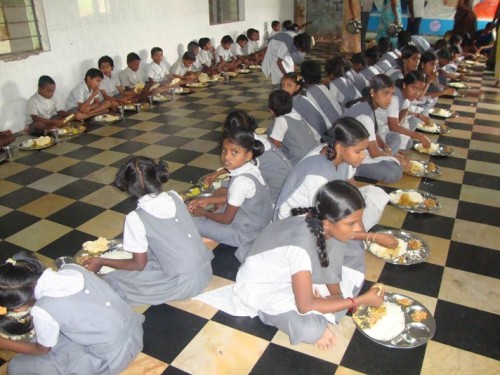 Sevalaya has separate homes for destitute boys and girls – the Swami Vivekananada Boys home and the Mother Teresa Girls home respectively. It runs a medical centre – Mahatma Gandhiji medical centre for the inmates of Sevalaya as also for the villagers. This is so, as the nearest hospital for the hamlet is nearly 6 km away in Thiruninravaur.
Sevalaya runs a school – the Mahakavi Bhartiyar Higher Secondary School which provides free education to the children of Kasuva & the surrounding villages. Even uniforms are provided free of cost. The villagers being very poor, could not afford to send their kids to school. Sevalaya's gesture of free education has changed all that. The result is that nearly 1450 kids are now enrolled in the Mahakavi Bhartiyar Higher secondary school. Sevalaya also runs the Swami Vivekananda Library and reading room for making reading popular among the youth. The library is free. It also has a mobile van, to carry books to the villagers for free, once in a week.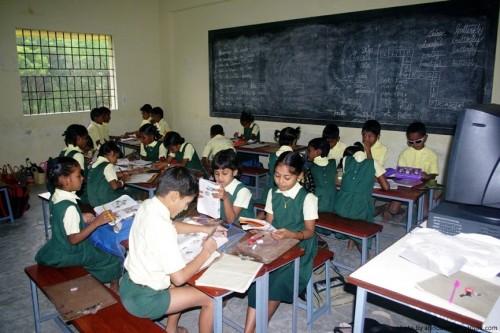 Crafts like book-binding, screen printing, tailoring, wire-bag making, etc are a part of the school syllabus in Sevalaya. This is possible through the Kasthurba Craft Centre at Sevalaya. Rural women are being trained in tailoring, with the result that many women have been gainfully employed – on their own and in export units. This is empowerment of women which is the the utmost need of the day and age. Moreover, it is at the grass root level, in the villages!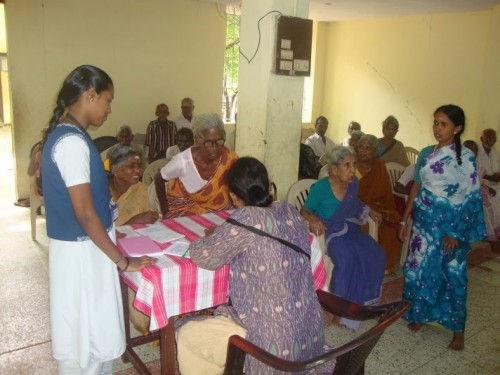 The old age home is run by Sevalaya for those elders who have no one to take care of them. These elders cannot opt for old-age homes where they have to pay for being cared for. Hence Sevalaya runs this old age home – Sri Ramakrishna Paramhansa Old Age Home for such senior citizens. The elders keep themselves busy by watering the gardens, cutting vegetables, making envelopes, etc.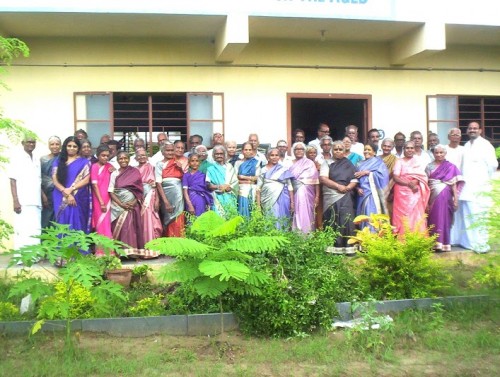 The Vinobhaji Goshala is another foray by Sevalaya. This houses cows which yield milk & those which are past the milk yielding age. The milk is consumed by inmates at Sevalaya and the remaining milk is sold in the nearby villages to support the numerous activities of Sevalaya. Organic manure is made at Sevalaya by vermin compost method. It is used in the garden and marketed as well. A green gesture symbolizing waste management .
Sevalaya is the brainchild of Mr. V. Muralidharan and his friends who were inspired by the ideals of Mahatma Gandhi, Mahakavi Bharatiyar and Swami Vivekananda. Sevalaya's first home for children opened on 29th May, 1988. Many corporates, clubs, public associations and well wishers from India and abroad fund the numerous activities of Sevalaya.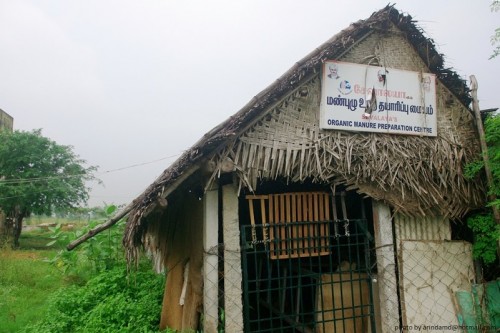 The success of Sevalaya has prompted them to establish more units in 2011 and 2012 – in Vadanallur village in Kanchivaram district and another in Aayular village respectively. Sevalaya has a dream project – of starting its own University!
Sevalaya has been the recipient of many awards – Bharathi award, Best Green Campus award, Pramerica Award, Best "Social Reformer","Karuna Ratna", Mudhalvan award, Seva Ratna award, and many more.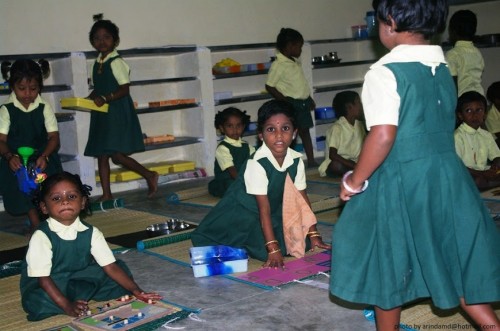 Sevalaya works on three basic principles – service for all without any discrimination, free service, and service with love and affection. This is service, in its truest sense!
To know more, visit their website: http://www.sevalaya.org/
All photographs have been taken from the Sevalaya website.
We at The Better India want to showcase everything that is working in this country. By using the power of constructive journalism, we want to change India – one story at a time. If you read us, like us and want this positive movement to grow, then do consider supporting us via the following buttons.
Please read these FAQs before contributing.