As curfew continues for the 12th straight day in Kishtwar based on the reports of communal violence, it might be difficult to imagine it as a place where Hindus and Muslims lived in perfect harmony, in fact much more than in many other parts of the country! But writer Yoginder Sikand recalls a time when he witnessed this communal bonhomie with his own eyes and felt it strongly in the many exceptional people that he met on his visits there.
As curfew continues for the 12th straight day in Kishtwar based on the reports of communal violence, it might be difficult to imagine it as a place where Hindus and Muslims lived in perfect harmony, in fact much more than in many other parts of the country! But writer Yoginder Sikand recalls a time when he witnessed this communal bonhomie with his own eyes and felt it strongly in the many inspiring people he met on his visits there.
I hardly read the papers these days – who wants a heavy dose of negativity the first thing in the morning? And so, I had no idea about the latest developments in curfew-bound Kishtwar, from where violence has spread to other parts of the Jammu province. It isn't something new though. It's the same old, almost universal, story, of people who define themselves, and are defined by others, on the basis of religious differences and being unable to relate to each other amicably.
Unlike now, there was a time when I eagerly followed developments in Kishtwar and elsewhere in the Doda district, of which Kishtwar was till recently a part. I wrote extensively about inter-community relations in the area in the context of the armed conflict between pro-Pakistan and pro-azadi Muslim militants and Indian forces. Starting in the early 1990s, when violence was at its peak in the then Doda district, I must have visited the region more than a dozen times, meeting Muslims, Hindus and others from different walks of life. Each time I returned with fresh insights into Hindu-Muslim relations in the region, in which contested historical memories, religion, ethnicity, class, caste, gender, politics and international factors were all deeply intertwined.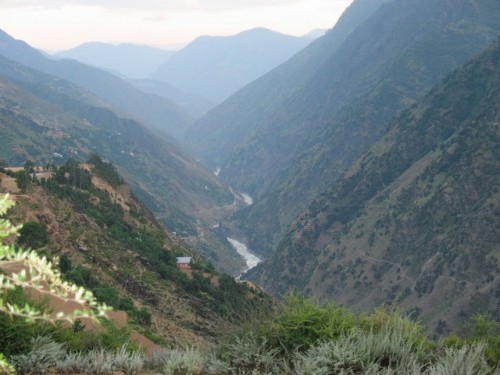 I did a fair amount of writing for various newspapers based on my field observations in the then Doda district. I wanted, in particular, to highlight instances of inter-community solidarity that I observed which withstood the forces of Hindu and Muslim exclusivity, killings by militants and the armed forces and spells of communal violence that had wracked the region in the last few decades. I didn't turn a blind eye to the reality of deep-rooted and fairly widely-shared negative perceptions that many local Muslims and Hindus had of each other. But, I felt that rather than denouncing them, I'd serve a better purpose by highlighting instances of Hindu-Muslim sharing. In that way, I hoped, I might help, albeit in a modest way, to inspire people to appreciate alternate ways of dealing with religious differences.
Kishtwar provided me many touching examples of inter-community harmony, even as the town didn't remain unaffected by violence and communal polarization. Unlike in many other parts of India, where Hindus and Muslims often live in separate localities, in Muslim-majority Kishtwar there was no such segregation. Every evening, vast crowds – Hindus and Muslims – would spill out onto the sprawling Chaugan, an enormous field on the border of the town, to stroll around, play cricket, and generally have fun. Of how many other Indian towns could the same be said?
Kishtwar, elderly residents made it a point to stress, had been spared the horrors of the Partition violence in 1947, in which tens of thousands of people had been massacred elsewhere in the Jammu province. The town's inhabitants formed joint Hindu-Muslim patrolling teams to prevent rioters from entering.
Bits of that tradition of camaraderie still survived. Many Hindus continued to visit the Astan-e Bala, the graceful shrine of the seventeenth century Sufi, Shah Fariduddin Baghdadi, in the heart of town. The saint is credited with having spread Islam in the region. The then ruler of Kishtwar, Raja Kirat Singh, is said to have accepted Islam at his hands and to have taken on the unique name of 'Tegh Muhammad Singh'. Shah Fariduddin married a local Hindu Rajput woman, and the descendants of her natal family, who are still Hindus, continue to have a special role in some rituals associated with the shrine.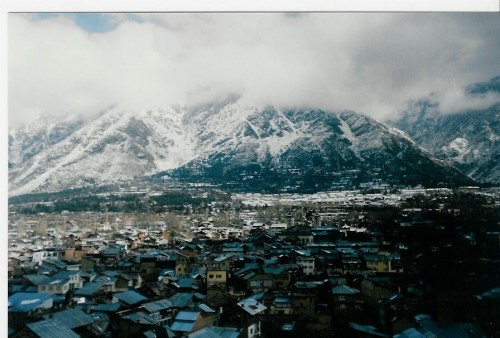 Kishtwar's Hindus and Muslims alike also flocked to the Darbar-e Asraria, the shrine of Shah Fariduddin's son, Shah Asraruddin. Legend has it that Shah Asraruddin miraculously brought back to life a Hindu friend of his so that they could finish a game of polo that they were playing when he had suddenly died!
As I type these lines, I think of the amiable Riaz Ahmad, custodian of Shah Asraruddin's shrine. He was bitterly critical of religious exclusivists on both sides. 'God is the Cherisher of all the worlds, and not just of Muslims alone', he explained, lamenting the excesses of radical Islamists and Hindu chauvinists alike. Besides local people, even army personnel, Riaz Ahmad said, visited the shrine that he looked after, for, as he put it, 'The doors of the shrines of the Sufis are open to everyone.' Many Hindu farmers around Kishtwar, he said, unfailingly left a part of their first harvest every year at the door-steps of the shrine as an offering, and some of them came to him for settling their disputes.
There were other people I met in Kishtwar on my several trips who, in different ways, worked to promote communal harmony. I wonder where Imran is now, and what he must be doing as his town is up in flames. He was, when I met him, a handsome schoolboy – he must be a grown-up man now. With great enthusiasm for making his town a better place, he, along with some of his friends, formed a group christened 'Message for Peace', through which they got school students together to discuss burning social issues, including, and especially, communalism and communal conflict. They even brought out a 'magazine'— photocopied sheets of paper stapled together – almost every issue of which had something or the other to say about communal amity.
Then, there was a bunch of friends – Hindus and Muslims – who got together to form the Faridia Charitable Trust, named after the Sufi Shah Fariduddin. They raised resources to help poor patients at the local government hospital. Hindus and Muslims numbered roughly the same among the four hundred-odd members of the Trust. I don't know of any other trust in India with a similar sort of Hindu-Muslim composition.
I distinctly remember, as if it had happened just the other day, that dark, wintry evening when I had accompanied Abdur Rahman, one of the founder-members of the Trust, to the depressing, dimly-lit wards of the hospital, where he sat with patients, Hindus and Muslims, on their beds, placing his arms around them and whispering words of comfort. Thereafter, we met up with the rest of the core-members of the Trust at a roadside dhaba, discussing religion and politics over steaming rajma-chawal. The suave Ghulam Rasul, Chairman of the Trust, had the last word on the subject. 'Religion should inspire believers to recognise the common humanness of everyone, irrespective of community, and to work for the benefit of all' he said, as the dhaba-wala began pulling down his shutters minutes before the night curfew was to start.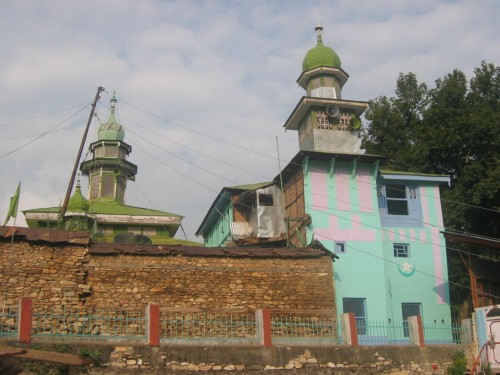 Where, now, I wonder, is the exceedingly charismatic Asghar Ali? When I met him, he had just returned from an accident site up in the treacherous mountains of Padder. The victims were all Hindus, and he had made arrangements for medical supplies for the injured and for the bodies of the deceased to be sent back to their homes. This work, of helping accident victims, was his life's mission. He had started it after his own sister and brother were killed in a road accident.
And where, in the midst of all the turmoil and frenzy that the newspapers are reporting, is the blind Ramanandi sadhu who claimed to be more than a century old? He was in charge of an ancient Shiva temple located in an entirely Muslim locality on the slope above Kishtwar's bus stand. He was from eastern Uttar Pradesh and had settled in Kishtwar in 1961, never going back after that. We chatted about many things, but mostly about Hindu-Muslim relations and what he felt were the changes that these had undergone over the decades.
'When I came here', he said, 'I was taken aback by the very close relations between Hindus and Muslims. But now', he grimaced, 'things have changed.' Yet, he went on, on the rare occasions that he stepped outside the temple, his Muslim neighbours greeted him politely. 'They treat me very kindly', he said. 'God is One, and his light resides in every heart', he quoted Kabir.
There were many other such inspiring people others I met on my various trips to Kishtwar and around. I made copious notes about them – and also about people I encountered who didn't think Hindu-Muslim bonhomie was possible or even desirable – hoping to write about them all some day. Perhaps there is a reason why I'm writing this down today.
We bring stories straight from the heart of India, to inspire millions and create a wave of impact. Our positive movement is growing bigger everyday, and we would love for you to join it.
Please contribute whatever you can, every little penny helps our team in bringing you more stories that support dreams and spread hope.