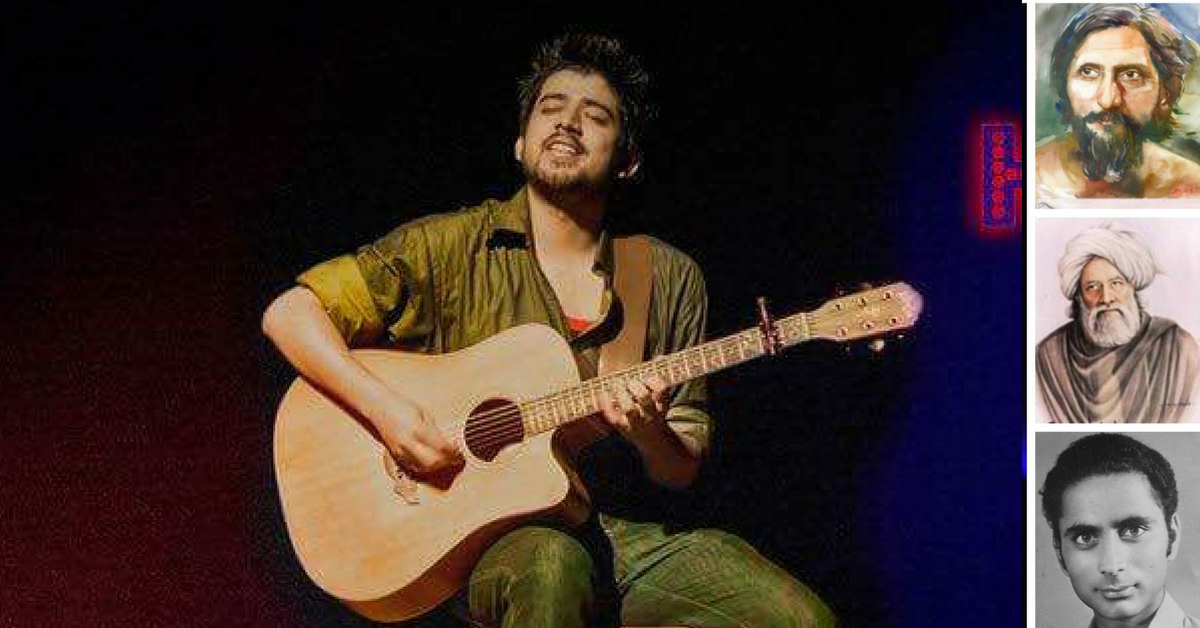 Harpreet is an independent musician who is bringing back the voices of India's forgotten classical Hindi and regional language poets through his music.
Harpreet is an independent musician who is bringing back the voices of India's forgotten classical Hindi and regional language poets through his music.
Thanks to Jagjit Singh and his soulful voice, we today know a number of poems (shayari) by Urdu poets by heart. Many people may not have read Ghalib or Faiz Ahmed Faiz or Sudarshan Fakir, but we still sing their shayari unknowingly when we hum along with Jagjjit Singh.
Similarly, our country is blessed with writers who have composed exquisite poems in Hindi and other regional languages. Legendary poet Ramdhari Singh Dinkar's poem 'Kurukshetra' is counted among the 100 best poems in the world. But even some of the most literate people in India are not aware of the accomplishments of Dinkar and other Hindi poets – the uncelebrated heroes of our classical literature.
However, one musician is doing for classical Hindi and regional poetry exactly what Jagjit Singh did for Urdu poetry. He is popularizing it by picking some of the best and purest Hindi compositions and setting them to music in his own inimitable style, to the strings of the guitar.
One such composition is 'Nirala' based on 'Badal Raag' by the great poet Suryakant Tripathi 'Nirala'.
"I had never read these poems, not even at school. A friend of mine just wanted me to compose something about the monsoon. I could think of nothing so she gave me some poems to read. Nirala's 'Badal Raag' was one of them. When I read it, I felt like no one had written anything better than this on the beautiful season. I kept reading the poem for the rest of the day. Finally, when I picked up my guitar, the music just happened," smiles Harpreet.
This is how he worked on most of his other songs too. Poems by Pash and Faiz – as well as Baba Bulleh Shah, Nirala, Faiz Ahmed Faiz, Pash, Dr. Shiv Bahadur Singh Bhadauria, Dr. Gurbhajan Gill, Kaana Singh, and Varun Grover – remained with him for more than a year; he kept reading them again and again until they became tunes on his guitar.
Thirty-year-old Harpreet was born in a farmer's family in Sherpur village in Karnal district of Haryana. His father loved singing Bollywood songs and this was his only exposure to music.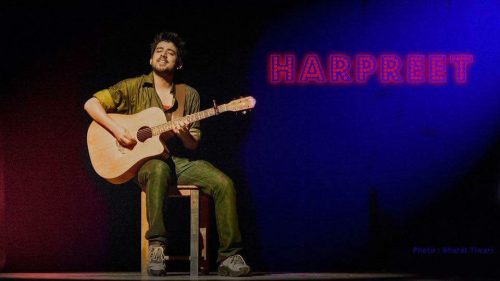 When Harpreet was just six, he started playing the toy keyboard that his father had bought for his older brother. Just like any other child, the first song he learnt to play on the keyboard was 'Twinkle Twinkle Little Star'. But, to everyone's surprise, little Harpreet soon started playing the keyboard to the tunes of the songs his father sang.
Harpreet continue to enjoy this simple and playful childhood in a joint family in the village, until his father and uncle, in order to give a better education and future to their children, sold off their ancestral land to move to the nearest town Nilokheri near Kurukshetra. Life was no longer easy because the family now faced a financial crunch. By this time, Harpreet was also well-known among his teachers as a good singer but a weak student academically. He would hardly study. All he wanted to do was play music and he played whatever instruments he could lay his hands on.
"I wanted a better keyboard but there was no money to buy one. So, instead, I started playing my cousin's guitar," says Harpreet.
Finally, with great difficulty, Harpreet finished his schooling and took admission in a diploma course for civil engineering. But his heart continued to remain in music and, instead of studying engineering, he spent his time teaching the students at college how to play the guitar.
Within a year, Harpreet quit the diploma course and started going to Gandharva Mahavidyalaya in Delhi to learn music. He would travel 6 to 7 hours from Kurukshetra to Delhi everyday just to attend an hour's class.
In 2002, after losing his father, his first teacher in music, Harpreet found solace in music yet again. He moved to Delhi to learn Hindustani classical music at Gandharva Mahavidalaya, where he met Diwanji, who tought him to practise with the tanpura.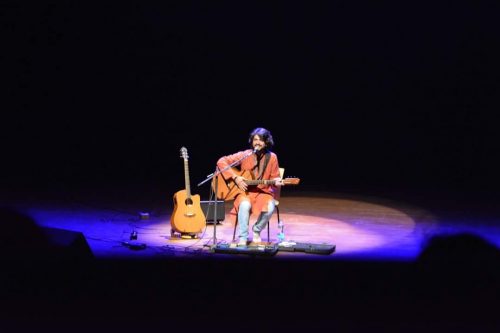 But academics and Harpreet were not made for each other – he failed the music exams too.
"My mother and my brother did not want me to pursue music as a career. But they gave in when they saw how dedicated I was. However, they were naturally surprised when I failed the music test too. They expected me to do riyaz every morning since I was a musician. But all I wanted to do was to learn music and play music. I had no interest in getting a formal education or degree," laughs Harpreet.
And the real struggle began here. Harpreet had no money to stay in a city like Delhi. Some days he would get some money from his family and on other days from his friends, until he got some work.
"I would not step out from my room for days. I would go out if I had money and stay back if I didn't. But I never got bored or tired. I enjoyed my 'alone' time with music. I utilised this time by practising on my guitar or playing the keyboard all day long," says Harpreet.
In order to make a living, Harpreet started singing covers at a club and also started performing at gatherings. The applause from the audience encouraged him and gave him confidence. He started writing and composing more songs of his own. But mostly, he composed his music around the writings of famous poets, unknown poets and even playwrights.
But this was also a time when he could barely make ends meet. And yet, his craving to buy and learn more musical instruments was not yet fulfilled. Once, he borrowed someone's flute, played it, and decided he really wanted one.
With no money to purchase a flute however, he made one from a PVC pipe and played the song 'Gopala Mori', which became a big hit on YouTube.
"A flute would have cost me Rs.5000 to Rs.6000. I thought, 'It's just a pipe with holes. How can I pay so much money for it?' So I just made one for myself. It was pretty easy, I just made holes wherever I keep my fingers while playing a flute," he says.
After the positive feedback on Youtube, there was no looking back. Harpreet rocked every show he participated in with his compositions from Pash, Baba Bulleh Shah, Nirala, and many other poets. He got opportunities to compose music for plays and even puppet shows by Dadi Pudumjee. He had indeed arrived as an independent musician and he received invitations to perform at prestigious music festivals all around the country.
Harpreet got his biggest break when filmmaker Dibakar Banerjee heard him sing at a show. He picked Harpreet's popular song 'Kutte', for the film Titli in 2015, as the promotional song.
In May 2015, Harpreet launched his first album, Ajab Ishq Mati Da, with its different flavours of music.
Harpreet is trying to bring back other languages to the current generation also in a more contemporary format.
His recently released song, 'Ghah,' based on a revolutionary poem by Pash can give goosebumps to the listener.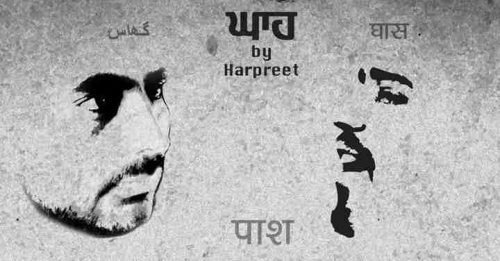 Ghah, which means common grass in Punjabi, is compared to the youth of the day…
"I am grass and I will do my job.
I will grow everywhere, on everything you have done.
You can bomb the universities
You can bring down the hostels to mere debris
But what would you do about me
I am grass…
I will grow everywhere!"
Listen to this terrific song here –
Like this story? Or have something to share? Write to us: contact@thebetterindia.com, or connect with us on Facebook and Twitter.
NEW: Click here to get positive news on Whatsapp!
Tell Us More
We bring stories straight from the heart of India, to inspire millions and create a wave of impact. Our positive movement is growing bigger everyday, and we would love for you to join it.
Please contribute whatever you can, every little penny helps our team in bringing you more stories that support dreams and spread hope.